BlackRock (NYSE:BLK), the world's largest asset manager and parent company of iShares, the world's largest issuer of exchange traded funds, said today that as of January 2, 2015, two of its ETFs will start participating in the NYSE Arca ETP incentive program.
The iShares Interest Rate Hedged High Yield Bond ETF (NYSEARCA:HYGH) and the iShares Asia/Pacific Dividend ETF (NYSEARCA:DVYA) are the two iShares ETFs that will participate in the program, which is "designed to incentivize Market Makers to undertake Lead Market Maker ("LMM") assignment in exchange-traded products ("ETPs") listed on NYSE Arca," according to a statement issued by BlackRock:
While the impact of participation in the NYSE Arca ETP Incentive Program, which is optional, cannot be fully understood until objective observations can be made in the context of the NYSE Arca ETP Incentive Program, potential impacts on the market quality of HYGH and DVYA may result, including with respect to the average spread and average quoted size for HYGH and DVYA.
HYGH, which debuted in May and now has almost $47 million in assets under management, tries to reflect the performance of the Citi High Yield (Treasury Rate-Hedged) Index, which tracks a basket of high-yield bonds with a built-in hedge against rising interest rates. The fund tracks bond securities issued from the U.S. or Canada with at least one year remaining to maturity. The ETF has an effective duration of 0.36 years and a 30-day SEC yield of 5.67%.
DVYA, which will celebrate its third anniversary in February, has almost $55 million in assets. The ETF has a trailing 12-month dividend yield of 6.29%. Australia accounts for 48% of DVYA's weight, while Hong Kong and Singapore combine for another 31%.
According to the statement:
As a participant in the NYSE Arca ETP Incentive Program, BlackRock will continue to pay the applicable NYSE Arca Listing and Annual fees in addition to an Option Incentive Fee, which would range from $10,000 to $40,000 per year and will in turn be paid by NYSE Arca to the LMM assigned to HYGH and DVYA.
iShares Asia/Pacific Dividend ETF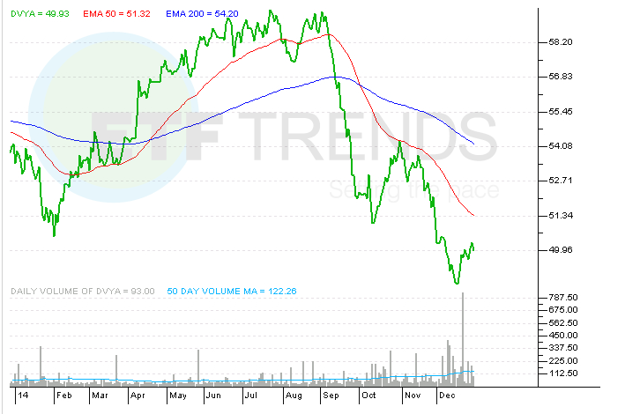 ETF Trends editorial team contributed to this post.
Disclosure: The author has no positions in any stocks mentioned, and no plans to initiate any positions within the next 72 hours.
The author wrote this article themselves, and it expresses their own opinions. The author is not receiving compensation for it. The author has no business relationship with any company whose stock is mentioned in this article.