Aqua vitae (Latin for "water of life") is a term that has been used to refer to both distilled alcoholic beverages, like Norway's akvavit, and in the Christian religion as the waters of baptism. This term appears in many forms throughout the lands and people conquered by ancient Rome. Having been raised partly in Norway, I enjoy akvavit as much as the next lucky devil – but I am acutely aware that without the "aqua," there is not only no akvavit, there is no "vita" – without water, there is no life.
During times like these, with governments in turmoil, economies in question, and markets schizophrenic, it may just be that taking two aspirin with water, or at least a couple quality water stocks, can provide a calming effect!
We use water for transportation, to generate energy, to irrigate our fields and crops; and of course it sustains our own biological survival. Many developed nations developed because of the availability of rivers, lakes and streams for sustenance, food and transportation. Some less-developed nations have plenty of water, but not the means to keep it disease-free. Others have endless miles of ocean coastline, but cannot drink a drop of it. Both of these problems can be addressed today. And our favorite company in this field, Hyflux (OTCPK:HYFXY), may just do it better than anyone else.
Take a look at the illustration below (). The cylinder on the left shows how precious little of our water is fresh, rather than salt, water — just 2.5%. The extrapolation to the right shows how much of that is locked in glaciers and permafrost — more than 2/3. Of the remaining amount, most of it, about 30%, is in groundwater below the earth's surface. Less than 1/2 of 1% of the world's water is in rivers and lakes and thus subject to natural cleansing and recycling via evaporation, condensation and precipitation as rain or snow.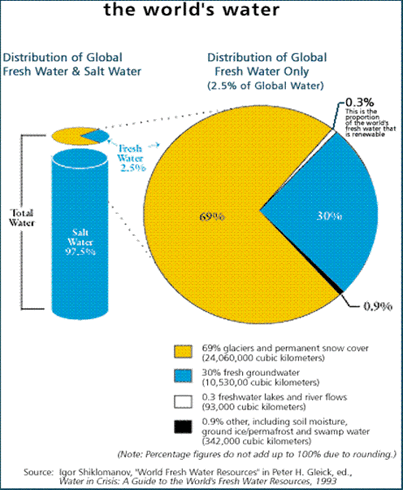 When reviewing the companies we believe have the technological edge, innovative corporate culture and deep enough pockets to provide clean water to the water "have-nots" of the world, the same names keep rising to the top. Who will supply China and India with water to ensure their survival? Yes, of course, China has massive amounts of water in Tibet and India gets its water from the other side of the Himalayas. But by the time it passes through chemically-fertilized fields, had acids and paint and other industrial waste dumped into it, and had human and animal waste added to it, is it still drinkable? Many emerging nations, thanks to their massive populations and aspiring manufacturers and miners, must increasingly devote significant effort to ensure their population's survival by buying water rights, desalinating ocean water, bartering for water, or taking it by military action.
We have not reached the stage where we can mimic nature precisely, but the best companies in the business today are coming darn close. Desalination using reverse osmosis membrane technology has become a viable option for the development of new potable water supplies.
You may be surprised at the number of nations staking their future on desalination. No matter the method used, all desalination plants basically mimic Nature in some way. In reverse osmosis, a semi-permeable (think Gore-tex, which allows water vapor – sweat – to pass through it but has pores too small to allow rain to pass into it) membrane serves as an extremely fine filter to create drinkable water from salty (or brackish or otherwise contaminated) water. The salty water is put on one side of the membrane and pressure is applied to stop, and then reverse, the osmotic process. It takes a lot of pressure and is fairly slow, and is energy-intensive, but it works. It isn't cheap either — but it works.
My Favorite Water Management, Desalination, Purification, Recycling, and Reclamation Company
In my mind, no company ranks higher in this area than Hyflux Ltd. (The ADR, symbol HYFXY.PK, equals 20 ordinary shares of HYFXF.) Hyflux is headquartered in the modern nation of Singapore and trades on many exchanges around the world. Last month I had the pleasure of meeting with one of Hyflux's senior management team at their corporate offices.
What I like best about Hyflux is that they, pardon the pun, cover the waterfront. Their biggest source of future revenue probably lies in desalination; that's where the biggest needs co-exist with the best ability to pay to slake that need. (The biggest need may be in areas where waterborne diseases inhabit the local drinking water, but that is a job best handled by governments and NGOs. The biggest need among those who can afford the CapEx to build the plants lies in areas desperate for desalination.)
But Hyflux is also a major force in wastewater treatment, in water recycling, and in other areas where reverse osmosis membrane technology can provide serious benefits. They do it all. And they do it all as a pure play. GE and Veolia (VE) may well have a toe in the water in all these areas, as well, but to make one last groaner, their water earnings are a drop in the bucket to them — and to you and I as investors.
I see Hyflux as the purest play on one of the most important demographic trends in the entire world today. But, as importantly, they are expert at brand extension; they are currently applying the knowledge they have gained as market leaders in this area to extend their reach into other areas in the chemical, petroleum, pharmaceuticals and reclamation industries where membrane-based technologies are yielding significant benefits – and profits to Hyflux -- as well.
That's what I like best about Hyflux. What I respect most is how they manage their resources, their CapEx, and their projects. In short, their management. Building massive plants in some of the less stable areas of the world requires good geopolitical sense, good timing and good spreading / sharing of the risk with those nations' governments and captive state-run monopolies. (Algeria, Saudi Arabia, and Abu Dhabi (UAE) have thus far proven somewhat more stable than Egypt, Yemen and Libya but, then, no one 6 months ago — no matter what they claim today — predicted the Arab Spring and its unintended after-effects.)
In addition to spreading the risk intelligently within the various countries and regions, Hyflux has also spread the risk globally. In fact, projecting that China and India together will account for more than 40% of global water demand, the company has been particularly active in China and Southeast Asia, and is coming on strong on the Sub-Continent. Hyflux is one of the most respected companies in China and North Africa /Middle East, two places in the world that can both afford to pay for what Hyflux does – and which cannot afford not to.
China recognizes the problem — there are years now where its mightiest rivers don't even reach the sea. This has led them to plan $600 billion in water conservancy and recycling as well as wastewater treatment over the next 10 years. Hyflux is already a well-established and trusted name in China. I'm certain they will see some of that $600 billion directed their way. Inevitably, I think that will lead them to Hyflux. The same is true in the Middle East, where there is not enough fresh water to sustain current populations, let alone the next generation. Oil for water, anyone?
Does that mean Hyflux stock will race ahead from this point? No one knows, or can know. But if you are the sort of investor who has the discipline to buy right and the patience to hold on, I believe this company could easily return 4, 5 or 10 times your money. We are buying in small amounts right now because we are quite cautious on the next few months in world markets, but we will step up that buying as the markets sort themselves out. (See most recent article on the market here.)
While Hyflux is my favorite, In Part II of this article, I'll provide an idea for a nice quasi-safe water utility with a growth kicker, as well as a simple list of some other great companies in this space.
Disclosure: We, and/or those clients for whom it is appropriate, are long Hyflux.
The Fine Print: As Registered Investment Advisors, we see it as our responsibility to advise the following: we do not know your personal financial situation, so the information contained in this communiqué represents the opinions of the staff of Stanford Wealth Management, and should not be construed as personalized investment advice.
Past performance is no guarantee of future results, rather an obvious statement but clearly too often unheeded judging by the number of investors who buy the current #1 mutual fund only to watch it plummet next month.
We encourage you to do your own research on individual issues we recommend for your analysis to see if they might be of value in your own investing. We take our responsibility to proffer intelligent commentary seriously, but it should not be assumed that investing in any securities we are investing in will always be profitable. We do our best to get it right, and we "eat our own cooking," but we could be wrong, hence our full disclosure as to whether we own or are buying the investments we write about.