The Dividend Champions spreadsheet and PDF have been updated through 12/31/14 and are available here. Note that all references to Champions mean companies that have paid higher dividends for at least 25 straight years; Contenders have streaks of 10-24 years; Challengers have streaks of 5-9 years. "CCC" refers to the universe of Champions, Contenders, and Challengers.
Milestones Reached
Early December saw the CCC listing reach 600 companies for the first time, on its way to closing the year at 611. At about the same time, the number of Challengers surpassed the number of Contenders for the first time since late 2012, when significant numbers of Challengers began to graduate to Contender status, having started their dividend-increase streaks in 2003 and 2004, following the first recession and bull market of the 21st century. A similar phenomenon may occur toward the end of this decade, when companies that began their streaks following the "Great Recession" will begin to achieve Contender status. The "Class of 2014" and the early cohort of the "Class of 2015" (which have been added, but won't pay their Year 5 dividends until January) added a net total of 156 companies in 2014.
Two new columns were added in December. The first was the 2014 Dividends Paid (column AP), which now is the base for calculating the 1-, 3-, 5-, and 10-year DGRs (Dividend Growth Rates), as well as the Dividend Growth Model (in columns CD to CJ). The second column added was the 2014 vs. 2013 change (column BI), which extends the range of the yearly percentage increases used for calculating the Mean (Simple Average) and Standard Deviation in columns BX and BY. The addition of the Dividends Paid in 2014 extends the summary in column BH to 16 years of data.
The Near Challengers listing picked up just 6 "NEW" notations (in Appendix B on the Notes tab), bringing the number of Near-Challengers to 221, down from 243 last month and the record of 281 companies in September. I expect the total to continue to decline because many of these companies are scheduled to "graduate" in the first quarter of 2015. After November's action boosted the average price of CCC stocks by 62¢, that figure edged up another 16¢ in December, while the average "age" of the dividend streaks dipped from 15.6 years to 15.3 (because of all the new Challengers), the average yield actually rose from 2.77% to 2.82%, and the average of the Most Recent Increases moved from 10.03% to 9.93%.
As always, please use the CCC only as a starting point for more in-depth research. Feel free to leave any suggestions in the Comment area below.
Quick Summary
The Summary tab includes a table comparing the composite numbers from the latest update to those from the previous month and the end of the previous year. Below that is a summary of the latest month's activity, in terms of companies added, deleted, or promoted. That is reflected below:
Quick Summary:

12/31/14

Champions

Contenders

Challengers

Total

No. of Companies

106

246

259

611

Ave. No. of Years

40.2

14.4

5.9

15.3

Average Price

69.58

68.71

56.76

63.79

Average % Yield

2.50

2.64

3.12

2.82

Ave. MR % Increase

8.25

8.61

12.28

9.93

11/28/14

Champions

Contenders

Challengers

Total

No. of Companies

105

246

238

589

Ave. No. of Years

40.3

14.3

6.0

15.6

Average Price

68.38

68.20

56.81

63.63

Average % Yield

2.53

2.65

3.01

2.77

Ave. MR % Increase

8.52

8.93

12.23

10.03

12/31/13

Champions

Contenders

Challengers

Total

No. of Companies

105

210

161

476

Ave. No. of Years

39.8

14.5

7.1

17.6

Average Price

64.42

65.14

57.74

62.48

Average % Yield

2.49

2.60

3.06

2.73

Ave. MR % Increase

8.68

8.78

11.10

9.49

MR = Most Recent

Additions:

Alexandria Real Estate Equities Inc. (NYSE:ARE) to Challengers

Amgen Inc. (NASDAQ:AMGN) to Challengers

Anheuser-Busch InBev SA/NV (NYSE:BUD) to Challengers

Ashford Hospitality Trust (NYSE:AHT) to Challengers

Banco Latinoamericano De Comercio Exterior SA (NYSE:BLX) to Challengers

BioMed Realty Trust Inc. (NYSE:BMR) to Challengers

Barclays plc (NYSE:BCS) to Challengers

CoreSite Realty Corp. (NYSE:COR) to Challengers

Corning Inc. (NYSE:GLW) to Challengers

CubeSmart (NYSE:CUBE) to Challengers

Douglas Emmett Inc. (NYSE:DEI) to Challengers

Eastman Chemical Co. (NYSE:EMN) to Challengers

FNB Bancorp (OTCQB:FNBG) to Challengers

General Electric Co. (NYSE:GE) to Challengers

Gildan Activewear Inc. (NYSE:GIL) to Challengers

Horizon Bancorp (NASDAQ:HBNC) to Challengers

Malaga Financial Corp. (OTCQB:MLGF) to Challengers

Mid-America Apartment Communities Inc. (NYSE:MAA) to Challengers

Morningstar Inc. (NASDAQ:MORN) to Challengers

Omnicare Inc. (NYSE:OCR) to Challengers

Pfizer Inc. (NYSE:PFE) to Challengers

ProAssurance Corp. (NYSE:PRA) to Challengers

TE Connectivity Ltd. (NYSE:TEL) to Challengers

Ventas Inc. (NYSE:VTR) to Challengers

Waddell & Reed Financial Inc. (NYSE:WDR) to Challengers

Walt Disney Company (NYSE:DIS) to Challengers

Wi-Lan Inc. (WILN) to Challengers

Deletions:

Prospect Capital Corp. (NASDAQ:PSEC) from Challengers

Riverview Financial Corp. (OTCQX:RIVE) from Challengers

Shaw Communications Inc. (NYSE:SJR) from Contenders

Tim Hortons Inc. (THI) from Challengers

Western Union Company (NYSE:WU) from Challengers

Promotions:

Erie Indemnity Company (NASDAQ:ERIE) from Contender to Champion

Farmers and Merchants Bancorp (OTCQB:FMAO) from Challenger to Contender

Hanover Insurance Group (NYSE:THG) from Challenger to Contender
(Table from author; may include underlying data from FinViz.com)
Every Picture Tells a Story
As a bonus, I'm inserting one of Chuck Carnevale's F.A.S.T. Graphs below, highlighting one of the companies listed above. When the price line is in the green area, it suggests possible undervaluation.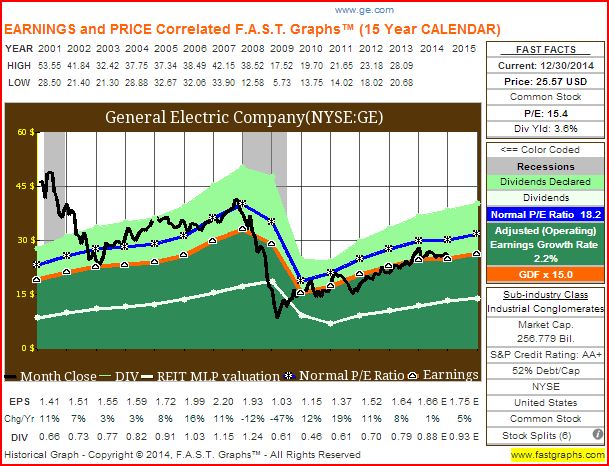 Disclosure: The author is long GE, WU.
The author wrote this article themselves, and it expresses their own opinions. The author is not receiving compensation for it (other than from Seeking Alpha). The author has no business relationship with any company whose stock is mentioned in this article.
Editor's Note: This article discusses one or more securities that do not trade on a major U.S. exchange. Please be aware of the risks associated with these stocks.