If you have followed the career of Sirius XM Satellite Radio's (NASDAQ:SIRI) CEO Mel Karmazin, you are likely aware of a certain dynamic he has. Karmazin tends to exude confidence, under promise and over-deliver. This quality is very good when the conservative guidance already represents great numbers and progress. When the company beats that guidance, the equity can hold the line and make the next leg up.
In the Q1 conference call Mel Karmazin stated that some guidance would have been raised if not for the disaster in Japan. He stated that a rebound of auto sales would mean that the company would raise subscriber guidance. He also stated that if auto sales tracked flatter that EBITDA guidance would be raised because of lower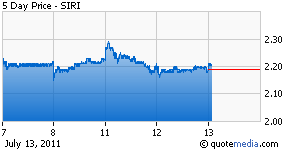 expenditures on Subscriber Acquisition costs. Essentially, no matter what happened in the auto sector (short of another disaster) the company was in good standing.
The time has now come for guidance to be raised. Over a month ago I published an article that stated that in my opinion Sirius XM would increase both the subscriber guidance as well as the EBITDA. I now feel more strongly about that than ever, and think there is a distinct possibility that we can see guidance raised prior to the Q2 conference call the first week of August. What I believe will happen is classic Karmazin. He painted an either or situation, but likely underpromised and will now over-deliver. It is my feeling that we will see guidance to both raised and the key here for investors is being ready for that news to hit

Why Subscriber Guidance Will Be Raised
Last quarter we saw gross subscriber additions of 2,052,367. During the quarter the auto channel sold 3,057,600 vehicles, and most of the subscriber growth for SIRI comes from this channel. As my readers already know, the OEM subscriber dynamic is divided into three distinct categories called Leading, Point-of-Sale, and Trailing.
During the first quarter the three categories were pretty evenly distributed, with the Leading category carrying a slight advantage. This distribution among the three categories delivered gross subscribers of just over 2 million.
In Q2, there was a distinct shift in the OEM categories that favors getting gross subscriber additions earlier rather than later. Total auto sales in Q2 was 3,271,356 units. This was an improvement of about 220,000 vehicles. Knowing that satellite radio is installed in 60% of the vehicles manufactured, this additional 220,000 vehicles would translate into 132,000 additional satellite radio promotional subscriptions.
Now before everyone goes and counts these subscribers, we need to consider that the trailing category does not add to the gross subscriber number in the current quarter, and the differing categories impact current numbers in differing manners. Thus, we need to look at production in Q2 from the leading category, sales in Q2 for the point-of-sale category, and sales in Q1 for the trailing category.
On its face it would appear that Sirius XM has the potential to add about 100,000 more gross subscribers than it did in Q1. This would bring the gross subscriber number up to 2,152,000. One interesting dynamic though was that most of the boost we saw in Q2 over Q1 came in the leading category. This would give weight to paid promotional over non-paid promotional subscriptions, meaning the number that contribute to the gross subscriber line could be as high as 120,000.
For the purposes of being prudent I will state that the gross subscriber number will likely come in between 2,150,000 and 2,170,000. Thus, splitting the difference I will use 2,160,000 gross additions.
Now we need to consider deactivation's and churn. Sirius XM should be able to deliver a self-pay churn rate between 1.9% and 2.0%. I believe we will see slight improvement and they will be at 1.95%. If the company can do this, then it can hold the line on the 1,679,000 deactivation's it saw in Q1. Thus, the subscriber number has potential to be 481,000.
Sounds great, but what if churn is at 2%. The news is not at all bad. Simply trim the number by 35,000. Thus Q2 subscriber numbers should fall between 446,000 and 481,000. Let's call it 463,000.
With Q2 subscriber numbers at 463,000 and Q1 at 375,000, we are at 838,000. Current guidance is at 1.4 million. This would mean that the second half of the year would only need to deliver 562,000 subscribers. Essentially the company is in a position where it now has to raise the subscriber guidance. Look for that number to be shifted up to 1.7 million, or "approaching" 1.75 million.
EBITDA Guidance
One odd thing about last quarter's call was that Karmazin raised the free cash flow guidance by $50 million, but left EBITDA alone. He promised that if the disaster in Japan had a negative impact that the company would spend less money on Subscriber Acquisition Costs (SAC) and thus EBITDA guidance would be raised.
Currently guidance for EBITDA sits at $715 million. Looking at the auto channel it would appear that some Japanese manufacturers are still suffering the lingering impacts of the disaster. Some of this, but not all, is being offset by other manufacturers. It would appear that auto sales will be right around the 13 million mark for 2011. I feel that this number is low enough to justify a boost in EBITDA.
What I see Karmazin doing is raising the EBITDA bar by the $50 million that he raised free cash flow last quarter. The new guidance should be at about $765 million.
In essence, what Karmazin will be doing is removing the buffer he had already built in during the first half of the year. Of course, in true Karmazin fashion, this new guidance will still be a bit conservative, but less so than early in the year.
What I anticipate is that if guidance will be raised prior to the conference call it may happen in conjunction with the announcement about the call date. If it does not happen July 22, 2011, then wait for it to happen with the call. Either way, hop on now because there is going to be a nice ride coming.
Disclosure: I am long SIRI.