In the U.S., 350 slices of pizza are eaten each second. I guess that explains why pizza is a $32 billion dollar industry. Awesome. So that makes us wonder: which publicly traded pizza restaurants offer the worst - and best - returns for investors going forward?
In this article, we're going to examine four different pizzerias operating in the United States and/or Canada, including Yum! Brands (NYSE:YUM) (which, of course, owns and operates Pizza Hut, among other things), Papa John's (NASDAQ:PZZA), Domino's (NYSE:DPZ), Papa Murphy's (NASDAQ:FRSH). Let's get ready, as they say, "to rumble!"
The Battle of the Pizzerias

Source: Logos From Wikipedia, Pizzas From Yelp, Author's Compilation
Looking at the images above, so far, the pizzas past the most important test of all: they look delicious. It probably has to do with the combination of dough, sauce, and cheese--I mean, it is simply a magical combination, isn't it? So, with an longing eye towards that insane-looking Pizza Hut hot dog crust, and Papa John's downright elegant, dainty looking cuts, we reluctantly move onto the next stage: the numbers.
Round One: The Numbers
For you pizza... company... lovers, I'm afraid we have some bad news. It seems that all pizzerias are not made equal. When we first compare the numbers of our five chosen pizzerias, several things jump out at us.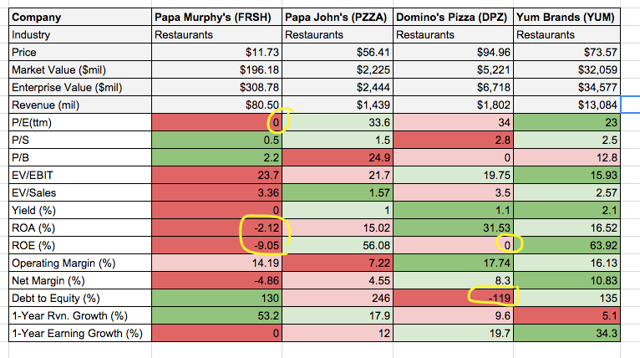 Source: Gurufocus and Author Compilation
The first thing we notice is that something spicy is going on with DPZ's debt to equity ratio: it's negative. We'll get into that later.
We'll start on the left hand side: Papa Murphy's.
Papa Murphy's has a negative P/E, so we can assume no earnings. We don't like that.
We also note that Papa Murphy's has negative ROE and ROA, negative net margin, and no earnings growth. And it has no yield. Papa Murphy, you're letting us down.
Next, we'll look at Papa John's.
We hear Papa John's pizza is awesome. Unfortunately, its numbers are kind of stuck in a muddled middle. It's P/E at 33+is too high for our liking--in an industry with an average P/E of 24.4 (according to Morningstar). Too rich for our blood.
Price to book, it's the most expensive of the group.
It also has the lowest operating margin of the bunch, the next-to-lowest net margin, and the second-lowest yield. Not good. Moving on.
Time for Domino's.
We thought Papa Murphy's was pretty bad. It's possible Domino's is even worse. The first thing we'll note is that Domino's has no P/B value because it's had negative book value for pretty much its entire history.

Domino's book value per share. Source: Morningstar and Author Compilation
At 34x, Domino's has the highest P/E of the group that has P/Es, way above the industry average.
It's ROA looks great at 31.35%.
Then we get to its ROE: 0%. That's because Domino's has negative equity. The value of Domino's assets have been swamped by its liabilities--explaining its debt to equity ratio of -119%.

Domino's stockholder's equity. Source: Morningstar and Author Compilation
Moving on, things are starting to get brighter for pizza lovers everywhere, with our trusty Yum! Brands.
Yum! Brands has the lowest P/E of the group at 23. Yet, it has a high price to book at 12.8.
It has a low-ish EV/EBIT of 15.93, implying an operational cash flow yield of 6.27%.
It offers shareholders a yield of 2.1%.
It has a high ROA (16.52%) and very high ROE (63.92%).
Yum Brands also offers high 1-year earnings growth. Now that's what we like to see.
Round One Winners and Losers
Based on the above, we're disqualifying two companies from progressing to the next round. We can't get behind Papa Murphy's negative ROE, ROA, lack of earnings, and negative net margins--let alone its lack of yield. We're also disqualifying Domino's, because we're unnerved by its large debt-to-equity ratio, a yield that doesn't beat a bank account--and all this for a price that's a premium to the industry (Domino's P/E is 34 vs. the industry average P/E of 24.4, according to Morningstar). Investors: our advice is to avoid Papa Murphy's as well as Domino's until these metrics change for the better.
| | |
| --- | --- |
| FRSH | Fail |
| PZZA | Pass |
| DPZ | Fail |
| YUM | Pass |
Now, onto round two.
Round Two: The Charts
Our first chart will look at the capacity of PZZA and YUM to turn its revenue into profit for shareholders.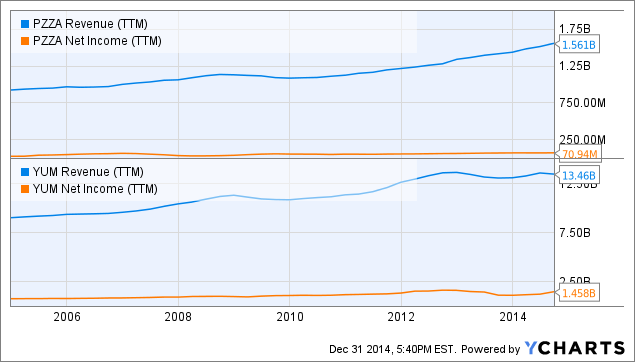 Source: YCharts
In this chart, we're not impressed by Papa John's. While it is growing its revenue, its net income remains stubbornly sluggish. Comparatively, YUM's graph is the best of a bad lot, given that net income shows some small growth as a result of growing revenue. It's not great, but it beats Papa John's by a nose.
In this next chart, we'll compare Papa John's and YUM's operating and profit margin to look for healthy signs of growth.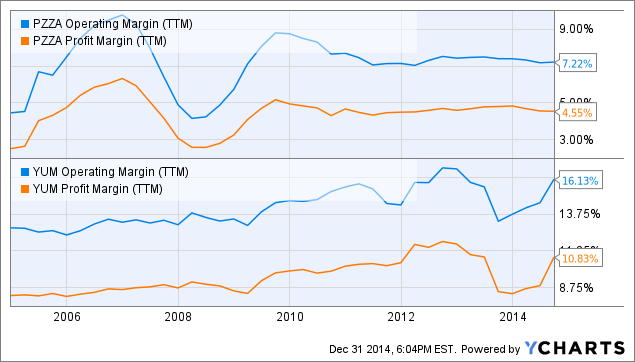 Source: YCharts
In this chart, YUM is the clear winner, increasing its operating margin to an impressive 16.13 and its profit margin to a good 10.83. Comparatively, PZZA's operating margin is less than half YUM's, as is its profit margin.
Conclusion
We'd love to be bullish on these companies (we did mention we love pizza, right?). Unfortunately, investing is about more than simply buying what we like--it's about buying companies the create shareholder value at a discount. While this analysis is certainly not perfect - after all, we only looked at four companies - we hope it provides some insight into pizza companies and their respective valuations.
Given the results, we would not back the truck up on any of these companies. We'd wait for them to drop in price. However, if investors feel the need to be invested in companies specializing in pizza, we believe that Yum! Brands is the clear winner. Of the four, it has the highest dividend yield, it's priced the cheapest (on a P/E basis), it has an operational cash flow yield of 6.27%, and it has consistently high ROA (16.52%) and very high ROE (63.92%) with high 1-year earnings growth. Plus, Yum! Brands offers not only pizza, but diversifies into the other three major foods groups as well: tacos (Taco Bell), chicken (WingStreet), and fried chicken (KFC). Now that's what we're talking about.
Disclosure: The author has no positions in any stocks mentioned, and no plans to initiate any positions within the next 72 hours.
The author wrote this article themselves, and it expresses their own opinions. The author is not receiving compensation for it (other than from Seeking Alpha). The author has no business relationship with any company whose stock is mentioned in this article.