The following series marks my top ten positions for 2015. This marks the seventh annual list I have published on Seeking Alpha. Here is a look at returns over the last six years:
Going into this year, investors who followed my picks each year since 2009 would have seen a $10,000 investment turn into $39,157. Unfortunately with the declines in 2014, that amount would now be down to $33,440. The picks in marked only my second losing year and was now my worst year of the six in the series. I can't promise better returns, but I believe I have selected ten stocks that will post positive gains and beat the market for investors in 2015.
Empresas ICA (NYSE:ICA)
Start Price: $4.92
52 Week Range: $4.37 to $8.43
Top Three Reasons to Buy:
1. OMAB ownership stake being undervalued
2. Strong backlog, future projects
3. Mexico growth
Subscribers of my Stocks Under $20 portfolio are already familiar with this pick. My favorite foreign stock pick right now is Empresas ICA. The company is a leader in construction in Mexico, an area seeing billions of dollars committed by the government and private companies right now. ICA also has a joint venture with Fluor (NYSE:FLR), which is winning projects that will generate significant future revenue. Most important, ICA has a not so hidden asset that investors are absolutely ignoring.
Empresas operates in three main segments: construction, concessions, and airports. In the recent third quarter, construction revenue grew 15%, led by the acquisition of American based Facchina (+11% growth). Concessions saw revenue grow 47% thanks to new highways open in the quarter. The airport segment saw double digit growth, led by strong passenger traffic.
Construction contract backlog stood at more than $750 million for the end of the third quarter. Service contracts on a long term basis will add another $337 million. Concessions have a backlog of more than $2.5 billion. Add this all up and you can see that Empresas has plenty of growth to come.
Concessions include several highways in Mexico. In the third quarter, the company opened two new highways and saw a ramp up of traffic on its existing ones. Two other highways will open in the fourth quarter. Right now the company has five highways and investors should keep in mind that one of these highways was open for mere days in the third quarter.
The construction segment continues to grow and has several large projects coming. The company is behind projects like the Monterrey VI Aqueduct, Churubus co-Xochiaca water tunnel, and Aqua Prieta, the largest water treatment plant in Mexico set to open soon.
The key investment thesis here is Empresas's ownership stake in OMA, a leading Mexican airport management company. OMA (NASDAQ:OMAB) owns and operates 13 airports in 9 Mexican states, including one in Monterrey, an increasing important business city in Mexico. In total, here are the airports owned by OMA:
· Acapulco
· Ciudad Juarez
· Culiacan
· Chihuahua
· Durango
· Mazatlan
· Monterrey
· Reynosa
· San Luis Potas
· Tampico
· Terreon
· Zacatecas
· Zihuatanejo
The recent month of November saw passenger traffic grow 15% for OMA's airports. The recent quarter for OMA saw strong growth for passenger traffic and also additional revenue from commercial and food operations. This is one area investors should also watch as OMA transforms its growth by expanding operations at existing airports. In the first quarter, a hotel will open at Monterrey Airport to be 85% owned by OMA. A new industrial park will also open at the same airport, which OMA has a 51% ownership stake in.
Through direct and indirect ownership, Empresas owns a 37.1% stake in OMA. This 18.33 million ownership translates to a value of $666.1 million, based on a price of $36.34 per share. Now take this away from the market capitalization of Empresas and you're left with the other parts of the company being valued at $100 million. It appears investors think Empresas will go bankrupt due to its high debt load or its ownership in OMA is worthless.
Empresas also owns partial stakes in a construction and real estate company in Peru. The joint venture with Fluor is the bread and butter for the construction segment and extremely important to this investment as well. Since 1993, the two companies have worked together in Mexico and other parts of the world. In December the two announced a new deal for a coker unit in Mexico for Pemex. This contract is good for $1.3 billion. Empresas will see $650 million of this and I'm not sure when they will recognize it, as Fluor plans on including it in their current fourth quarter. The project is expected to be complete in 2018.
Empresas is expanding in the United States through its acquisition of Facchina. The company paid $60 million plus up to $40 million in earn outs for the business. In the second quarter, Facchina had sales of $60.9 million. This acquisition is a key to the growth of the construction business.
Shares of Empresas traded in the double digits back in 2013. The 2014 year saw the company's share price fall by 31%. A market capitalization of $750 million does not account for the OMAB stake or other partial ownerships, it barely covers the strong growth and backlog the company has. The big elephant in the room is Empresas' high debt load, which stood at $3.4 billion for the end of the third quarter. So in reality, Empresas has an enterprise value that is above $4 billion.
GlaxoSmithKline (NYSE:GSK)
Start Price: $42.74
52 Week Range: $41.29 to $56.73
Top Three Reasons to Buy:
1. Asset swap with Novartis
2. Possible IPO of Viiv Healthcare
3. Shareholder returns from dividends and asset swap
The largest (by market cap) stock pick on this list is the pharmaceutical giant GlaxoSmithKline. The company has a pending asset swap that is set to strengthen the company, return cash to shareholders, and ultimately boost the financial profile of the company. A push to monetize the Viiv Healthcare ownership is also in the works, which could come to fruition as early as 2015. Add in a 5% dividend yield and a stock at 52 week lows, and this is a great pick for a rebound in 2015.
Glaxo's large respiratory drug Advair is facing generic competition. In the last quarter, Advair sales fell 25%. This was once an $8 billion drug, but has fallen on tough times. Through the first nine months of the year, Advair had sales of $4.8 billion. The drug was just dropped from Express Scripts as a primary treatment, which hurts since Express is the largest pharmacy benefit manager in the nation.
However, Glaxo has an ace up its sleeve with the pending asset swap with another pharma giant Novartis (NYSE:NVS). The two companies agreed to exchange assets and also form a consumer product joint venture. Novartis will be getting Glaxo's oncology business segment, while Glaxo will welcome Novartis' vaccine segment. Together, the company's will have a consumer joint venture, which will be 63.5% owned by Glaxo.
The deal will give Glaxo four key franchises: vaccines, respiratory, HIV, and consumer. The company will also have great global scale. After the transaction, Glaxo will rank number one globally for vaccines, number one for respiratory, number two for HIV, and number one for OTC consumer.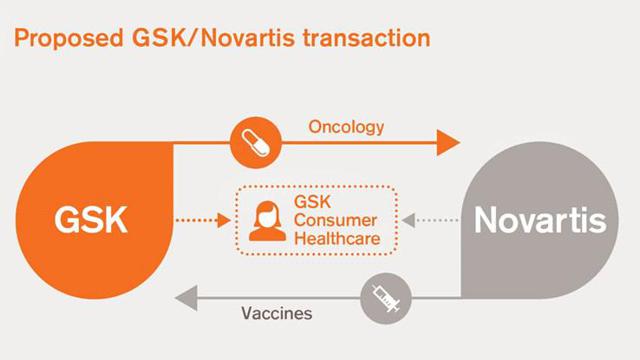 (Source: Press Release)
The consumer joint venture is intriguing and was even brought up as a possible spinoff or IPO on the recent conference call. This segment will be number one globally for OTC consumer products. The business has 19 $100 million brands. The combined portfolio will take Glaxo from number one in a current 14 countries to a number one position in 36 markets. Strong recognized brands in the portfolio include: Excedrin, Lamisil, Theraflu, Maalex, Benefiber, Prevacid, Breathe Right, Tums, Nicorette, Sensodyne, Aquafresh, Poligrip, Abreva, and alli. Make no mistake about it, this is a huge joint venture that will have strong cash flow for both companies.
Another lesser asset move is Glaxo's plan to sell some older drugs. The company recently pulled the sale after saying offers were too low. I believe 2015 could see new offers or Glaxo pairing something else with them to make a sale happen. These older drugs included Paxil, Zantac, Zofran, and Imitrex. Together, they have annual sales of $1.6 billion. Glaxo wanted to sell the global rights, excluding emerging markets where growth is still pretty active. There are many companies that are in the market to expand their portfolios and cash flow from older drugs.
In the third quarter, Glaxo saw declines across the majority of its segments. The company's growth came from emerging markets, Japan, and Viiv Healthcare. Sales of pharmaceuticals and vaccines in the United States fell 10%, led by a 15% decline in sales of Advair. In Europe, sales of pharmaceuticals and vaccines fell 2%. Emerging markets offered growth of 12% for pharmaceuticals and vaccines in the third quarter. The strength for emerging markets was led by vaccines (+13%) and Japan (+6%). The company's Viiv Healthcare segment also grew sales by 18%. Consumer product sales fell 3% in the quarter due to supply disruptions.
Viiv Healthcare continues to be a big growth driver for Glaxo. In 2015, that segment could become even more important as a possible IPO of a partial stake in the company is explored to reward shareholders. In the third quarter, the launch of Tivicay was "exceptional". The company reported Triumeq, which was approved in August, was also off to a good start.
GlaxoSmithKline peaked by interest back in October when it said it was exploring an IPO of part of its Viiv Healthcare stake. At that time, Glaxo CEO Andrew Witty said, "We believe now is the time to explore the potential for an IPO of a minority shareholding in the business." This will provide greater visibility of the intrinsic value we see in its currently marketed assets and future pipeline and also enhance potential future strategic flexibility." With close to 80% ownership, Glaxo could offer a small stake to shareholders and still maintain majority control. In the third quarter when asked about operating margins, Glaxo said a good rate to think of with Viiv is 60%, making a highly profitable company on its own. The company thinks this IPO is more likely a 2016 event, but I believe either more details will come in 2015 or more analysts will back the company because of this 2016 event prior to the beginning of next year. Viiv was founded five years ago as a joint venture with Pfizer (NYSE:PFE) and Shionogi. The company has developed several strong HIV drugs.
Glaxo's pipeline doesn't boast as many potential blockbuster companies that other pharma giants currently have. However, a recent Phase III respiratory drug for a new asthma approach does provide some hope and upside. A similar competing drug from AstraZeneca (NYSE:AZN) is believes to see peak sales of $2 billion if approved. A rival drug from Genentech, Xolair, has generated $1.3 billion through the first nine months of 2014. A Phase III shingles vaccines is also promising and recently met its endpoint in patients 50 years or older. I could also go on about Glaxo's place in the Ebola vaccine segment, but that continues to be a work in progress for many companies.
When forecasting sales or earnings for 2015, a lot depends on the timing of the asset swap closing. In fact, Glaxo is hesitant to provide any guidance at all based on the uncertainty of this event. On Yahoo Finance, analysts believe 2015 revenue will be higher by around 6% at $38.3 billion. This would follow a disappointing 2014 that saw sales drop double digits, barring any surprises in the fourth quarter. Earnings per share are expected to hit $2.98 per share in fiscal 2015. This gives shares a current price to earnings of 14.3 times forward sales. I believe this is pretty low to peers and the timing of the asset swap could greatly impact this figure one way or the other. If the deal closes before the end of the first quarter, it would boost earnings estimates and likely lead to immediate analyst upgrades and stock movement.
Glaxo continues to be overlooked by investors with its high payout rate, which has investors worried of a possible cut. Glaxo's CEO recently responded to rumors on the high dividend payout by informing investors the high payout is safe. The decline of Advair is also fresh on investors' minds. The asset swap with Novartis is being overlooked by investors in my opinion. This deal will offer strong cash flow and earnings power with the strength of vaccines and consumer products. With shares near 52 week lows, the time to buy is now if you believe the company can rebound and report growth in the future.
Iconix Brand Group (NASDAQ:ICON)
Start Price: $33.79
52 Week Range: $32.78 to $44.81
Top Three Reasons to Buy:
1. Valuation too low
2. Peanuts
3. Diversification
I have been a fan of the licensing giant Iconix Brand Group for quite some time. My first article on the company came way back in 2011 where I highlighted the strong brands and retail relationships the company had. Shares are up over 80% since that time. A lot has changed since then as Iconix has continued its strong growth by adding new brands and also boosting its international presence. With shares recently pulled back, this stock had to make the 2015 top ten list.
In 2015, Iconix will bring the beloved Charlie Brown, Snoopy, and rest of the Peanuts gang to the big screen. In the recent quarter, Iconix announced it had signed 180 new licenses for the Peanuts brand. Those deals and the prior ones give Peanuts a presence in more than 70 countries. The company said, "we're going to start really seeing it, I'd say, in a major way in the summer of 2015", when referring to the increased revenue from Peanuts.
Iconix paid $175 million for an 80% stake in Peanuts back in 2010 and has more than gotten its fair share of money from the deal. At that time, the licensing power of the brand was bringing in $75 million annually. Now with the company focusing on larger deals and new licensees getting in prior to the movie's November 6, 2015 release, Iconix should see hundreds of millions of dollars from the brand in fiscal 2015. Also, Iconix will enjoy royalties on all movie tickets from the movie, which will hit the fourth quarter of 2015 and the first quarter of 2016.
Despite the strong catalyst of the Peanuts movie, Iconix is well diversified to handle any stumble at the box office or a lower number of licensing deals for the brand. The company has 40% of its sales coming from international markets, led by 7 joint ventures and an increasing presence in Asia. The company also has items available across all key customer demographics from value all the way up to luxury. Also consider the following sales representation among segments:
· Women's fashion: 30%
· Men's fashion: 16%
· Home: 11%
· Entertainment: 22%
· Sports: 21%
Several brands recently were renewed or expanded, creating possible additional revenue along the way. Mudd and Material Girl were renewed with Kohl's (NYSE:KSS) and Macy's (NYSE:M) respectively. Waverly entered 3000 Wal-Mart (NYSE:WMT) stores as an arts and craft brand, extending the brand. Royal Velvet expanded at JCPenney (NYSE:JCP). Target (NYSE:TGT) centered its holiday collection around the Sharper Image.
On Yahoo Finance, the consensus revenue estimate for the current fiscal year is $459.6 million. Consensus earnings are listed at $2.75 per share. For the next year, analysts see revenue growing 7.2% to $492.4 million. Earnings per share are expected to rise to $3.02. Iconix issued its own 2015 guidance recently in the third quarter. The company sees 2015 earnings per share hitting a range of $2.90 to $3.10. The company believes fiscal 2015 revenue will come in a range of $485 to $500 million. As you can see, the analysts projection fall in mid-range of the company guidance, leaving a chance for a full year beat on both fronts.
Shares of Iconix trade at around 11 times next year's estimated earnings per share. That is too low in my opinion for such a strong free cash flow generating company. I think the company should trade closer to 15 times 2015 earnings, creating upside of more than 30% from here.
In 2014, shares of Iconix are down 14%, which is surprising considering the shares traded above the $40 level for most of the year. A late three month plunge has shares trading just above 52 week lows. With $178 million in cash and $100 million from an undrawn revolver, I think Iconix will make another acquisition or two in 2015, which could boost shares. This is a great buying opportunity for investors to get in now at low valuations ahead of one of the biggest catalysts the company has ever seen.
Ingram Micro (NYSE:IM)
Start Price: $27.64
52 Week Range: $22.22 to $30.96
Top Three Reasons to Buy:
1. Strong growth higher margin businesses
2. Recent acquisitions power international segment, which is showing double digit growth
3. Over $44 billion in revenue, market capitalization less than $5 billion
Despite $44 billion in annual revenue, Ingram Micro isn't that well known of a stock. The company has a market capitalization of less than $5 billion and continues to grow through new business segments and higher margin offerings. The company is also working effortlessly on international growth through acquisitions. Two recent deals could be just what this stock needs to continue its share acceleration in 2015.
Ingram Micro announced it was acquiring a majority interest in the Turkish IT firm Armada. In Turkey, Armada is the largest value added technology distributor. In 2013, the company had revenue of $280 million. Surprisingly, Turkey is becoming a huge growth market for the technology industry. This company, which was founded in 1993, has a strong presence in the enterprise solutions and channel development segments for small businesses.
The other recent deal was the acquisition of ANOVO, a French logistics and repair services company. ANOVO offers repairs for smartphones and set tops in Europe and Latin America. This is a business that has already been a focus of Ingram in the United States, so to acquire a European leader shouldn't come as a total surprise. The deal is expected to close in the first quarter and add more than $300 million in annual revenue. ANOVO has more than 5,000 associates in 11 countries. This deal is expected to boost the relationships Ingram has with some of the world's largest telecom operators.
Ingram saw a slight bump up to its share price in October after reporting strong third quarter earnings and fourth quarter guidance. Total third quarter revenue increased 11% to $11.2 billion. Operating income increased 19%. The company saw benefits from new wins and a strong global market share increase. Mobility was a strong performer in the quarter with the segment up 50% to almost $2 billion. While this segment makes up a lower portion of sales (Technology was $9.3 billion), it is much more profitable and continues to offer the best growth going forward.
Broken down by region, here was third quarter revenue:
· North America: $5.1 billion, +20%, operating margin 2.1%
· Europe: $3.2 billion, +9%
· Asia Pacific: $2.4 billion, -4%, operating margin 1.4%
· Latin America: $525 million, +17%, operating margin 1.9%
Ingram Micro has grown through acquisitions. It has made more than 10 deals for over $1 billion in the last three years. In the last 10 years, the company has made more than 22 deals. Two recent deals are set to add to growth segments and could be undervalued and undiscovered by investors.
The company sees its three most important metrics as:
· Solid earnings per share growth
· Delivering good returns on invested capital
· Growing the overall company above market rates
I think this is a high growth company in the disguise of low margin technology services. The company's mobility segment is only four or five months old and racking up big wins. The company also is seeing phenomenal international growth, with the exception of Indonesia, which hurt the Asia Pacific region. Other areas like the United States, Germany, Italy, India, and Australia, are seeing double digit increases in revenue.
To go along with this growth, the company could also see a huge catalyst in 2015. The company has an opportunity to gain a load of new contracts as support for Windows 2003 goes away in the year. This is one area to watch for this technology company and could be an item discussed in further detail on the fourth quarter earnings call.
A presentation laid out the company's growth plan through the year 2016. The company sees the core business remaining strong. The real growth is expected to come from mobility solutions (+8 to 12% compound annual growth), supply chain solutions (+25 to 30% compound annual growth), and cloud solutions (+100% compound annual growth) through the fiscal 2016 year. This is good news for investors as these growing segments have much higher operating margins and profits.
The company sees fourth quarter revenue increasing 8 to 12%. Fourth quarter earnings per share are expected to hit a range of $0.95 to $1.02. Both of these figures are better than analysts, who see revenue growing 5.1% and earnings per share of $0.97.
During an investor presentation, the company gave a target of $44.5 billion for fiscal 2015 revenue. The company sees earnings per share hitting $2.60 to $3.10 for the full year. Going into 2106, the company has an early projection of earnings per share in a range of $3.40 to $3.70. For the 2016 year, the company sees revenue growth of 4 to 6%.
IntraLinks Holdings Inc. (NYSE:IL)
Start Price: $11.90
52 Week Range: $7.76 to $12.21
Top Three Reasons to Buy:
1. Strong revenue growth from M&A and Enterprise sectors
2. Shares trading down from IPO/2011 levels, haven't followed rest of SaaS market higher
3. Nice acquisition target in hot M&A sector
I recently stumbled across a small company ($650 million market capitalization) that operates in the hot area of software as a service (SaaS). Intralinks was found by me when researching the first ever cybersecurity ETF, PureFunds Cybersecurity (NYSEARCA:HACK). In fact, Intralinks is a top ten holding, with around 5% of the ETF's assets represented by this company. Despite operating in the hot software sector that has seen surging IPOs, Intralinks appears to have been left behind, making 2015 a perfect opportunity for growth, a lifted stock price, and a possible acquisition.
In November, Intralinks reported stellar third quarter earnings that once again showed double digit growth. Total revenue grew 11% to $65.6 million. The revenue broke down as follows:
· M&A: $33.9 million, +18%
· Enterprise: $25.1 million, +8%
· DCM: $6.6 million, -9%
As you can see, the M&A segment was the strongest and also represented 52% of the company's quarterly total. In the third quarter, Intralinks saw strong demand, especially in Europe. New customer wins included Bell Canada, Kimberly Clark (NYSE:KMB), and Repsol (OTCQX:REPYY).
Enterprise is the segment the company believes has the best growth prospects. Intralinks sees enterprise revenue growing 25 to 30% annually. New customers for the enterprise segment in the quarter were Chamberlain, Union Bank, Virgin Money, and a multinational financial institution.
Because of the strong third quarter revenue, Intralinks raised its fourth quarter and full year projections, a positive sign for investors. The company now sees fourth quarter revenue hitting a range of $65 to $67 million with earnings per share of $0.01 to $0.03. For the full year, Intralinks sees revenue hitting a range of $253.4 to $255.4 million. This is a raise from the $248 to $252 million range given during the second quarter earnings release. Back prior to the start of the fiscal year, Intralinks guided for full year revenue in a range of $238 to $246 million, a mark it will substantially beat. Yahoo Finance has three analysts polled who believe the company will report full year revenue above that new guidance. Those analysts see revenue growing 6.7% in 2015 to $272.6 million. I think this is conservative and the company will get closer to its long term goal of 15% revenue growth.
Intralinks recently unveiled its Via 2.0 platform that has seen strong interest. The platform has integration with Microsoft Office Online, an industry first for cloud collaboration solutions. The integration of the recently acquired docTrackr also allows other new tools for users and the ability to share documents and files securely. Via 2.0 also offers customer managed encryption key, an industry first. All signs point to this new platform being a winner for the company and could secure a lot of new deals.
Intralinks has a long term goal for revenue growth of 15 to 20%. The company's long term goal for operating margins is also 15 to 20%. Intralinks has a strong backlog of upcoming revenue through subscription models. Intralinks counts on 99% of the Global Fortune 1000 as clients and continues to win deals with smaller companies.
One reason to love Intralinks is its place in the SaaS market. That industry saw nine IPOs in 2014, which had a median price appreciation of 52%. The SaaS market saw 40 IPOs in the 10 years between 2004 and 2013. Also, the software sector has seen lots of acquisitions. In 2012, companies like NDS, Ariba, Logica, and Quest all got bought out for $2.5 billion or more. Salesforce (NYSE:CRM) bought ExactTarget for $2.5 billion in 2013, shortly after the company went public. In 2014, SAP acquired Concur Technologies for $8.3 billion. Concur was one of my top ten stock picks for 2013 and returned 91% from the time of the start of 2013 to the buyout.
I see a similar think happening here as I believe Intralinks is an intriguing buyout target that can be handled for around $1 billion or a little more to offer a premium and complement an existing software or cybersecurity firm. The pending 2015 IPO of Box, another SaaS company, could also increase the sector and get some M&A activity rolling.
After trading below the double digit range for most of the year, the stock has started to trade upwards. Stifel came in with a buy and a price target of $15 back in September, which helped get shares going. Despite that rise, shares are still below that $15 target and trade below their 52 week high of $12.34. Shares are still down 4% in 2014, despite the 42% rise in the last three months. Keep in mind that shares traded as high as $32.25 back in 2011 and were over the $15 level for quite some time. Shares went public back in 2010 at $13, so today's buyers are getting shares cheaper than the initial price offering.
Manitowoc (NYSE:MTW)
Start Price: $22.10
52 Week Range: $16.24 to $33.50
Top Three Reasons to Buy:
1. Activist interest/possible Breakup
2. Shares down in 2014, set for 2015 rebound
3. Bullish foodservice sector
Shares of Manitowoc are up 15% in the month of December. That late surge to end the year was caused by activist investor Carl Icahn and his disclosure that he bought a 7.8% stake in the crane and food equipment company. Icahn wants to breakup the company into two, which I am more than fine with. With or without a split of the business, I think shares look enticing here.
One of my top ten stocks for 2014 was Pepsi, with the number one reason being breakup rumors. Trian Fund Management, led by Nelson Peltz, wanted to split the food business from the namesake drink business. While that hasn't happened yet, shares were up 15% in 2014, so we will stick with the breakup premium/activist interest investing idea in 2015 with Manitowoc.
Manitowoc was long known for its crane business, with smaller foodservice and marine divisions cluttered in the corporate structure. That changed in 2008 when Manitowoc acquired Enodis for more than $2 billion. That deal increased the company's foodservice business by five times. Now in 2013, the foodservice business made up 38% of overall revenue and the slow growth of the segment is offsetting weakness from cranes.
When Manitowoc saw an investor group (Relational Investors) buy a small ownership stake (8.5%) in June, the company said it was executing its plan of rewarding shareholders and brushed off breakup attempts. A December presentation even hinted at keeping the brands together. A slide titled "Business platform benefits from combination" highlighted how the brands grow in tandem. In 2008, the company used strong revenue generated from a bullish crane market in 2007 and 2008 to acquire Enodis. The increased revenue from the foodservice sector that followed allowed Manitowoc to invest in cranes in 2009, 2010, and 2011.
Carl Icahn is now the third highest shareholder, behind Relational and Fidelity (near 15%). Between the three, a total of more than 30% of shares are owned. This should lead to some nice pressure on the company and could ultimately lead to the split of business segments. Keep in mind that a split could do wonders, as the more profitable foodservice segment is being lumped together with a declining crane market, which has a low multiple.
BB&T recently issued a hold rating with a price target of $26. One analyst did say they believed the company was worth $34 if a breakup happens. Keep in mind, shares of Manitowoc traded for $33 back in July, but have now fallen below $25 and not looked back since September.
In the third quarter, the foodservice division posted revenue growth of 3.8%. Cranes, on the other hand, continued their downward trend with 6.7% less in quarterly sales. The foodservice segment had operating margins of 14.8%, compared to cranes, which saw quarterly margins of 7.3%. The foodservice segment had twice the margins of cranes in the quarter and continues to bring in a higher percentage and higher overall profit, despite making up less than 40% of sales.
Yahoo Finance lists a target of $4.1 billion in fiscal 2015 revenue. This represents only 4.2% growth, but comes after the fiscal 2014 year that saw sales drop more than 3% if the fourth quarter holds the pattern. Shares trade at only 15 times fiscal 2015 expected earnings of $1.46. This seems like a fine valuation for the crane business, but with the high growth and nice operating margins of the foodservice business, really shares should trade higher. A split could value shares at 12 to 15 times crane earnings and 15 to 18 foodservice earnings.
Over the last 10 years, revenue at Manitowoc is up 176%. The company has been around for more than 100 years and has huge branding power. A split of the foodservice business would be good for the company, as it would give both units room to operate on their own, improve margins, and pursue acquisitions. However, without a split, shares of Manitowoc are still worth buying heading into 2015. There is potential upside of 20 to 30%, with very limited downside.
*Some of the information for this Manitowoc piece came from an investor presentation found on the company's investor relations homepage*
Melco Crown (MPEL)
Start Price: $25.40
52 Week Range: $21.04 to $45.70
Top Three Reasons to Buy:
1. New casino Philippines
2. Studio City opening in Macau
3. Decline in share price offers buying opportunity
Melco Crown will always hold a special place for me, as it was the very first stock I wrote about here on Seeking Alpha. Back in 2008, I recommended buying shares due to its future opening City of Dreams casino and developments for a third casino on the Macau Peninsula. City of Dreams would later open and that third casino (Studio City) will open in 2015. As a result, shares are up 73% since that time. More impressively, shares are now up 633% since the company was included in my very first top ten stock picks list back in 2009. Here I am recommending the stock again due to its beaten down share price and two new casinos adding to the company's growth.
I wrote about Melco Crown entering the Philippines market in 2012 and 2013 articles. Through a joint venture with SM Investments, the company opened the City of Dreams casino in Manila in 2014. The Philippines is quickly becoming a big gambling market and attracting new companies to the region. Melco is one of the first to plant a flag in the region and is concentrating on the VIP segment, which has worked out well for the company in Macau.
The long anticipated Studio City casino and resort is set to open in Macau in 2015. Melco paid $360 for a 60% stake in this venture years ago. The casino will be a future stop on the light rail system and is in close proximity to the Lotus Bridge, connecting Macau to Hengqin Island. The location of this casino has been considered one of the best spots in Macau by the company and analysts over the years. The Lotus Bridge is currently open 9am to 8pm, but that may change in the future. The casino is also only 5 miles from the Macau International Airport. Hengqin Island is on its way to becoming an entertainment destination and considers itself the Orlando of China. The recently opened Ocean Kingdom opened in 2014 and is bringing new tourists to the region.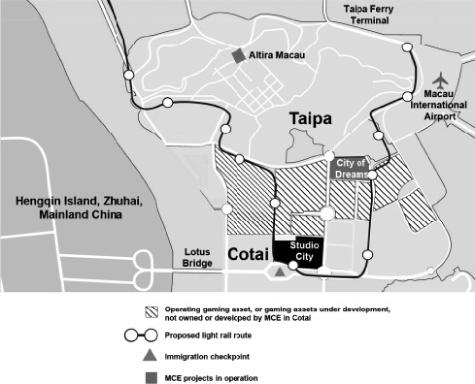 (Source: SEC)
In the third quarter, Melco Crown saw revenue dip 10%, due to lower group-wide rolling chip revenues. The company gained market share for mass table games. The company's City of Dreams casino posted revenue of $911.6 million. The casino saw declines across the board for gaming categories in the quarter, but did manage a gain in the non-gaming segment. Melco's smaller Altira casino posted revenue of $160.4 million. This casino also saw declines across the board. Both casinos have hotel properties that saw capacity of 99% or more.
In November, Melco Crown held the number four spot for market share in Macau. The company's 13.4% share trails only SJM (OTCPK:SJMHY) (22.6%), Sands China (OTCPK:SCHYY) (22.6%) and Galaxy (OTCPK:GXYEY) (21.5%). The company ranks ahead of MGM China (OTCPK:MCHVY) (11%) and Wynn Macau (OTCPK:WYNMY) (9%). There are other properties coming to Macau from rivals, but Melco seems locked in on gaining or maintaining share with the opening of Studio City in 2015.
Macau surpassed Las Vegas in 2006 as the gambling capital of the world and hasn't looked back. What has worried investors is a slowdown in growth, which was inevitable. Other concerns are corruption crackdowns and visa restrictions. In my opinion, these items are overblown and the region actually posted better numbers than expected for November. In November, visitors to Macau were up 15%, with only a slight decline in the length of stay. On the year, visitors are up 8% to the region. While there isn't the double digit growth there once was, this is still the gambling capital of the world and Melco's share equals billions of dollars in revenue.
National CineMedia (NASDAQ:NCMI)
Start Price: $14.37
52 Week Range: $11.70 to $20.13
Top Three Reasons to Buy:
1. Pending merger with Screenvision
2. Huge blockbuster year coming in 2015
3. Advertising market shift
Back in September of 2013, I highlighted National CineMedia as a great investment with its strong presence of movie screens across the country. The company gets money from advertisers to show ads and previews during its "First Look" segment that airs before feature presentations in around 20,000 movie screens nationwide. That strong business remains the same today, plus a pending acquisition that is the subject of the Department of Justice could provide upside to this beaten down stock. With or without the acquisition, National CineMedia should be able to take advantage of the upcoming 2015 movie slate, which I think is the year of the blockbuster.
In April, the US Department of Justice will review the acquisition of Screenvision to determine if the two companies can pursue this deal. National CineMedia attempted to acquire the smaller rival for $375 million. The companies believe the deal will go through and offer the following as benefits to a combined company:
· Greater reach
· Ubiquitous coverage
· Ability to target specific audience demographics
· Lower costs for advertisers
· Significant expense synergies
If the deal is approved, National CineMedia will have its product on 34,000 screens, up from the current 20,000. The company will be present in 3900 theaters, more than double the current 1,593. Together the two companies have content in front of 1.1 billion people, compared to the 700 million National CineMedia hit last year.
National CineMedia is the 45.8% owner of National CineMedia LLC. That company is partially owned by the leading exhibitors across the country. AMC (NYSE:AMC) owns a 15.0% stake, Regal (NYSE:RGC) owns 20.1% and Cinemark (NYSE:CNK) owns 19.1%. if the Screenvision deal goes through, National CineMedia's stake will increase to 49.6%, and the others will see slight declines in their equity percentages.
I have covered in other articles throughout 2013 and 2014, but I believe 2015 is shaping up to be one of the biggest movie years ever. In fact, two movies that will be released in the year are already competing for the likelihood of being the third highest grossing movie of all time behind Avatar and Titanic. In 2014, only 11 movies grossed $200 million in the United States. In 2015, I believe that there are numerous movies that have a shot at hitting that total. Here is a brief look at potential blockbusters:
· Avengers: Age of Ultron
· Star Wars Episode VII
· Spectre
· Mockingjay Part II
· Inside Out
· The Good Dinosaur
· Minions
· Furious 7
· Jurassic World
· Ant-Man
· Tomorrowland
· Mission Impossible 5
· Ted 2
· Terminator Genisys
· Fifty Shades of Grey
· Cinderella
· The Fantastic Four
Add that up and you have 17 movies that I believe could hit the $200 million mark. Among them are the highly anticipated Avengers and Star Wars sequels. These two movies both have the potential to gross billions of dollars worldwide and compete for that number three spot on the all time list. You can bet that advertisers are going to be putting up some serious money to get ad space prior to these two movies perfectly spaced out in May and December.
Back in September, National CineMedia announced plans to take its Turbo initiative nationwide. After a strong test in California, the company decided to expand this program. The new segment allows advertisers to get their time sensitive or short time promotions on screen within 72 hours rather than the typical 10 to 20 days prior to Turbo. This is a great benefit for advertisers and the company said it was well received during the testing period.
The most recent third quarter saw revenue fall 25.4%. Excluding the impact of Fathom Events, which was sold in 2013, revenue would have fallen 21.0%. Through the first nine months of the year, revenue is down 14.9% excluding Fathom Events. The company sees the fourth quarter posting a much better performance with growth of 18% forecasted and a better overall advertising buying market.
The company should see growth from advertisers as the company offers a great way to get content in front of consumers. Over 90% of consumers fast forward through the commercials of their DVRd programs. As the trends continue, viewers are seeing less commercials due to DVR and online streaming options. This means advertisers have to be clever and smart about where to advertise. Movies represent a great opportunity and with the strong slate for 2015 this is a huge potential.
On Yahoo Finance, earnings estimates call for $0.35 per share in fiscal 2014 and $0.46 in fiscal 2015. Revenue is seen falling 15% in fiscal 2014 to $393.0 million. Analysts do see revenue rising 6% to $416.4 million in fiscal 2015, but I believe that could be conservative given the acquisition and movie slate.
National CinemaMedia saw shares shoot up in May after the ScreenVision deal was announced. They continued to climb, before falling down to the low single digits. Today, shares offer a great entry with shares 27% lower in 2014. Add in a healthy 6% dividend yield and this stock should return double digit gains in the 2015 blockbuster year.
NRG Energy (NYSE:NRG)
Start Price: $26.95
52 Week Range: $25.77 to $38.09
Top Three Reasons to Buy:
1. Residential solar growth
2. Strong customer base
3. Shift from natural gas/coal to renewable energies
My two oil picks for 2014 didn't fare so well on the top ten list. For 2015, I have selected an energy company that is diversifying into clean energy and residential market to create more growth opportunities. NRG is a large energy company with operations in coal, natural gas, oil, renewable energy, and nuclear power. The company is shifting its focus to renewable and this should benefit investors. NRG provides power for more than 3 million customers in 47 states.
The company gets the majority of its revenue from its wholesale business ($678 million quarter three, $1.7 billion 9 months), but is seeing a stronger push from the retail segment ($196 million quarter three, $477 million 9 months).
NRG is increasing its presence in the solar market via residential. The company plans on more than 25,000 installations in 2015. A series of recent acquisitions should help boost this segment. The company acquired Pure Energies back in October. Pure Energies was a leader in online sales for retail solar units. This acquisition, along with an earlier acquisition of Roof Diagnostics solar, will now come together with NRG's Residential Solar Solutions to offer a one-stop shop for solar power at the home level. With its already existing customer base of 3 million people, NRG may be able to shift some to solar power rather quickly, to gain market share and scale in a highly competitive residential solar power market.
NRG also owns eVgo, the first private funded electric vehicle charging stations. This small segment is expanding and was recently announced for Atlanta. The eVgo stations are available across the United States at 180 stations. A partnership with Nissan and its Leaf electric vehicle is helping the growth of these charging stations.
A smaller acquisition was made recently to bring in the Goal Zero company to NRG's portfolio. Goal Zero is a leader in renewable gear for camping and outdoors. The products can be found at outdoors stores like Cabela's. The products are solar powered and range from flashlights to full generators. This could be a nice complement to the growth of residential solar power and brings NRG a pre-existing customer base that cares about renewable energy.
Another area to watch is the sports market. Recently, NRG helped boost the Houston Texans stadium through a series of energy initiatives, including LED lights. The stadium will also be the first in the state of Texas to draw power from the sun. NRG has also helped energy segments at FedExField (Maryland), Lincoln Financial Field (Philadelphia), MetLife Stadium (New Jersey), Patriot Place (Massachusetts), and Levi Stadium (California). With new sports stadiums being built every year and hundreds of millions of dollars being put into infrastructure, NRG could really get a nice boost if it can continue to offer its services to improve efficiency from renewable energy.
One big risk with NRG is its high debt load, which stood at $20.9 billion at the end of the most recent quarter. The company does have a book value of $29.40. This is a high debt level, but the company generates a high amount of revenue. Through new company focus and higher margin items, the company should being working on retiring some of the debt. Renewable energy makes up only 8% of the company right now, so there is plenty of growth and upside if these growth items catch on.
In December, NRG shares hit a two and a half year low. That's part of the reason why this company made the list. The company has a low valuation, an okay dividend, and growth in renewable energies. This all adds up to what I think could be a great pick for the 2015 year. The company has an investor day coming up in January, which should provide more details on items and could be a small catalyst to drive shares higher and peak investor/analyst interest.
Shiloh Industries (NASDAQ:SHLO)
Start Price: $15.73
52 Week Range: $13.00 to $20.96
Top Three Reasons to Buy:
1. Strong quarterly growth
2. Acquisitions expanding international presence, better proximity to customers
3. Shares beaten down towards end of 2013
There's a lot to love about Shiloh Industries, even though information is hard to come by. Shiloh Industries is a leader in lightweight solutions for the automobile market. Despite gas prices being at huge lows, the demand for increased fuel efficiency continues to come from customers and the government. Shiloh is benefiting from this shift and its technology and patents are putting it at the lead of the market.
According to its website, Shiloh provides the following:
· High pressure die castings
· High vacuum structural die castings
· Precision blanks
· Engineered laser welded blanks
· Complex stampings
· Modular assemblies
· Coil processing
· ShilohCare acoustic laminate metal solution
In the third quarter, Shiloh reported revenue growth of 30% to $216.4 million. Net income rose 58% and reported earnings per share were $0.49. Through the first nine months of the year, revenue has now increased 23.4% to $608.9 million. Net income has grown to $21.4 million, representing $1.25 in earnings per share.
In October, Shiloh acquired Radar Industries, a company that provides stamped interior, chassis and powertrain components, and welded assemblies for the automotive market. The acquisition gives Shiloh three more manufacturing plants, two in Warren Michigan and one in Celaya Mexico.
In May, Shiloh acquired Finnveden Metal Structures, a stamping and die casting company headquartered in Europe. This deal brought manufacturing plants in Sweden and Poland and significantly expands Shiloh's reach in Europe, allowing it to better serve several manufacturers in the region. Shiloh paid $56.6 million for the acquisition. Finnveden had annual sales of $180 million, making the purchase price rather reasonable for Shiloh. This deal was closed in the third quarter.
Along with acquisitions, Shiloh Industries is also using capital to expand production. In December, the company announced a $20 million investment to open a die casting plant in Tennessee. The facility will produce normal Shiloh products and will also accelerate the rollout of BlankLight products, the lightest in the industry. In August, Shiloh announced this technology that provides significant weight savings for automobile companies. An example the company gave was four single piece doors that normally weigh 35.5 pounds. With Shiloh's latest technology, the weight would be 26.8 pounds, offering lower weight, costs savings, and better fuel efficiency for customers.
Shiloh Industries has a market capitalization of $271 million. The company has trailing twelve month revenue of $815.5 million, making its price to sales rather cheap. In fact the company has generated $47.85 in revenue per share over the last twelve months. One analyst on Yahoo Finance sees fourth quarter revenue rising to $187.8 million (vs. $166.06 million). This would represent $796.7 million in annual sales.
Shiloh Industries saw shares fall more than 11% in 2013. Shares are now starting to pop up, closing in on the $16 level. Keep in mind that Shiloh only saw its share dip below the $15 mark for less than two months, but that was towards the end of the year. Investors are getting a great entry point here for a company benefiting from market demand and several acquisitions that will power growth.
*Information for this segment obtained from press releases and filings on Shiloh's website*
Conclusion
This year's list offers a little something for everyone. GlaxoSmithKline is one of the larger companies I have recommended in recent history and several of the companies on this list are small caps. Melco Crown takes me all the way back to the start of my writing career with Seeking Alpha in 2008. These stocks are all ones that I like for 2015 and the long term after that. There are catalysts that are waiting to play out. They may happen within a month or may take all year to finally move the market. Happy investing in 2015.
Disclosure: The author has no positions in any stocks mentioned, and no plans to initiate any positions within the next 72 hours.
The author wrote this article themselves, and it expresses their own opinions. The author is not receiving compensation for it (other than from Seeking Alpha). The author has no business relationship with any company whose stock is mentioned in this article.