Introduction
A recent Seeking Alpha article aimed to examine the alleged steep price Saudi Arabia is paying for not reducing oil production. The argument went that lower oil prices were exacting a heavy economic cost on Saudi Arabia. Because of Saudi Arabia's refusal to cut production, shale producers would in effect be facing a stress test. Ultimately the winners from this standoff would be low-cost natural gas producers.
Although some arguments advanced in the piece had merit, its central thesis is fundamentally flawed. Saudi Arabia does not care if oil prices crash because it is relatively insulated from any significant decline in revenue because of lower oil prices. Saudi Arabia is insulated because it has extremely low production costs and modest economic diversity, as exemplified by its religious tourism. Saudi Arabia has historically used oil as a tool to advance its geostrategic interests and it is again deploying this method to fight shale producers. This is a Pyrrhic War that many shale producers cannot win. This oil-shale production war will have profound consequences for shale producers and the entire oil industry in 2015 and beyond.
Saudi Arabia's Oil Industry
Saudi Arabia is the second largest oil producer in the world, with the U.S. having surpassed it earlier this year. A recent U.S. Energy Information Administration report highlights several important points about Saudi Arabia's oil industry:
Saudi Arabia has 16% of the world's proved oil reserves, is the largest exporter of total petroleum liquids in the world, and maintains the world's largest crude oil production capacity.
Petroleum exports accounted for 85% of total Saudi export revenues in 2013.
Saudi Arabia produced on average 11.6 million bbl/d of total petroleum liquids in 2013, of which 9.6 million bbl/d was crude oil production and 2 million bbl/d was non-crude liquids production.
Another important fact about Saudi Arabia's oil industry is that it is the lowest cost oil producer in the world. In Saudi Arabia's largest oil field, Ghawar, it costs a paltry $10 to produce a barrel of oil. This is why Saudi Arabia's oil minister Ali al-Naimi recently stated that he doesn't care if oil drops to $20 a barrel.
Saudi Arabia's Economic Diversity
Although Saudi Arabia will be adversely affected by lower oil prices, other streams of income will help offset decreased revenues.
Religious tourism is an important source of revenue that will help sustain the Kingdom. This year alone the annual Hajj pilgrimage that brings millions of Muslims from around the world to Mecca and Medinah brought in a massive $8.5 billion in revenue. Saudi Arabia brings in around $16 billion annually from religious tourism alone. Non-oil revenue will bring in almost $31 billion in revenue annually.
Of course, this will not be able to significantly offset lost revenue, but it will help insulate Saudi Arabia from the harshest fallout that other heavily oil-revenue dependent OPEC producers like Venezuela face. This should allow Saudi Arabia to work through lower oil revenues and avoid production cuts.
Bankrupt Shale Producers By Any Means Necessary
Saudi Arabia has historically used oil as a means to inflict economic pain on its enemies.
The most infamous example of this is the 1973-74 OPEC Oil Embargo. The embargo was launched by OPEC in response to the United States' support of Israel during the Yom Kippur War. A direct consequence of the embargo is that oil prices quadrupled. Eventually the embargo came to an end, but only after it became clear that Saudi Arabia was willing to use oil as a weapon to advance its geostrategic interests.
Jump to 2014 and Saudi Arabia again is using oil as a weapon to advance its geostrategic interests. This time the enemy is shale oil producers. This will impact different shale producers in different ways. For example, there are massive oil companies like Exxon Mobil (NYSE:XOM) and ConocoPhillips (NYSE:COP) that are Bakken Shale producers, but because of the diversity of their oil portfolios, they will not be as affected as smaller companies. In addition, companies that are more heavily involved in Bakken Shale production like the top producer Continental Resources (NYSE:CLR) and number two producer EOG Resources (NYSE:EOG) will be more adversely affected because of their large investment. Companies operating in other shale fields like the Permian Basin, Barnett, and Eagle Ford will also be hurt.
But the pain of lower oil prices is hitting all oil producing companies across the board. Even companies that primarily provide materials for the production of oil and gas have been hit, as has been seen in U.S. Silica's (NYSE:SLCA) recent decline.
Saudi Arabia is refusing to cut production because it wants to put high-cost shale oil producers out of business. The logic behind this is that by forcing out those high-cost producers, this will eventually lead to a contraction in supply, which will lead to a rebound in the price of oil. The Economist has dubbed this the battle of Sheikhs versus Shale. The Sheikhs are not backing down and this fact has been made eminently clear throughout the year by Saudi Arabia's oil minister: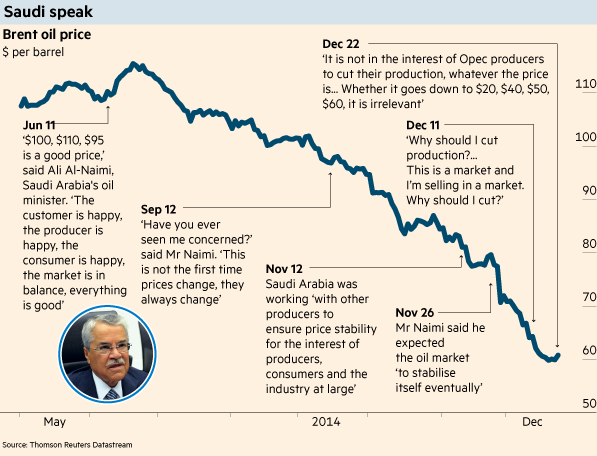 Source: The Financial Times
Conclusion
The battle of Sheikhs versus Shale is underway. So far it has been a bloody few months for oil producers. It is likely that the largest and most diversified producers such as Exxon Mobil will be able to weather the storm. However, this shakedown will likely bankrupt smaller high cost producers and reduce the overall viability of shale production. Businesses that are dependent on the oil sector will also be adversely affected.
The bottom line is that Saudi Arabia is willing to pay whatever price it takes to win this showdown. Ultimately, this battle will have a significant impact on the price of oil, shale production, oil companies, and the broader global economy.
Disclosure: The author has no positions in any stocks mentioned, and no plans to initiate any positions within the next 72 hours.
The author wrote this article themselves, and it expresses their own opinions. The author is not receiving compensation for it (other than from Seeking Alpha). The author has no business relationship with any company whose stock is mentioned in this article.