I think the long-term prospects for comScore (NASDAQ:SCOR) are bright, as both Internet traffic and digital consumption continue to grow significantly. Putting the fundamental and takeout perspectives aside, I recommend investors accumulate shares in comScore below $25 at which point SCOR shares are trading in line or at a discount to Nielsen Holdings NV (NYSE:NLSN) shares on an Enterprise Value to Revenue basis. At that $25 level, the risk-reward basis is skewed toward the reward side for long-term and patient investors with downside to roughly $22 and upside to more than $32. That aside, should comScore make significant improvements to its margin profile near term, I would look to revisit potential downside and entry points.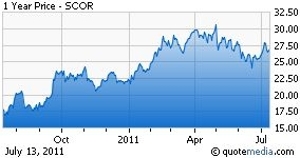 The discussion
As content consumption continues to move online across the globe, irrespective of types of devices, companies will need to have a better understanding of consumers' online behavior in order to effectively market and offer their goods, products, services and brand. More simply stated, companies will need more than ever digital marketing intelligence in this growing digital world in order to understand the four W's or marketing: Who, what, where, when. As such, it comes as little surprise that Global Industry Analysts, Inc. forecasts the global online advertising market to reach $72.8 billion by the year 2015, which reflects a "rapidly increasing Internet user base in both developed and emerging nations alike."
With that notion in mind, there are a few companies that I have been looking at:
Arbitron, Inc. (NYSE:ARB), a media and marketing information services provider with a strong presence in radio;

Nielsen Holdings NV, an information and measurement company that is best known as the global leader in television audience measurement; and

comScore, Inc., which offers a global digital marketing intelligence and measurement platform that measures, analyzes and reports on digital activity.
Of the three, comScore is the one most closely tied to measuring the digital world and with more than 1,800 customers exiting the March 2011 quarter, it has become a preferred source of digital business analytics and digital marketing intelligence. comScore offers insights into consumer behavior, including objective, detailed information regarding usage of their online properties and those of their competitors, coupled with information on consumer demographic characteristics, attitudes, lifestyles and offline behavior.
comScore's management has made several acquisitions over the last few years that have expanded its addressable market by increasing the company's global footprint and broadening its offerings to include site analytics, advertising analytics, advanced mobile solutions and cross media measurement:
In aggregate, the company spent roughly $115 million over the 2008-2010 period to acquire the above businesses. In looking at the contribution of those businesses to comScore, one metric would be incremental revenues and those businesses acquired in 2010 and 4Q 2009 contributed $28 million in revenue during 2010. To put that in context, this represented 16% of comScore's reported revenue in all of 2010. Businesses acquired in 2010 increased comScore's customer count by 238, or 14% of the 1,752 year end 2010 customer base.
Aside from acquisition related savings, the larger opportunity in my opinion is the ability to cross market new and expanded services to not only existing clients, but to do the same with existing solutions to newly added customers. And comScore continued to add customers in the recently completed March 2011 quarter as it exited that period with more than 1,800 customers, including 82 Fortune 500 customers, across a diverse group of industries ranging from banks, credit cards, Internet and entertainment companies, media and digital agencies, wireless carriers, pharmaceutical companies and consumer packaged goods companies, to name a few.
While that seems like a wide base, the reality is that over the last three years, comScore derived 29-30% of its revenue from its top 10 customers. Digging deeper in the company's financial filings, we see that its largest customer is Microsoft (NASDAQ:MSFT), which accounted for 11-12 percent of comScore revenues over the 2008-2010 period. Needless to say, customer concentration, and the Microsoft relationship in particular, poses meaningful risks should those relationships sour.
With 85% of the company's revenue stream tied to subscriptions, there are two key metrics to watch in my opinion - deferred revenues and the renewal rate. comScore exited the March 2011 quarter with $71.6 million in deferred revenue vs. $51.5 million in the year ago quarter and 70.6 million exiting 2010. At the end of 2010, comScore's deferred revenue equated to 30% of the Street's 2011 consensus revenue forecast of $238 million. While that is better than in some industries, it pales in comparison to Nielsen, which tends to have 60% to 90% of its revenue base for the upcoming year typically committed under existing agreements depending on the business unit. In my view, the better and more predictable the revenue stream, the better the multiples investors will place on a company's stock all things being equal.
While the company experienced some customers ceasing, delaying or reducing renewals in 2008 and 2009 due to the current economic downturn, comScore added net new customers during each quarter of 2010, and existing customers renewed their subscriptions at a rate of over 90% based on dollars renewed in the year ended December 2010. Based on the company's financial press releases and SEC filings, it appears comScore has been successful in continuing to add new customers as new customer revenues have grown in both absolute dollars and as a percentage of overall revenues in the last several quarters.
What we as investors should do

With the background of the company discussed, the question turns to whether or not here and now is the time to jump into comScore shares. My thought on this takes two perspectives - a fundamental one given the ongoing growth in the digital lifestyle, but also the potential acquisition of comScore by another entity.

The Fundamental View:
Current Street consensus estimates call for comScore to deliver essentially break-even bottom line performance, even though the company is poised to deliver top line growth of 36% year-over-year in 2011. More than a few percentage points of growth will reflect full year contributions of companies acquired in 2010, but comScore should still deliver double digit organic revenue growth.
One of the issues in valuing comScore shares is that consensus Street expectations found on Thomson and other services reflect reported GAAP earnings, not non-GAAP earnings, which exclude acquisition and integration costs, as well as stock-based compensation expenses. In my view, this is not aided by management not offering annual non-GAAP guidance for earnings per share in 2011. What management has shared is expectations for adjusted EBITDA of $50.5-$53.1 million in 2011. Factoring that along with other valuation metrics, we find comScore shares are trading at a premium to the assembled peer group on several metrics using current Street consensus expectations.
That significant premium could explain why insiders have been reducing their positions over the last several months and why short interest in the shares stood at 2 million shares at the end of June according to Nasdaq OMX.
The Takeout View:
As discussed above, Internet traffic growth is slated to remain robust over the next several years and businesses acquired in the last few years should position comScore well for the expected explosion in mobile data and video traffic. That, coupled with its geographic footprint and strong core business, make comScore a potential takeout candidate in my opinion. From a different vantage point, are there companies offering digital marketing or competing solutions that could improve their competitive position by acquiring comScore? The answer as I see it is yes. Potential suitors include aforementioned Nielsen, Arbitron, Valueclick (VCLK), DoubleClick owner Google (NASDAQ:GOOG), Microsoft, Yahoo! (YHOO), AOL (NYSE:AOL), WPP Group and others.
In the last few years, there have been a few transactions that serve as a reference point for such a scenario:
•Experian plc (OTCQX:EXPGF) is a leading global information services company, providing data and analytical tools to clients in more than 80 countries. In April 2007, Experian acquired Hitwise, a leading Internet marketing intelligence company, for about $240 million spread across 1,200 clients. At the time of the purchase, Hitwise was expected to deliver $40 million in revenue (a year-on-year increase of about 50%) and a small profit for its fiscal year ending March 2007. Owing to the contract nature of Hitwise's revenue stream, Experian expected Hitwise to grow sales by more than 40% over the ensuing 12 months and generate operating income in the range of $12-15 million. That equated to a purchase multiple of 4.3 times on expected revenue and 17.8 times expected operating income.
•In October 2009, Adobe Systems Incorporated (NASDAQ:ADBE) completed its acquisition of Omniture, Inc., an analytics, measurement and optimization technology company. Adobe acquired all of the outstanding common stock of Omniture in a transaction valued at $1.8 billion or 6 times the $300 million in revenue Omniture was tracking to deliver in 2009. As with Hitwise and comScore, at the time of being acquired, Omniture derived more than 85% of its revenue from subscription-based solutions.
Currently, comScore shares trade at 3.6 times 2011 consensus revenue expectations of $238 million. Applying the 4.3-6.0 takeout multiple range discussed above derives a potential stock price of $32-$45 for comScore shares and offers a hefty return at the midpoint of that range.
While the business is there to be bought, the margin profile lags others and would have a negative impact on the acquiring companies' margin profile. As comScore integrates the acquired businesses and gets its margin profile closer to that of its peers, the likelihood of it being taken out rises significantly in my view While I do think comScore is a likely acquisition candidate, I see prospects far more likely as comScore more closely integrates recently acquired businesses and closes the margin gap between itself and Nielsen, Arbitron, ValueClick and others.

Disclosure: I have no positions in any stocks mentioned, and no plans to initiate any positions within the next 72 hours.