Ah! I have been rather quiet on this blog in the past few weeks, haven't I? A big part of it was being incredibly busy, but also having little trading to do. That is about to change as we get ready for the New Year. First off, I'd like to wish all of you a very Happy New Year. To start off, before opening a few new long and short trades next week, I wanted to publish a recent edition of the top dividend payers in the S&P 500. In my next Ultimate Sustainable Dividend Portfolio update, I'll certainly start looking for new names to be added. I always find this list to be very useful as a starting point.
Again, I can't stress enough how this list is only a starting point. Usually, the top players on this list are here because the company is doing poorly, resulting in a declining stock price, but the company has not (yet!) adjusted its dividend payout. Just take a look at Transocean's (NYSE:RIG) stock chart: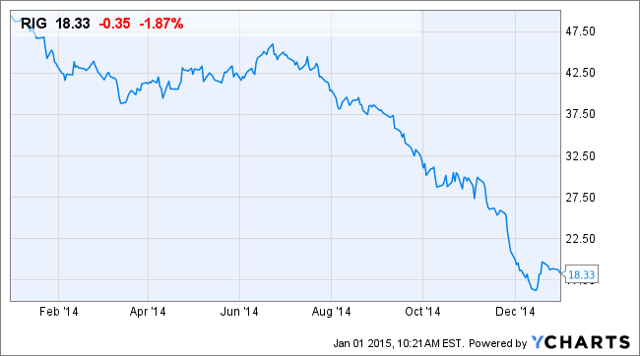 Why is it declining so quickly?
Just take a quick look at these numbers: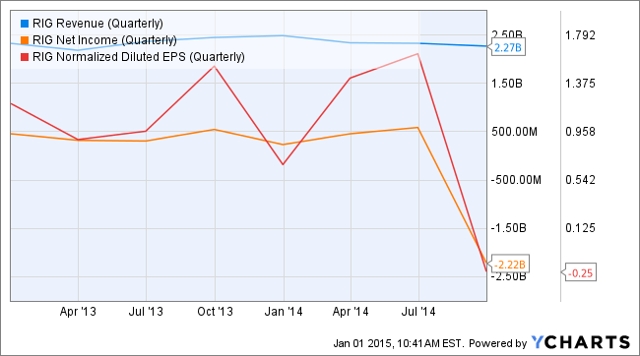 Here is the full list:
| Ticker | Name | Price | Dividend Yield | Payout Ratio | Ex-Dvd |
| --- | --- | --- | --- | --- | --- |
| RIG | Transocean Ltd | 18.33 | 16.37 | 63.79 | 2/18/2015 |
| WIN | Windstream Holdings Inc | 8.24 | 12.14 | 250.77 | 3/27/2015 |
| ESV | Ensco PLC | 29.95 | 10.02 | 36.9 | 03/12/2015 |
| DO | Diamond Offshore Drilling Inc | 36.71 | 9.53 | 88.69 | 02/12/2015 |
| NE | Noble Corp plc | 16.57 | 9.05 | 25.2 | 02/12/2015 |
| FTR | Frontier Communications Corp | 6.67 | 6.3 | 362.42 | 03/09/2015 |
| T | AT&T Inc | 33.59 | 5.6 | 53.13 | 01/07/2015 |
| CTL | CenturyLink Inc | 39.58 | 5.46 | #VALUE! | 2/27/2015 |
| FCX | Freeport-McMoRan Inc | 23.36 | 5.35 | 84.82 | 1/13/2015 |
| WMB | Williams Cos Inc/The | 44.94 | 5.07 | 222.62 | 03/11/2015 |
| HCP | HCP Inc | 44.03 | 4.95 | 106.92 | 02/05/2015 |
| IRM | Iron Mountain Inc | 38.66 | 4.91 | 213.91 | 3/18/2015 |
| MAT | Mattel Inc | 30.945 | 4.91 | 55.2 | 2/17/2015 |
| PM | Philip Morris International Inc | 81.45 | 4.91 | 68.07 | 3/24/2015 |
| OKE | ONEOK Inc | 49.79 | 4.74 | 117.5 | 1/28/2015 |
| VZ | Verizon Communications Inc | 46.78 | 4.7 | 51.73 | 01/07/2015 |
| VTR | Ventas Inc | 71.7 | 4.41 | 164.06 | 03/06/2015 |
| HCN | Health Care REIT Inc | 75.67 | 4.36 | 3110.77 | 02/05/2015 |
| PBCT | People's United Financial Inc | 15.18 | 4.35 | 87.67 | 1/28/2015 |
| TE | TECO Energy Inc | 20.49 | 4.29 | 96.66 | 2/13/2015 |
| SO | Southern Co/The | 49.11 | 4.28 | 107.36 | 02/05/2015 |
| COP | ConocoPhillips | 69.06 | 4.23 | 41.66 | 02/12/2015 |
| MO | Altria Group Inc | 49.27 | 4.22 | 81.21 | 3/13/2015 |
| RAI | Reynolds American Inc | 64.27 | 4.17 | 79.1 | 03/06/2015 |
| CCI | Crown Castle International Corp | 78.7 | 4.17 | #VALUE! | 3/17/2015 |
| KMI | Kinder Morgan Inc/DE | 42.31 | 4.16 | 138.48 | 1/30/2015 |
| PCL | Plum Creek Timber Co Inc | 42.79 | 4.11 | 135.51 | 02/11/2015 |
| PPL | PPL Corp | 36.33 | 4.1 | 79.79 | 03/09/2015 |
| HP | Helmerich & Payne Inc | 67.42 | 4.08 | 37.52 | 02/11/2015 |
| SE | Spectra Energy Corp | 36.3 | 4.08 | 80.56 | 02/04/2015 |
| CNP | CenterPoint Energy Inc | 23.43 | 4.05 | 114.15 | 2/17/2015 |
| WYNN | Wynn Resorts Ltd | 148.76 | 4.03 | 96.59 | 2/13/2015 |
| POM | Pepco Holdings Inc | 26.93 | 4.01 | 245.45 | 03/06/2015 |
| GME | GameStop Corp | 33.8 | 3.91 | 37.21 | 03/05/2015 |
| LO | Lorillard Inc | 62.94 | 3.91 | 69.92 | 2/25/2015 |
| ED | Consolidated Edison Inc | 66.01 | 3.82 | 67.89 | 02/09/2015 |
| CVX | Chevron Corp | 112.18 | 3.82 | 34.89 | 2/18/2015 |
| KIM | Kimco Realty Corp | 25.14 | 3.82 | 174.48 | 3/30/2015 |
| DUK | Duke Energy Corp | 83.54 | 3.81 | 82.38 | 02/11/2015 |
| ETR | Entergy Corp | 87.48 | 3.8 | 83.11 | 02/09/2015 |
| DRI | Darden Restaurants Inc | 58.63 | 3.75 | 157.37 | 01/07/2015 |
| FE | FirstEnergy Corp | 38.99 | 3.69 | 245.23 | 02/04/2015 |
| DOW | Dow Chemical Co/The | 45.61 | 3.69 | 34.14 | 3/30/2015 |
| GE | General Electric Co | 25.27 | 3.64 | 53.11 | 2/19/2015 |
| GRMN | Garmin Ltd | 52.83 | 3.63 | 57.44 | 03/12/2015 |
| MCD | McDonald's Corp | 93.7 | 3.63 | 55.76 | 2/27/2015 |
| COH | Coach Inc | 37.56 | 3.6 | 47.88 | 03/06/2015 |
| GAS | AGL Resources Inc | 54.51 | 3.6 | 70.93 | 02/12/2015 |
| PFE | Pfizer Inc | 31.15 | 3.6 | 57.68 | 02/04/2015 |
| PEG | Public Service Enterprise Group Inc | 41.41 | 3.58 | 58.57 | 03/06/2015 |
| OXY | Occidental Petroleum Corp | 80.61 | 3.57 | 34.84 | 03/09/2015 |
| AEE | Ameren Corp | 46.13 | 3.56 | 75.81 | 03/09/2015 |
| LYB | LyondellBasell Industries NV | 79.39 | 3.53 | 29.3 | 03/05/2015 |
| KRFT | Kraft Foods Group Inc | 62.66 | 3.51 | 45.05 | 3/30/2015 |
| TEG | Integrys Energy Group Inc | 77.85 | 3.5 | 61.84 | 2/27/2015 |
| AEP | American Electric Power Co Inc | 60.72 | 3.49 | 64.46 | 02/10/2015 |
| SCG | SCANA Corp | 60.4 | 3.48 | 60.3 | 03/11/2015 |
| PNW | Pinnacle West Capital Corp | 68.31 | 3.48 | 60.31 | 1/29/2015 |
| GM | General Motors Co | 34.91 | 3.44 | 0 | 3/13/2015 |
| PCG | PG&E Corp | 53.24 | 3.42 | 100.61 | 3/30/2015 |
| CINF | Cincinnati Financial Corp | 51.83 | 3.4 | 52.22 | 3/16/2015 |
| HST | Host Hotels & Resorts Inc | 23.77 | 3.36 | 169.52 | 3/27/2015 |
| EXC | Exelon Corp | 37.08 | 3.34 | 73.55 | 2/17/2015 |
| XEL | Xcel Energy Inc | 35.92 | 3.34 | 58.43 | 3/17/2015 |
| PAYX | Paychex Inc | 46.17 | 3.29 | 81.37 | 1/30/2015 |
| CA | CA Inc | 30.45 | 3.28 | 50.39 | 2/17/2015 |
| STX | Seagate Technology PLC | 66.5 | 3.25 | 35.85 | 2/13/2015 |
| F | Ford Motor Co | 15.5 | 3.23 | 22 | 1/28/2015 |
| WY | Weyerhaeuser Co | 35.89 | 3.23 | 84.95 | 2/25/2015 |
| WEC | Wisconsin Energy Corp | 52.74 | 3.21 | 56.96 | 02/11/2015 |
| DTE | DTE Energy Co | 86.37 | 3.2 | 68.53 | 3/19/2015 |
| MRK | Merck & Co Inc | 56.79 | 3.17 | 116.53 | 03/12/2015 |
| MCHP | Microchip Technology Inc | 45.11 | 3.16 | 71.14 | 2/18/2015 |
| HAS | Hasbro Inc | 54.99 | 3.13 | 72.88 | 1/30/2015 |
| MAC | Macerich Co/The | 83.41 | 3.12 | 252.35 | 2/18/2015 |
| D | Dominion Resources Inc/VA | 76.9 | 3.12 | 72.88 | 03/04/2015 |
| LMT | Lockheed Martin Corp | 192.57 | 3.12 | 52 | 2/25/2015 |
| CMS | CMS Energy Corp | 34.75 | 3.11 | 59.69 | 02/11/2015 |
| GIS | General Mills Inc | 53.33 | 3.08 | 53.41 | 01/08/2015 |
| PBI | Pitney Bowes Inc | 24.37 | 3.08 | 62.64 | 02/11/2015 |
| DNR | Denbury Resources Inc | 8.13 | 3.07 | 0 | 2/20/2015 |
| PLD | Prologis Inc | 43.03 | 3.07 | 288.82 | 03/09/2015 |
| CAT | Caterpillar Inc | 91.53 | 3.06 | 39.51 | 1/15/2015 |
| EMR | Emerson Electric Co | 61.73 | 3.05 | 56.36 | 2/18/2015 |
| NUE | Nucor Corp | 49.05 | 3.04 | 96.74 | 3/27/2015 |
| PSA | Public Storage | 184.85 | 3.03 | 105.02 | 03/12/2015 |
| SYY | Sysco Corp | 39.69 | 3.02 | 72.31 | 04/01/2015 |
| ABBV | AbbVie Inc | 65.44 | 3 | 76.99 | 1/13/2015 |
| K | Kellogg Co | 65.44 | 3 | 36.16 | 2/27/2015 |
| XOM | Exxon Mobil Corp | 92.45 | 2.99 | 34.31 | 02/05/2015 |
| IP | International Paper Co | 53.58 | 2.99 | 41.05 | 2/13/2015 |
| MRO | Marathon Oil Corp | 28.29 | 2.97 | 31.86 | 2/17/2015 |
| NU | Northeast Utilities | 53.52 | 2.93 | 58.87 | 2/27/2015 |
| WM | Waste Management Inc | 51.32 | 2.92 | 696.94 | 03/09/2015 |
| KMB | Kimberly-Clark Corp | 115.54 | 2.91 | 58.08 | 03/04/2015 |
| LEG | Leggett & Platt Inc | 42.61 | 2.91 | 89.99 | 3/13/2015 |
| CVC | Cablevision Systems Corp | 20.64 | 2.91 | 122.86 | 03/12/2015 |
| LLY | Eli Lilly & Co | 68.99 | 2.9 | 44.89 | 02/11/2015 |
| AES | AES Corp/VA | 13.77 | 2.9 | 43.11 | 1/30/2015 |
| KO | Coca-Cola Co/The | 42.22 | 2.89 | 57.85 | 03/11/2015 |