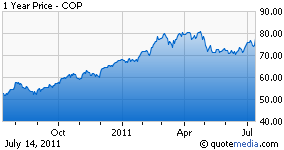 News that ConocoPhillips (NYSE:COP) will become the second big oil company to break into separate exploration and refining operations buoyed the stock.
But based on what happened with Marathon (NYSE:MRO), the first company to try this trick, the cheering should be muted.
Both Marathon Oil and Marathon Petroleum (NYSE:MPC) have fallen in price since the spin-off, which like this one was cheered by investors when it was announced in January. The exploration unit's bonds were downgraded to near-junk.
This is not a short-term deal, however.
The hope is that by concentrating on refining and retailing on the one hand, and exploration on the other, investors will get better returns than by having all those operations together. There is more risk, but more profit potential as well, after a break-up.
An oil company without an exploring arm might compete better with QuiTrip in retailing, for instance, and would have an excuse to squeeze maximum margins from refinery expansions, as Marathon is doing in Detroit.
An exploration company without a refinery arm would be a more speculative play, but would be leveraged to new finds like the Bakken Field in North Dakota, where Marathon is drilling 300 wells.
The problem for ConocoPhillips investors is that the exploration arm is finding its best success overseas, as in Kazakhstan. This means investors in the new exploration company face political risks Marathon investors don't. You have to do your homework, learning where a company is operating, before placing a bet.
The risk for refiners is demand, which will continue to sink slowly in the U.S. as drivers buy higher-mileage cars and ethanol becomes a bigger part of the gasoline mix.
Refining profits are highly variable and tied to changing economic conditions. They rise when the economy is growing, and may turn to losses in a downturn. It's the cost of storing product after it's refined, and waiting for demand to appear, that makes the difference.
You can see this as you drive around. Independents like QuikTrip and Costco (NASDAQ:COST) drop prices quickly when there is over-supply, but when supplies tighten or demand overtakes it branded stations are able to maintain price parity. What you're seeing in those price signs is the changing fortunes of refiners.
What's clear is that these break-ups add risk to buying any of these stocks, but they're also leveraged to benefit more when market conditions improve. The refineries are the way to play the economic recovery, and drillers are the way to play the changing price of the commodity.
Disclosure: I have no positions in any stocks mentioned, and no plans to initiate any positions within the next 72 hours.