A lot of hype has been surrounding New Oriental Education (NYSE:EDU), the largest private education service company in China. Since its IPO in 2006, the company has expanded from its core language training courses to foreign admissions and assessment tests, such as SAT, GMAT, and TOELF. A year ago, EDU established the "U Can" program, which prepares Chinese students for the national university entrance exam, Gaokao, and POP Kids, which targets pre-school students with traditional subject courses along with courses in writing, music, and art.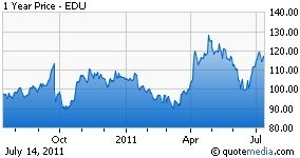 EDU, led by CEO Minhong Yu, has grown since 2006 from $800 million to the current $4.4 billion, and its success has led to an influx of Chinese education companies listing in North America. Currently, 10 Chinese education companies list on major US exchanges:
| | | | |
| --- | --- | --- | --- |
| Company | Ticker | Market Cap (mm) | P/E (FY2011) |
| Ambow Education | | 431.9 | 9.47 |
| ChinaCast Education | | 246.9 | 20.9 |
| China Distance Education | | 98.1 | 17.9 |
| China Education Alliance | CEU | 27.7 | - |
| ChinaEdu Corporation | | 90.8 | 33.0 |
| Global Education & Technology Group | | 125.4 | 16.2 |
| New Oriental Education & Technology Group | | 4,273.8 | 34.6 |
| Noah Education Holdings | | 86.7 | 47.6 |
| TAL Education Group | XRS | 798.7 | 30.8 |
| Xueda Education Group | | 526.4 | 18.5 |
Among these companies, EDU stands out as the leader because it has great brand equity, a large network of schools and education centers, and an entrepreneurial management team. The other companies have not enjoyed the same success and have been largely neglected, as indicated by their low liquidity. However, in addition to EDU, I believe that TAL Education Group is a company with a promising future that could emerge as one of the leaders in China's competitive education industry.
That industry contains approximately 450 million people, ages 5 to 29. The Chinese culture puts a greater emphasis on education because higher and better education can translate to future career and financial success. China's "one-child" policy further compels parents to spend to ensure their only child becomes successful in the future. As a result, education accounts for 12% of consumer spending, which ranks third behind food (38%) and communication and transportation (13%).
China's education system is extremely competitive. Most students strive to enter a key university, from which graduates earn 20-30% more than those from non-key universities. A major component of university admission is through China's entrance exam systems, which has been prevalent since the imperial age. Admissions into high school and universities are based solely on exam scores and that creates tremendous pressure among students and parents. Because of China's large student population, the university admission exam, Gaokao, and the high school admission exam, Zhongkao, are considered the only fair methods of determining students' acceptance.
China's public education system is heavily regulated and the quality of education is unevenly distributed, with top teachers assigned to key schools. Because of intense competition and unevenly distributed education, demand for higher quality education within the private sector has increased, as seen in the K-12 tutoring market, which has grown by 20% annually over the past three years and is one of the fastest-growing segments in China's education market.
Private tutoring companies aim to improve students' grades rather than simply disseminate knowledge as it is done in the state-owned public schools. In addition, the courses are customized and a low student-teacher ratio (typically 30 students per class) presents students with a better learning environment than public school classes, which could contain as many as 100 students per class.
TAL Education Group (XRS)

XRS is a leading private-tutoring company with a market cap of $798 million and is trading at 31x FY2011. XRS's competitive advantage lies in its brand equity, teaching quality, and strong management team.
In China, brand matters. This is especially true in the education industry, where brand is established through word-of-mouth marketing. One of the reasons why the other listed Chinese education companies are not doing well is that they lack brand and credibility in China.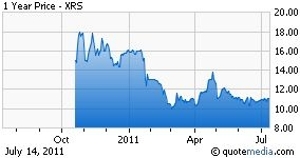 XRS has a strong brand in Beijing and Shanghai, the top two education markets in China. In terms of revenue, XRS is #1 in Beijing and #2 in Shanghai. XRS also has the largest network of learning centers in Beijing with ~80 units, compared to New Oriental Education (62), Xueda (19), and Ambow (16).
XRS has a slightly different dynamic compared to its peers in that it is selective when attracting and retaining top students and teachers. The combination of top students and quality teachers results in students producing outstanding exam results, which strengthens XRS's brand within the industry. The strong brand then attracts and retains top students and teachers, creating a virtuous cycle.
In 2010:
~40% of its high school graduates in Beijing attended Peking University and Tsinghua University (the Harvard and MIT equivalents of China), compared with the ~2% admission rate for key Beijing high schools. Of the 600 students admitted to the two universities that year, 20% were from XRS.
5,700 XRS students in Beijing and Shanghai were admitted to key high schools, which is an enrollment rate of 70% compared to a national average of 30%.
XRS had an 80% enrollment in key middle schools, compared to a 15-25% national average.
Three students from XRS won gold medals in the International Mathematical Olympiad.
XRS's strong reputation and brand allows the company to have pricing power, as shown by a 30% price increase in 2008 and 20% increase in 2010. For parents, when choosing the best private-education company, price ranks third in the criteria, behind brand and school location.
The most valuable asset of an education company is its human capital. XRS places a strong emphasis on recruiting quality teachers and providing them with necessary resources and incentives to produce the best students. XRS recruits people from top-tier universities and with extensive teaching experience. The acceptance rate is 5%. In addition, all new teachers undergo six months' training in order to be fully qualified. Afterwards, teachers' performances are judged on teaching effectiveness and student and parent satisfaction.
XRS knows how to reward its teachers, whose salaries are among the highest in the industry; it also has the lowest teacher turnover in the industry, 5%, compared to EDU's 15-20%. Second-year teachers earn about $15K, which is about three to five times more than the salary for a public school teacher. "Star Teachers" can get paid as much as RMB500K ($75K), or about five times more than the salary for an associate professor in a key university. In addition, XRS offers career advancement to top-performing teachers by appointing them to administrative roles. For example, XRS's two senior VPs, Yunfeng Bai and Yachao Liu, were once "Star Teachers" at XRS.
XRS's success can also be attributed to its management, previously led by co-founders Bangxin Zhang and Alan Cao. The two have worked closely together since 2003, and were able to build XRS's brand awareness in Beijing and grow to other parts of China, such as Shanghai, Wuhan, Tianjin, Guangzhou and Shenzhen. Because XRS has established a solid foothold in the industry, Cao, who previously managed the company's financials, left the firm, and his duties were handed to CFO Joseph Kaufman, who was previously CFO of New Oriental Education. Based on Kaufman's track record in New Oriental Education, I have confidence in his qualification as the CFO of XRS.
Financials
In FY2011, XRS earned $0.36 on $110.6 million in revenue. Revenue grew 59% and earnings grew 58% from the previous year. XRS also has higher EBIT margin (23%) and net margin (22%), compared with EDU, which has 17.5% EBIT and 18.4% net margin.
Both EBIT and net margin have shown positive trends, with EBIT margin +420 bps and net margin +470 bps since 2008. The company has a ROE of 28%, compared to EDU's 20%.
On the balance sheet, XRS has $200 million in cash and no long term debt. Over the past two years, revenue has increased 72% annually and net income has increased 82% annually. The higher growth rates are mainly due to a lower base from the previous years.
I believe that XRS is well positioned to capitalize on China's education market as a premium education service provider because it has a strong brand, better teachers, and a competent management team. The company is overlooked by most investors because EDU has strong brand recognition among US investors and it is increasingly difficult to differentiate the small-cap Chinese education companies listed in the US because most have obscure business operations, which makes conducting due diligence difficult.
In my opinion, EDU and XRS are the true standouts within the group because they are widely used by students in China, have visible business operations, and are managed by well-known entrepreneurs, compared to some of their peers that lack brand equity, have opaque business operations, and are accused of questionable acquisitions and discrepancy in SEC filings.
The company is due to announce first quarter FY2012 earnings on July 26.
Disclosure: I have no positions in any stocks mentioned, and no plans to initiate any positions within the next 72 hours.