Sometimes, it's easy to lose sight of how dramatically the modern ETF landscape has altered many investment strategies. In the old days, most of us were pretty much confined to U.S. stocks, U.S. corporate or government debt securities, or cash equivalents. Global exposure, commodities, etc., were things we read about and perhaps even pined for, but could own only in very limited ways (mining companies, ADRs issued by large foreign companies, etc.).
Looking at this week's listing for my ETF pullback strategy (see appendix below for details and performance information), I'm struck by what I suppose has to be considered an unusually high, by recent standards, exposure to the U.S. stock market. It's not completely plain vanilla – there are three sector funds. And it's not 100%. We also have exposure to Germany, the U.S.-like financial and economic leader of the eurozone. But compared to the varied asset classes to which the model has turned in recent months, the current almost-ordinary list seems like a dramatic change. Here are the current selections:
Here was last week's list:
The current list is not the most aggressive I've seen, but it would seem to presume some diminution in the level of worry that has been vexing U.S. investors regarding such issues as the euro and its less-stalwart participants, the deficit-debt issues in the U.S., and, of course, the ever-perplexing U.S. economy. I'm not sure I'd want to sign on as a long-term bull on any of these controversies. Although for what it's worth, I suspect U.S. concerns may ultimately be more readily solvable than those of Europe. The latter involves serious concerns that go directly to the heart of the concept of national sovereignty. The U.S. controversies seem more a mixture of financial-economic reality and public-relations posturing clearly stoked by a media that makes more money selling advertising when the public is frightened. (See a recent excellent Seeking Alpha article panning the CNBC culture.) Yes, bond rating agencies are rattling their sabers, but let's get real here: If they cannot competently evaluate the creditworthiness of U.S. residential mortgages and securities derived therefrom, as they've so convincingly demonstrated, how can anyone react with anything other than laughter as they now purport to assess major political and macro-economic matters. The reality is that nobody knows what technical default would mean, should it occur, including the gaggle of talking heads planted regularly in front of CNBC cameras. We can't even assess who would suffer politically from such an event. (I wonder if the Tea Party folks remember how badly Newt Gingrich erred in assessing who would lose political ground from a U.S. government shutdown.)
The bottom line here is that I have no clue what will move the market in the week ahead, that being the time horizon contemplated by this model. Maybe it will be deficit negotiations. Maybe we'll get some decent earnings reports following up on JP Morgan Chase (NYSE:JPM). Maybe we'll get more recessionary forecasts as delivered yesterday on one of the CNBC-wannabe streaming video services Yahoo Finance has been trying to push. Maybe we'll get other hopeful bits of economic news such as the lower-than-expected number of initial claims for unemployment compensation.
Although the model I'm using here has had some rough going at times this year, lately it has been better as the market started to behave pretty much in accordance with technical factors. Last week's positioning of the portfolio for an interruption in the summer rally was one of the best calls it made in quite a while, with the early June prediction of the rally that ensued also having worked out well.
At present, the stochastic indicator that has been so on-the-money of late remains in the vicinity of overbought, but not so much so now as to preclude the prospect of a decent week. Other indicators seem more-or-less neutral short term. So generally speaking, I see no clear obstacles to the notion of renewed buying in heretofore-strong areas that were recently subjected to corrections, that being exactly what the model seeks.
Appendix
To create this model, I started with a very broad-based ETF screen I created in StockScreen123.com.
Eliminate ETFs for which volume averaged less than 10,000 shares over the past five trading days

Eliminate HOLDRs (I don't want to be bothered with the need to trade in multiples of 100 shares)

Eliminate leveraged and short ETFs (I think of these as hedging tools rather than standard ETF investments of even trading vehicles)
Then I sorted the results and select the top 5 ETFs based on the StockScreen123 ETF Rotation - Basic ranking system, which is based on the following factors:
120-day share price percent change - higher is better (15%)

1-Year Sharpe Ratio - higher is better (15%)

5-day share price percent change - lower is better (70%)
The idea of using weakness as a bullish indicator is certainly not new. But often, it's an add-on to other factors that, on the whole, emphasize strength. Here, the weakness factor is dominant, with a 70% weighting.
This model is designed to be re-run every week with the list being refreshed accordingly. I trade through FolioInvesting.com, where I pay a flat annual fee rather than a per-trade commission, so I don't care about the fact that turnover form week to week is often 80%-100%. If you want to follow an approach like this but do have to worry about commissions, the strategy tests reasonably well with three ETFs, or even with one. (Cutting the number of ETFs is far preferable to extending the holding period.)
Figure 1 shows the result of a StockScreen123 backtest of the strategy from 3/31/01 through 12/30/10.
Figure 1
Click to enlarge
Figure 2 covers the past five years, a very challenging market environment that witnessed the fizzling of many strategies that had succeeded for a long time.
Figure 2
Click to enlarge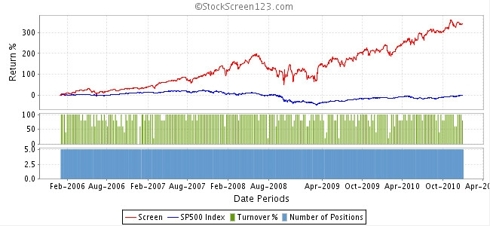 Figure 3, a screen shot from the FolioInvesting.com account I use to trade the strategy.
Figure 3
Click to enlarge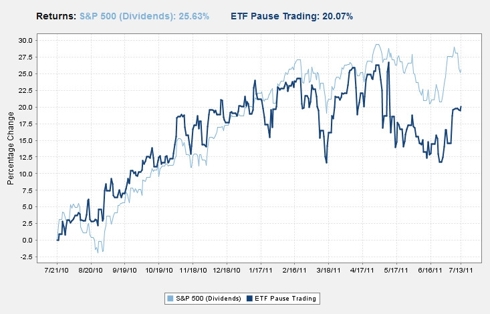 The model has been on a cold streak for much of the 2011 first half as trends have come and gone with unusual rapidity. But it improved in recent weeks.
Disclosure: I am long EWG, IGV, IHF, JKH, PXQ.