It is hard to believe that it has been four years since I became a self-directed investor, carefully saving, managing our portfolio, and watching it grow step by step.
By three methods we may learn wisdom:

First, by reflection, which is noblest,

second, by imitation, which is easiest,

third, by experience which is the bitterest."

-Confucius
Fortunately, it has also been two years since I began contributing here from my investing journey - my main source of reflection and experienced investors to emulate. There are many contributors here to thank and I especially appreciate the challenges in the comment section as they force me to explain and further define and defend my actions.
Goals
When I first began to read about people living off the dividends from their portfolios alone, I was impressed but could not imagine how that could be possible for us, starting from where we were (age 42, less than $10,000). Over time, David Crosetti's articles and some spreadsheets convinced me that if we were diligent and saved very aggressively, it could be possible. Even if we do not manage to create a portfolio large enough to live off the dividends, at least our retirement will be more financially comfortable than most of our past. Thanks to a few good years, we are dramatically ahead of schedule. The target I set at the end of 2011 for the end of 2014 was already reached a year ago.
My goals are modest. I am looking for 4% in dividends and 5% in growth added to my portfolio for a total return of 9% per year on average over the next 19 years when we turn 65.
Component Parts
I view my portfolio as having four separate parts. The principal, the contributions, the dividends, and the growth.
The principal cannot be changed, no matter how one wishes. Sorry. I started with less than $10k, and no matter how much I wish we had not lost our nest egg, that does not change reality. Get over it. Move on. We whined about it for more than a year, but from this vantage point five years later, it was the best thing to happen to us, financially. I would not be a self-directed investor and we would not be in the current position without that experience. Our financial future is no longer someone else's responsibility, but solely our own. This has created possibilities never dreamed of before. My goal of saying this is to encourage those with small portfolios that with time and careful savings, you can also set goals and achieve them. One does not achieve financial freedom without beginning. In my work I meet many seniors who have only social benefits to live on. Something is much, much better than nothing.
I naively thought the contributions would be a constant for the portfolio. That has not been the case at all. "Very lumpy" is a more apt description. I knew that the nice round number I chose for monthly contributions would be quite a stretch for our budget, but I did not expect the headwinds that have arisen and am now certain that this is likely to continue. Life happens. Expect it. In 2013, a vacation and car accident decimated contributions, yet contributions to a retirement plan added funds from the tax refund. This year, extra jobs for me added funds, illness subtracted funds, and other investments (purchase of another rental property) took all of this quarter's contributions. Headwinds for the coming year may swing the contribution pendulum even more wildly: We plan to downsize from a home to a condo, which could mean a substantial influx of funds, but my husband's employment, as with many western Canadians, is indirectly tied to the energy sector. Management could decide he is part of essential services - or not. I once thought of contributions as static, but not anymore.
The Dividends are a surprisingly dependable calm in the investing storm, but with an active, growing portfolio the challenge to maintain a 4% dividend rate is always there. This year I have held onto cash much longer than I ever expected. In the end, this paid off, but there were no dividends earned on that cash. Dividends will continue to grow and this year's dividends represent a 73.57% increase from last year.
As much as we like to think we do, we have little control over the Growth in the portfolio. Sure, with quality companies with growing earnings and growing dividends, we can expect over time to have some nice capital gain in the portfolio. The reality is that dates to measure that growth such as quarter and year-end make this even more of a wild card at the whims of crazy Mr. Market. My total portfolio value has fluctuated fairly significantly on a weekly basis over the last couple of months and today's measurement is really somewhat arbitrary. We know that things could change next week.
Performance
Okay, it is finally time for the numbers. My portfolio is now a whopping 49.08% larger than last year. Insert happy dance here. It does not matter how you slice the numbers, I am thrilled! The total portfolio value is 84% higher than the targets made for this date back in the fall of 2011. The numbers at the bottom of the spreadsheet (projected portfolio value at age 65) are much larger than I imagined.
But before we get too excited, let me explain what these numbers represent. That 49.08% gain is not just dividends and capital gain, there are contributions in there. I am a very aggressive saver. When you take out the 32.87% of contributions - wait, let's celebrate that first. Can you imagine? I was able to squirrel away one-third of the whole portfolio! Whoo hoo! That's a huge win and makes me just as happy as the rest of the numbers. I am not managing a massive portfolio, but this is not what I would consider a small amount either. It's more than twice the value of any vehicle we have ever owned. Saving this much is not natural behavior and takes discipline. We are managing to live on half of my husband's income. It is a balancing act to enjoy life, be careful, frugal stewards, generous givers AND careful savers all at the same time. We have not arrived at the perfect solution, but are doing the best we can. I tried to protest, but my husband bought me diamond earrings for Christmas, the first gift in years - they are modest and were on clearance, after all! Occasionally, I must let him show me how much he appreciates me.
4.22% represents the dividends earned. Finally, I exceeded my dividend goal. Yay! 2014 dividends received are 73.57% higher than last year's. What is left after subtracting the contributions and dividends is the capital gain for this year which is 11.99%. Nice. So the total return (dividends and growth) is 16.2%. Well above goal of 9%. Am I allowed another happy dance?
Immediately, my mind quotes, "Past performance is not indicative of future results." I do not expect or require stellar returns to meet my goals, but it is nice to be ahead - way ahead - of projections. A poor quarter or year is far less likely to rattle me when there is a comfortable cushion. Actually, this quarter's results did not meet projections but only because of lack of contributions. Dividends and growth both exceeded targets.
I completely understand that these results have nothing to do with being a brilliant stock picker. I have much to learn and much to experience yet. What makes me most excited is where I will be 10 or 20 years from now in terms of experience and expertise, when it really counts. This year I made some good moves but also made some sells in the name of portfolio protection that from this vantage point look silly. When the market began to sell off in October, I sold Ross Stores (NASDAQ:ROST) for a very nice gain in a few short months. It has only appreciated since. My similar sale of half of my Inter Pipeline (OTCPK:IPPLF) (TSX:IPL) ended up well, as after further research, I could not find a company I liked better. I now have 8% more shares (and dividends) for the same dollar amount.
Other purchases, Horizon North Logistics (OTC:HZNOF) (TSX:HNL) and Vale Mining (NYSE:VALE) were more trade-inspired and were sold at losses when mental stops were reached. This is why traders have rules and this represents a small part of the portfolio. Both stocks are still substantially lower than my sale price.
Another regret is that I let someone talk me out of buying Disney (NYSE:DIS) in mid-October. There is no way to know what all the ramifications of a decision will be at the time, but I am disappointed to not have it tucked into the portfolio at that price. It would make such a nice companion to my Canadian stock Cineplex.
The best thing I did this year was aggressively buy on dips. I had a hard time deciding on purchases when a lump-sum came into the portfolio in the spring. I whittled away purchasing a few things but was not confident in the valuations to deploy larger amounts until August 8th, when I initiated position in Hershey (NYSE:HSY) and United Technologies (NYSE:UTX) and added to some other holdings. I had a record amount of cash on hand and went 'all-in' October 15th to 17th, doubling my Johnson & Johnson (NYSE:JNJ), General Mills (NYSE:GIS), Unilever (NYSE:UL), and UTX and initiating a position in Suncor (NYSE:SU) . If you look at the charts of your favorite stocks, most darts thrown those days have paid off nicely, as have mine.
CURRENT PORTFOLIO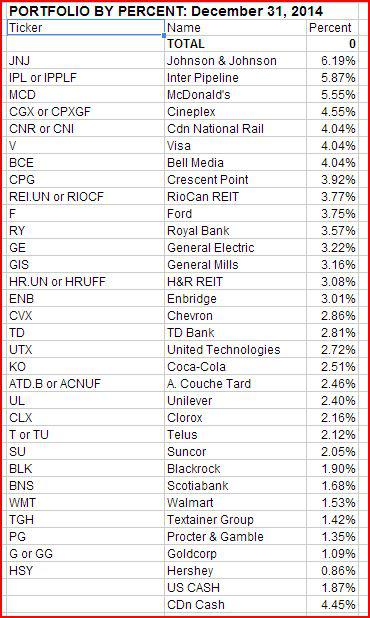 Note: This does not include the company stock or company matching retirement plan. I transfer the amount from the matching retirement plan annually and then the numbers are included as a contribution. All amounts are converted to CAD for my tracking.
Moving Forward
My goals this year are to trade less and continue to move up in quality as valuation allows. The portfolio may expand suddenly and dramatically this year with the sale of our house, and I am thinking about how I will manage a large lump sum. It would be very easy to even up all my holdings and buy all the companies on my watchlist. However, buying companies that are at attractive valuations gives the portfolio a safety net and boosts returns. Considering their fit not only by sector, but geographic and risk allocations is also very important. These goals make the purchases less obvious and more complicated. Additionally, I want to spend more time on individual company analysis and become more expert in fewer companies. I am quite comfortable with 30 companies, but 40 companies means I am unable to give each the attention I would like, if life gets busy, which it periodically does.
I am also considering the opposite effect of not only no more contributions in the year, but what to do if we need to withdraw. What a disappointing interruption to the building process this would be. Either possibility may actually happen, so it is good to be mentally prepared if it does.
Last year I wrote a New Year's Resolution Instablog. I did make headway on each of the points, but each are also still valid points of improvement for this year as well.
Portfolios are not built in isolation. They are, at the core, optimistic. Maybe that is why it is most difficult to suffer losses and setbacks and gains do not give us as much pleasure. We expect gains. This is not just money, it represents our hopes and dreams (and sometimes fears) for the future. It is affected by our past, and not only our past, our extended family's past relationships with money and the market. Our portfolio's future is also perilously wrapped up in the personal events that affect of our lives; jobs, health, and so forth. This coming year will be transitional for us and will most likely dramatically change the portfolio, in either direction, or both! I am purposefully taking the time to celebrate and enjoy this year's results. It may not happen again next year. But, I remain optimistic. I am actively building a future.
Happy New Year everyone,
Faye
Last year's portfolio review, "What a Difference a Year Makes"
Disclosure: The author is long JNJ, GIS, PG, UL, UTX, HSY, WMT, CX, BNS, TU, KO, GE, ENB, IPPLF, TD, CVX, HRUFF, V, F, RY, RIOCF, BCE, JNJ, CNI, MCD, CPXGF, CPG.
The author wrote this article themselves, and it expresses their own opinions. The author is not receiving compensation for it (other than from Seeking Alpha). The author has no business relationship with any company whose stock is mentioned in this article.
Editor's Note: This article discusses one or more securities that do not trade on a major U.S. exchange. Please be aware of the risks associated with these stocks.