In this article, I would bring my focus to the currency of the Canadian Dollar (CAD) for the trading week of 05-09 January 2015. This article is meant to be a short and sharp article that would inform readers what events to look out for in the following week and why they are important.
I would categorize these events into 'Very Important', 'Important' and 'Marginal' and would include a brief analysis of the past results for the very important data. For a detailed analysis of the currency, please refer to my other articles as it is not the focus of this article. The very important events are likely to have a high impact on the currency, hence they are scrutinized. For the important events, the impact is lesser unless there is a surprise or the magnitude of change is much greater or lesser than expected. For the marginal events, it is not expected to move the currency much and a glance at it will do.
Overview of CAD Events
Very Important Events To the CAD

Number

Event

Date of Event

Time of Event (GMT)

1

Trade Balance

07.Jan.2015

1:30PM

2

Ivey PMI

07.Jan.2015

3:00PM

3

Building Permits m/m

09.Jan.2015

1:30PM

4

Employment Change

09.Jan.2015

1:30PM

5

Unemployment Rate

09.Jan.2015

1:30PM
Important Events To the CAD

Number

Event

Date of Event

Time of Event (GMT)

1

RMPI m/m (Raw Material Price)

06.Jan.2015

1:30PM

2

NHPI m/m (New Housing Price)

08.Jan.2015

1:30PM
Marginal Events To the CAD

Number

Event

Date of Event

Time of Event (GMT)

1

IPPI m/m (Producer Prices)

06.Jan.2015

1:30PM

2

Housing Starts

09.Jan.2015

1:15PM
Focus on Very Important Events
Statistics Canada publish the trade balance with a 2 months lag. The trade balance shows the net figure between export and import and a positive figure indicates net export. The trade balance is directly related to the CAD strength as foreigners need to buy CAD to purchase Canada's export. 65% of Canada's export goes to the United States.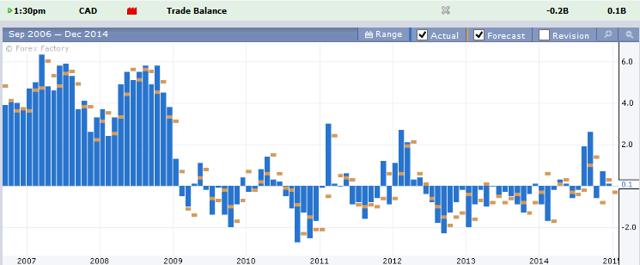 Canada is experiencing volatile trade balance since 2009 which fluctuate between net export and import. For October 2014, Canada has a net export of $0.1 billion CAD and it is expected to have a net import of $0.2 billion CAD.
The Richard Ivey School of Business surveys approximately 175 purchasing managers to understand the latest economic conditions as a whole in Canada. These managers are asked to rate the relative business environment including employment, production, new orders, prices, supplier deliveries and inventories. As businesses respond quickly to changing business environment, this is a good leading indicator. A reading of 50 indicates no change while a reading above 50 indicates expansion and a reading below 50 indicates contraction.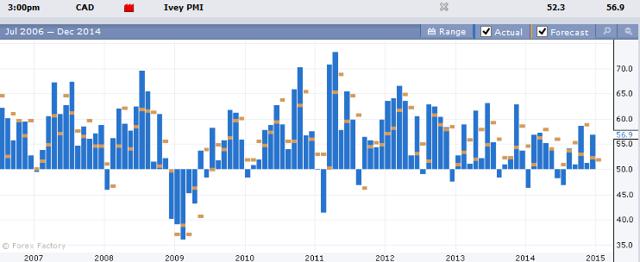 The chart above shows the purchasing manager have indicated that they are expanding their business capacity since 2010 except for periodic contractions which were quickly reversed. For November 2014, they expanded at a reading of 56.9 but this is expected to slow down to an expansion of 52.3 in December 2014.
Statistics Canada publish the Building Approval and it is an excellent predictor of future construction activity. This is one of the initial steps before construction and construction has a ripple effect in the economy in terms of employment, purchase of manufacturing materials and services purchased by the builder.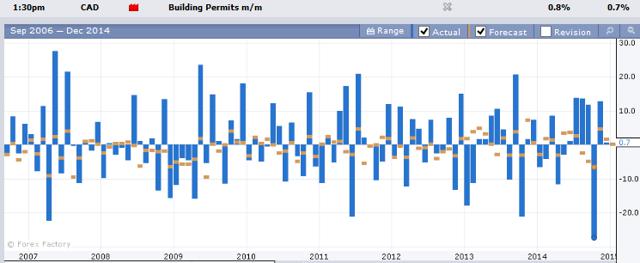 We can see that building permits are volatile and after a modest 0.7% increase in October 2014, the market expects a 0.8% increase in November 2014.
Statistics Canada tracks the number of unemployed people and the unemployment rate. This will be one of the key indicators of the strength of the Canada's economy and will affect the inflation conditions in Canada. The Bank of Canada has set an inflation target of between 1% to 3% and will be influenced by the employment change.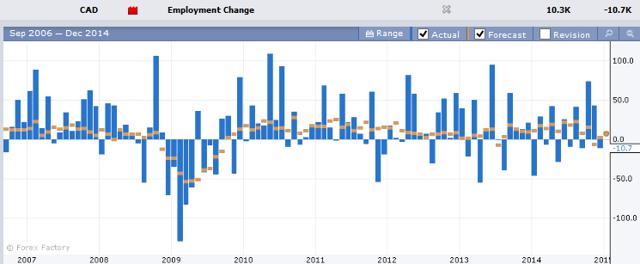 After losing 10,700 jobs in November 2014, Canada is expected to add 10,300 jobs. The labor market has an impact on consumer spending and a strong labor market will result in strong consumption.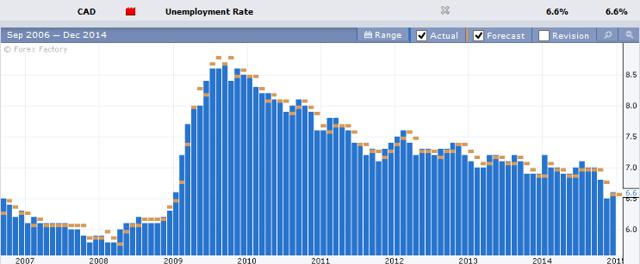 The unemployment rate is expected to remain stable at 6.6% for December 2014 after a 6.6% reading in November 2014. The CAD would be under pressure to weaken if the unemployment rate were to go above it.
Overview of the Strength of CAD
We can see from the CurrencyShares Canadian Dollar Trust ETF (NYSE:FXC) chart below to gauge the strength of the CAD. The FXC tracks the performance of the CAD net of expenses of 0.41% and it is listed on the New York Stock Exchange in United States Dollars. The FXC is liquid with $215.58 million of market capitalization and last daily transaction volume of 49,797.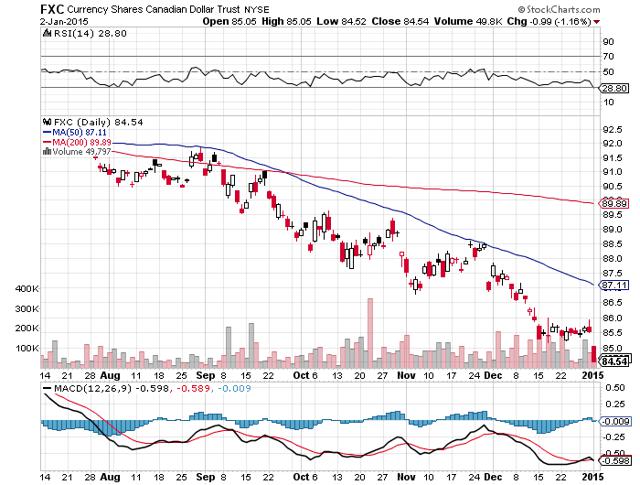 The CAD has weaken significantly last week after the New Year day gap down. This represents the general weakness in the CAD as the economic growth remain sub par and below 1%. Weakness in the CAD is expected to continue for the foreseeable future.
Disclosure: The author has no positions in any stocks mentioned, and no plans to initiate any positions within the next 72 hours.
The author wrote this article themselves, and it expresses their own opinions. The author is not receiving compensation for it (other than from Seeking Alpha). The author has no business relationship with any company whose stock is mentioned in this article.