These five tech stocks have positive catalysts for future growth and profit margins of greater than 40%. These factors are bullish indicators regarding a stock's possible future performance. A robust profit margin is a trait of notable name. A profit margin of approximately 50% implies that the company is generating 50 cents of profit for each dollar of sales. Moreover, most of these stocks are trading well below consensus analysts' estimates, several have recent upgrades and positive analyst comments.
Nonetheless, this is only the first step in finding winners for your portfolio. Now that we have cut the wheat from the chaff, let's take a closer look to distinguish the driving factors behind these remarkable statistics and ensure the stories are intact.
Below is a table with detailed summaries regarding each company's current information followed by a brief review of each company, a summary of current analysts' estimates and up/downgrade activity followed by a chart of the company's key statistics.
Company Summary Information


Altera Corporation (NASDAQ:ALTR) is a semiconductor company, that designs, manufactures, and markets programmable logic devices (PLD), HardCopy application-specific integrated circuit (ASIC) devices, pre-defined design building blocks, and associated development tools.
Altera Corporation recently announced its updated second quarter 2011 sales guidance. The company currently expects that sales for the second quarter will be in line with its previous guidance for 0% - 5% sequential growth. The company continues to believe that the telecom and wireless vertical market will be up sequentially, while the company's other vertical markets will be flat to down. The company will announce second quarter results after the market close on July 19, 2011.
The company is trading below analysts' estimates. ALTR has a median price target of $48 by 25 brokers and a high target of $67. The last up/downgrade activity was on Mar 8, 2011, when Miller Tabak upgraded the company from Sell to Hold.

Check Point Software Technologies Ltd. (NASDAQ:CHKP) develops, markets, and supports a range of software, and combined hardware and software products and services for information technology (IT) security applications worldwide.
Check Point recently announced that Zhejiang Zhongda Futures Brokerage Co., Ltd., a leading brokerage firm in China, has deployed Check Point Abra. Abra is a secure virtual workspace, that provides its mobile workforce with full remote access to their corporate desktops anytime, anywhere, while safeguarding all company data on-the-go.
The company is trading below analysts' estimates. CHKP has a median price target of $60 by 17 brokers and a high target of $66. The last up/downgrade activity was on Jan 6, 2011, when Macquarie downgraded the company from Outperform to Neutral.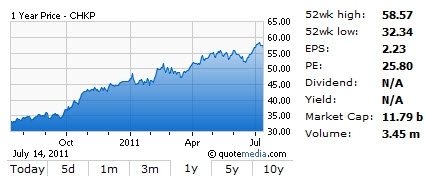 Cirrus Logic, Inc. (NASDAQ:CRUS) develops high-precision analog and mixed-signal integrated circuits (ICs). The company offers analog and mixed-signal audio converter and audio digital signal processor (DSP) products, which include analog-to-digital converters (ADCs); digital-to-analog converters (DACs); chips for integrating ADCs and DACs into an IC; digital interface ICs; volume controls; and digital amplifiers, as well as audio DSPs for consumer electronics applications, such as A/V receivers, digital TVs, and CobraNet ICs and modules for networked audio applications. Its audio products are used in various consumer applications, including audio/video receivers, DVD players and recorders, home theater systems, set-top boxes, MP3 players, gaming devices, sound cards, and digital televisions; professional applications comprising digital mixing consoles, multitrack digital recorders, and effects processors; automotive applications, which include amplifiers, satellite radio systems, telematics, and multi-speaker car-audio systems; and networked digital audio applications.
On Friday July 1, 2011, Needham reiterated a Strong Buy rating on Cirrus Logic saying:
The company's June quarter results are not likely to be negative and that now is the time to build positions in the name.
The firm has a $24 price target for shares.
Cirrus will hold its quarterly conference call to discuss first quarter, fiscal year 2012 financial results and answer questions on Thursday, July 21, 2011 at 10:30 a.m. EDT. Cirrus will release the company's financial results at approximately 9:00 a.m. EDT on the same day.
The company is trading significantly below analysts' estimates. CRUS has a median price target of $24 by 3 brokers and a high target of $33. The last up/downgrade activity was on Aug 19, 2010, when Stifel Nicolaus downgraded the company from Buy to Hold.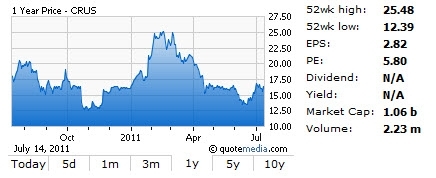 Ebix, Inc. (NASDAQ:EBIX), together with its subsidiaries, provides software and e-commerce solutions to the insurance industry primarily in North America, Australia, New Zealand, India, and Singapore.
Ebix recently announced its plan to double its US Exchange sales force in 2011. The Company announced that it plans to hire a total of 44 new sales personnel in the Exchange arena in the US during 2011. The Company said that it has already hired 14 new Exchange sales personnel in the United States this year.
The company is trading significantly below analysts' estimates. EBIX has a median price target of $28.50 by 4 brokers and a high target of $35. The last up/downgrade activity was on Dec 13, 2010, when Northland Securities upgraded the company from Market Perform to Outperform.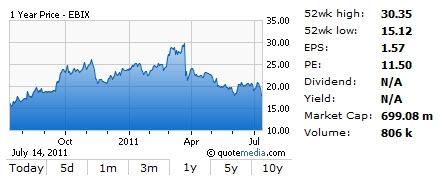 Rubicon Technology, Inc. (NASDAQ:RBCN) develops, manufactures, and sells monocrystalline sapphire and other crystalline products for light-emitting diodes, radio frequency integrated circuits, blue laser diodes, optoelectronics, and other optical applications.
Rubicon recently announced two critical milestones that enable its new state-of-the-art facility in Penang, Malaysia to move into volume production of six and eight inch polished sapphire wafers.
The company is trading significantly below analysts' estimates. RBCN has a median price target of $32 by 9 brokers and a high target of $40. The last up/downgrade activity was on Jan 31, 2011, when Canaccord Genuity downgraded the company from Buy to Hold.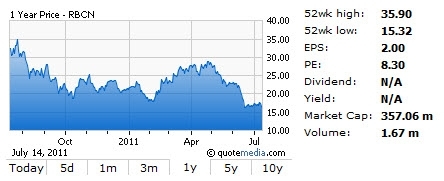 Information was gathered from CNBC, Yahoo Finance and respective company websites. Based on the current market conditions I would suggest scaling in to any position to reduce risk. I believe all these stocks are currently undervalued and provide significant opportunities for long term investors. Use this information as a starting point for your own due diligence.
Disclosure: I have no positions in any stocks mentioned, and no plans to initiate any positions within the next 72 hours.