The saying in real estate is "location, location, location". The statement itself is intuitive, and nowhere is it so painfully obvious as in the office REIT sector.
Many investors have been looking at office REITs over the last few years trying to profit from rising employment and rising rents. The following charts show the relationship between professional and business service payrolls (BLS numbers) and office REIT stock prices.
Included in the office REIT sector (in this review) are the larger public Office REITs with at least three years of history. Specifically, I have included Mack-Cali (NYSE:CLI), SL Green (NYSE:SLG), Boston Properties (NYSE:BXP), Vornado (NYSE:VNO), Piedmont Office Realty (NYSE:PDM), Corporate Office Properties (NYSE:OFC), Brandywine Realty (NYSE:BDN), Equity Commonwealth (NYSE:EQC) and Kilroy Realty (NYSE:KRC). Note that Vornado and Mack-Cali are not pure play office. REIT descriptions are at the end of the review.
First, a ten-year history: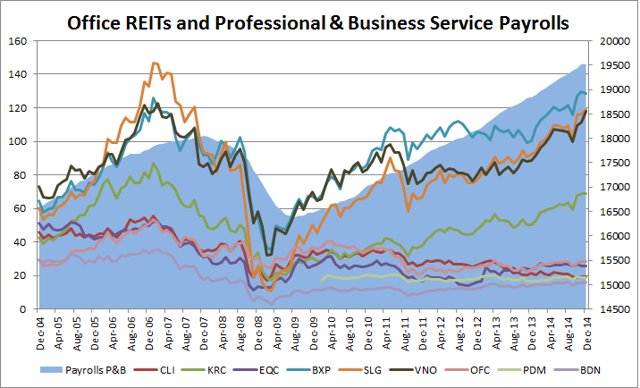 Then, a fourteen-year history (going back to 2000):
As the charts show, office REIT prices generally follow professional and business service payrolls - generally (key word). As you will notice, office REITs with location, location, location (read CBD or central business districts in growing areas) have done well, and investors have been handsomely rewarded. Then there are the more suburban focused office REITs (non-CBD), government focused and just plain troubled REITs. The haves and the have-nots if you will.
Another bigger picture view of the office space (courtesy CBRE's Q3 2014 Occupierview) shows that general trends are supportive of office REITs: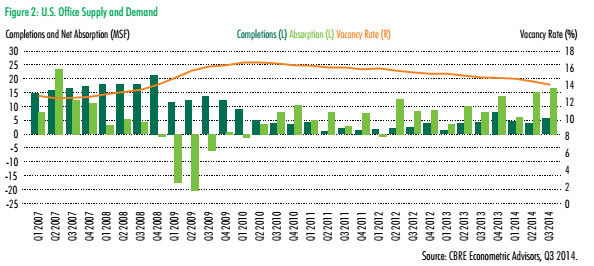 But as I stated earlier, there are "have and have not" markets: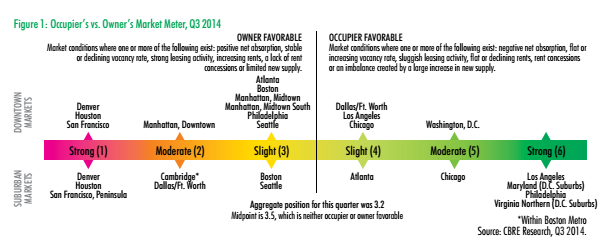 Arranging the sector into Owner Favorable (Haves) and Occupier Favorable (Have Nots), we see the following:
| | |
| --- | --- |
| Owner Favorable | Occupier Favorable |
| SL Green | Mack-Cali |
| Boston Properties | Corporate Office Properties |
| Vornado | Equity Commonwealth |
| Kilroy Realty | |
| Piedmont Office Realty (on the fence) | |
| Brandywine (on the fence) | |
Taking the sector and looking at it on a total return basis, how have these companies fared? Let's look: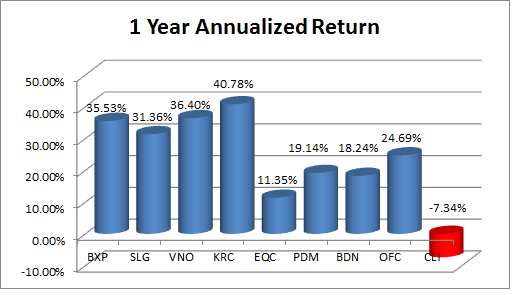 One-year returns show the "have" and "have not" bifurcation flows through to returns.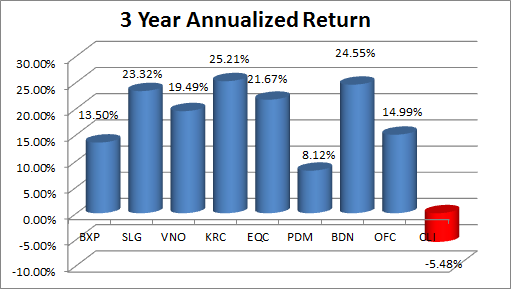 Three-year returns show mixed results as EQC and OFC had stronger returns than I might expect (realizing that EQC had a decent run-up due to the Corvex/Related involvement) and BXP underperformed.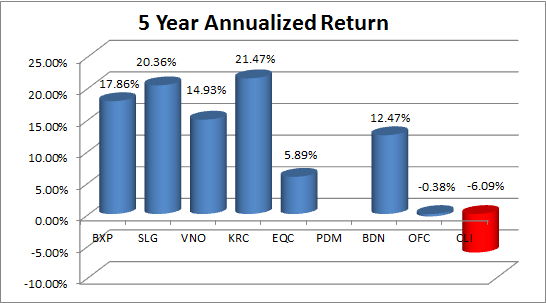 Five-year returns show the bifurcation flow through to returns.
Finally, returns since the general bottom of the office sector (well, almost all sectors) show the "haves" and "have nots" differentiation alive and well. Note that Piedmont was a 2010 IPO.
Having defined the "haves" and the "have nots" and seen that location has flowed through to returns, where are the companies now?

Looking at the current profile of the office sector, the location bifurcation becomes painfully obvious. The "haves" have been rewarded with premium multiples, while the "have nots" lag. Earlier I listed Brandywine and Piedmont as on the fence given the property locations falling into both camps, and their metrics reflect more of the "have not" status. What strikes me is the lack of premium valuation afforded SL Green.
Graphically, here are some of the key metrics: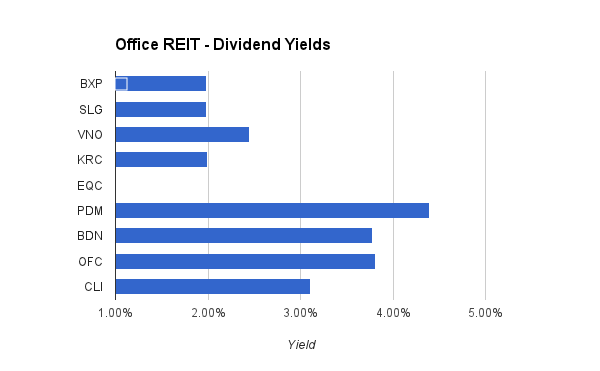 As might be expected, those REITs not in the right zip code have to pay more of a dividend in order to attract investors. On the fence Piedmont does have an attractive dividend yield.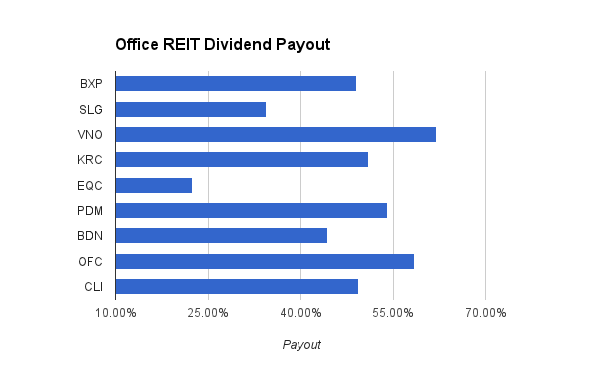 The dividend payout [TTM] for the office sector is reasonable and somewhat conservative. Keep in mind the EQCs looks low due to the suspended dividend.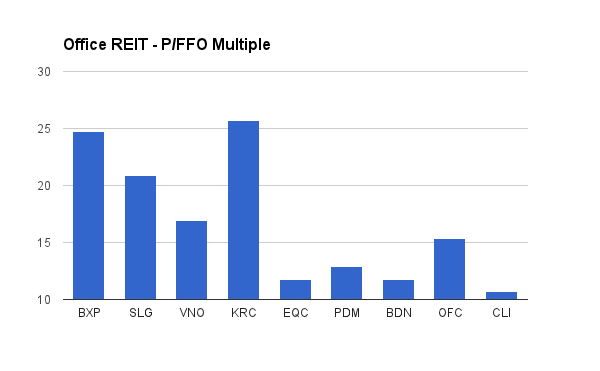 Pencil Pushing Bottom Line: Location has played a dominant role in the performance of the office REIT sector. While it may be tempting to buy into names like EQC and CLI, beware the obstacles that are in their path (these two names have more than just location headwinds). Those REITs with the fashionable zip code have premium metrics to go with these zip codes. Overall I am neutral on the office sector at this juncture and plan to dig deeper into select names in the space in the coming days.
Company Descriptions:
Boston Properties, Inc. is one of the largest owners, managers, and developers of first-class office properties in the United States, with significant presence in four markets: Boston, New York, San Francisco and Washington, DC. Supplemental
Brandywine Realty Trust is headquartered in Radnor, PA, and is one of the largest, full-service, integrated real estate companies in the nation. Brandywine owns, leases and manages an urban, town center and suburban office portfolio. 70% of BDN's combined NOI comes from Philadelphia CBD, PA Crescent Markets (Radnor, Plymouth Meeting, Conshohocken, Newtown Square), Northern Virginia and Austin (JV). Supplemental
Corporate Office Properties Trust is an office focused REIT based in the Greater Washington, DC region. COPT focuses on owning properties located near defense installations and other knowledge-based government demand drivers, and in targeted markets or submarkets in the Greater Washington, DC/Baltimore region with strong growth attributes. Supplemental
Equity Commonwealth is an office focused REIT with a portfolio of 156 properties totaling 42.9 mm square feet located in 30 states, DC and Australia, currently 86.7% leased. Its six largest US markets include Chicago, Philadelphia, Austin, Denver, Indianapolis and Bellevue. Supplemental
Kilroy Realty Corporation is a self-administered REIT active in premier office submarkets along the West Coast. The company owns, develops, acquires and manages real estate assets, consisting primarily of Class A properties in the coastal regions of Los Angeles, Orange County, San Diego County, the San Francisco Bay Area and greater Seattle.
Supplemental
Mack-Cali Realty Corporation is one of the country's largest REITs and a dominant owner, manager, and developer of class A real estate in the Northeast. Property concentrations are New Jersey and New York (not the city). Supplemental
Piedmont Office Realty Trust, Inc. is a fully-integrated and self-managed REIT specializing in the ownership and management of high-quality Class A office buildings located primarily in nine of the largest U.S. office markets, including Atlanta, Boston, Chicago, Dallas, Houston, Los Angeles, Minneapolis, New York and Washington, D.C. Supplemental
SL Green Realty Corp., New York City's largest office landlord, is a fully integrated REIT, that is focused primarily on acquiring, managing and maximizing value of Manhattan commercial properties. As of September 30, 2014, SL Green held interests in 96 Manhattan buildings totaling 44.1 million square feet. This included ownership interests in 28.0 million square feet of commercial buildings and debt and preferred equity investments secured by 16.1 million square feet of buildings. In addition to its Manhattan investments, SL Green held ownership interests in 35 suburban buildings totaling 5.9 million square feet in Brooklyn, Long Island, Westchester County, Connecticut and New Jersey. Supplemental
Vornado Realty Trust is one of the largest owners and managers of commercial real estate in the United States with a portfolio of over 100 million square feet, primarily located in the New York and Washington, DC areas. Vornado's core businesses include New York; Washington, DC; and, Retail Properties primarily in the northeast states, California and Puerto Rico. Supplemental
Disclosure: The author has no positions in any stocks mentioned, and no plans to initiate any positions within the next 72 hours.
The author wrote this article themselves, and it expresses their own opinions. The author is not receiving compensation for it (other than from Seeking Alpha). The author has no business relationship with any company whose stock is mentioned in this article.
Additional disclosure: This article is for informational purposes only, it is not a recommendation to buy or sell any security and is strictly the opinion of Rubicon Associates LLC. Every investor is strongly encouraged to do their own research prior to investing.