On February 2 of this year, I released an article on the Eaton Vance Enhanced Equity Income fund II (NYSE:EOS) that discussed some of the compelling reasons why investors should include EOS in their closed-end fund (CEF) portfolios. Almost six months and five dividends later, the reasons to own EOS are even more compelling as EOS' market price has dropped to further depressed levels and its discount has widened even as the market environment has become more conducive to EOS' income strategy.

EOS is an option-income CEF that sells (writes) individual call options on approximately 53% notional value of its large-cap domestic stock portfolio, down from 69% from earlier this year as noted in the February article. This allows for more upside capture in a strong market environment but still provides some downside protection in case of a market correction. The perfect market environment for EOS would be a volatile range-bound market in which no clear trend is established so that the options in which EOS writes to generate income would expire worthless. This is essentially the market we find ourselves in today.

Another advantage that EOS has is that after two dividend reductions over the past 1 1/2 years, its reduced payout has made it much easier for the fund to cover its current distribution of $0.0922 per share per month, which translates to a 9.4% market price yield based on EOS' July 14th close. Investors should not assume that dividend cuts are an indication of something wrong with the fund or that the fund is poorly managed. Often times, it is simply the fund's income strategy is not optimized in the current market environment and must adjust the distribution more in line with its income. Such was the case for EOS and indeed, for all option-income funds during the market run up from the second quarter of 2009 through the first quarter of this year. However, dividend reductions are just as likely to occur to leveraged high-yielding CEFs during bear market cycles such as from the fourth quarter of 2007 through the first quarter of 2009. Now that the option income strategy is more favorable in the current choppy market conditions, the improving fundamentals make EOS that much more attractive.

EOS' market price, however, has continued to be pressured as if its option-income strategy is a liability in the current market environment. This could not be further from the truth. Since the market high this year on April 29th, EOS' NAV is down only -2% (including dividends) which is appreciably better than the S&P 500, which is down -3.6% (including dividends) and the Nasdaq down -3.9%. Year-to-date through July 14th, EOS' NAV performance is up about 4.5%% (again, including dividends), which is one of the best NAV performances of all the option-income funds I follow. In fact, this is better than the Nasdaq's year-to-date performance even though EOS' largest sector representation is 30.8% information technology.

And what has EOS' market price done in response to this strong NAV performance and improving fundamentals? After bouncing off a two-year low in June, EOS continues to struggle even while its NAV performs much better. The following one-year graph shows EOS' market price (blue line) compared to EOS' NAV price (red line). Note: EOS' large market price drop in December (blue line) was due to the last dividend cut from $0.12 per share per month to the current $0.0922 per share per month. In addition, both graph lines do not reflect a roughly 10% annual dividend paid over the past year.
Click to enlarge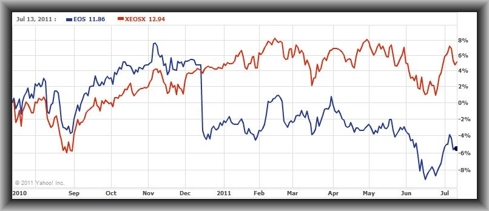 This widening gap between EOS' market price and its NAV has resulted in EOS' discount going from an already wide 6.9% level back in February when I first wrote about the fund to the current 8.2% today (see below). This is an extreme undervaluation for a fund that typically trades at only a slight discount as shown in its five-year average of only a 1.44% discount.
Click to enlarge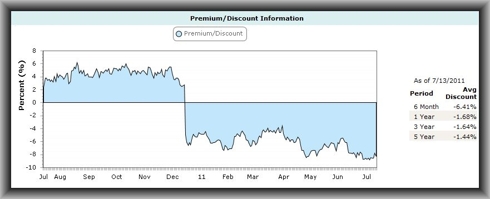 I believe that the current discount level and improving fundamentals of EOS make it an even more compelling investment opportunity than when I first wrote about it back in February. Not only can investors receive a windfall dividend yield of 9.4% which is significantly higher than the fund's NAV yield of 8.6%, they also receive distributions paid monthly as opposed to the vast majority of option-income funds which pay quarterly. When I compare other option-income funds with poorer fundamentals that trade close to par with their NAV, EOS is significantly more attractive in my opinion.

EOS goes ex-dividend along with other Eaton Vance CEF's - EOI, ETB, ETJ, EVT, ETO and ETG - on Wednesday, July 20th meaning an investor would need to purchase the fund by Tuesday, July 19th, to be entitled to the dividend.

Final note: For those investors concerned about high Return of Capital (ROC) in these funds distributions, these percentages are already coming down from Eaton Vance as it is less likely to close out option positions at losses and are instead taking long/short term capital gains. In a press release on June 30th announcing the latest quarterly distribution components for the Eaton Vance Tax-Managed Buy/Write Opportunities fund (NYSE:ETV) and the Eaton Vance Tax-Managed Global Buy/Write Opportunities fund (NYSE:ETW), Return of Capital (ROC) represented only 5.2% for ETV and 0% for ETW. That's right, zero percent for ETW! For the fiscal year, ETV's ROC component is down to 50.4% and ETW's is down to 36.7%. The rest of the distributions are all net investment income and short/long term capital gains. I expect we will start seeing reduced ROC for all of the Eaton Vance option-income funds going forward.

Though I've never had a big concern about high ROC in these funds, it was too controversial for a lot of investors and analysts and I had even suggested to Eaton Vance a couple months ago to try and reduce the high ROC and take the long/short term capital gains instead. They seem to have listened.

Disclosure: I am long EOS, EOI, ETB, ETW, EVT.