The Australian dollar continues to decline as Chinese manufacturing weakness weighs on commodity prices, as well as higher interest rate expectations for the U.S. adversely affect the island continents currency. CurrencyShares Australian Dollar Trust (NYSE:FXA) has fallen 13.6% since September as is seen in the chart below.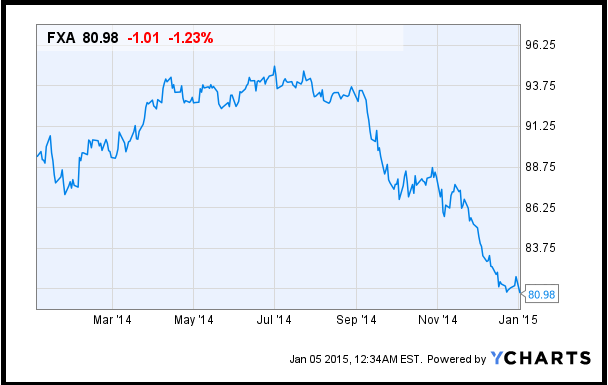 Weak Chinese factory activity weighed on Australian exports over the past few months. Australia is heavily dependent on export revenue for economic growth, and a majority of its resource exports are to China. When Chinese demand weakens, so too does demand for Australian export goods. In December, the HSBC Manufacturing PMI figure came in at 49.6, below the previous month's reading of 50.0, as well as missing estimates for 49.5. A reading above 50 signals expansion. The manufacturing figure has steadily declined since 2009, adversely affecting economic growth in the world's second largest economy, as is seen in the chart below. With manufacturing weakness in December, analysts see further slowdown in 2015.
"Today's data confirmed the further slowdown in the manufacturing sector towards year-end. We believe that weaker economic activity and stronger disinflationary pressures warrant further monetary easing in the coming months," HSBC's chief economist for China, Qu Hongbin told the Wall Street Journal.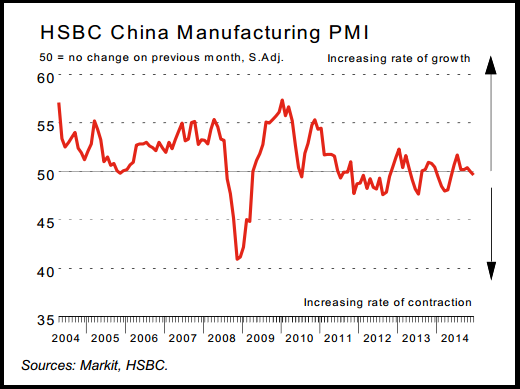 Data provided by Markit, HSBC
As demand for commodities has fallen in China, iron ore prices, a major Australian export, have fallen as well. Iron ore futures are down 50% since December 2013, as is seen in the chart below. In recent days, Yang Zunqing, deputy secretary of the China Iron and Steel Association, said that he expects iron ore prices to stay suppressed throughout 2015, and explained its impact on Australia.
"Mr. Yang said demand from the property sector would remain weak, with new property starts over the first nine months of the year, down by 9.6% from a year earlier. This is flowing through to sales of major household appliances. Washing machine sales are down 3.8% while freezers are down 2.8%.

'The iron ore price will remain on the downward track while the coal price may stabilise or rebound slightly,' he said.

A softening in demand was confronting rapid growth in supply, principally from Australia. Australia's share of global exports of iron ore has increased from 43% to 51% since 2012, while its share of metallurgical coal has grown from just under half to 56%," according to a report by the Australian.
An increase in output and a decrease in prices for iron ore are weighing on the profit margins of Australian producers.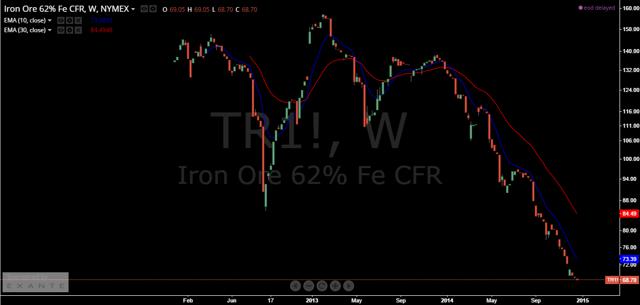 Data provided by Trading View
Lastly, the expected increase in U.S. interest rates in 2015 is leading to U.S. dollar buying, alongside selling of the Australian currency. Australia's economy is seen as vulnerable due to its exposure to China, while the U.S. economy is viewed as strengthening. The perceived divergence of the two economies is also pushing its currencies in opposite directions.
With Chinese manufacturing weakness weighing on Australian exports, and commodity prices, the Australian economy looks vulnerable. Meanwhile, the U.S. economy is improving, leading to Aussie dollar outflows. Expect further downward pressure on the Australian dollar in 2015.
Disclosure: The author has no positions in any stocks mentioned, and no plans to initiate any positions within the next 72 hours.
The author wrote this article themselves, and it expresses their own opinions. The author is not receiving compensation for it (other than from Seeking Alpha). The author has no business relationship with any company whose stock is mentioned in this article.