These were the Dogs at the start of 2014, together with passive DIA, SPY, RSP and IWM noted towards the bottom of the chart.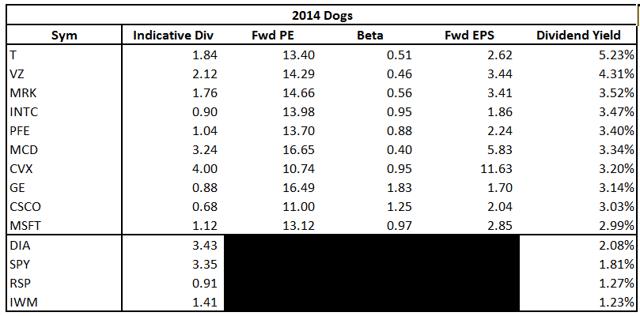 This is how $100k might have been allocated over the 2014 Dogs. I demonstrated 3 ways to allocate the $100k over the 10 Dogs. The first (Div Yld Wtd) allocated based on dividend yield - a bit extra is allocated to stocks with a higher dividend yield. The second allocated one tenth to each Dog (Eq Wtd). The third allocated more capital to better valued stocks (Eq Wtd Val Adj).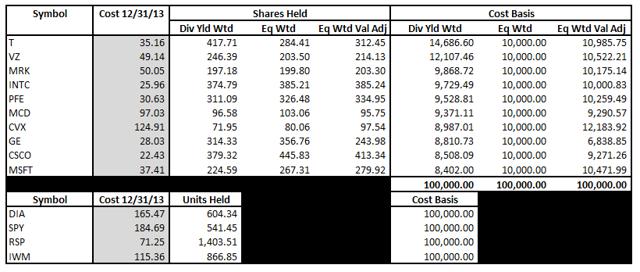 This is how the 2014 Dogs (excluding dividends) had performed by 12/31/2014.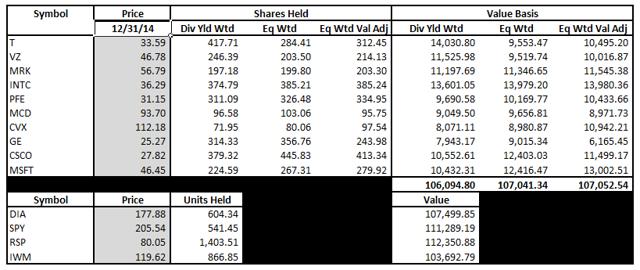 Here are the total dividends received over the course of 2014.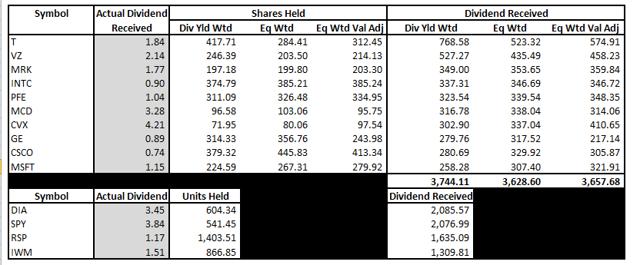 And here is the total price appreciation plus dividends. The Dogs (Active), beat the Diamonds (Passive) - which suggests that the little bit of active management based on a value oriented strategy paid off. Interestingly, the best performing Dogs strategy was the one where more capital was allocated to better valued stocks (Eq Wtd Val Adj): this strategy outperformed the equal weighted Dogs as well as the dividend yield weighted Dogs. To me this illustrates that while stock selection is important, the importance of capital allocation and position sizing is very important too.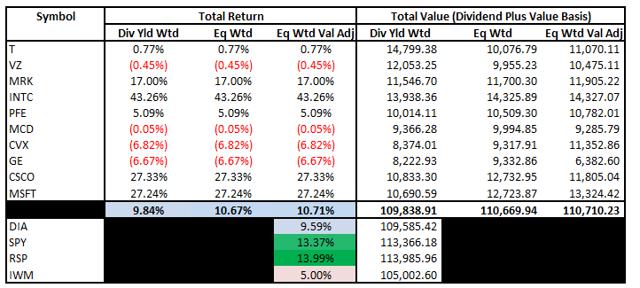 The Dogs and DIA underperformed both SPY and RSP. But on a risk adjusted basis it was not too shabby a performance given that the Dogs come with an equal weighted portfolio beta of 0.88. IWM was the worst performer - perhaps the markets were not as gung ho on risk as the frontline index returns indicate!