Around this time each year I like to run a series of scans on all stocks to sort out the most successful companies over the past 12 months. I have a number of favorite metrics I use to find the best stocks of the year in various categories. In this way, I know the sectors, the industry spaces, the stock "styles" that were most favored by investors. A little more digging around, and I can usually uncover the reasons behind these trends. Such information is invaluable to making sound investing decisions in the year ahead. If those conditions sustain, so too the trends. But if there is any sign of trouble ahead, it is probably best to look elsewhere. For example, I like to first take a subset of stocks that are trading, on average, over 500,000 shares per day, have a market cap of at least $300 million, are priced over $10, and have net returns of at least 30% year to date. Once those parameters are screened for, I'm left with a universe of 441 publicly traded companies.
Of these, I like to find the "best of class" in a few key areas. If you are familiar with William O'Neil's "CAN-SLIM" strategy (made famous in his best-selling book, How to Make Money In Stocks), you'll know why I like to scan for things like 5 year rates of earnings growth, growth in return on equity, top line growth in revenue year on year, and increases in institutional ownership.
For example, I'm curious to know which of the companies on my short-list showed the strongest bottom line growth in earnings per share over the past year. The winners? Here are the top 3:
1. Take Two interactive (TTWO) +989%
2. Delta AirLines (DAL) +932%
3. Greenbrier Companies (GBX) +898%
Take-Two, a multimedia and graphics software company, also sports some cheap valuation metrics, like a P/E multiple of only 13 times earnings, and a price to free cash flow multiple of only 6. Delta rallied on cheap fuel which helped drive its bottom line in recent months. Greenbrier, the freight rail-car manufacturer, has seen weakness in the latter half of the year on the fall in oil prices -- less production means less need for transporting all that oil and gas -- but shares trade at a low 0.65 price to sales ratio, and even the slowdown didn't keep the company from growing eps at an 83% clip last quarter.
None of these companies, however, are anywhere near the top of the all-time best stocks for 2014.
Here is another filter I like to run end of year: fund-love. Which companies showed the strongest increase in institutional buying of shares by the big players, mutual and hedge funds (a factor that William O'Neil claims is essential to sustaining healthy growth over the long-term)? Here are the top 3 in this category:
1. Kite Pharma (NASDAQ:KITE) +90%
2. The GEO Group (NYSE:GEO) +79%
3. Malinckrodt Limited Company (NYSE:MNK) +50%
But by far the most important metric is price performance. Which companies, regardless of eps growth, valuation ratios, analyst upgrades, etc., made the most money for its shareholders? Here the list is surprising...and for that reason, instructive.
What we learn when we screen our short list for the best YTD price performance is that the top 8 stocks for 2014 were all doing drugs. I mean, they are all in the biotechnology business: testing drugs, making drugs and selling drugs. The only non-drug makers were both at the bottom of the list (a home-security provider and a trucking company, respectively). Here is the list: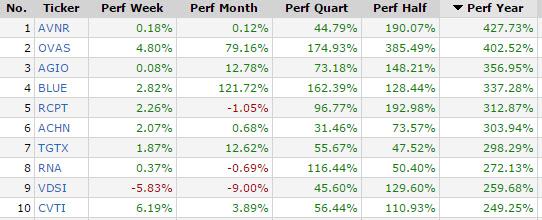 Why did the biotechs do so well this year? There are several reasons. An aging population is thought to need more drugs (attracting new money into the space), increase in the technologies associated with epidemiological studies (increasing targets for new therapies) and drug-testing and making procedures (decreasing lab time and time to market), dominance of biotech start-ups in the IPO space (siphoning money away from tech start-ups), an increasingly amenable FDA (making approvals easier, thus quicker to market), new "fast track" options for orphan drugs (ditto), an increase in analysts following biotech stocks (as scientists exchange their lab coats for Wall Street suits), increased backing of the smaller makers by the giants in the industry (Pfizer, Merck, Sanofi, GSK, AstraZeneca...all stepped up to fund the party), and the list goes on.
Most of the 2014 triggers that kept the biotechs at the top of the stock pile are still in place. People are still getting older (!), technologies continue to improve, the IPO lineup still shows a predominance of biotech firms, and with a Republican congress in place, the FDA should still stay drug-friendly. But there is a money flow issue that may put a damper on the drug-focused enthusiasm. Once the Fed starts raising rates this year, the cheap cash that has so well supported these unprofitable, "hope and hype" lab operations will begin to thin out. That will force some houses to cut back on the R&D budgets, and may force others out of business.
There is also the technical issue. The biotech phenomenon is, in part, a momentum thing. Momentum attracts money, and money creates more momentum. If you can ride this cycle carefully, you can turn a nice profit. Stay at the party too long, however, and you can take a tumble. Be warned: last year's darlings are rarely invited to the same party twice. To wit: dominating the list of best performances in 2013 were the solar stocks. This year? Not so hot.
Thus the search is on to find the best winners for 2015. It may be the biotech sector again. Odds are, though, it won't be.
Happy trading! Dr. Stoxx.
Disclosure: The author has no positions in any stocks mentioned, and no plans to initiate any positions within the next 72 hours.
The author wrote this article themselves, and it expresses their own opinions. The author is not receiving compensation for it (other than from Seeking Alpha). The author has no business relationship with any company whose stock is mentioned in this article.