By Brian Nelson, CFA
President, Equity Research
We hit the ball out of the park during the last month with a few picks. We continue to be very bullish on the outlook for commercial aerospace, and the addition of three names in the sector to our Best Ideas List June 6 contributed significantly to the outperformance. Astronics (NASDAQ:ATRO) has increased nearly 32%, while EDAC Tech (NASDAQ:EDAC) and Precision Castparts (NYSE:PCP) advanced 19% and 6%, respectively.
We also saw strong performance from Apple (NASDAQ:AAPL) and one of our more controversial ideas, Ancestry.com (NASDAQ:ACOM). Our dividend high-yielders didn't perform that well, but we continue to like trash-taker Republic Services (NYSE:RSG) and cigarette maker Altria Group (NYSE:MO) - the latter boasting nearly a 6% annual yield. In all, our portfolio (inception date May 17, 2011) has returned over 6% versus the S&P's decline of 0.2% during that time.
Click to enlarge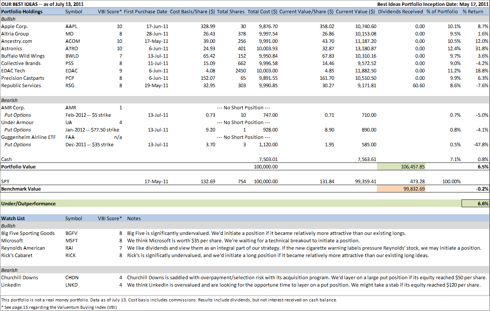 We have outlined our take on our portfolio holdings below. For more, please click here.
Portfolio Holdings - Longs
Apple (AAPL)
We believe the market is severely underestimating the long-term growth potential of Apple. Based on our estimates, we think the market is merely pricing in inflation-like expansion beyond the next few years, a view we believe is too conservative. Although the competitive landscape can change on a dime in technology-land, Apple represents a compelling valuation play.
Altria Group (MO)
There are myriad financial benefits of holding a solid dividend-paying company that is continuously pressured with uncertainty through both the ups and downs of its share price. The reinvested dividends during the troughs of a firm's stock price often find a way of propelling the overall return of that stock to meaningful outperformance when the shares ultimately reach new highs during optimistic times. We believe Altria Group fits this mold and represents a core position on our Best Ideas List.
Ancestry.com (ACOM)
We think this online family history provider will defy the shorts in a big way. Our estimate of the company's fair value is about $70 per share. Based on short interest, the firm seems to be one of the most hated names on the Nasdaq, and this is not only why we like it. We're expecting some fairly aggressive subscriber growth during the next few years coupled with significant margin expansion. The firm's addressable market is absolutely huge, and the release of the 1940 census next year is perhaps one of the biggest catalysts genealogical research has seen in a decade. We think the firm has earnings power above $4 per share by 2015, and that estimate includes significant marketing and advertising spend.
Astronics (ATRO)
Astronics, a maker of lighting systems and electrical power systems for the commercial (nearly 60% of revenue) and military and general aviation markets, has been the best performer in our portfolio this past month. The company's electronics products provide in-seat power for passengers and power in-flight entertainment systems (IFE) found on commercial jetliners. Astronics is benefiting from a trend of increasing IFE and in-seat power on new generation aircraft and has a decent position on new builds such as Boeing's (NYSE:BA) 787, Airbus' A380 and A350. Though customer concentration is some risk (Panasonic Avionics Corp. accounts for about 27% of sales), the firm should experience strong growth in the years ahead.
Buffalo Wild Wings (BWLD)
A restaurant focused on the concept of wings, beer and sports seems like nothing special, but Buffalo Wild Wings certainly has carved out a solid presence in this arena. With each restaurant boasting an extensive multi-media system (projection screens, 50 televisions, etc.), a full bar and open layout, "B-Dubs," as it is commonly known, has become the place of choice for many social chicken-wing lovers. Thanks in part to its widespread appeal, the firm has experienced tremendous growth during the past number of years as revenue has more than doubled since 2006. We think management's estimates for total restaurant penetration are too conservative and believe this name to be a long-term holding.
Collective Brands (NYSE:PSS)
We think Collective Brands is worth $24 per share. Even under our downside scenario, we think the firm is worth more than where it is trading at, offering a conservative value investor a fairly sizable margin of safety. We think this margin of safety is more than sufficient to account for the risks associated with the company, including its search for a new CEO. In all, we think positive news will set Collective's stock back on an upward trajectory. It currently trades at less than 25% of our 2011 sales forecast, a discount to competitors' and its historical 50% of sales level.
EDAC Tech (EDAC)
EDAC Technology Corp, a $25 million market cap (yes, that's not a typo: it's tiny), is a supplier of precision components (jet engine parts, special tooling, etc.) to the aerospace sector. United Technologies (NYSE:UTX) is its largest customer at about 44% of revenue, and EDAC has secured a position on the firm's geared turbofan engine (high pressure compressor hubs, turbine disks, etc.), which is turning into a favorite powerplant among commercial OEMs in the narrowbody arena. The firm is also a supplier on Boeing's 787 Dreamliner (fan cowl, fan blisk) and the Joint Strike Fighter (compressor integrated blade rotors, compressor fan case, etc.). In fact, less than five years ago, EDAC was producing parts for only one client and a single engine, but now the firm is on over 10 major engine programs across a wider range of customers. Growth in backlog has been stunning, and thanks to a new multi-year $42 million agreement to supply additional engine parts to a leading European engine maker (announced this year), backlog now stands at over $171 million from about $140 million at the end of 2010 and just over $20 million in 2005 - that's about 2.3x the firm's annual revenue run-rate and over 8x its market cap, revealing nice visibility. We think this firm could go to $6 per share in short order.
Precision Castparts (PCP)
This metal-bender is the best-positioned aircraft supplier to capitalize on the coming boom in commercial aerospace deliveries. Its razor/razor-blade model in building structural castings and rotating airfoils for every major program of the three jet engine makers - Rolls Royce, Pratt & Whitney, and GE (NYSE:GE) - gives it an excellent competitive position to ride the delivery upswing. Investors could expect a run to $200 per share should the global macro environment hold up.
Republic Services (RSG)
We like the defensive characteristics and the cash-flow generation potential of the waste industry, and Republic Services pays a nice dividend to boot. The firm is also the second-largest owner of landfills, which will become only more valuable over time (as they are closed), and has the greatest cash-flow generation expansion potential relative to peers. Republic has a monopoly in the fast-growing Las Vegas area, and sports the busiest landfill in the country, Apex, in Nevada. In fact, it operates as a monopoly in nearly 30% of its business operations, as measured by percentage of revenue. Importantly, as the firm continues to de-leverage toward its pre-Allied acquisition debt load, we could see as much as $3 per share in long-term earnings power, with little change from today's fundamentals (it will pay down $100 to $125 million in debt this year). We think a long position in the firm's equity is very attractive in today's market environment, and its current yield is not too shabby.
Portfolio Holdings - Put Options
AMR Corp (NASDAQ:AMR)
Although we maintain that AMR Corp. does have option value (which is why it continues to trade above $0 per share), we think the deck is stacked against the carrier and believe there is more room for the firm's stock price to fall despite its current liquidity position. First, we believe the carrier's fleet to be the most inefficient among legacy network peers. Second, we think its cost structure is among the worst in the domestic aviation industry. Third, we believe its fuel hedges in 2012 are minimal - not unlike the other majors, Delta (NYSE:DAL), US Airways (LCC), United Continental (NYSE:UAL) - but nonetheless insufficient to shield it from a crude-oil price spike in spring 2012. Fourth, it retains a huge debt load that will only be exacerbated by its efforts to renew its fleet with a potential massive purchase of new narrowbody planes to the tune of about $15 billion. And fifth, its pension liabilities are staggering - most of its domestic peers were able to shed these obligations during Chapter 11 (bankruptcy) proceedings in the early and middle part of last decade.
Under Armour (NYSE:UA)
On a discounted cash flow basis, shares of Under Armour look overvalued. Our upside scenario, for example, suggests the firm is worth just barely above $50 per share, or about 25x fiscal 2012 earnings. Under Armour only last year reached $1 billion in sales and some improvements in marketing and a continued premium price point product may continue to propel Under Armour past near-term expectations. But at its current levels, we think investors should avoid Under Armour. For one, a significant build in inventory or even a slight miss versus street estimates could send the shares down quickly, and we do not agree with the long-term growth rates the market has priced in to the stock. The risk-reward balance is not in investors' favor.
Guggenheim Airline ETF (NYSEARCA:FAA)
This is a speculative play in our portfolio. We're generally quite bearish on airlines and view them as merely a bet on the trajectory of crude oil prices and the economy. We think both will move against the airline group in the coming months. As such, we have a small put position in this ETF that tracks airline equity market values.
RJ Towner contributed to the contents of this article.
Standard Disclaimer: Our Best Ideas List is for information purposes only and should not be considered a solicitation to buy or sell any security. Valuentum is not responsible for any errors or omissions or for results obtained from the use of our Best Ideas List and accepts no liability for how readers may choose to utilize the content.
Disclosure: I am long ACOM.
Additional disclosure: Valuentum, its employees, and affiliates may have long, short or derivative positions in the stock or stocks mentioned herein.