As we near the end of the seasonal dog days for the gold stocks (March to August) I am interested to see if one of the biggest dogs of them all comes to life this fall. This stock has fallen from $90 in the late '90s to the $3 to $5 range now. It is the Edsel of the gold producers, even though in 2005, when the stock first hit the basement where it now resides, it was the 10th largest gold producer in the world. Still, it has been slammed, cursed, hated and sold by any shareholder with a heart worth breaking.
I am referring to DURBAN ROODEPOORT DEEP or DRDGOLD (DROOY) for short - or as I like to call it, Dreary Ban, after its dreary stock performance of the entire gold bull market. This stock was a darling in the first few years of the gold bull. But some class action lawsuits alleging overly optimistic reporting by management and a slew of bad press quickly turned the stock into a dog that has been kicked the rest of the way along the gold bull's path. This has occurred despite a very strong return to positive financial results to the point where, today, the stock carries a price/cash-flow ratio of just 3.3 along with a price/revenue of just 0.5 and a PE of 11. DRDGOLD is the fourth largest gold producer in South Africa, which has been the largest gold producing nation in the world for a century, although it competes closely with China now for that title. You don't hear much about DROOY in conversations about the big players of gold mining, but Wikinvest ranks this unhedged company fourth in its list of companies that benefit from the rising price of gold - right behind Barrick (ABX), Newmont (NEM), and AngloGold (AU). About all solvent, producing miners with a PE of any kind have enjoyed a ride higher over the last six or eight years. But DROOY The Dog has slumped into the dreary basement:
(Click graphs to enlarge)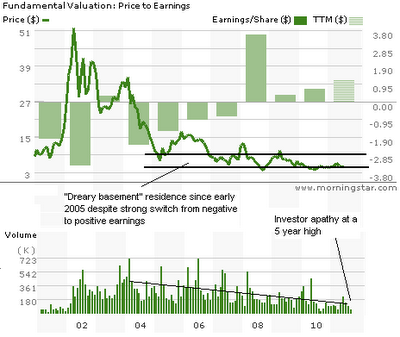 There are many explanations for this disconnect with its fundamentals, one of them being the conspiracy theorist's approach. Clif Droke wrote a piece over at Safe Haven about DROOY back when the stock first landed in the basement shown above in 2005. He noted that the stock wasn't getting hammered by every bit of bad press anymore, and that he was thinking some kind of long-term bottom was beginning to form. He invoked the skeptical view expressed by a lawyer, Franklin C. Keyes in a 1904 address to give a possible explanation of DROOY's behavior. Keyes suggested that when heavily moneyed interests want to grab up shares, they bad mouth the stock and force the poodles (retail investors) to turn loose while they fight the other big dogs for the stock. To quote Mr. Keyes:
"Did you ever see two big bull dogs fighting furiously over a bone? Well, they remind me of the insiders fighting, or 'gunning,' for one another's stocks. The bull dogs growl and snarl and snap and bite at each other, and perhaps some little poodle becoming mixed in the fray gets snapped clear in two, and the big dogs in their ferocity never know it at all. They, of course, are after the bone, but it is the last of the little poodle just the same."
In his 2005 article, Clif Droke speculated that these dogs may have been what turned DROOY into a dog.
Is it possible that the explanation of the quick, sharp, downward activity in the stock of Durban Deep earlier this year (most notably in April) was a result of such a "battle of the giants" among various interests (those familiar with the S.A. mining scene can probably guess the names involved)? Was this shake-out we witnessed not long ago a classic case of the insiders "gunning" for control of some aspect of the company or its stock? And why hardly anyone commented on Durban recently in light of the spate of news? Could it be that a large number of "poodles" were "snapped clear in two" by the previous decline and no longer have investment interests in DROOY? In the first part of 2005 there were numerous suggestions in analysts' research reports that DRDGold would shut down all its South African operations and many rumors circulated to the effect that the S.A. gold mining industry was in a "terminal long-term decline." This kind of talk is typical at longer-term bottoming processes
The poodles seem to be clearly snapped in two as this stock shows the signs of an abandoned investment. And a "longer-term bottoming process" is clearly what seems to have transpired since 2005. Its current technical condition could best be described as "limbo."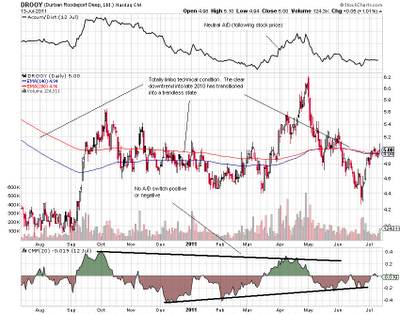 The stock hasn't followed the miners' movements very well, drifting lower throughout most of 2010 while the HUI index did a nice climb. Only lately has DROOY started twitching a finger promising an escape from the coma. Last September saw a brief rally along with the miner group as well as this March. But it is still a technical basket case while being a valuation marvel. It is certainly one to keep a close technical eye on. I wouldn't buy it until it gets its 140/200 ema moving average act together, unless you want to accumulate it and perhaps be a poodle for awhile.
Disclosure: I have no positions in any stocks mentioned, and no plans to initiate any positions within the next 72 hours.