Most U.S. equity investors were probably happy when major stock indices closed at near record highs on 31 December 2014. The current bull cycle has run for six consecutive years. It is also the third consecutive year the stock market kept going up without a 10% correction along the way. Looking ahead, many analysts, financial advisors or traders are optimistic about 2015, expecting a more volatile yet positive year. Despite some volatility before Christmas, a frequent CFA contributor to SA, proclaimed "Equity Bulls Regain Control."
The fact that the bulls have been in full control has virtually driven the bears into hibernation for a considerable time. The U.S. market enjoying the excessive liquidity made available by the Fed's QE exercises has repeatedly defied the laws of gravity. As long as investors believe in the infallible "Don't Fight The Fed" motto, they make easy money simply by buying and holding exchange-traded funds such as the SPDR S&P 500 Trust ETF (NYSEARCA:SPY), the SPDR Dow Jones Industrial Average ETF (NYSEARCA:DIA), the iShares Russell 2000 ETF (NYSEARCA:IWM) or the PowerShares QQQ Trust ETF (NASDAQ:QQQ).
Troubling signs surfacing
Technically, there is plenty of room for optimism. The 3-year chart shows that the long-term uptrend remains intact. Nevertheless, as a seasoned investor who has watched the 200% phenomenal rise of S&P 500 from the trough in March 2009, I became more suspicious of the rally. Over the past six months, I have detected some troubling signs that warrant the due attention of fellow retail investors.
While I like the easy way of making money since 2010, I have kept asking myself a simple economic question: "Is our current economy three times as strong as the faltered one in 2009?" Honestly, I do not have an answer. I know many stocks are now over-bought and over-valued. Intellectually I ought to pause and review the market internals and the macro investment environment. Here are the five red flags I identified:
1. Market internals show worrisome signals
In a normal bull rally, usually winners spread across the board particularly when the market is at all time high. In nonprofessional terms, when a market index reaches a record high, the bulk of the constituent stocks should achieve 52-week highs or all new highs as well. Wide participation implies the whole market is really going strong. Nevertheless, when there is a divergence i.e. higher index yet fewer stocks participating, the overall market is clearly showing a lack of forward momentum. In fact, the number of S&P 500 constituent stocks above 200-EMA has been dropping since last July though not significantly.
(Click to enlarge)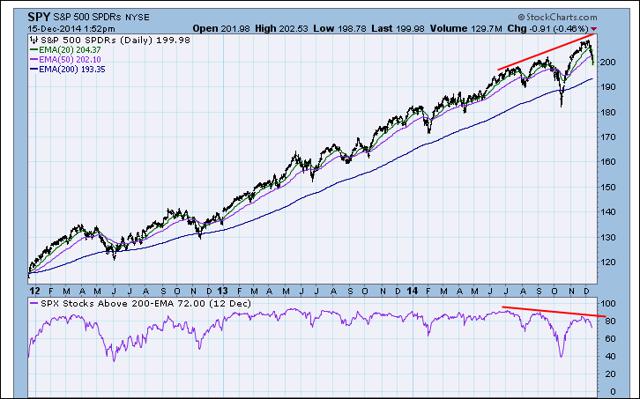 Source: Stockcharts.com
The index broke its own record for 53 times in 2014 and recorded the highest closing at 2,091 on 29 December. Despite the consistent rise in the index number from the beginning of the year, divergence has appeared in the Relative Strength Index (RSI) since last July.
(Click to enlarge)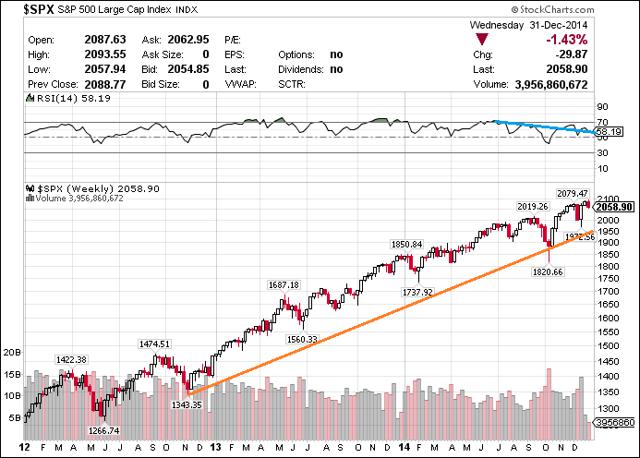 Source: Stockcharts.com
Divergence is more obvious at the New York Stock Exchange. Among thousands of equities listed there at the end of 2014, only 53% are above the 200-EMA i.e. on a long-term upward trend. The low participation rate spells something unusual and indeed unhealthy. If nearly half of the stocks listed on the largest U.S. exchange are already going downhill, it implies the ongoing bull market is aging and probably would be deteriorating very soon.
(Click to enlarge)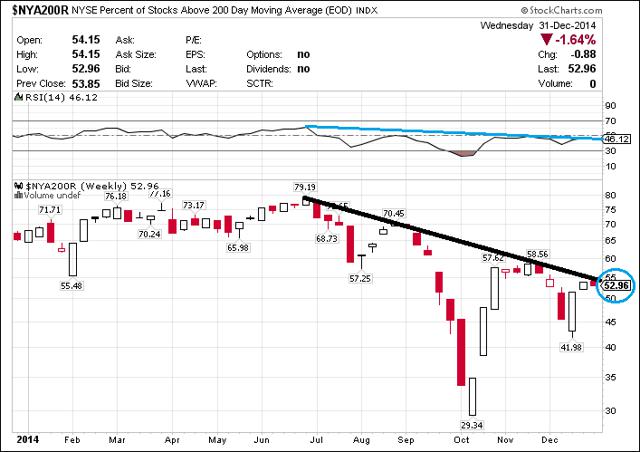 Source: Stockcharts.com
2. Rising volatility goes unnoticed
In the first nine months of 2014 when investors made easy money with the "robotic rise" of the indices, the CBOE Volatility Index (VIX) was in the low teens. The only exception is one day in February when Russia annexed Crimea. It went up above 20. Then a sudden shock came last mid-October around the ending of QE3. The volatility index spiked to an intra-day high of 31. Since then, volatility subsided, yet the index rose again in mid-December above 23. The most worrying sign is that the index ended 2014 at 19.2 or 32.4% over the preceding week.
(Click to enlarge)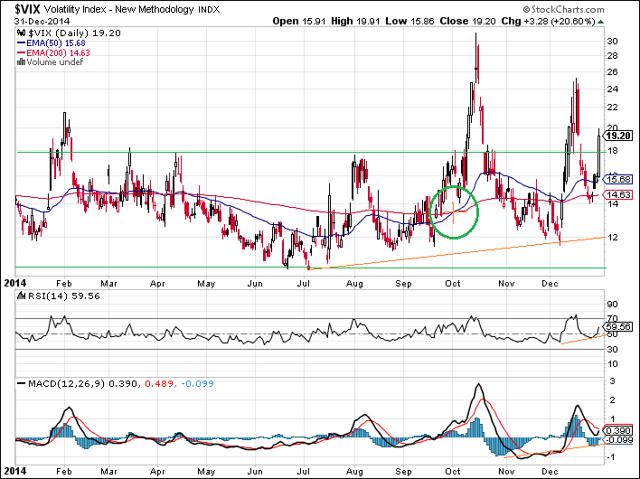 Source: Stockcharts.com
A closer look at the chart reveals more disturbing signs. First, a death cross appeared in early October, and since then, the 50-EMA never fell below the 200-EMA. A death cross is a notorious term used by technical analysts to indicate a reversal of a long-term trend. In this case, the signal implies increasing volatility would become a new long-term norm.
Second, RSI rose above 50 again in early December and indicated high volatility is a near-term reality. Third, the MACD black line has been above zero since early December and is about to tick upward and likely cross the red line very soon. All these technical indicators point to one scenario - more volatility awaiting investors ahead.
3. Sector mismatch at height of a bull market
One of the unique features of the current stock rally has been the leadership role assumed by the utilities sector. In 2014 alone, the sector as presented by the Utilities Select Sector SPDR ETF (NYSEARCA:XLU) registered a gain of 26% including dividend. Right now, the average P/E of the sector is 21.7 - higher than S&P 500, which stands at 19.92. This, however, does not augur well for the stock market in 2015.
There are two most obvious reasons for investors holding utilities stocks - stable income and their perceived role as a safe haven. Few would dispute utilities stocks have become the darling of yield-hungry investors over the past few years. Yet given the likelihood of Fed rate hikes in 2015, the sector would suffer a severe pullback if the hikes really happen. The parking of enormous funds in the sector despite its high valuation implies that investors are somewhat worrying about the future performance of the U.S. economy. They prefer to put their money at work in a place whereby share prices would suffer the least in the event of a market crash. In fact, this is not true. When the economy entered recession in 2008, even utilities stock sank badly. To conclude, I do not feel comfortable when utilities stocks spearhead a rising market.
(Click to enlarge)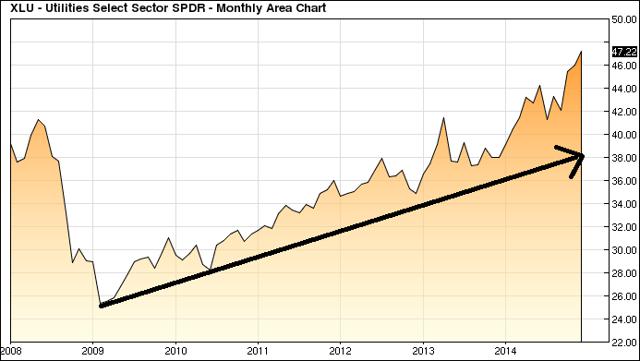 Source: Barchart.com
On the other hand, when an economy is booming, there is no reason why the energy sector is lagging. In the current rally, energy stocks are the real laggards while other sectors such as financials and consumer staples continue to outperform. As indicated by the Energy Select Sector SPDR ETF (NYSEARCA:XLE), the fund witnessed a drop of 22% on the last trading day from the 52-week high recorded last June.
(Click to enlarge)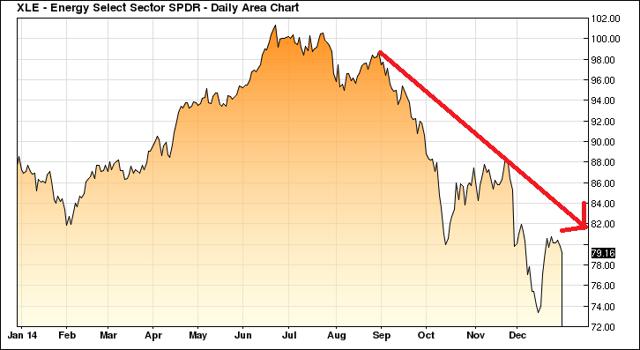 Source: Barchart.com
Traders and analysts attributed the decline to the recent plunge in global oil prices. Regardless the cause, a poor energy sector suggests the world is having a growth problem. Although the U.S. has a few quarters of good GDP numbers, the country could not sustain the momentum if its major trade partners have tepid economic growth. Furthermore, the crash in oil prices might have had an adverse impact on the shale oil industry in the country. A halt would reduce the huge number of high-paying jobs created by the booming industry over the past six years.
When a sector mismatch surfaced in the recent rally, it is time to be vigilant. The relative strength of the utilities stocks to the weakness of the energy sector as shown in following chart is self-explanatory and indeed a red flag that could not be ignored.
(Click to enlarge)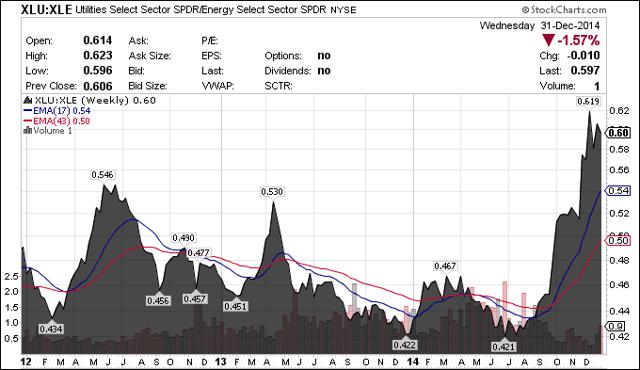 Source: Stockcharts.com
Some bulls argue that lower energy prices are good for the economy. First, consumers pay less for gas so they could afford to spend more. Second, cheap oil or natural gas is good for the transport sector, chain restaurants and the manufacturing industries because it reduces operation costs. Both could help the corporate world to improve their bottom line. However, they overlook the unintended adverse effects on the highly leveraged oil and gas explorers and drillers. These companies have been capitalizing on the unprecedented low borrowing rates to ratchet their explorations and productions because of the Fed's QE initiatives. I am among the skeptics who fear that any major insolvency in this specific sector may trigger the fall of the over-sought asset dominoes.
4. Cracks appearing in the junk bond market
As investors may be aware, the second most risky investment products besides equities are high-yield corporate bonds. They are better known as junk bonds. When the investing public has good faith in the corporate world, they buy their stocks for capital gains and dividends. Some conservative investors prefer to buy debt notes issued by corporations with high credit ratings for better protection of their capital. These investment grade bonds usually have collateral and bondholders have priority to get back their money in case of bankruptcy. Yet their yields are relatively low because the chances of insolvency are minimal. For corporations without a strong balance sheet, a good record of accomplishment or a stellar credit rating, they would have to pay a higher yield to attract investors. That is why their notes are called high-yield bonds. They carry a much higher risk compared to U.S. Treasuries or AAA investment grade corporate bonds.
Like equities, junk bonds have achieved impressive gains over the past few years when almost everyone is chasing after yields. The credit spread has been narrowing from double-digit figures during the last financial crisis to a low of 2-3% in first half of 2014. All was well until last July. When global oil prices began to fall precipitously, investors started worrying about the operating environment of highly leveraged companies in the oil patch. When oil prices were halved in six months, an alarming discomfort crept into the share prices of these companies which include independent oil and gas explorers or producers, offshore and land drillers and other related oil service companies. Fear as to whether the companies could weather the onslaught of persistent low oil prices began to surface. The unrest later spread to the junk bond market where 15% percent of all debt originations ($200 billion) came from this sector. Look at a few examples.
The following charts are a tiny sample of oil-related companies whose stock and bond prices have both dropped substantially since last July.
Performance of four selected stocks vulnerable to low oil prices

Name of Stock

SandRidge Energy (NYSE:SD)

Oil & gas explorer

EXCO Resources (NYSE:XCO)

Shale play

Seadrill (NYSE:SDRL)

Deepwater Driller

Hercules Offshore

(NASDAQ:HERO)

52-week high price

$7.4

$6.6

$41.3

$6.7

Closing price 31/12/2014

$1.8

$2.2

$10.9

$1.8

Percentage change

(76%)

(67%)

(74%)

(85%)
Source: Data compiled by author from Yahoo Finance
The fear of investors not only dampens their stock prices but also slashes their bond prices. The double-digit yields are pricing in a likelihood of probable insolvency.
Performance of selected bonds issued by the same four companies

Name of Stock

SandRidge Energy

EXCO Resources

Seadrill

Hercules Offshore

Coupon rate

7.5%

8.5%

6.125%

7.5%

Maturity date

03/15/2021

04/15/2022

09/15/2020

10/01/2021

Latest Price

$66

$74.6

$83

$43

Yield to maturity

16.42%

14.21%

10.11%

25.65%
Source: Data as of 31 December 2014 on Morningstar.com
Last mid-October, the stock market witnessed a sudden plunge whereby S&P 500 broke through the 50-EMA and 200-EMA. During that period, the complacent junk bondholders were a little scary. One of the most popular ETFs, the SPDR Barclays High Yield Bond ETF (NYSEARCA:JNK), registered a mild 4% drop from its record high. Then another minor correction hit the stock market in early December. This time the junk bond market responded more violently. The same ETF saw an 8.3% drop from the record high level. A mild rebound returned as the so-called "Christmas rally" happened in the equity market. However, the ETF failed to break above the downtrend line. The hidden fear in the junk bond market is in fact confirmed by the appearance of a death cross in early December. To recap, a death cross is a jargon technical analysts use to indicate a reversal of a long-term trend. In this case, the trend will be from up to down.
(Click to enlarge)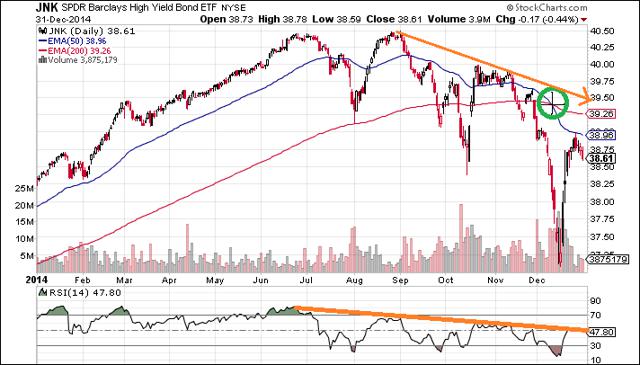 Source: Stockcharts.com
Similar fear surfaced in another corporate debt ETF known as the PowerShares Senior Loan Portfolio ETF (NYSE:BKLN). This ETF focuses on larger bank loans made by financial institutions to fund new projects, Leveraged Buy-Out (LBO) or Merger and Acquisition (M&A) activities. As a rule, these loans are more secure than the high-yield notes because assets of borrowers secure them. Usually lenders tend to know a lot more about borrowers' financial conditions. In the energy sector alone, the aggregate loan amount reached $300 billion.
The recent price actions of the fund highlight the fear among investors of non-performing bank loans in the near future. Another death cross appears, signaling a trend-reversal pattern is in the making.
(Click to enlarge)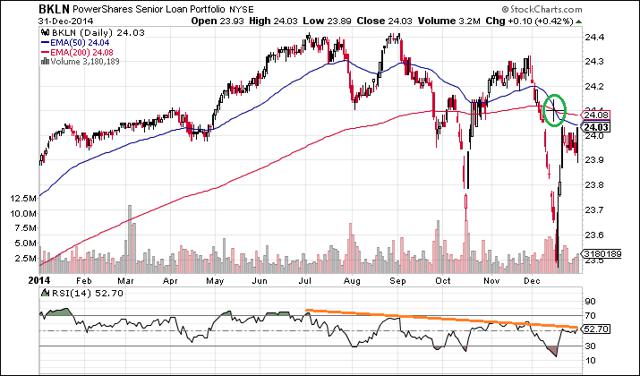 Source: Stockcharts.com
The two disturbing signals from the junk bond and leveraged loan markets are an omen for more pronounced deterioration in the overall debt market. This in turn would affect negatively on the equity market. The chart provided by Federal Reserve Economic Data actually confirmed the worrisome trend as credit spread in the high-yield bond sector has been rising steadily since mid-2014.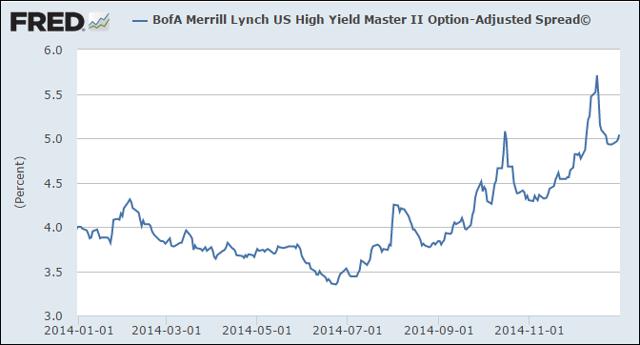 Source: Federal Reserve Economic Data
Stock investors must monitor the upcoming volatilities in this specific sector and treat them as canaries from the coalmines. The unusual high default rates of junk bonds before and during the previous three market crashes are evident in the chart. It is scary too.
(Click to enlarge)

Source: Fitch U.S. High Yield Default Index
Peter Schiff, a constant critic of Fed policies, said that the current boom and bust in the U.S. shale play was fueled by excessive liquidity released by QE. He warned that dire consequences would entail because of depressed oil prices:
Although the junk bond market is nowhere near as large as the home mortgage market, widespread defaults from energy-related debt could cause a crisis, which could make wider ripples throughout the financial edifice.
5. A strong dollar index undermines earnings
Thanks to the anticipation of a gradual hike in Fed rates and the recent fabulous GDP numbers, the U.S. dollar has been enjoying a rapid rise since mid-2014. In terms of the Fed's Trade-Weighted U.S. Dollar Index, the greenback rose about 10% in the past six months and almost 20% in the last two years.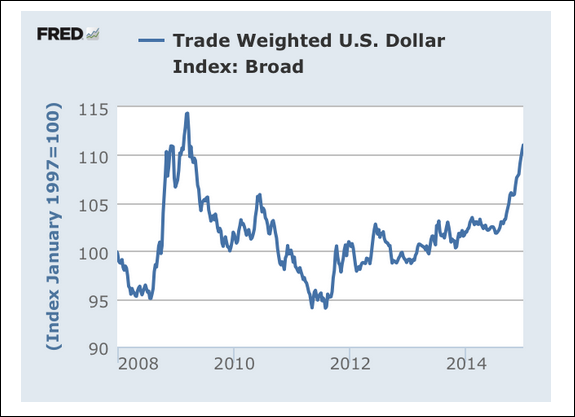 Source: Federal Reserve Economic Data
We feel good when we travel outside the country because a strong dollar enables us to buy more from abroad. However, the growing strength of the dollar has at least three negative effects on the economy and the corporate world. First, a strong dollar diminishes our export competitiveness and our corporations will lose deals to competitors with weak currencies such as Japan and Eurozone countries. Second, many S&P 500 companies have substantial overseas income in other currencies. They would find a shrinking top line when the revenue is converted into the U.S. dollar. Finally, a strong dollar depresses the prices of the commodities, which are conducive to the making of a deflationary environment. This is not good for a mild inflation everybody is looking for, not to mention improved corporate earnings.
In a week, earnings of the final quarter of 2014 would start rolling in. The corporate world has been very successful in using financial engineering tools such as share buyback and super-low interest borrowings to boost EPS. However, when it comes to revenue, there is no magic if there is no revenue growth. Given the negative impact of a strong dollar, it would not be surprising to see reported earnings weaker than consensus estimates. Whether a bad miss may reverse the bullish sentiment or trigger a long overdue correction, we would have to wait and see.
Conclusion - No immediate alarm yet expect a bumpy ride ahead
The price actions of S&P 500 on the last trading day of 2014 made me feel uneasy. The index saw an intra-day reversal candle from a mild morning rise to a drastic drop of more than 1% by closing. Year-end window dressing is important for fund managers because higher indices or stock prices entitle them to a bigger performance fee. However, it appears a few traders or investors are simply too eager to take profits off the table before the year ended. Did they see the red flags in advance? Did they simply want to play safe before the New Year holiday? Alternatively, did they know something we do not know?
The best-known bullish academic, Professor Jeremy Siegel at University of Pennsylvania, said Dow could hit 20,000 in 2015 but would be harder to reach there. He explained his cautiousness:
The last three, four years - it felt it was easy, it was a slam dunk. The market was undervalued and interest rates were low. We are closer to fair market value, but we are not there yet because I think interest rates will be presently lower.
Jeff Cox, Finance Editor at CNBC, said the most recent Investors Intelligence survey, which polls newsletter authors as a gauge of professional investor sentiment, had bulls at 52.5 percent and bears at 15.8 percent, the latter measure being the highest since mid-October. After a six-year bull run, Cox suggested it might not be a bad idea to start thinking as a contrarian.
Today, money managers know it is easier to make money by shorting the market from all-time highs than pushing it up for another 10%. The first few trading days in 2015 would shed light on the way ahead. Meanwhile, be vigilant and get ready for a bumpy ride in 2015. Self-complacency has no place in an about-to-change market.
Disclosure: The author has no positions in any stocks mentioned, and no plans to initiate any positions within the next 72 hours.
The author wrote this article themselves, and it expresses their own opinions. The author is not receiving compensation for it (other than from Seeking Alpha). The author has no business relationship with any company whose stock is mentioned in this article.