If you have been investing in REITs this year, you should be happy, right? Maybe you have owned one of the highly liquid ETFs designed to replicate the sector, like iShares DJ Real Estate (NYSEARCA:IYR), which is up over 9%, Vanguard REIT (NYSEARCA:VNQ), which is up almost 11%, or SPDR Wilshire REIT (NYSEARCA:RWR), which is up 11.5%. Nice, right?

Unfortunately, these fantastic returns are misleading, as the typical REIT isn't faring nearly as well. The average return YTD for all REITs in excess of $200mm market cap currently (123 companies) is just 5.4%. Of the 123, 45 are up in excess of 10%, while 39 are actually down in price.

I have had a theory that I wanted to test, so I did. As you can see in the histogram below (), which has YTD return on the y-axis and the market-cap on the x-axis (log-scale), there is a very apparent size bias: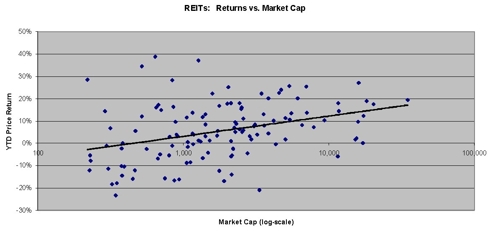 In case you aren't visually inclined, here are some stratifications that further make the point:
<$1 billion: Median = -2%
$1-3 billion: Median = 4%
$3-10 billion: Median = 10%
>$ 10 billion: Median = 13%
So, clearly smaller REITs aren't doing so well, while the big ones are doing very well. It could be, as one of my clients suggests, that this environment favors larger REITs, who have better access to capital. While that may be true, I am not so sure that it explains what's going on. An alternative explanation is that the public is buying REITs, which, due to their structure, favor large-cap names. Also, there has been a lot of supply, including new issues and secondary offerings.

If you want to take advantage of potential cheapness in smaller REITs, you could buy the recently launched IQ Real Estate US Small-Cap ETF (NYSEARCA:ROOF), but that would be a bad idea for probably several reasons. I will mention just one: 2 of the Top 5 holdings are Mortgage REITs (>10% of holdings). I shared my negative sentiment on this sector recently. Whether or not you agree with me that this low-volatility and low interest-rate environment leaves that sector vulnerable to the eventual changes in interest rates, I think it is clear that Mortgage REITs are very different from more traditional REITs. They rely on financial engineering as opposed to real property investment returns. If you are trying to get diversification and perhaps protection from inflation, Mortgage REITs end up providing neither.

Having reviewed the 41 names in the ETF, ROOF is missing some small ones I like and includes some that I don't. I think that with a little effort, an investor can invest more wisely by picking a few names. I shared two ideas earlier this year, Whitestone (NYSEMKT:WSR), which hasn't done very well since then but is recovering, and Retail Opportunities (NASDAQ:ROIC), which has done better.

If you are interested in finding some smaller REITs to investigate further, I am modifying a screen I ran earlier this year highlighting high-yielding REITS. In that article, I was screening for safety and growth as I examined REITs offering yields in excess of 5%. I had limited the universe to market caps in excess of $500mm. Here are the parameters I am using today:
Market Cap = $200mm to $1.5 bln
Dividend Yield > 5%
Net Debt to Capital < 50%
Assets/Equity < 2X
5-year Dividend Growth > 0%
The names that made the cut include ():





Getty (NYSE:GTY) has recovered somewhat since I wrote about it after it was hammered earlier this year. I don't believe that the situation has the same lack of clarity today as it did a few months ago, and I would be cautious at this higher price. I am also familiar with Government Properties (NYSE:GOV). There is a bearish view that government retrenchment could be harmful, but almost all of the properties are outside of D.C. I continue to like this one. I am somewhat familiar with National Health (NYSE:NHI) and LTC (NYSE:LTC) but less so with the other two.

These smaller names that made the cut appear to have some favorable growth and safety characteristics, and my guess is that there are a lot of other interesting smaller REITs to investigate further, like ROIC and WSR

Disclosure: I have no positions in any stocks mentioned, and no plans to initiate any positions within the next 72 hours.