Titanium producers are among the most sensitive to economic cycles. Titanium comes in many forms and has many industrial usages. But the high-margin form is flat-rolled sheets of various titanium alloys. In this form it is a "high-end" industrial metal, with main applications including aerospace, military, and some special ones such as desalination.

Aerospace doesn't look promising as the worldwide economy slows down, though at different speeds. While Airbus has stolen the recent Paris Airshow, Boeing (NYSE:BA) looked like a hapless deer in the headlight. This is especially bad for Allegheny Technologies Inc. (NYSE:ATI), which has long relied heavily on Boeing orders for its high-end titanium business. Defense doesn't look promising as the U.S. is trying to draw down in Afghanistan and cut back some defense spending. Desalination may be a beneficiary of global warming and water shortage, but it's far too small to matter at this time.

By now the hope of EM growth dragging the west out of recession has been tortuously nipped at the bud, leaving EM in the frozen "emerging" motion. EM has been sacrificed by the Fed in its ill-devised effort of forcing inflation. They tried heroically to control inflation without hurting growth, but failed miserably, of course -- it's never been done before, nor will it ever be done, at least in the current form of human existence. China has been trying to walk the very fine line between hard-landing and inflation, with dire consequences for anything other than perfection. India's trouble seems at least equally fantastic. Yes, Brazil is the new China but we've seen the movie "What Happens To Commodities Countries When Commodities Crash", haven't we?

No, Earth will not stop spinning -- how could it with so many politicians on it? It will just slow down ever so slightly. Unfortunately for its residents, since modern civilization is built entirely on marginal values, i.e., first and higher order derivatives, this is all that matters.

As if to rub all this misery in, China has built a titanium mill with a capacity of making 10,000 tons of flat-rolled high-end titanium alloy per year, with a 100,000 ton / year titanium-steel composite board plant already in production. Jintian Titanium Industries (only Chinese version available), a fast emerging titanium giant in China, has slated it to go into production this August. It's touted as marking the completion of the full titanium product chain and filling the last gap in high-end specialty titanium alloy in China. Specialty titanium alloy has been treated as a strategic industry in China in recent years, since the country has 40% of world titanium minerals but has had to import specialty titanium products at painfully high costs, both economic and political. 10,000 tons/year flat-rolled titanium sheets is not a trivial number, more than 1/3 of all estimated new scrap in 2010.Those who paid attention to the 12th World Conference on Titanium, held on 6/19 in Beijing (first time hosted by China), may have gotten a very public heads-up on this development. I don't expect the new mill will be supplying to Boeing

Among the three titanium stocks, Allegheny (ATI), Titanium Metals Corp (TIE), and RTI International Metals (NYSE:RTI), ATI seems the most vulnerable due to its high valuation. It has come down from $73 in late April to <$60 recently.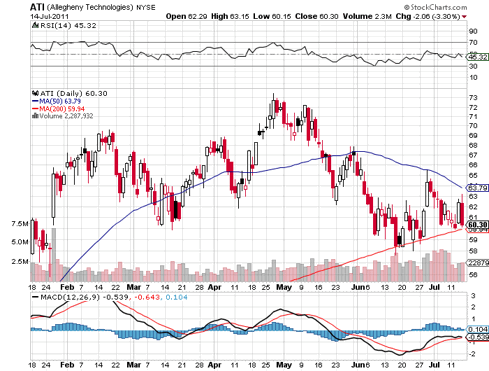 A few technical facts on ATI:
It was one of the most shorted stocks recently, meaning high risk of short squeeze if the broad market rallies, or the earnings turns out strong (7/27).
Technically, it's been in a very interesting position-- of being in a wedge between the 50-day and 200-day MVAs since early June. But most of the time it's been trying to break the 200-day MVA to the downside.
It's been mostly very weak relative to the broad market recently.
It's a high-risk play with strong bias to the downside. Possible strategies include
Short ATI hedged with long SPY. But hedge ratio is a key.
Long straddle / strangle on ATI. But implied volatility is already very high.


Disclosure: I am short ATI.

Additional disclosure: I swing trade and my positions may change quickly.