How many stocks now trade below their panic of 2008-09 lows despite solid fundamentals and a fine balance sheet? Of the ones you might think of, how many have shown 10-year per share improvement as shown below?
Per share data*

2001

2011**

% Increase

Sales

$5.51

$11.70

112.3%

Cash flow

$0.74

$1.50

102.7%

Earnings

$0.40

$1.05

162.5%

Book Value

$6.72

$14.95

122.4%

* data as reported by Value Line

** 2011 data includes estimates
Knight Capital (NYSE:KCG) and its subsidiaries are America's largest wholesale market makers in equity securities. They also execute transactions for institutional clients and broker dealers.
Revenues and earnings follow a choppy path as they are market sensitive to both volume and trend. KCG maintained profitability throughout the turmoil of 2008-09. EPS peaked at $1.94 with the market in 2008 and dipped to $1.07 in 2010 (excluding a 10-cent non-recurring loss). Q1 2011 came in surprisingly strong at $0.33 versus $0.30, but full year 2011 estimates come in just slightly below last year's figure at $1.04.
Q2 is due to be reported on July 20 at 9 AM. Consensus views are for $0.21 v. $0.58 which was 2010's strongest quarter by far. Perhaps nobody wants to own Knight ahead of that well-advertised negative comparison. To me it seems like opportunity.
[Click to enlarge]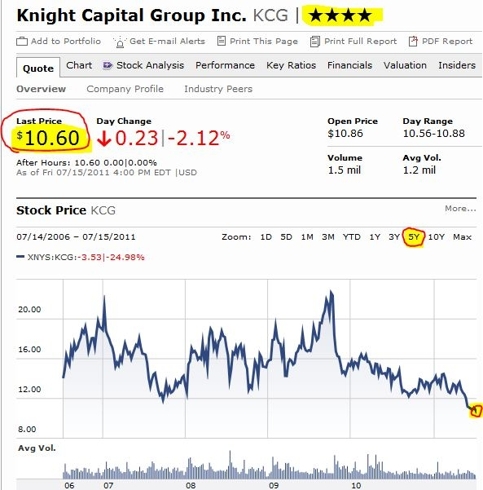 The published expectations for 2012 all look for major EPS improvement. The lowest estimate I can find is for $1.30 and the highest is S&P's $1.71. At Friday's closing quote of $10.60, KCG is offered for just 10.2x the current year's and 8.2x the low-end estimate for next year.
How Much Is KCG Really Worth?
Morningstar assigns them 4-Stars (out of 5) and sees 'fair value' as $19 /share. S&P carries a 12-month goal price of $15. Are those crazy targets? I don't think so. KCG peaked at $17 - $23.10 during each calendar year from 2006 – 2010 and has touched a high of $14.95 already in 2011.
A rebound to even 11x next year's projections should bring KCG back up to the mid-teens – at least 40% above last week's close. Every previous drop has proven to be a buying opportunity and this one is likely to continue that trend.
If buyers are on strike waiting for the Q2 report to clear the decks then they should be planning to come back in force well before the September results when comparisons get really easy against very weak second half numbers from 2010.
I'm willing to risk being a bit early in order to lock in pricing that hasn't been seen since early in 2006. Book Value has risen about 60% since then and revenues per share are up 25% over those 5 years.
Option savvy traders might want to consider selling some January 2012 $10 or $12.50 puts to lock in even lower entry prices or get paid 'not to buy' KCG if it rebounds by early next year.
Premium

'If Put' Price

Margin of Safety*

STO KCG Jan. $10.00 puts

$0.70

$9.30

12.2%

STO KCG Jan. $12.50 puts

$2.15

$10.35

2.36%

* margin of safety = % the 'If Put' price is below $10.60 /share
Disclosure: I am long KCG and short KCG options