Stocks have shown trouble getting things going since the end of QE2. Daily stock market trading had some particularly notable characteristics during much of QE1 and QE2 over the last two years. One particular phenomenon was seen all too often along the way. The day would begin with stock futures lower, and then the trading day would begin with stocks limping to the downside. But by 10:30AM to 11:00AM, stocks would begin to firm and throughout the rest of the trading day, stocks would explode to end the session higher.
All of a sudden with QE2 now over, stocks seem to have also lost their mid morning potency. So what gives?
The Fed's quantitative easing (QE) program provided stocks with some strong mid morning mojo. For example, during nearly every trading day under QE2, the Fed would conduct Open Market Operations starting at 10:30AM. Between 10:30AM and 11:00AM, the Fed would buy anywhere from $4 billion to $8 billion in U.S. treasury securities from financial institutions, such as the major banks.
So, by late morning on any given trading day, we had major financial institutions that suddenly had a load of cash that they had just received from the Fed and needed a place to deploy it. And a good chunk of this money seemingly ended up finding its way into investment markets, including stocks. Thus, stocks would reverse mid morning and move higher for the remainder of the day. The chart below shows one such day out of many when this phenomenon occurred during QE.
[Click all images to enlarge]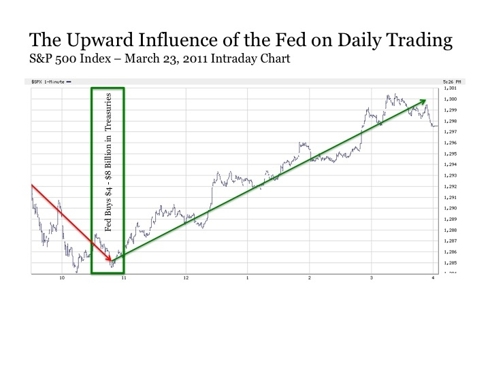 Stocks have lacked this same mid morning vigor since QE2 has ended. A look at the first 10 trading days since the end of QE2 on June 30 demonstrates this point. On most days, stocks are no longer showing this traditional QE pattern to reverse higher mid morning. On the contrary, the pattern we've seen more often in recent days is one that either surges higher throughout the day, grinds sideways to lower throughout the session, or opens strongly and loses steam throughout the remainder of the trading day.
The only two exceptions where we did see QE-like mid morning reversals higher in recent days were on Wednesday, July 6 and Friday, July 15. But what is notable is that on both of these days, is that the Fed was conducting treasury purchases in the range from $2.5 billion to $3.5 billion as part of their ongoing agency debt and MBS program. Thus, QE light forces were at work on both of these days. Another round of purchases under this program also occurred on July 11, but the weight of the Italy news that day quickly overwhelmed any possible attempt to rally.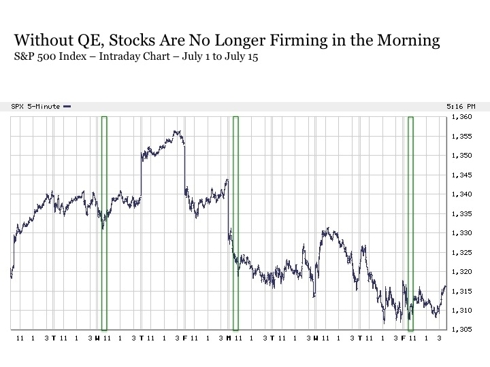 It is problematic if the market is unable to find sustainable strength without QE. This is due to the fact that stocks may now be left to deal with a major valuation dysfunction problem. If on any given day over the last few years stocks were likely to trade lower for fundamental reasons, but ended up trading higher by the end of the day due to an injection of QE, this implies a valuation disconnect has been created in asset pricing. And as this phenomenon occurred repeatedly over an extended period of time over the past few years, the extent of this valuation disconnect would only become vastly more profound with each occurrence.
The fact that stocks are currently 40% overvalued relative to long-term historical valuations supports this idea of a valuation dysfunction for stocks. To begin with, the currently uncertain environment is far from one that would justify paying a hefty premium for stocks. More significantly, as discussed in my recent post, Stock Correction May Have Much Further to Go, stocks have historically traded at deep discounts during periods of crisis and pricing instability much like today. And these discounts have ranged anywhere from 25% to 70% undervalued on a long-term historical basis. Thus, any current valuation dysfunction for stocks suggests the potential for meaningful downside now that the daily dose of QE has gone away.
So where should one invest in a post QE market? Areas of the market that have continued to show the most verve in a market without QE include Gold (NYSEARCA:GLD), Treasuries iShares Barclays 3-7 Year Treasury Bond ETF (NYSEARCA:IEI), iShares Barclays 7-10 Year Treasury Bond ETF (NYSEARCA:IEF), iShares Barclays 20+ Year Treasury Bond ETF (NYSEARCA:TLT) and Non-Financial Preferreds; AT&T (NYSE:T), Alabama Power (OTC:APRDM), NextEra Energy (NYSE:NEE) (FGE), Dominion Resources, Inc. (NYSE:DRU), Xcel Energy, Inc. (XCJ). Even some high quality stocks, including utilities have not suffered from the same valuation dysfunction that may now be weighing the broader market also offer strong appeal. As long as the Fed holds out on offering up a new round of QE to enliven the stock market, these are the categories that are likely to continue to perform best in the months ahead.
Disclaimer: This post is for information purposes only. There are risks involved with investing including loss of principal. Gerring Wealth Management (GWM) makes no explicit or implicit guarantee with respect to performance or the outcome of any investment or projections made by GWM. There is no guarantee that the goals of the strategies discussed by GWM will be met.
Disclosure: I am long GLD, APRDM.OB, FGE, XCJ, DRU, IEI, IEF, TLT.