Background
Australia is a vast, sparsely populated country that is known for its abundance of natural resources. In Australia, one can not only find iron ore and precious metals, but also hydrocarbons. It is no wonder that the first exploration well was drilled as early as 1902. After the Second World War, the Australian Motorists Petrol Company was founded, which would start formal exploration and dominate the country's oil and gas industry for decades. Nevertheless, the landscape of the Australian oil and gas sector soon began to become more diverse, as IOCs poured into the country and small domestic companies were founded by Australian investors. Some of the companies extended their areas of operation to other countries in the near vicinity, especially New Zealand and Papua New Guinea. Due to the island character of the country, Australia began quite early to experiment with LNG. The country's first LNG plant was built in Karratha in 1989. In the meantime, the Australian upstream industry has developed to an important sector. The oil and gas industry even has its own association (APPEA) with more than 80 members. Apart from subsidiaries of international oil companies, there also exist a number of oil and gas companies which have their seat in Australia. In this article, I calculate and compare production costs of 7 different companies: AWE Limited [ASX:AWE], Beach Energy (OTCPK:BCHEY), BHP (NYSE:BHP), Roc Oil Company (OTC:RCILY) [ASX:ROC], Santos (OTCPK:SSLTY), Senex (VPEMY) and Woodside Petroleum (OTCPK:WOPEY).
Cost model
Oil is hardly ever produced as pure liquid. Normally, it comes as a mixture with natural gas and gas condensate. Although I only consider companies here that mainly lift oil, they also produce significant amounts of gas. Hence, it does not make much sense to apply costs to the production of oil alone. To deal with this issue, the concept of barrel oil equivalent - boe - has been perceived. 6,000 cubic feet of gas at standard conditions are about one boe. All costs mentioned below refer to one boe, meaning those are the costs related to the production of 1 bbl of oil, 6,000 scf of natural gas, or a combination of both. Let's say the price for 1 barrel of oil is around $100 and the price for 1,000 scf of gas is about $6, this means revenue from 1 boe of oil is higher than revenue from 1 boe of gas ($100 versus $36). As there are also fields that only produce gas, this article tends to underestimate the costs of oil production.
Commonly, costs are divided in costs that can directly be related to production (cost of sales) and costs that cannot directly be related to output (overhead). However, many oil companies are also active in downstream and midstream or other economic sectors (e.g. Exxon Mobil (NYSE:XOM) in chemical engineering). Hence, I have divided sales, general and administration expenses (SG&A) by total revenues and multiplied it with the revenue of the E&P division to get SG&A for E&P. I did the same for any similar type of cost (marketing expenses, R&D) and for financial expenses. Depreciation of assets, on the other hand, can be directly linked to oil production.
Costs of sales are divided into 3 sub-categories:
Exploration costs
Lifting costs
Non-income related taxes
Exploration costs are costs related to all attempts to find hydrocarbons. This category includes cost for geological surveys and scientific studies as well as drilling costs.
Lifting costs are the costs associated with the operation of oil and gas wells to bring hydrocarbons to the surface after wells (facilities necessary for the production of oil) have been drilled. This figure includes labor costs, electricity costs, and maintenance costs.
Non-income related taxes: as production of hydrocarbons is such a lucrative business, governments also want to have their shares. There exists an abundance of different model how the state can profit from hydrocarbon production (profit sharing, royalties, etc.).
It might be that different companies use different categories for the same type of expenses, but eventually the sum of all costs should be their total cost for producing 1 boe.
The following figure shows the pattern of the cost model: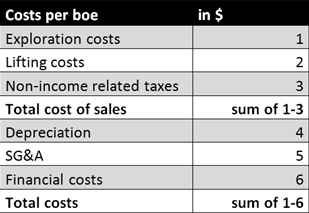 In a number of recent articles, I have applied the same methodology on a number of oil companies from all over the world. The links to the articles can be found below:
Application on Australian oil producers
As mentioned above, I have applied my model on the most important Australian oil and gas producers. The first company is AWE. The enterprise has most of its assets in Australia, but also operates in New Zealand and the United States (Eagle Ford Shale and Texas Chalk). Beach is a long-established oil and gas producer. Its headquarters is located in Adelaide, and the company owns assets in Australia, New Zealand, and Papua New Guinea. In 2013, the company had to impair more than AUD162 million with reference to exploration assets.
BHP is one of the largest mining companies in the world. It was formed in 2001 when the London-registered Billiton merged with the Australian Broken Hill Proprietary - BHP. Its operations are spread around 25 countries worldwide and are organized in ten operational units, whereby the upstream business is one of them. Nevertheless, BHP has the highest production of the companies investigated in this article. Although ROC is a rather small company (less than 200 employees), its assets are spread around the continent. Santos is mainly focused on the production of gas. Additionally, the company has the largest acreage position in Australia of any enterprise and has interests in three LNG projects.
Perth-based Senex is the smallest company investigated in this article. Its assets are located in the Cooper Basin and the Surat Basin. Senex is the company with the highest revenue per boe (practically per barrel) among all the companies I have investigated so far with AUD127 per barrel. Woodside is Australia's largest independent upstream company and also one the largest LNG producers in the world. As it got a petroleum resource rent tax benefit of USD224 million, non-income related taxes are relatively low. Additionally, Woodside had to impair more than USD380 million in 2013. All of the companies in this article are listed on Australian stock exchanges and therefore have to comply with accounting regulations. Apart from BHP, ROC and Woodside, all enterprises reported their results in Australian Dollar. A conversion factor of AUD1 = USD0.93 was used.
The results can be found in the table below:

(Source: own calculations based on 2013's ARs)
Liquids do not only mean classical oil, but also natural gas liquids - NGL and liquefied petroleum gas - LPG.
Different portfolios and prices
Once again, the clear connection between percentage of liquids produced and realized price can be seen - the higher the share of liquids, the more money the company can charge for its boe: companies that focus merely on gas (e.g. Santos) have far lower sales per boe than pure oil producers (ROC and Senex). Nevertheless, the relationship is not perfectly linear. An example for this is the significant difference between the realized prices of ROC ($104.58) and Senex ($114.57). The reason for this lies in the different blends the two companies produce and market places where the companies sell their goods to. The oil and gas industry is merely a price taker, meaning that the market price is practically a given boundary condition for any gas or oil company that must be accepted. What can be directly influenced by the companies is the cost structure. Efficient companies will need less money for any dollar revenue and will therefore have higher pre-income tax margins.
Pre-income tax margins
Generally, pre-tax margins of the Australian upstream industry were very high in 2013, with AWE being the only exception. Regarding the companies investigated in this article, the clear winner is Woodside with a pre-income tax margin of nearly 50%. With that accomplishment, Woodside is in one of the top positions among all companies I have investigated concerning production costs. It additionally has the advantage that a huge part of its portfolio consists of LNG, which was not hit by the recent slump in the market as hard as oil was. Woodside is among the few upstream companies that did not destroy shareholders' value within the last year, as the price of the company's stock was relatively stable in that period. On the other hand, Senex is clearly affected a lot by the sharp drop in the oil price, as its production costs are very high (more than $94/boe) and it remains questionable whether the enterprise can still be profitable. Market valuation of Senex dropped by more than 50% within the last year.
Disclosure: The author has no positions in any stocks mentioned, and no plans to initiate any positions within the next 72 hours.
The author wrote this article themselves, and it expresses their own opinions. The author is not receiving compensation for it (other than from Seeking Alpha). The author has no business relationship with any company whose stock is mentioned in this article.
Editor's Note: This article discusses one or more securities that do not trade on a major U.S. exchange. Please be aware of the risks associated with these stocks.