On July 11, GT Solar (SOLR) fell 4% in the wake of an ominous headline from Solarbuzz® titled "PV Equipment Spending to Fall by Nearly Half in 2012." This article is a synopsis of Solarbuzz's latest "PV Equipment Quarterly," and it was widely quoted in the media. The following day, GT Solar fell another 9% along with a continued sell-off in solar stocks in general.
Click to enlarge: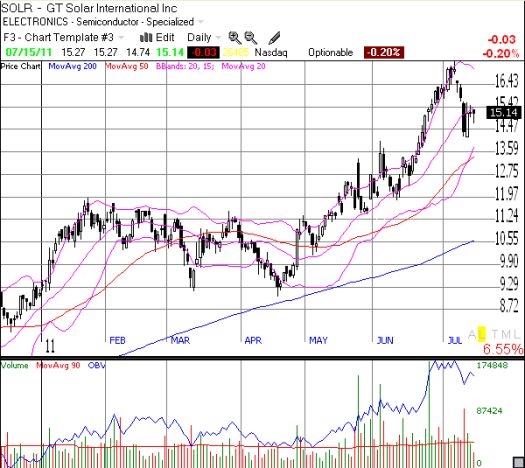 GT Solar is bouncing back from losses early in the week.
*Chart created using TeleChart
The sell-off was understandable. Not only is the Solarbuzz article extremely negative on 2012 equipment orders, but the report dropped smack in the middle of another flurry of worries about European sovereign debt. Europe is a major market for solar panels.
Here is the key highlight of the article:
PV equipment spending for c-Si ingot-to-module and thin-film panels is forecast to decline sharply in 2012 to US$7.6 billion, down 47% Y/Y from a record level of US$14.2 billion in 2011… This decline in equipment spending will impact 2H'11 PV equipment revenues and also result in lower corporate guidance for 2012.

The collapse in equipment spending… is a consequence of ambitious c-Si cell/module and thin-film capacity expansions committed during 2010 and 1H'11 by tier 2 and tier 3 PV manufacturers. Coupled with market oversupply and strong inventory build through 2H'11, this capacity-demand imbalance will usher in a significant cell manufacturer shakeout phase during 2012 to 2014.
The article goes on to note that the 3% quarterly drop in PV equipment spending last quarter was the first such drop since the second quarter of 2009. However, Solarbuzz acknowledges that companies like GT Solar have not felt the impact because of "…an established upstream product portfolio and strong market shares." Moreover, the net impact of the oversupply in the industry is that tier 1 manufacturers may end up with a 70% share of equipment spending by 2015. GT Solar's customer base is focused on well-capitalized manufacturers who must make multi-year capacity plans. In other words, GT Solar should be a strong survivor during this tumultuous period in the market.
On June 20, I wrote a detailed review of GT Solar's last earnings report. GT Solar management acknowledged the current weakness in the solar market while also noting the strength of its customers who need to make equipment plans far into the future. The company has developed a strong backlog and is well-prepared to handle the solar industry's business cycles. Additionally, GT Solar is rapidly growing its equipment and material production for the LED industry – a major source of diversification for the company.
Here are some of the of many relevant examples of management commentary from my previous post:
To be clear, our guidance for this year is not dependent on a significant level of new PV business. In fact, we expect a slowing of growth in this sector during the balance of this fiscal year…

…we are seeing evidence that some PV operators in the industry are starting to reduce utilization rates and are delaying new expansion projects as they respond to weaker near term end market demand. This is a very familiar pattern in the PV business and one that we've been talking about for quite some time. We believe that this slowdown in the PV sector is fully baked into our FY12 projections and into our FY13 expectations. To the extent that weakness in the PV sector in FY12 is short lived or is not as pronounced as we are anticipating, we would expect upside to our projections.

…We view the balance of this year being somewhat soft or very soft, we would expect the PV industry to rebound in the second half of our FY2013 and rebound into another growth cycle. Having said that, almost all of the Sapphire orders we have taken are for FY2013. All of the polysilicon orders are for 2013 and 2014. And all the orders that are in the pipeline for Sapphire and polysilicon are for 2013 and 2014 as well. As I indicated earlier we are basically taking orders now to fill up 2013 and 2014 as we are pretty full on 2012.
Regarding equipment planning and the PV cycle:
…The build out of a polysilicon plant capacity can take years in some cases depending on whether or not you are building a new facility or adding to an existing facility. So the people who are in our customer base, are not folks focused on this year, they are focused on the capacities they believe they're going to need in fiscal 2014 and 2015 to match what the industry needs then.

And what's very typical in this industry then, is polysilicon goes into short supply or tight supply as it is right now, prices rise, it takes a few years for these investments to fall into place and then there's a period of over-supply, and we would expect that at some point, the supply of polysilicon, because not only the OCIs of the world are expanding, so are the Povacker's (?), and the rest of the incumbents, that the capacity will be such that it will drive the price down.

Perhaps below the ranges that are seen today for contact prices in the $50 range, that has a positive effect on the next cycle of PV because it brings the cost of polysilicon down and then we enter another cycle. But I think you have to look at polysilicon investments as polysilicon investments that are being made for the market that will exist two years out. Not for the market that exists today because of the time it takes to put them into place."
In other words, GT Solar's management is well-prepared to navigate the vicissitudes of the solar market for many years down the road. Sell-offs in GT Solar's stock are buying opportunities for long-term investors.
When GT Solar closed in on my upside price target of $18.50 for March, 2012, I decided to lock in my profits and use a small portion to buy calls (as usual, I reported the trades on my twitter account using the #120trade hashtag). A buyout remains a very real possibility for GT Solar so I want to maintain some exposure to that upside opportunity. I wanted to add to the calls when GT Solar hit the lower end of my price range at $14, but I did not get a fill at my desired price. If GT Solar drops to $13 or lower, I will start rebuilding a position in GT Solar shares.
Be careful out there!
Disclosure: I am long SOLR.