Investors seeking higher yielding income equities often consider or hold mortgage REITs. This is a review of the dividend payouts of the seven largest high-yield mREITs that I have found to be relatively liquid. I have charted and included the dividends paid within the last eight quarters, or since the recent general bottom in the market. I have also included their present yields and 2011-to-date performance.

These seven mREITS all yield between 10% and 20% percent annually, or somewhere between 2.5x to 4.5 times the yield of a 30-year U.S. Treasury. Several of the mREITs also only hold U.S. backed mortgages (with leverage), which carry an implied agency backing. Others hold higher risk paper, with lesser to no backing and far greater yields. By hook or crook, these mREITs currently offer income at a level above many layers of junk-rated bonds.
Click on charts below to enlarge:
1. American Capital Agency Corp. (NASDAQ:AGNC)
Yield: 19.1%

2011-to-date Performance: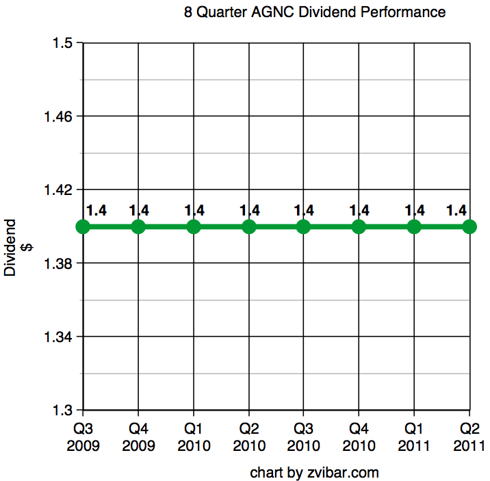 2. Annaly Capital Management, Inc. (NYSE:NLY)
Yield: 14.5%

2011-to-date Performance: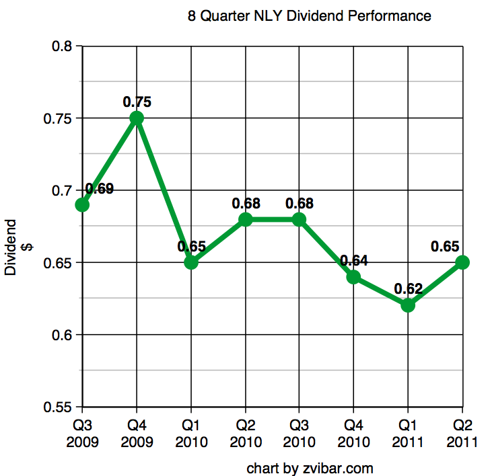 3. Anworth Mortgage Asset Corporation (NYSE:ANH)
Yield: 13.8%

2011-to-date Performance: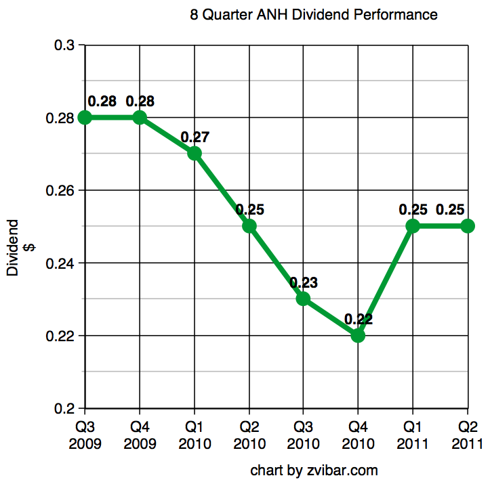 4. Chimera Investment Corporation (NYSE:CIM)
Yield: 16%

2011-to-date Performance: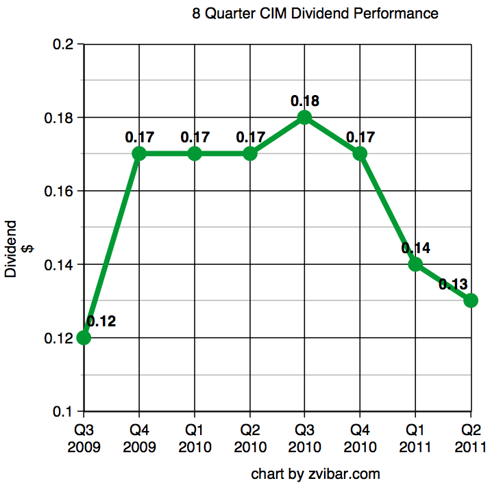 5. Cypress Sharpridge Investments, Inc. (NYSE:CYS)
Yield: 18.5%

2011-to-date Performance: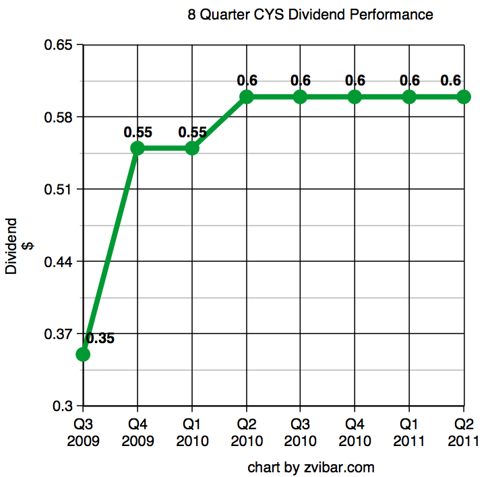 6. Hatteras Financial Corp. (NYSE:HTS)
Yield: 14.1%

2011-to-date Performance: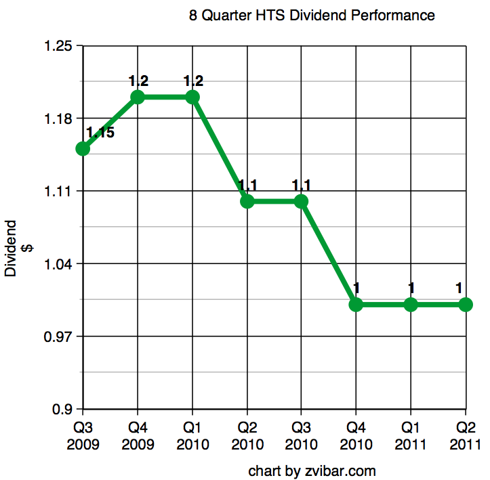 7. MFA Financial, Inc. (NYSE:MFA)
Yield: 12.8%

2011-to-date Performance: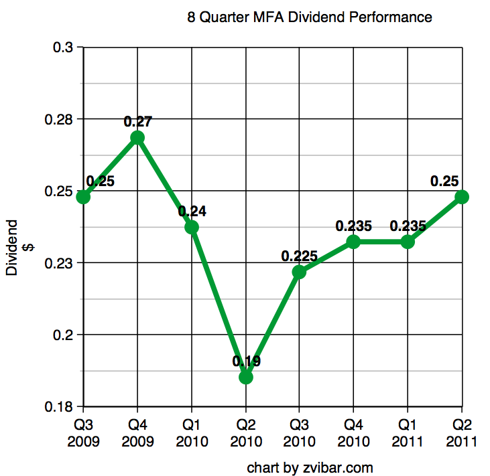 The equity performance of these mREITs so far in 2011 was varied, though not terribly positive, and with Chimera significantly underperforming the group. Much of this underperformance appears primarily due to two factors: (1) Chimera was and is primarily a non-agency REIT, and the ratings on non-agency paper have generally dropped within 2011, taking down the book value of non-agency portfolios; and (2) Chimera has accumulated more and more agency paper over the last year. Many investors may be re-allocating into agency REITs that have a higher level of agency paper and also that have greater leverage on that lower-risk paper. Other factors probably do exist.

See the chart of the 2011-to-date performance of these equities below: (Click to enlarge)





Additionally, while these REITs do have tremendous present yields, very little growth is shown through the last two years, if any. This is primarily because of the REIT structure. REITs must distribute at least 90% of their taxable income in order to eliminate the need to pay income tax at the corporate level. Most REITs often choose to place secondary offerings in order to raise capital and increase market valuation.

Such actions can be either dilutive or accretive to actual share value, depending on how productive the REIT is at using the acquired funds, but more shares mean more dividends to pay, keeping each share's share from growing as it may under a corporate structure. For example, many of the dow dogs have exhibited significant dividend growth recently. A good income portfolio should not only consider present income, but also future income. Nonetheless, you probably will not find much higher present income than these mREITs.
Disclosure: I am long NLY, CIM.

Disclaimer: This article should not be construed as personalized investment advice as it does not take into account your specific situation or objectives.