Co-written by Brandon Ogle
Ever since ETFs came out, traders have studied ways to gain an edge trading the stocks that make up the basket. This summer our trading desk was trading John Deere (NYSE:DE) when the question was raised: Could the Agribusiness Market Vector ETF (NYSEARCA:MOO) give us a glance into the future movements of John Deere? Let's go back and understand what MOO is, how it works, and then look at the hard data. Then, let's try to answer whether a trader can use the ETF as an indicator of a particular stock's direction.
Just the cheeky names of these ETFs do not inspire confidence, but the marketing people over at Van Eck thought there were enough punters to justify another ETF. MOO was created on August 31, 2007 as a financial vehicle designed to closely follow the price and yield performance of the DAXglobal Agribusiness Index. The fund normally invests at least 80% of total assets in equity securities of U.S. and foreign companies primarily engaged in the business of agriculture, which derive at least 50% of their total revenues from agribusiness. Such companies may include small and medium-capitalization companies. It currently has $5.54 billion in net assets.
The DAXglobal Agribusiness Index replicates the performance of the most important global agribusiness companies. The companies are selected from the following sub-sectors: Agriproduct operations, live-stock operations, agrichemical, agricultural equipment, ethanol/biodiesel. People have to remember that DAXglobal decides what goes into the mix. Essentially you have a stock exchange deciding what is important, which is fine on the surface, but there are still some subjective qualities in the equity selection.
Now that we know what is in the beef, does it help us with Deere? If MOO and DE have a strong correlation to each other, then one could make a leap of judgment that one could lead or lag the other. We painstakingly compiled a correlation matrix of the entire MOO holdings under several time frames. For now we will consider the one-year period in which we find Agrium Inc (NYSE:AGU) (3.55% of holdings), CF Industries (NYSE:CF) (2.9% of holdings), John Deere (DE) (7.18% of holding), Intrepid Potash (NYSE:IPI) (0.63% of holdings) and Mosaic Company (NYSE:MOS) (7.18% of holdings) to have the highest correlations to the ETF. From here we make an assumption that MOO could act as a proxy for the movement of these stocks.
However, before assuming this is true for all of MOO's holdings, consider the correlations we discovered for the rest of its holdings. If we take out these top holdings, we fail to find any strong correlations. If you average the correlation numbers for all of the MOO holdings you get a figure of 0.49. Compare that to an average correlation of 0.71 for all of the holdings in the Energy Select Sector SPDR (NYSEARCA:XLE).
If trading John Deere, you can use MOO as a short term indicator of price movement, also known as a signal if the stock is going up or down. Here is a chart demonstrating the correlation between the two over the past year (DE/MOO 1 year correlation = 0.82). (DE red/green, MOO pink.)
click on image to enlarge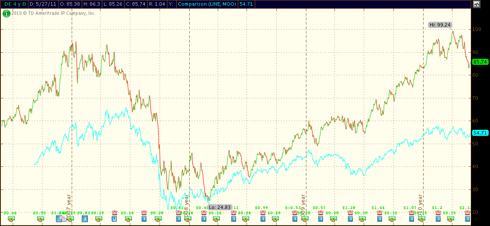 However, over time the correlation breaks down and becomes useless. The correlation of DE to MOO from MOO's inception to today is a mere 0.36, which doesn't help anybody get an edge. Under that same time frame MOO's total holdings exhibit an average correlation of only 0.15, which suggests that the holdings inside do not move like lemmings in a herd. Over time, has anything changed? An increase in correlation over time suggests that MOO is changing the structure of the agribusiness stocks.
In order to create a quick study we created a matrix of the holdings based on one year prior to the creation of MOO to see how its holdings behaved prior to the existence of the ETF. Overall there seems to be little to no correlation between the stocks. Looking to DE again we see that it shows an average correlation to the other holdings of 0.09. Compare that to a more recent one year period and you see the average jump to 0.48.
This isn't the strong correlation of which 0.60 to 0.80 become more interesting from a statistical perspective. Based on this one can infer that the market vector agribusiness ETF could be building correlation between the agriculture industry, but the use in trading may not be practical yet. One would expect DE to move in a similar fashion as other equipment companies like Caterpillar Inc. (NYSE:CAT) and Joy Global Inc. (JOYG).
From the table below that assumption still appears to hold true:
| | | | |
| --- | --- | --- | --- |
| | DE | CAT | JOYG |
| DE | 1.0 | 0.8 | 0.7 |
| CAT | 0.8 | 1.0 | 0.9 |
| JOYG | 0.7 | 0.9 | 1.0 |
The real question is one that we can't answer. DE is moving with both the equipment and fertilizer companies. Based on those figures it is not clear if MOO will move those two markets together, or pull DE out of its traditional category of strong correlation to heavy equipment. Why is this so important? As more indexes become tradable ETFs, the stocks in those baskets will start to move together. When those indexes mix traditional categories like MOO, a trader's edge could pop like a daisy in a cow pie. Be the daisy.
Disclosure: I have no positions in any stocks mentioned, and no plans to initiate any positions within the next 72 hours.