I've been an advocate of Lee Enterprises (NYSE:LEE) and a detractor for Apple (NASDAQ:AAPL) for quite a while now (see my articles on Apple, and Lee). If you only read headlines, you'd believe that Lee is heading into the dark abyss of nothingness with headlines mentioning delisting, default, and bankruptcy. Meanwhile if you read headlines for Apple, you hear about new highs, strength, bullish dispositions, and unmet demand. Things are not always as they seem. I'm of the opinion that the most money is made and lost at the inflection points of perception. I do not think that Apple's current rate of success is sustainable and I do not think that things are as bad as they are priced at Lee Enterprises.
Apple:
The good news for Apple is that it currently doesn't come at the insane valuation of Netflix or Amazon and thus I can only advocate sitting on the sidelines as opposed to advocating a short position. That said, I don't think Apple's profit margins are as sustainable at this growth rate. Why lower your price if there is so much unmet demand? Something is not quite right. Just saying. Although, you'd never know it if you're just watching the price go higher. In the long run, stock price is a function of their perceived future discounted cash flows and current balance sheet. In that regards, competition for tablets, phones, PCs, music devices, etc. should cut down margins. At the current price, it is true that Apple isn't priced as a growth story for the next 5 years, and I think that this is fair.
click on images to enlarge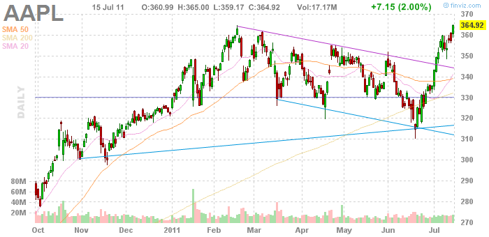 Lee Enterprises:
And then you have Lee Enterprises, which sounds like it's dying and looks like it is dying if you watch the price.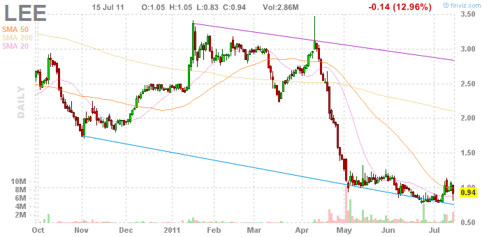 Lee Enterprises is what I'd call a late stage adopter and finally started leveraging the iPhone. What is a positive indicator for Lee indicating their interest in leveraging new technologies, is a negative 'top of the curve' indicator for Apple.
A few other recent notes on Lee
From Mary Junck, CEO Lee Enterprises:
We are in substantive and productive discussions with key lenders about an extension of our credit agreement and fully expect a satisfactory outcome.
Take a look at what the Murdick Distressed Opportunity Fund has to say (click here for full article):
Profits of that magnitude are harder to find in the current environment, Mudrick concedes. A promising live position in the portfolio, a long in the first lien debt of Lee Enterprises, a publisher of local newspapers, is expected to generate a 20% return over the next year.
Perspective is everything, and it is secondary to sentiment in the stock market. It was the best of times, it was the worst of times. Cautious investing to all.
Disclosure: I am long LEE.