In the mining streaming business, a new player has emerged. Led by the former CFO of Silver Wheaton (NYSE: SLW), Sandstorm Gold (SNDXF.PK) has the potential to match the success of Silver Wheaton and grow from their current market cap of $500 million to the $11 billion market cap that SLW boasts. Given that it only trades on the Canadian Venture Exchange, now is an opportune time to get in on the ground floor of one of the most promising gold companies in Canada.
I had the pleasure of having coffee with the head of Investor Relations with Sandstorm, Denver Harris, and was thoroughly impressed. Due to that meeting, as well as my own research, I am a buyer of Sandstorm Gold.
A great feature of Sandstorm is its relatively simple business model. First off, it is not a gold mining company and doesn't employ a single miner. It functions similar to a bank that only lends to mining companies, providing large upfront cash payments in exchange for a locked in price per ounce of gold and a percentage of future production. Thus, they have no operational risk in terms of cost overruns but are exposed to all of the upside if the price of gold continues to rise. A flow chart of how a deal progresses: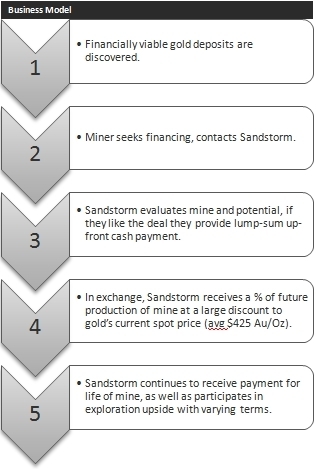 Gold mining companies are willing to subscribe to streaming deals because it allows them to raise large amounts of cash without having to dilute shares or take on debt. In addition, without alternative funding sources like Sandstorm, many gold mines couldn't get off the ground, as large banks would be unwilling to lend due to their lack of understanding of mining operations or corporate bureaucracy, the latter of which any consumer can attest to if they've approached a bank for a transaction as simple as a car loan.
[Click all images to enlarge]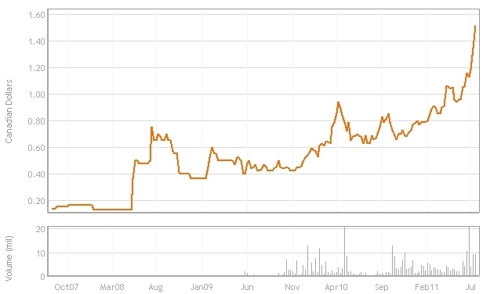 The massive run up in share price year to date can be attributed to Sandstorm breaking into profitability at the end of last year, reporting operating cash flows for the quarter ending December 31st of $463,000. Although this barely moves the needle given the 318,000,000 shares outstanding, it is only the beginning of what is to come.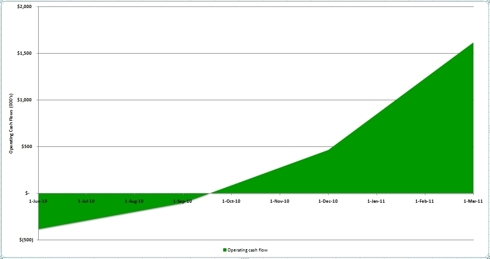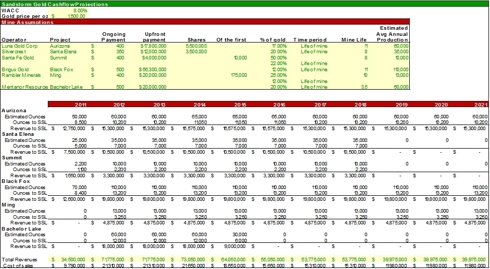 *Created prior to Xstrata announcement.
On July 13th and 14th, Sandstorm made two big announcements, one being the closing of a gold streaming deal with Xstrata and the other being their Santa Fe streaming deal going into production. Coupled with the current deals in place, Sandstorm is building an extremely impressive portfolio of properties with an average cost per ounce of gold of $425.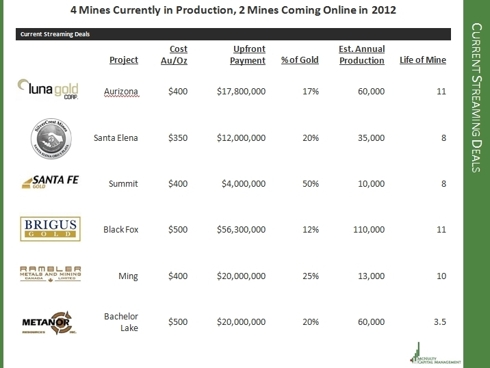 *Each deal has other features such as opportunities related to additional gold discoveries. This chart is meant to provide a brief overview.
From a philosophical perspective, a company is nothing more than a group of individuals working towards an objective. Therefore, the key variable in any operation is the individuals in charge, which brings me to the strength of Sandstorm Resources; its all star management team.
Led by Nolan Watson and David Awram, both graduates from the University of British Columbia, the top University in Canada, Sandstorm's leadership brings with them a trophy case of awards and a history of operational excellence. Also, they've been able to close an impressive amount of deals in the short two years they've been in business, even with launching in the difficult market of 2008. With a significantly better future ahead for world markets, one can be confident that this impressive deal closing pace will continue.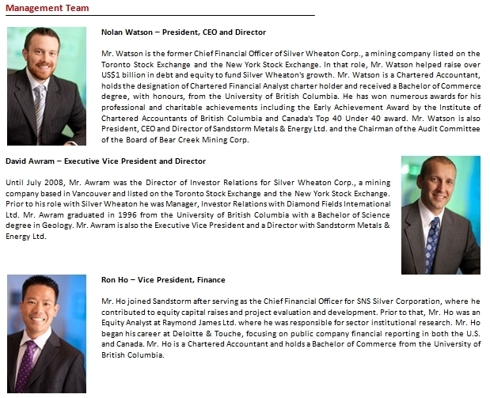 Equally important, all David and Nolan's "eggs" are in this basket. Of their registered holdings, sourced from Bloomberg, Nolan and David's upward socioeconomic mobility is entirely dependent upon Sandstorm Gold's success.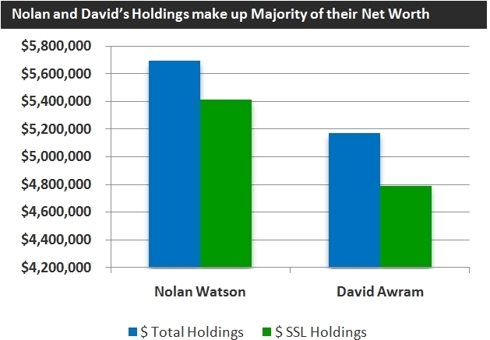 To provide a glimpse into Nolan's leadership style and capabilities, below are a few quotes.

By all appearances, these are gentlemen you want to be in business with.
Insiders are by all indications happy with Sandstorm's performance and bullish on its prospects. Since 2008, insiders have been growing their positions within the company, a sign of healthy operations. As Peter Lynch famously said, "there's only one reason insiders buy, they think the price is going up".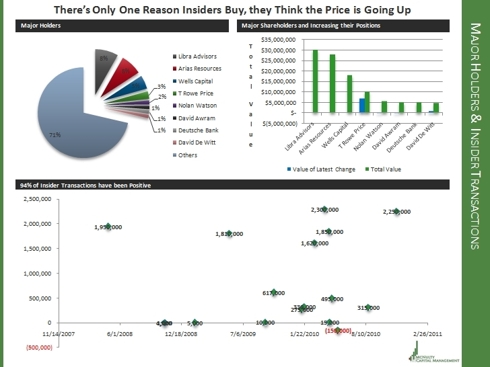 Unfortunately, with the run up of Sandstorm's price, much of the growth has been priced in. On a comps basis, they are more expensive by the majority of metrics.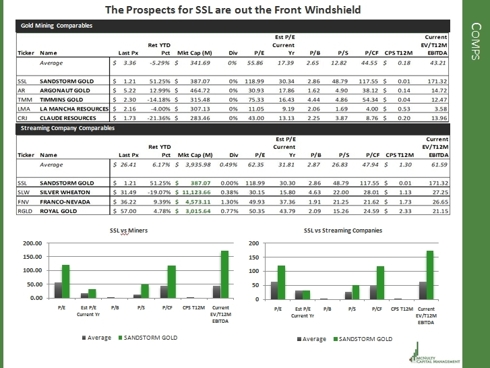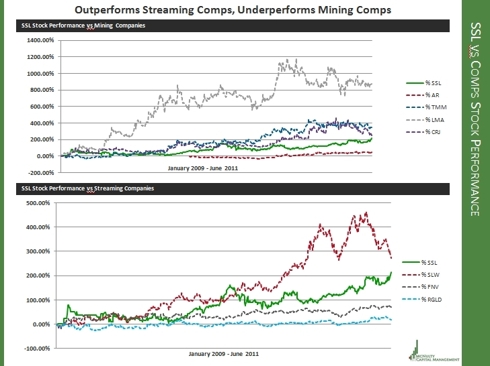 *From June 29th
That being said, I'd buy Sandstorm Gold on the dips as I believe the company to be a fantastic long term hold. Given the excellent price they've locked in for the price of gold, even if gold prices remain flat, they'll continue to generate a massive amount of cash. Also, the team's ability to close deals in the harsh environment of 2008 demonstrates that they are legit, one can only imagine how they'll do as the economies around the world recover.
In terms of risks, the 800lb gorilla is the price of gold. If gold prices were to suffer a catastrophic collapse, there's no question that Sandstorm's stock price would be hurt. That being said, I see a position in Sandstorm being superior to owning gold outright, as even if gold remains flat or falls slightly, you still own shares in a company generating a huge amount of cash. If gold continues to rise, you experience much of the upside; especially given that Sandstorm is a pure gold play, which means it will demand higher multiples than a diversified streamer.
In terms of catalysts, besides the aforementioned price of gold, Sandstorm is relatively unknown. None of the big 5 banks in Canada cover the company, and it has only attracted a few analysts attention. In my speaking with Denver, he mentioned that they hope to eventually list on the TSX, and then perhaps on the NYSE, which if they do, would open them up to a whole new world of investors.
In closing, I'll include the last slide from my PowerPoint presentation at an undisclosed boutique investment bank here in Vancouver, BC.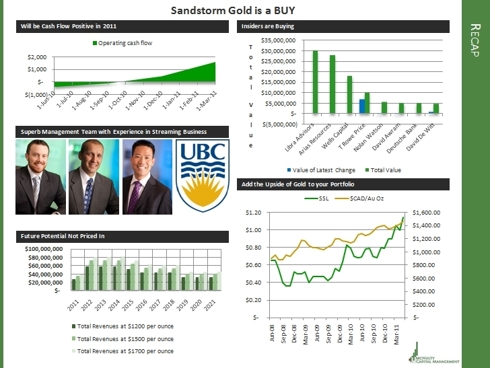 Disclosure: I have no positions in any stocks mentioned, and no plans to initiate any positions within the next 72 hours. Clients who I provide investment advise to have purchased this stock within the past 5 business days.