By Sumit Roy
Commodity bulls were eager to turn the page on 2014, which was yet another dismal year for the asset class. It's quite clear that after four-straight years of declines, commodities are in the midst of one of the worst bear markets in recent history. While the fundamentals from market to market vary, broadly speaking, supplies are growing at the same time demand is weakening -- a recipe for lower prices.
Looking ahead to 2015, there's nothing to suggest the bear market in commodities will end any time soon. Trades betting on lower prices should continue to work, particularly in the energy sector. On the other hand, there are a few areas of upside potential in the precious metals complex.
The following are our top five commodity trades of the first half of the year.
5. Buy Gold in Yen
Gold prices dipped 1.7 percent in 2014, a relatively modest decline following 2013's big plunge. Yet while gold was down in dollar terms, it was actually up against most other currencies. Against the euro and yen, for example, the yellow metal gained nearly 12 percent. Against the Russian ruble, it gained 74 percent.
Gold In Yen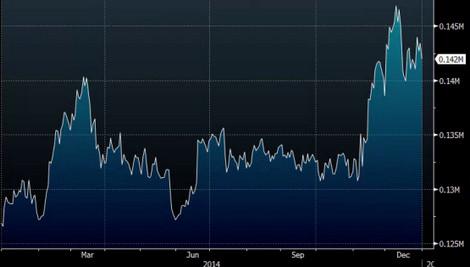 Some may argue that it makes little sense to measure a commodity's performance in a foreign currency. But because gold is seen as an alternative currency by many and is held by investors around the world specifically as a currency hedge, the non-dollar performance is relevant.
Gold's strength in non-dollar currencies in a reflection of the easy monetary policies, low interest rates and weak economic growth outside of the United States. In the U.S., the economic picture is brighter, and monetary authorities are more hawkish; thus, it will be more challenging for gold to climb against the greenback.
Buying gold in euros or yen is essentially a short position on those currencies and a simultaneous long position on gold. Investors gain if those currencies continue to decline, with the added insurance of owning gold should markets be hit with a tail risk event of some kind.
4. Short Crude Oil
The No. 1 commodity story of 2014 was undoubtedly the collapse in crude oil prices. WTI, the U.S. oil benchmark, fell from levels above $100 to nearly $50. Surely there isn't much downside left after such a steep decline?
WTI Crude Oil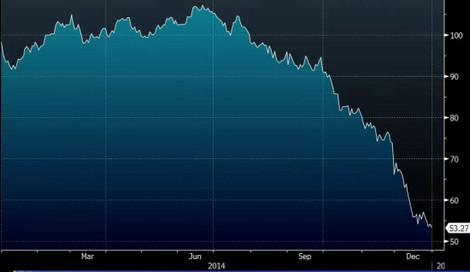 While no one knows for certain where oil will bottom out, there is the distinct possibility that oil could fall precipitously from here. By mid-year, Iran and the U.S. could reach a nuclear deal, potentially adding 1 million barrels per day of extra production to the already-oversupplied crude market.
But even without that, prices will be pressured as global inventory capacity becomes strained by the current oversupply in the range of 1 to 2 million barrels per day. If inventories fill up, there will be nowhere left to store the oil, and prices will crater to a level that incentivizes producers to shut-in existing wells, perhaps as low as $20/barrel. If that turns out to be the case, there is still a lot of room to profit from the downside in oil, even at these prices.
We caution that is a highly speculative, short-term trade. Oil is unlikely to stay at such extreme levels for long; thus, any profits should be booked quickly.
3. Buy XLE Below $60
With oil prices cut nearly in half in 2014, unsurprisingly, energy stocks were hammered as well. However, the equities didn't decline nearly as much as the commodity itself. The Energy Select Sector SPDR Fund (NYSEARCA:XLE), for example, lost only 10.5 percent in the year.
There are a number of reasons for this, but one of the biggest is the widely held notion that oil prices will quickly rebound to much higher levels-$75, $85 or even $95-later in 2015. Wall Street analysts are nearly unanimous in their belief that oil's descent to current levels will be brief, and that's why oil stocks have held up relatively well.
But what if oil doesn't recover? What if prices stay lower longer than expected? Then there is surely more downside to come, and the equities could fall to much lower levels. We would stay away from the energy sector for now, but see a potential buying opportunity later this year should the investment community capitulate on its bullish oil price view. XLE at $60 would represent a 40 percent discount to its 2014 high, and may be a safe place to enter, at least for a trade.
XLE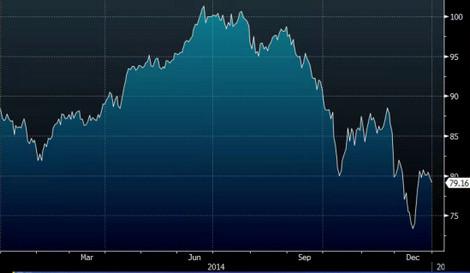 2. Buy Palladium
One of the few commodities to rise last year, palladium may continue to shine in 2015. While most other markets are seeing surplus after surplus, the palladium market is seeing the opposite, with demand outpacing supply.
Data from Johnson Matthey indicates that demand outstripped supply by 1.6 million ounces in 2014, the largest deficit on record. With car sales booming around the world, the outlook for demand looks bright at the same time that supply remains constrained in major producing countries such as Russia and South Africa. In our view, palladium below $800 is a good entry point for investors.
Palladium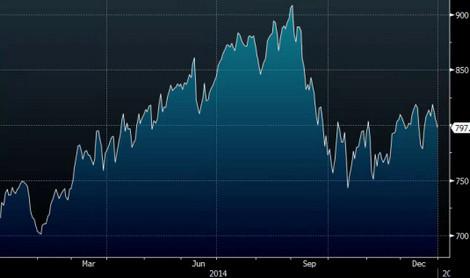 1. Short Natural Gas
Crude oil wasn't the only energy commodity to get slammed recently. Natural gas fell dramatically as well, falling below $3/mmbtu for the first time in two years. The main culprit for natural gas' demise is supply. U.S. production has been rocketing higher and was up nearly 7 bcf/d, or 9 percent, from a year ago in October.
Natural Gas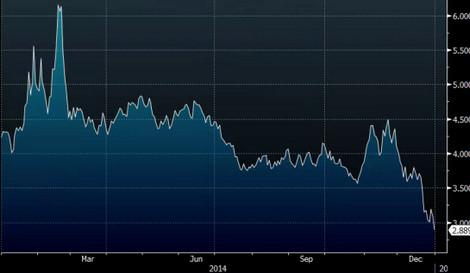 While demand has been growing also, it has done so at a modest pace. Core (non-weather-related) industrial and electric demand grew a paltry 1 bcf/d through the first 10 months of 2014. At the same time, weather demand, which spiked significantly last year thanks to the coldest winter in decades, is running below normal levels due to a mild start to the 2014/2015 winter. This has only added bearish pressure to the already severely oversupplied natural gas market.
We see natural gas easily touching $2.50 later this year, with the potential for prices to fall below $2 under certain circumstances. Meanwhile, we see little that can turn the market around in the short term, making this our highest conviction trade for the first half of 2015.