With the macro environment suffering from domestic and international debt woes, the semiconductor sector (SOX) has shown signs of strain as well. A glance at the 6-month chart gives us reason to pause:
[Click all images to enlarge]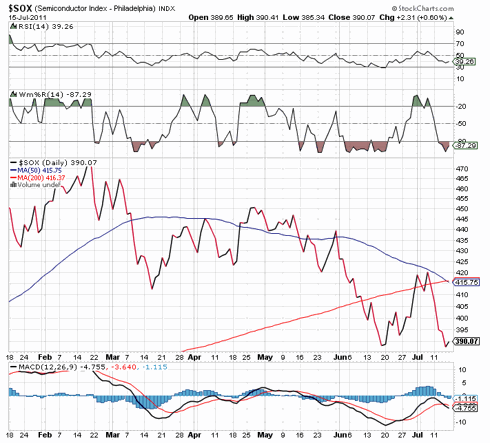 (Data and chart courtesy of Stockcharts.com)
The 50-day SMA is accelerating its downward slope and has crossed the rising 200-day SMA last week. Simultaneously, the MACD is flashing an average weak signal with a cross below the EMA, a significant 1.1 negative divergence and a net negative value of 4.7. Negative sentiment is confirmed by RSI and Williams %R indicators, both lingering near the oversold mark.
With technicals already looking weak, analyst chatter has poured gas onto the fire.
First, FBR Capital Markets' Craig Berger opined that weakening PC trends will finally catch up with Intel's (NASDAQ:INTC) Q2 earnings announcement and possibly Q3 forecast, expecting a 3-4% revenue gap between what the company will guide, and Wall Street expectations. While maintaining a Market Perform rating and a $26 price target on the equity, Mr. Berger also reiterated a refrain familiar to those who closely follow Intel, expressing long-term concerns about expanding tablet and smart-phone consumption leading to a slowing or potential reversal in secular growth in the personal computing space.
On the flipside, JMP Securities chip analyst Alex Gauna downgraded Advanced Micro Devices (NASDAQ:AMD) from Market Perform to Underperform, citing worries about general PC demand, a lackluster launch of the Llano mobile platform and long-term market share erosion in the retail, as well as enterprise space as Intel's (INTC) edge in research, design and manufacturing compound existing performance advantages.
Worse still, Mr. Gauna posits that Windows8's arrival, which will run on ARM's (NASDAQ:ARMH) platform, will herald an OEM shift from AMD solutions to ARM-based processors in the entry level and value-oriented segments of the personal computing market. Longbow Research's Joanna Feeney promptly rebutted Mr. Gauna's note point by point, but the equity has experienced a sharp drop-off of more than 20% in the last month and a half: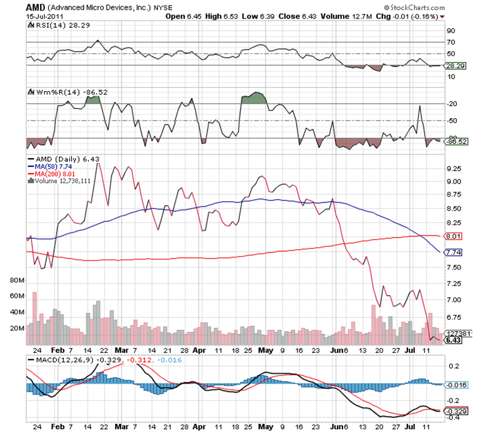 We see a bearish 50-day SMA cross below the generally flat 200-day SMA in early July, followed by the MACD wavering, then flashing sell last week, with a negative -0.33 value. Sentiment indicators confirm price action weakness. AMD is trading toward the low end of its 52-week range, which is $5.53 - $9.58.
Intel's chart, on the other hand, looks much more robust: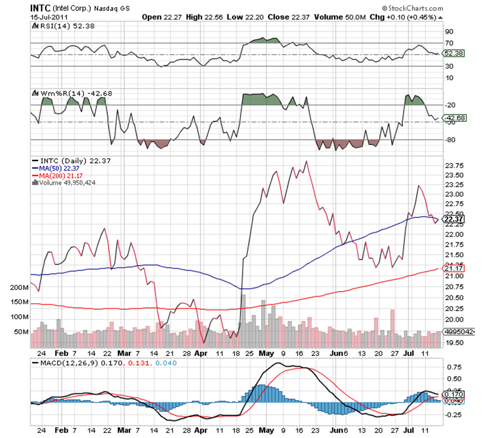 The 50-day SMA remains firmly above 200-day SMA, both lines seeing a steady upward drift from the last earnings report, where Intel delivered 20% over consensus expectations. Sentiment indicators are neutral, but the MACD remains positive in relation to the EMA line.
With both companies set to announce earnings on July 20th and 21st respectively, short term trades favor Intel on all fronts: momentum, technicals and fundamentals. While the recent AMD sell-off certainly makes the company cheaper than just a few months ago, Intel appears to have been gathering steam as it receives repeated coverage, on SA and beyond, as an attractive dividend play for long-term investors.
Intel's consensus expectation for Q2 sits at $0.51 EPS, flat YOY. Analysts expect $0.08 from AMD, down 3 cents from last year's results. Those looking to capitalize on Q2 results for either company should consider the following option plays:
For AMD, August 20th $7 calls are on sale for $0.18, implying a break-even point of $7.18, about 11% above current price. If AMD delivers a significant beat which moves yearly estimates into the high end of the current rage, there appears to be significant room for appreciation, especially since the stock has a very high beta of 2.19.
For those interested in immediate income, selling August 20th $6 puts for a $0.19 per contract premium nets an annualized return of 38%.
For Intel, August 20th $22 calls are on sale for $0.85, implying a break-even point of $22.85, barely 2% over current price. INTC jumped more than 14% within 2 days of delivering an impressive Q1 beat, so this appears a significant opportunity if the company once again bests analyst skepticism.
For those interested in immediate income, selling August 20th $22 puts for a $0.66 per contract premium nets an annualized return of 36%.
Disclosure: I am long INTC.