Here are ways that you can use options to trade earnings from several companies that report this week. It's not easy picking a direction in most cases, which makes the prospects of success a bit of a risk. Placing a non-directional bet using an options strangle often makes sense. I describe how you can go about doing that here and here.
Beware, however, when considering a strangle. Not all stocks are ripe for the picking; only stocks with a history of volatile moves, one way or the other, post-earnings release fit the bill. Next to each selection, I note whether or not I consider the stock "strangleable," on the basis of my review of what it tends to do after it reports.
Apple (NASDAQ:AAPL) reports Tuesday, July 19, after the close. Strangle: Yes.
Heading into the report I am long AAPL August OTM (out-of-the-money) calls. While I would not be shocked by a post-earnings retreat, I believe the near-term hype. I think Apple blows out in Google (NASDAQ:GOOG)-like fashion. If it does, I expect the stock to do one of two closely-related things: Hit a wall just before $400 or find a temporary range between $401 and $405 if it breaches the all-important psychological marker.
I showed what can happen if you hold OTM options on a company (Google) that moves with force after earnings. While I do not advocate a portfolio full of lottery tickets, every slate of holdings should have at least a little bit of room for speculation. With OTM calls, the risk is small, but the potential rewards loom large.

Chipotle Mexican Grill (NYSE:CMG) reports Tuesday, July 19, after the close. Strangle: Yes.
CMG's chart, courtesy of FreeStockCharts.com, shows two considerable volume spikes, one green and one red. The upticks came after the company's two most recent earnings reports.
[Click all to enlarge]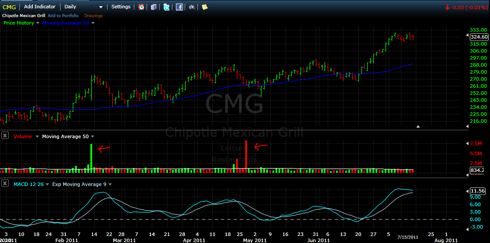 Had you strangled CMG around the February report, you could have profited handsomely from both sides of the strangle. Strangling aside, I would approach CMG by selling puts, assuming I was bullish on the company and had a considerable amount of equity in my account.
CMG closed Friday's trading session at $324.60. I buy into the bull case that CMG could reach $600 by 2014. It's a well-run company that targets the right kind of customer (mid- to high-end) and, as such, sets up shop in all the right locations. The company's plans for expansion impress me, plus the last call dampened expectations (e.g., pricey avocados) which could set up a nice-looking quarter.
In any case, pick a price you would be happy owning CMG at on a pullback, if you are a long-term bull like me. Sell an August put at this strike. In the best case scenario, the stock rises or does not pull all the way back to your strike and you do nothing except keep the option premium. For instance, selling the CMG August $300 call brings in about $585, as of Friday's close. If the stock breaches your strike, you might have to buy CMG at your contract's strike price, regardless of what the stock sells for at market.
Ford (NYSE:F) reports Thursday, July 21, before the open. Strangle: No.
Will F shareholders finally catch a break? The stock's chart shows that it's overdue for some love.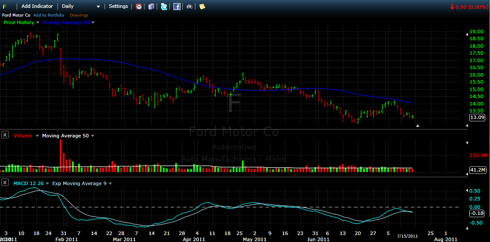 The trade I suggest has the long-term investor who is bullish on F in mind. Here's my thinking: I want to add to my long position in F on any further pullbacks because I think the stock, 12 to 18 months from now, will be a better performer. That makes a combination trade -- selling near-term puts and buying long-dated calls -- an ideal strategy. The premium income you receive from selling the puts partially finances the long call position, while allowing you to grab F shares if a pullback, which I think will be temporary, occurs.
Consider an example of how to pull this trade off: Sell a F August $13 put for roughly $0.48 and buy a F March 2012 $15 call for about $0.76, resulting in a net debit of approximately $0.28 for each spread executed.
Advanced Micro Devices (NASDAQ:AMD) reports Thursday, July 21, after the close. Strangle: No.
I've been burnt by these guys before. And last I checked, the company still does not have a new CEO. Analysts expect very little. And the chart borders on disturbing, so why I am even considering playing AMD's earnings on the long side?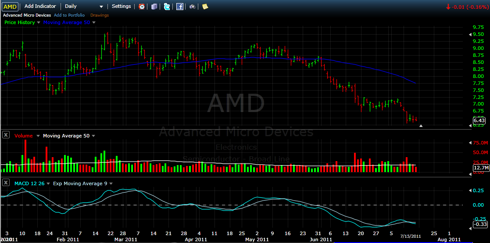 Believe it or not, before the CEO debacle went down, AMD was headed toward $10.00. After a few fits and starts, the stock set on its steady collapse. With expectations so low, any piece of good news, including actual progress on the CEO front (could it be that nobody wants the gig?), should give the stock a boost.
In the spirit of my earlier comments regarding speculation, I might take a flyer on the AMD August $8 calls. For $100 plus commission, you can open a position of about 20 contracts. If this puppy moves, a considerable short squeeze could ensue. I don't mind spending $100 on an underdog that's so beaten down; anything not completely negative could get construed as good news by the fickle investors on Wall Street.
Disclosure: I have no positions in any stocks mentioned, but may initiate a long position in AMD over the next 72 hours.
Additional disclosure: I am long AAPL and F.