The Manual of Ideas recently interviewed small-cap manager Brian Bares of Bares Capital Management. We took a look at his top holdings currently and what the trends in his portfolio have been over time, as well as what other players hold these names.
[Click all to enlarge]


The top five positions as of Q1 2011 represent a little over $225M of the $355M reported (63%) and all have been positions in the portfolio for several quarters. The exposures for these positions over time is shown below: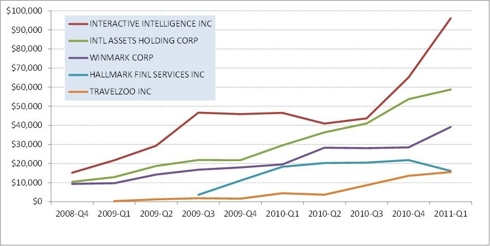 Since Q3 2010, the exposure to Interactive Intelligence Inc. (NASDAQ:ININ) has grown (with the stock price) to represent nearly 30% of his total reported positions.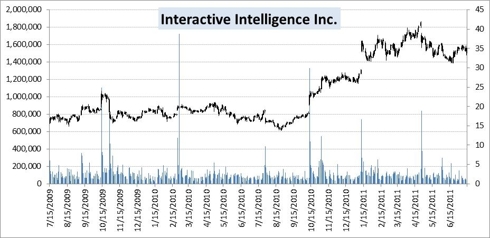 The number of shares of ININ, however, has remained almost exactly the same over this time: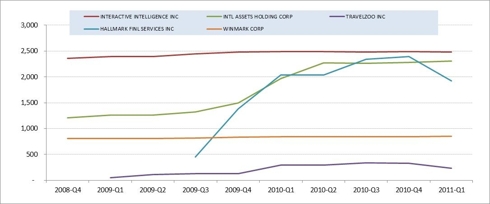 Of the top five Q1 2011 exposures, only Hallmark Financial Services (NASDAQ:HALL) and International Assets Holding Corp. (NASDAQ:INTL) have actively been increased in the portfolio.
Hallmark experienced a big runup in share price in Q2 2010 just after Bares increased his position to a little over 2,000 shares. Since then, however, the stock sold off in Q3 2010 and again, more recently, after announcing disappointing Q1 results. But it has seen quite a bit of insider buying by the CEO and chairman as well as Detroit Stoker Company (which purchased $503k at an average price of $8.47). It remains to be seen (in the soon to be released Q2 filings) whether Bares took advantage of the recent weakness in price to accumulate more shares.
International Assets Holding Corp has been a stronger performer for Bares, who's held his position constant at around 2,300 shares since early 2010. Bares is the top institutional shareholder at 12.7%; the second-largest is another interesting company (whose 13F filings are worth following) called Leucadia National Corporation (NYSE:LUK), with 7.2% of shares outstanding.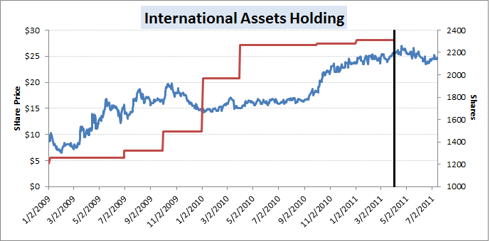 Given Bares' tendency to hold positions for several quarters (if not years), it will be interesting to see what the Q2 13F filing reveals about his portfolio and these two positions in particular.
Disclosure: I have no positions in any stocks mentioned, and no plans to initiate any positions within the next 72 hours.