Higher U.S. auto sales are indicative of strengthening consumers, as well as speak volumes about the effect of lower gas prices and improving wages on the economy. As U.S. consumers continue to earn and spend more, underlying economic activity will likely accelerate higher.
U.S. auto sales remained strong in December, indicating the economic recovery was still intact. In December, the total vehicle sales figure came in at 16.92M, below the previous month's figure of 17.2M, but exceeding estimates for 16.9M. Since 2009, vehicle sales have almost doubled in the U.S., as is seen in the chart below. Low interest rates and gas prices were cited as reasons for the strong move higher in auto sales over the last year.
"General Motors (NYSE:GM) and Fiat Chrysler Automobiles (FCAM) posted double-digit sales gains in December amid low fuel prices, zero-interest financing deals and strengthening consumer sentiment. Auto information service Kelley Blue Book, analysts and other industry trackers projected full-year U.S. sales exceeding 17 million light-duty vehicles, which hasn't happened since 2001," according to a report by the Wall Street Journal.
Moreover, analysts believe that even if the Federal Reserve chooses to raise rates in 2015, demand for autos may continue to increase, a testament to the strength of the U.S. consumer right now.
"The Federal Reserve is poised to raise interest rates later this year, but auto executives said an increase shouldn't crimp auto sales. 'We're building in a little bit of an anticipation in the second half of the year that rates might go up, but they're still very low by historical standards. We're in really good shape entering the year from an interest rate standpoint and we'll have to keep a good eye on it as we enter the second half of the year,' said Toyota Vice President Bill Fay," according to a separate report by the Wall Street Journal.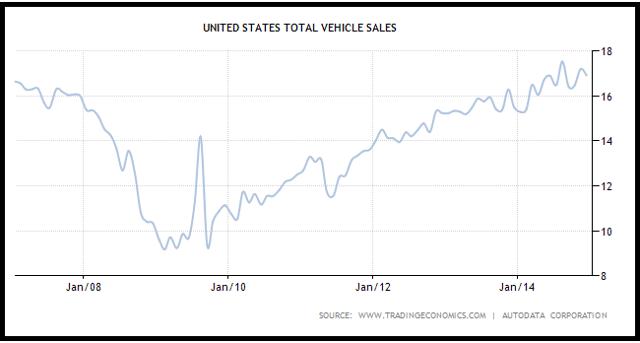 Data provided by Trading Economics
U.S. consumers have had more income to spend on autos, as well as other products recently as gas prices around the world declined. As is seen in the chart below, U.S. retail gas prices fell from an average of $3.80 in July, to $2.308 currently, representing close to a 60% decline. As global oil producers remain engaged in a "price war" over the coming months, gas prices are expected to stay low.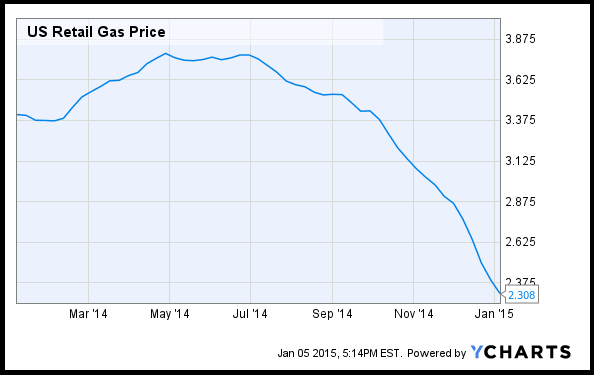 Similarly, a stronger U.S. labor market is leading wage growth to outpace inflation. Real wage growth, as is pictured below, has risen over the last two years, alongside falling inflation, as is measured by the personal consumption indicator. A healthier labor market, on top of falling inflation--i.e. gas and food prices--are pushing consumer optimism higher.
Rising U.S. total vehicle sales are indicative of the health of consumers. Historically low rates, alongside falling gas prices, and rising wages are all benefiting consumer optimism. As U.S. consumer optimism rises, expect underlying economic activity to similarly pick up in 2015.

Data provided by the Federal Reserve
Disclosure: The author has no positions in any stocks mentioned, and no plans to initiate any positions within the next 72 hours.
The author wrote this article themselves, and it expresses their own opinions. The author is not receiving compensation for it (other than from Seeking Alpha). The author has no business relationship with any company whose stock is mentioned in this article.