Two previous Seeking Alpha articles described (1) the criteria by which the S&P Index Committee manages theS&P 100 list for size and diversity in "S&P 100 Shakeout June 2004 to June 2011," and (2) a "Dogs of the Index" back test of top 10 stocks from the S&P 100 to demonstrate the strategy's trading successes and failures over seven years from June 14, 2004 to June 13, 2011 in "Dogs of the Dow meet S&P 100 in a Seven Year Back Test ."
This article describes concluding back test results of the Dogs of the S&P 100 investment flow by looking at the various stocks that were selected by yield to enter and sometimes exit the S&P 100 list every June since 2005.
The "Dogs of the Index" Strategy Employed
Investopedia explains the concept as "An investing strategy that consists of buying the 10 dogs of the dow [Dogs of the Index] stocks with the highest dividend yield at the beginning of the year. The portfolio should be adjusted at the beginning of each year to include the 10 highest yielding stocks."
This strategy limits the involvement of the investor to focusing on just two key metrics that determine yields to rank the index dog stocks: (1) Stock Price; (2) Annual Dividend. Dividing the annual dividend by the price of the stock reveals the percentage yield by which each stock is ranked. After selecting a pool of forty stocks from the S&P100 index that throw dividend yields over 1.5% the investor follows, trades and awaits the results from an investment in the lowest priced, highest yielding one quarter of the pool. A third variable of broker commission of $10 per trade is deducted from every transaction to reveal net income in the scenarios below. All the trades take place once a year in June.
Using data from Yahoo Finance, the following charts show year by year changes prescribed by annual dividend yields in the portfolio of 10 Dogs of the S&P100 index beginning with the initial back test portfolio purchase in 2004.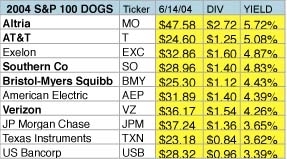 For ease of calculation a $1000 investment per stock is an easily divisible stake. Some investors prefer to pick five stocks by choosing all small, or all large Dogs defined by five stocks with the lowest closing price being the year's small dogs of the index and five with the highest closing price become the large dogs for the year.
See the previous "Dogs of the Dow meet S&P 100 in a Seven Year Back Test" for details on how an initial investment of $1,000 in each of the 10 dogs of the S&P 100 fetched a juicy $5,035.65 net return or a 41.96% return on a $12,000 investment over five years (5.99% per year ) plus $240 to the broker.
The genius of the dog strategy is not buying and holding. Instead, low yielding stocks, whose price has increased (or whose dividends have decreased) are sold off once each year to trade up to higher yielding index stocks. The replacement S&P 100 stocks purchased from 2005 forward proved to do half as well as the initial 10. Individual stocks in this group however, fetched the highest gains.
Twelve newcomer replacement stocks moved in and out of just five slots over the six years of this test. These were periodically joined by members of the original 10 returning. However, five of the original 10 S&P100 Dogs listed in Bold on each of the yearly charts remained in the top 10 throughout this back test. They are Altria (NYSE:MO); AT&T (NYSE:T); Southern Co. (NYSE:SO); Bristol-Myers Squibb (NYSE:BMY); Verizon (NYSE:VZ), Merck (NYSE:MRK), Sara Lee (SLE), and Bank of America (NYSE:BAC) replaced Exelon (NYSE:EXC), JP Morgan (NYSE:JPM), and Texas Instruments (NYSE:TXN) in June 2005.
2005: Three new stocks highlighted in blue made the list.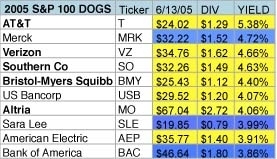 Merck produced the only positive net returns for the group of stocks purchased as replacements for lower yielding companies in 2005. Merck's 43.62% return generated between 2005 and 2008 added to a 27.02% return from 2009-10 combined for a total net return of 35.32% plus $40 to the broker from $2,000 invested from 2005 to 2010. Both Sara Lee and Bank of America threw negative results. Sara Lee had a negative (1.83%) net return between 2005 and 2007. Bank of America managed a positive 3.5% return from 2005 to 2006 but from 2007 to 2009 lost (38.46%) in total losing (17.46%) on $2,000 invested between 2005 and 2009.
2006: One new stock highlighted in red was listed.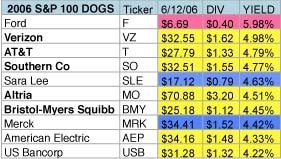 Ford (NYSE:F) made one appearance on the dogs of the S&P 100 during its dividend paying hay day. Replacing Bank of America in 2006, F generated a net return of 37.31% between 2006 and 2007. Stockholders were mercifully spared being caught in a bull trap when the company announced eliminating dividends for 2007 when the stock price was still in the $8 range thus sending a loud sell signal to dividend investors.
2007: Three new stocks highlighted in green came on.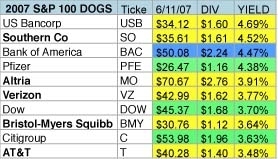 Pfizer (NYSE:PFE), Dow Chemical (DOW), and Citigroup (NYSE:C) replaced Ford, Sara Lee, and Merck on the list as of June 11.2007.
Only Pfizer of these three stocks managed a net positive return from two appearances between 2007 and 2011. On the first try, it netted over a 40% loss from 07 to 09. However from 2010 to 2011 Pfizer pulled off a 47.2% net gain to finish with an overall 3.57% net gain on $2000 invested plus $40.00 to the broker.
Dow Chemical generated a (15.47%) loss on $1000 invested from June 11, 2007 to June 16, 2008.
Citigroup led all losers by tanking (59.65%) in net results between June 2007 and June 2009.
2008: One new stock highlighted in orange joined up and did a reverse split.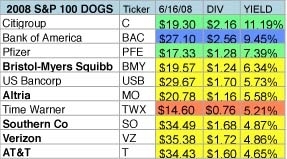 Time Warner Inc. (NYSE:TWX) replaced Dow Chemicals on the S&P 100 Dog list in June 2008. The $1,000 investment purchased 68 shares at the June 16 closing price of $14.60. Three dividends of $.189 per share were paid in August, and November 2008 and February 2009 totaling $38.56. On March 30, 2009 TWX underwent a 1:3 stock split. This is a reverse stock split in which the number of shares held are divided by 3 and stock price is inflated. On the same 3/30/09 date Yahoo Finance shows a special dividend of $6.06 paid to shareholders. Thus 68 shares were cut to 23 shares for the purpose of the special dividend amounting to $152.93. Finally, on May 27, 2009 a $ .188 dividend was paid on 23 shares of $4.32. So by these calculations TWX dividends while held were $38.56 + $152.93 + $4.32 = $194.81. However Yahoo shows the split adjusted purchase price of our now 23 shares of TWX as $29.80 and the split adjusted sale price as $25.15 so TWX shows a loss on the sale of ($106.95) plus $20 to the broker for the purchase and sale balanced by the dividend of $194.81 for a net gain of 6.79% on a $1,000 investment (whew)!
2009: Three new stocks highlighted in purple made the list along with two returning veterans.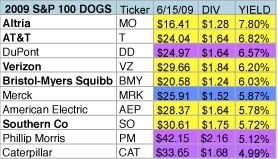 Dupont (DD), Merck, American Electric Power (NYSE:AEP), Philip Morris (NYSE:PM), and Caterpillar (NYSE:CAT) replaced Citigroup, Bank America, Pfizer, USBancorp, and Time Warner on the S&P100 Dog list in June 2009. The three newcomers to the list generated the best returns of any of the other nine replacement Dogs of the S&P100 2005-11.
Dupont ran away from the field with a net return of 109.65% plus $20 to the broker but took two years to do it.
Caterpillar was not far behind returning a net of 98.68% plus $20 to the broker in just one year 2009-10.
Phillip Morris also took two years to net a 71.52% return on $1,000 invested.
2010: No new stocks entered but there were changes.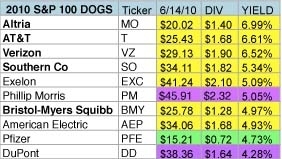 While no newcomers came on to the S&P 100 Dog list in this 2010 changeover, Pfizer replaced Caterpillar, and Exelon replaced Merck.
2011: One new stock highlighted in yellow green joined.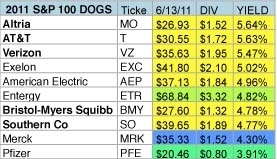 Merck replaced Dupont and one newcomer, Entergy (NYSE:ETR), replaced Phillip Morris in 2011. Net returns from this portfolio will not be available until June 2012.
Conclusion
This article described back test results of the Dogs of the S&P 100 investment flow as various stocks selected by yield entered and exited the S&P 100 list every June since 2005.. The following chart summarizes the performance of those intervening stocks from 2004 to the end of the back test this June.
From June 13, 2005 to June 13, 2011 twelve S&P100 dividend paying stocks were tested as they slipped in and out of five available slots determined by yield on the index.
The newcomers of 2009 did the best. Dupont, Phillip Morris, and Caterpillar returned an average of 93.29% on $3k invested.
The one and only appearance of Ford in 2006 returned 37.31% net.
The 2008 newcomer Time Warner returned 6.79% while the 2005 newcomer Merck, Sara Lee, and Bank of America combined to return 6.78%.
At the bottom of the pack. the newcomers of 2007 reported the only combined loss. Pfizer, Dow Chemical, and Citigtoup combined for a (16.99%) net loss.
Results from Entergy will not be known until June 2012.
The following chart illustrates how the Dogs of the Index strategy used to select and trade stocks based on yield has performed for both the starting 10 dogs and the intervening 12 dogs of the S&P100 throughout this seven year back test from June 14, 2004 to June 13, 2011.
Comparing performances, the starting 10 dogs of the S&P100 showed a combined 41.06% return on $12,000 invested versus a 20.71% overall return on $14,000 invested in the intervening twelve dogs for the 2004 to 2011 back test. Together the combined investment of $26,000 over seven years netted a $7,820.22 or 30.10% gain or 4.3% per year including the great recession.
What if there is another way to spend a minimum amount of time that results in a maximum return on your investments? Coming soon to Seeking Alpha is a series of articles describing an integrated investing strategy for growth stocks that helps you choose stocks that might surprise you but realize gains while minimizing losses.
Disclosure: I am long T, VZ.