In Part 5, we examine:
Structured Finance, Syndicated Lending

Oil and gas leveraged debt
S&P LSTA Index, DCM
CDO's, CLO's and Cov-Lite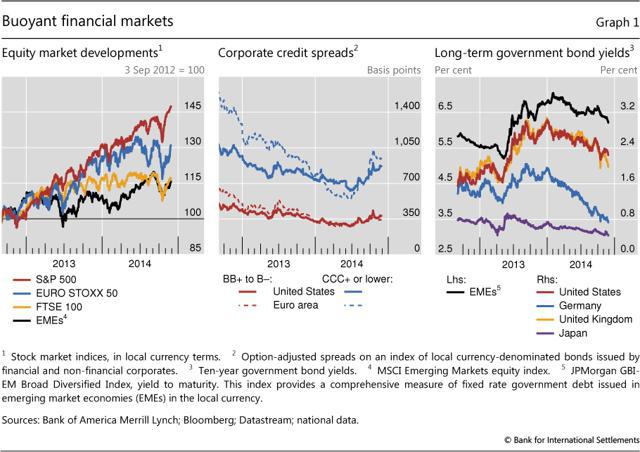 Above (center panel) yields on high yield corporate bonds narrowed and record low government bond yields (right panel) pushed up valuations of risky assets. The equity market hit all time highs (left panel) as the search for yield revived structured finance and drove leverage loan markets to levels not seen since 2008.
Syndicated, Leveraged Loans and CDO
A CDO (collateralized debt obligation) is a type of ABS or structured asset backed security. Before the crisis, the bulk of CDOs were collateralised by MBS (mortgage backed securities) ABS. Depository banks "securitise" loans they originate, often in the form of CDO securities, because this removes the loans from their books. Security buying investor banks replenish the dealer banks' capital while taking the risk. It gets even better down the road with another form of CDO, known as a CLO. Moving west...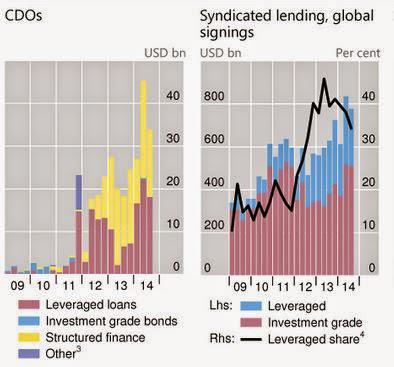 12/07/2014 the BIS reports as of Q3: "Recently, around 55% of CDOs consisted of leveraged loans. (left panel). Structured finance boosted the investor base for these (leveraged) loans, which accounted for approximately 40% of syndicated lending (right panel). Activity in the leveraged loan markets even surpassed the levels recorded before the crisis: average quarterly announcements during the year to end-September 2014 were $250 billion, well above the average of $190 billion during the pre-crisis period from 2005 to mid-2007."
$250 billion quarterly in leveraged loans, sounds benign. But wait, is that all there is? See chart below courtesy of Dealogic as of 11/11/2014: Leveraged loans accounted for 37% of global syndicated volume in 2014 YTD ($1.62 trillion).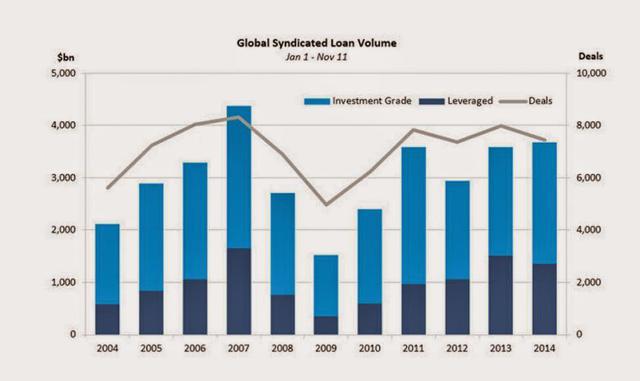 Below, global syndicated loan volume rose to $4.60 trillion in 2014 , as the second highest volume on record, behind $4.77 trillion in pre crisis 2007. Americas (55% market share) at $2.51 trillion; -5% YoY and Asia Pacific ($779 billion) -7% Yoy; EMEA (28% market share) lending has risen to $1.29 trillion, +22% Yoy.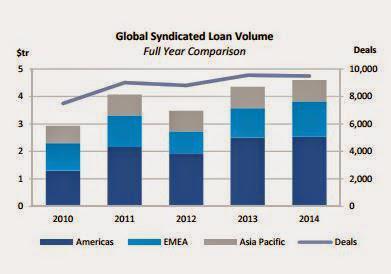 Who is leading in 2014 global syndicated loan issuance? JPMorgan with a 12.4% market share, followed by Bank of America Merrill Lynch 10.2% and Citi 6.4%.
Global leveraged finance volume (leveraged loans and high yield bonds) totaled $2.10 trillion in 2014, a 7% decline from record high set in 2013 ($2.26 trillion).
How benign are the global leveraged and CDO debt exposures? In 2014, $4.22 trillion in global syndicated issuance X 37% = $1.56 trillion global leveraged issuance. The BIS estimate of 55% leveraged CDO X $130 billion in CDO issuance = $71.5 billion global leveraged CDO issuance in 2014.
How benign is the global outstanding exposure? Since 2010, syndicated loan issuance = $16 trillion; leveraged issuance $5.8 trillion. As per SIFMA Q3 2014: global CDO outstanding = $796 billion; multiplied by 55% = potential $438 billion leveraged CDO outstanding.
Who is leading in 2014 global CDO issuance? Bank of America Merrill Lynch with a 16.8% market share, followed by Wells Fargo Securities 11.3% and Citi 10.1%.
Energy, Oil and Gas
Below, 2014 global O&G loan issuance at a record high $406.2 billion +9% YoY. The Americas $253.1 billion (62% market share) and Asia Pacific $61.4 billion (15%) both reached record highs in 2014. EMEA (23%) was $91.7 billion. Since 2010 global O&G issuance $2.6 trillion of which $950 billion is DCM.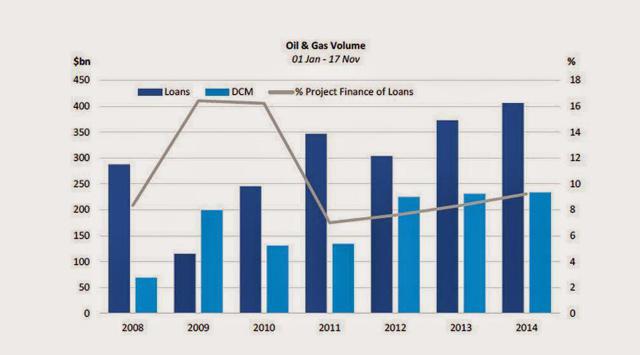 Who is leading in issuance? JPMorgan with a 10.2% market share, Wells Fargo Securities 8.8% and RBC Capital Markets 6.7%. In the chart above, almost $1 trillion in global O&G DCM over the five year period.
DCM
Debt Capital Markets teams are responsible for providing advice on the raising of debt for acquisitions/mergers, refinancing of existing debt, or restructuring of existing debt. Debt is often used as it is usually cheaper than financing through equity, and the risk can be downstreamed to the investors. In the chart below, global DCM volume totaled $6.29 trillion in 2014, +3% YoY. Asia Pacific (ex Japan) DCM totaled a record high $1.23 trillion +29% YoY while EMEA DCM totaled $2 trillion.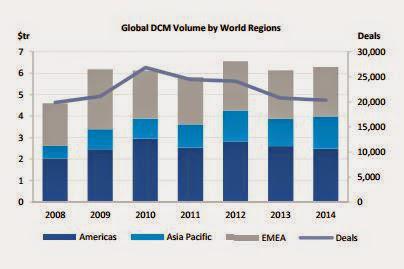 S&P/LSTA Index
The S&P/LSTA US Leveraged Loan 100 (tracked by (NYSE:BKLN) as analyzed here and here) tracks the 100 largest loans in the broader S&P/LSTA index. Below as of 11/28/2014 outstanding value of large US leveraged loans $822.5 billion.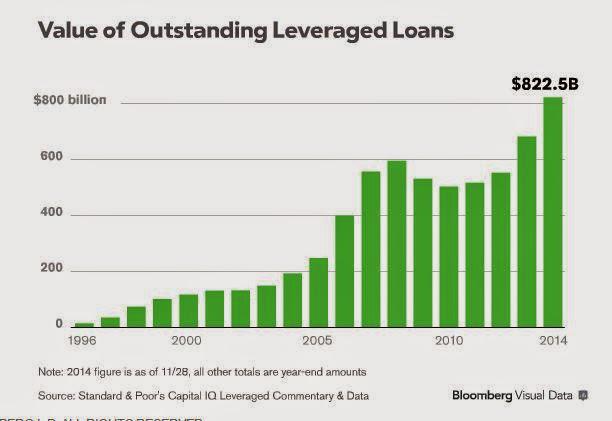 Below the 10 largest O&G credits comprising 1.62% of the broader S&P/LSTA index.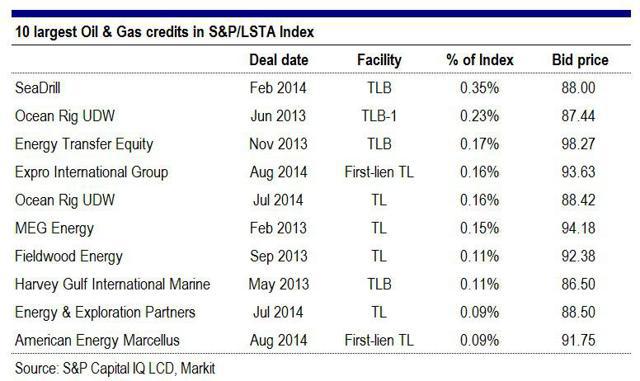 Since Oct. 31, the share of oil and gas index loans trading below 90 has jumped from 1% to 39%. For the moment, 0.95% of energy loans are trading at 80 or less. Chart provided courtesy of Leveragedloan.com: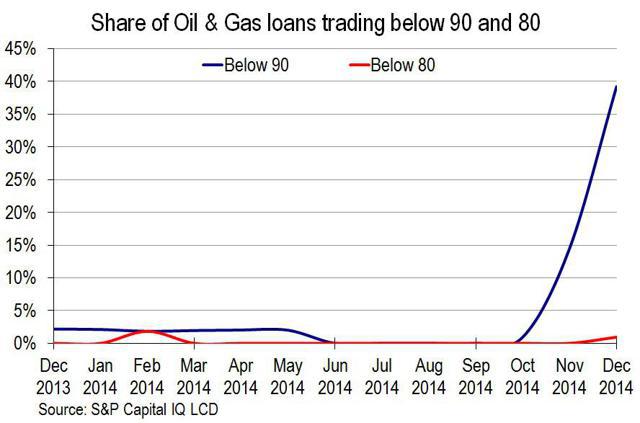 CLO
A CLO is a type of collateralized debt obligation. CLOs (collateralized loan obligations) are a form of "tranched" securitization where payments from multiple syndicated loans are pooled together and passed on to different classes of owners in various tranche classes. Deja Vu?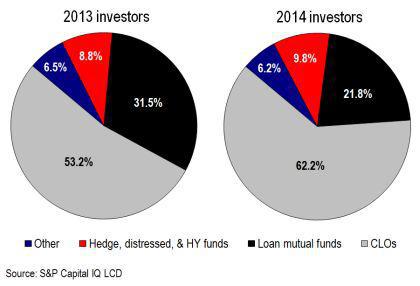 With significant outflows (above) and dwindling inflows (below), the investor base for leveraged loans shifted away from loan mutual funds into the new issue CLO market.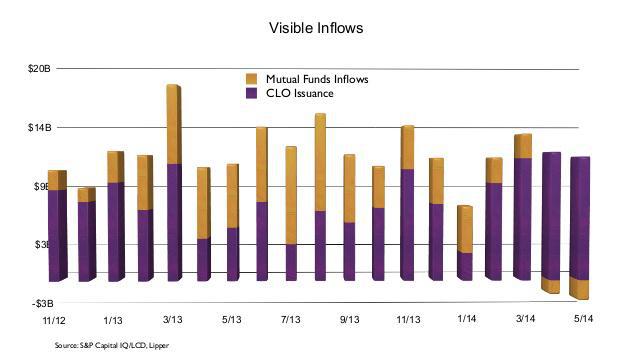 Below, in 2014 Global CLO volume was $70.5 billion, + 42% YoY, of which China accounted for $25 billion. CLOs accounted for 26% of total global ABS volume in 2014 ($268 billion).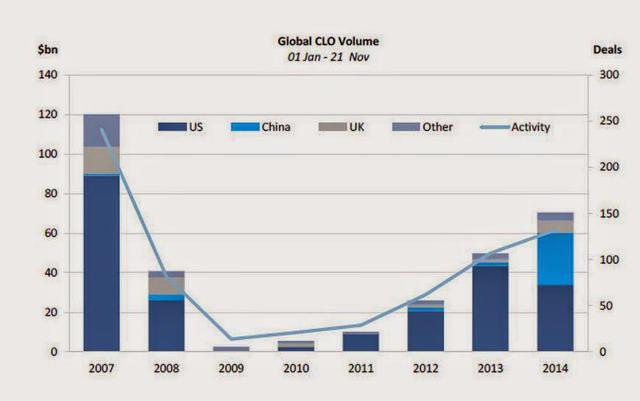 Below, according to S&P Capital IQ/LCD as of the end of Q3 2014, CLO outstandings are at $325 billion. As per SIFMA: Outstanding CLO (as a portion of CDO) 2013 Q3 = $488 billion. What's $150 billion here or there? A global financier's petty cash...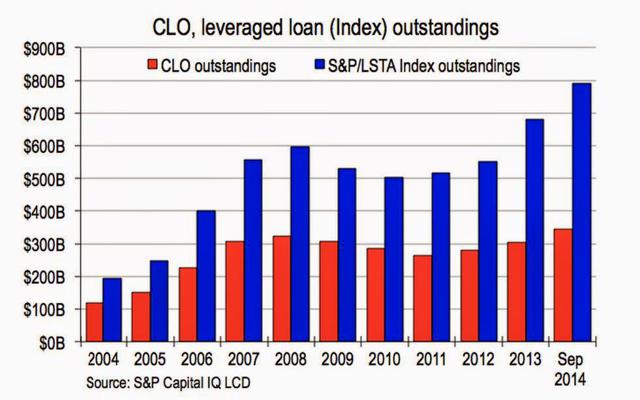 What Collateral Call?
On October 11, 2014, just prior to the 10/15 bond market collateral unwind. The Board of Governors of the Fed and the FDIC welcome the International Swaps and Derivatives Association (ISDA) agreement of a new resolution stay protocol. The protocol provides for temporary stays on certain default and early termination rights within standard ISDA derivatives contracts in the event one of the large banking organizations is subject to an insolvency or resolution proceeding in its home jurisdiction. In other words, in the event of default and asset liquidation of a TBTF institution engaged in significant cross border OTC derivatives (off book, hedges) activities, the ISDA can stay or waive contractual default and termination rights. Moving West...
No Skin in the Game?
11 days later on October 22, 2014, federal regulators, including the Fed and SEC, adopted the final rules, which require that securitisers, including CLO asset managers, retain 5% of the credit risk of securitised asset pools backing non-exempt ABS.
33 days later on November 24, 2014, the LSTA issued an announcement of a lawsuit it filed against the Federal Reserve and the SEC seeking relief for CLOs from the final risk retention rules for ABS (asset-backed securities) issued under Section 941 of the Dodd-Frank Act. The LSTA claims that the final rules are "arbitrary, capricious, an abuse of discretion or otherwise not in accordance with law" and that they "disproportionately punish an industry that was not involved in the financial crisis" by extending the requirement to hold 5% of their deals to CLO asset managers and securitisers.
24 days later on December 18, 2014: The Fed had earlier announced the delay until 2017 for one type of funds, known as CLO (collateralized loan obligation), which banks use to shift the credit risk in leveraged loans off their balance sheet, and sell it to others. The central bank now expanded the scope of the extension in the conformance period for other types of funds.
The Volcker rule, named after former Federal Reserve Chairman Paul Volcker, limits the ownership of banks in such risky funds to a maximum 3 percent. It also bans proprietary trading, in which banks take positions in financial markets using their own funds to make a profit, a practice that was rife in before the 2008 crisis.
One might conclude from the above that the LSTA is acting on behalf of the CLO food chain to mitigate holding 5% of the risk. e.g. securitisers (structured finance, syndicated lending) who have packaged and securities dealers (banks), who have downstreamed CLO to investors (mutual funds, insurance, pension). Further, certain banks might be holding over 3% of certain types of ABS (CLO) and these banks might also be engaging in proprietary trading. Further, were these banks to get caught in a market unwind, the ISDA could stay the TBTF institutions obligation under a collateral call to liquidate certain off book assets. Food for thought.
Cov-Lite
Covenant lite or cov-lite paper does not contain the usual protective covenants for the benefit of the lending party. Most cov-lite loans remove the requirement to report and maintain LTV (loan to value), gearing, EBITDA ratios and some aggressive cov-lite do not require events of default relating to "material adverse change" of the position of the borrower, nor the requirement to deliver annual accounts to the banks. Chart below courtesy of LeveragedLoan.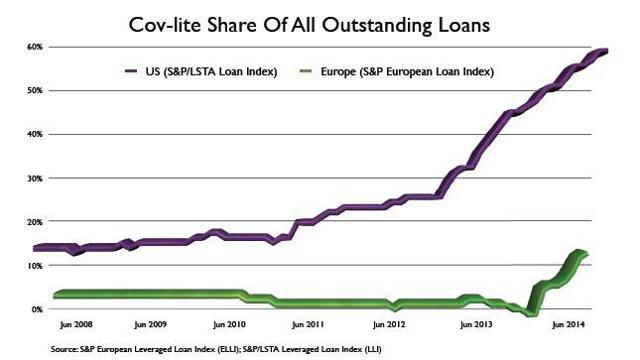 Above, a record €10 billion of cov-lite paper was raised in 2014, meaning that roughly one in three euros sold to fund managers had no maintenance covenants. The ELLI Index now includes a 13% cov-lite portion, the highest in its history. That's a long long way behind the U.S. S&P LSTA at 60% or $495 billion in outstanding large leveraged non recourse loans.
Deja Vu? All over again.
CLO is a repackaging of leveraged loans by any other name. Cov-lite is a non recourse loan by any other name. Remember all the ABS MBS repackaging of no doc, stated income, sub prime loans? CLO is exempt from the ABS retention requirement and rife with Cov-lite. Is this not a redux of sub prime MBS being marketed on a global basis? Worry not, these tranche based derivatives are AAA safe and the odds of default has been factored in, right?
In November - December 2014, junk energy debt market interest rates increased 500bps, from about 450bps higher than treasuries, to 950bps or 9.5% higher. In other words, cheap credit in this sector disappeared overnight which may have triggered a rapid 40% drop in oil drilling permits and could endanger the largest producer of new decent paying jobs - 295,000 averaging $108K - since 2003 and 33% of all jobs since 2007. The chart below shows what HY financing proceeds have been used for, 75 - 85% M&A, LBO and refi, with 15 - 25% capex. Financial engineering indeed.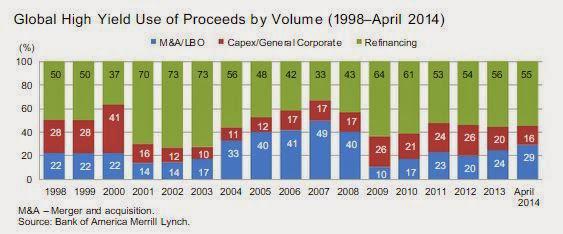 At $100/bbl revenues have been under $600 billion per year. Just counting the DCM refi averaging $200 billion per year would equal 33% of total "revenue". Paying no heed to the rest of the leveraged financing, the DCM funding could be read (as in the chart above) as covering cash shortfalls for LBO buy backs and dividend recap. What happens to revenues with $55/bbl prices and when cheap financing to cover cash shortfalls disappears? They start burning the furniture to stay open, then default.
As in, struggling junior oilsands producer Southern Pacific Resources said Tuesday that it will miss a $5 million interest payment on its unsecured subordinated debt. The company's C$260m of 8.75% notes due January 2018 were quoted at a price of 26 cents on the dollar. Meanwhile, Connacher's $550m of 8.5% notes due August 2019 trade at a price of 37 cents, after falling from 50 cents at the start of the month following a Dec. 1 statement it needs additional funds to stay in business.
Sorry we did not get to more foreign carry trade today. Worry and fret not, more to come in Part 6 as our journey through Christmastime in Hell continues. Stay tuned, no flippin.
Market Plays
These global economic policy developments could affect numerous markets, sectors, indexes, commodities, Forex, bonds, mutual funds, ETFs and stocks.
(NYSEARCA:DIA), (NYSEARCA:SPY), (NYSEARCA:IWM), (NASDAQ:QQQ), (NYSEARCA:IEF), (NYSEARCA:UDN), (NYSEARCA:UUP), (NYSEARCA:UUPT),(NYSEARCA:UDNT), (NYSE:FXY), (NYSEARCA:FXE), (NYSEARCA:HYG), (NYSEARCA:JNK), (NYSEARCA:LQD),(NYSEARCA:CORP), (NYSEARCA:EMB), (NYSEARCA:BKF), (NYSE:APA), (NYSE:ECA), (HTE),(OTCPK:LVLEF), (OTCPK:MDLNF) (OTCPK:OGZPY), (OTCPK:PBEGF), (NASDAQ:PEIX),(OTCPK:PENYF),(NYSE:SLCA), (NYSEMKT:TPLM), (NYSE:TRP), (NYSEARCA:UNG), (NYSEARCA:USO), (ZAZA), (BHI), (NASDAQ:CRZO), (NYSE:D), (NYSE:EXC), (NYSE:F), (NYSE:FCX), (NYSE:KMI), (LINE), (LNCO), (NASDAQ:MXWL), (NYSE:PSX), (SCTY), (NYSE:SLB), (NYSE:VLO), (OTCPK:AAGLF), (OTC:AFRNY), (OTC:ATPAQ), (NYSE:BPZ), (NYSE:CHK), (NYSE:CLB), (NYSE:CPE), (NYSEMKT:EOX), (NYSE:EPL), (NYSE:EQU), (EXXI), (NYSEARCA:FCG), (OTCPK:GMXRQ), (NYSE:HK), (NYSE:HNR), (MHR), (NYSE:MMR), (NYSE:OAS), (NASDAQ:PDCE), (PVA), (NYSE:QEP), (NYSE:REN), (NYSE:SN), (SYRG), (NYSE:UNT)
Disclosure: The author has no positions in any stocks mentioned, and no plans to initiate any positions within the next 72 hours.
The author wrote this article themselves, and it expresses their own opinions. The author is not receiving compensation for it (other than from Seeking Alpha). The author has no business relationship with any company whose stock is mentioned in this article.
Editor's Note: This article covers one or more stocks trading at less than $1 per share and/or with less than a $100 million market cap. Please be aware of the risks associated with these stocks.