While many pessimists argue the technology bubble will soon collapse, this is not the case. As I have previously written about in These 7 Tech Stock Earnings Will Lead the Market, the major technology stocks lead the market quarter over quarter and year over year. This time I will not discuss how and why these companies lead the market, but curious investors can take a look at the article. In fact, even though the previous article is months old, it still pertains to the current market. Therefore, I advise investors to take a look to see how technology companies lead the market. For those that do not take a look at that article, I discussed how some technology companies lead the market higher after earnings on a rhythmic basis. Also, after highs are reached, these same companies lead the market lower.
The first half of this week will see some of the most important technology earnings of the quarter. If each company can nail earnings estimates we should see a slew of 52 week highs as well as the overall stock market run higher. However, if we see any crucial misses it could derail any major rally. Some of the technology companies releasing earnings this week are, in chronological order: Riverbed (NASDAQ:RVBD), Apple (NASDAQ:AAPL), EMC (EMC), Intel (NASDAQ:INTC), Seagate (NASDAQ:STX), and Microsoft (NASDAQ:MSFT).
First off I will make a note about Google's (NASDAQ:GOOG) recent earnings report and how the report sets the tone for this week. This past Thursday, July 14th Google reported strong earnings that caught many investors off guard. Analysts were expecting revenue in the range of $6.54 billion with an EPS of $7.87 per share. Google reported revenue of just over $9 billion and EPS of $7.68. As witty investors can see, Google missed EPS estimates by about 2.5%. However Google made it clear if it weren't for employee stock compensation, EPS would have been $8.74.
In my opinion this might be a yellow flag showing the stock is becoming diluted due to employees having too many securities. Since revenue completely demolished estimates while earnings per share was below estimates, I am disregarding the non-GAAP number of $8.74 because that does not show the true value. With that said, the truth is that Google is still expanding. With sales from the Android market growing, Google should be successful for a long time. Although the HTC and Apple lawsuit may hinder Google's operating system revenue if the Android phone cannot be sold in America.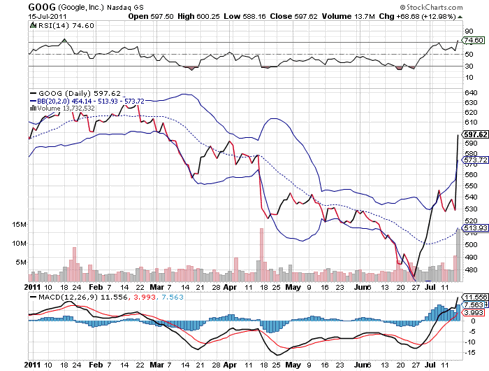 July 19, 2011
The first company to release earnings after the bell on Tuesday is Riverbed. Last quarter Riverbed announced earnings early and the share price rocketed to the moon. This quarter Riverbed did not announce earnings early. This can be taken as an indication that the company did not blow away estimates this quarter or it did blow away estimates but management wants to wait this time around. I am expecting to see Riverbed produce revenue at $175 million with earnings per share around 21 cents.
I am expecting Riverbed to eclipse these numbers since the company has been doing very well this past quarter. If big earnings are reported again we may see Riverbed take a shot at the 52 week high; which is above the 44 level. Also, a big report would allow Riverbed to continue to push the stock market higher. One note to make is that Riverbed will normally lead the market up and down because the company generally reports at the beginning of each quarter.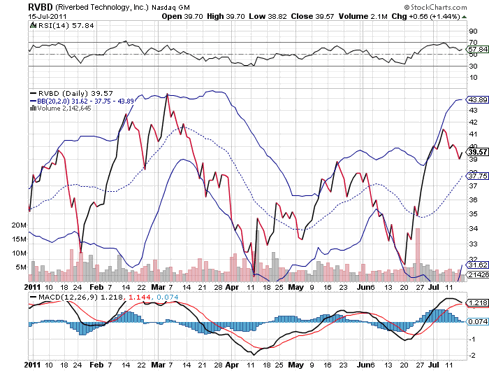 Apple will report after the bell on Tuesday as well. Apple will be one of the most watched earnings reports because the company almost entirely dictates which direction the technology sector will move; and to a lesser extent the entire market. After Google's strong numbers, Apple investors will be looking for strong results as well. Also, Apple will need to show the App Store is distancing itself from the Android market
. It must be noted that one important factor in this quarter's conference call will be the status of the newest iPhone. If Apple decides to release the phone sooner than last stated, we could see a huge rush in the share price.
The average analyst expectation is to see revenue at $25 billion and EPS at $5.86. Although this quarter is usually Apple's slowest quarter, I am expecting EPS in the $6.40 range.
Apple currently has strong momentum as investors are betting on another stellar quarter. The company has not missed an earnings forecast in almost three years and Apple continually finds ways to beat the competition. For instance, Apple innovates products or sues other companies that make a similar product. As you can see in the previous article, the stock market tends to follow the direction Apple goes, therefore another big beat could lead to another rally.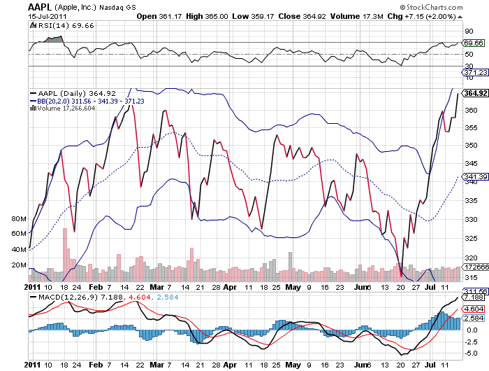 July 20, 2011
EMC begins another important day for the stock market bright and early Wednesday morning. EMC is one if the leading cloud computing companies in the world. EMC has been dampened lately by a barrage of hackings across the world. Even though hackers are not targeting EMC products specifically, investors and citizens may not feel comfortable with cloud storage because it would enable hackers to steal more information faster
.
EMC is expected to report earnings of 27 cents per share and revenue of $4.73 billion.
I am expecting EMC to have another average quarter. EMC's growth rate appears to be slowing down to reasonable levels. However, it is important to note this is good because EMC will be able to grow for a longer period of time before reaching a point of complete stagnation. Also, since EMC is a technology bellwether, the company leads the market up and down. Even though the share price is still under 30, the company holds a great amount of power among the technology sector. Therefore Wednesday morning will be very important for the market because if EMC can provide surprising numbers we may see a sustainable rally since Apple will provide big numbers the night before.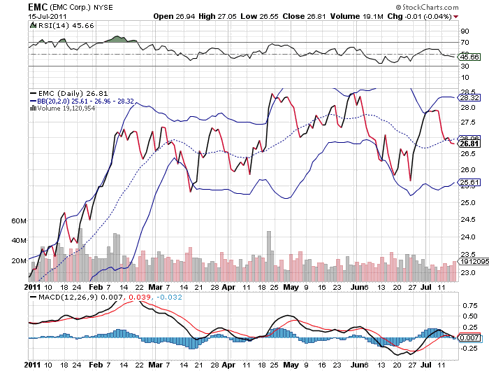 One of the biggest surprises I did not expect last quarter was Intel. Intel blew the doors off estimates and the share price turned into a rocket. The share price is only about 6.6% off the 52 week high reached after the momentous run following the previous earnings blowout. Therefore Intel could easily run to the 25 level if another surprise awaits investors. However, because of the last surprise analysts have raised expectations this time around
.
We should be seeing an EPS of $0.51 and revenue at $12.82 billion to keep investors happy.
Intel may beat earnings again this quarter by a pretty substantial margin. There is a good probability of this because Intel makes very efficient and fast processors; as well as a slew of other technology products to bring in strong revenue. Also, it is important to note Intel is planning to make a huge move into the tablet category. Therefore, Intel will continue to lead the market as the company expands and innovates these new products.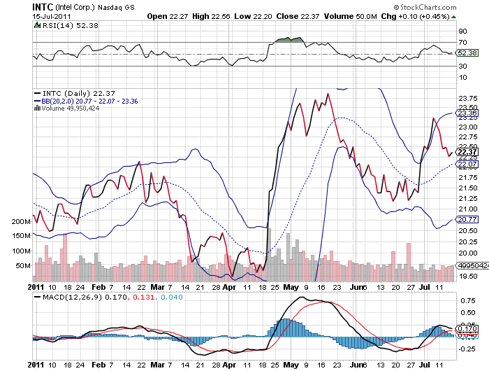 Seagate also reports earnings Wednesday afternoon. The previous quarter Seagate reported strong earnings and I am expecting another good quarter as well. Recently, Seagate has been moving very well along with Apple. Both companies have led the market and technology stocks to new highs. Seagate, just as EMC, has been recently developing new products that adapt to the ever changing market. Because of this, Seagate has a very bright future and should be running to the 20 level later this year.

I will be looking to see EPS at or above 24 cents. Seagate should be able to surpass the 52 week high which is about 9% from the current share price. This kind of run would not surprise me even though the share price has been moving up for a few weeks now. Seagate, along with Apple, has been rising in anticipation for this week's earnings. Therefore there will be added pressure on the results. Investors need to be weary that any kind of negative news will cause the share price to fall an extreme amount as traders panic and sell off everything.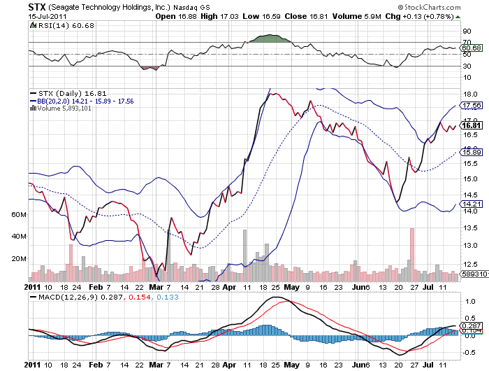 July 21, 2011
Microsoft will report quarterly and full year earnings Thursday afternoon. Microsoft has had some very interesting news since the previous earnings report. Most notably, the Skype acquisition has been on everybody's mind. Therefore, I expect at least one question in the conference call pertaining to the reason Microsoft bought Skype. Also, investors need to focus upon Xbox numbers since Sony (NYSE:
SNE
) was forced to shut down the PlayStation network this past quarter. Also, investors need to be aware of the new Windows tablets that will include fast and efficient Intel chipsets.
I am expecting Microsoft to report quarterly earnings of 60 cents per share along with $17.2 billion in revenue. For the full year I expect to see an EPS of $2.60 and revenue around $69.7 billion. Both numbers will be in focus for investors, but with the previous quarter beating estimates by a good margin, overall year results should be ready to be matched. Normally I would recommend steering clear of Microsoft since the share price has not returned much the past several years. However, with the recent product innovations I am more optimistic Microsoft is heading in the right direction. It is important to note Microsoft's cash will be much lighter this quarter due to the purchase of Skype.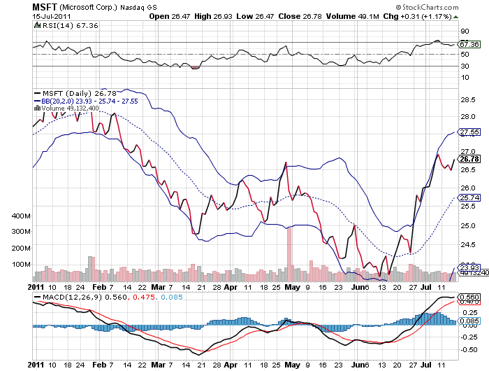 Just as my previous note discussed in detail, the above companies tend to lead the stock market up and down. This happens because each company carries high volume and high capitalizations. By having both of these, a stock can dictate more prominently the direction in which the market goes. It will be interesting to see if all six companies follow in Google's footsteps and provide record breaking quarterly results. If this happens, we will be seeing the market make a strong push forwards. I am expecting these companies to at least match expectations. We should not see any of these companies miss estimates.
Disclosure: I am long EMC.