Nucor Corporation (NYSE:NUE) will release its results for the second quarter of 2011 before the market opens on July 21, 2011. Nucor reported a stupendous increase in profit to $190.8 million or 56 cents per share in the first quarter of 2011, surpassing the Zacks Consensus Estimate by 21 cents and its own guidance range of 30 cents–35 cent.
In the upcoming quarter, the Zacks Consensus Estimate for Nucor is pegged at a profit of 81 cents per share, reflecting an annualized growth of 179.69%.
With respect to earnings surprises, the company outdid the Zacks Consensus Estimate in three out of the last four quarters. The average earnings surprise over those four quarters is 24.51%.
First Quarter Review
Consolidated sales surged 32% to $4.83 billion due to an increase of 22% in average price per ton and a rise of 9% in shipments (to 6.0 million tons) to outside customers. It was higher than the Zacks Consensus Estimate of $4.43 billion.
Steel mill shipments grew 10% to 5.2 million tons during the quarter. The average scrap and scrap substitute cost per ton gained 33% to $424.
Nucor expects results in the second quarter to improve compared with the first quarter, despite some market weakness that may impact results at the end of the second quarter. Furthermore, the company continues to see slow but steady improvement in real demand in certain end markets.
For the second quarter of 2011, Nucor expects earnings to range between 75 and 80 cents per diluted share, up from 29 cents per diluted share a year ago, driven by improvement in demand in several key industrial sectors. This represents growth of 160% to 180% year over year.
Projected second-quarter results include an estimated inventory charge of $31 million, or 6 cents per share.
Agreement of Estimate Revisions
Out of the nine analysts covering the stock for the second quarter of fiscal 2011, none have revised earnings in the last 30 days or in the last 7 days. Similarly, for fiscal year 2011, out of the 15 analysts covering the stock, none have made revisions to earnings in the last 30 days or in the last 7 days
Magnitude of Estimate Revisions
The second-quarter 2011 estimate has been flat at 81 cents in the last 7 days, whereas it decreased by 9 cents to 81 cents in the last 30 days. The Zacks Consensus Estimate for the second quarter is 179.69%.
Our Take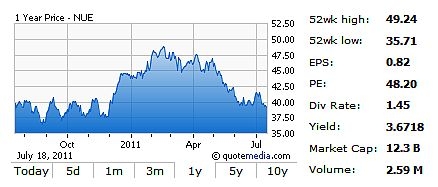 Nucor focused on profitable growth through acquisitions over the past several years. Hence, it continues to seek attractive opportunities to acquire businesses, forge joint ventures and make other investments that are complementary to its existing strengths. Realizing the anticipated benefits of acquisitions or other transactions will depend on its ability to operate these businesses and integrate them with its operations and cooperate with its strategic partners.
However, overcapacity in the global steel industry has forced steel manufacturers to export steel and steel products at prices below their cost of production, thereby impacting profitability. Although an improving trend could be observed in automotive steel demand, housing and construction demand remains weak. The slowdown in steel demand and increased Chinese production are matters of concern. The Chinese steel output has outpaced demand, causing excess supplies and higher inventories. Industry overcapacity and weak demand also weigh on steel prices. Steel producers like Nucor are highly susceptible to volatile steel prices.
Nucor suffers from inflated raw material costs. Lower production rates at the mills have slowed the rate at which they consume the higher cost iron units, in particular pig iron inventories. However, pig iron consumption had increased midway through 2009. Nucor is facing higher scrap and scrap substitute prices. Scrap and scrap substitutes are the most significant elements considering the total cost of steel production. Nucor believes it will continue to experience volatile raw material costs during 2011, as the end-markets are experiencing some real demand improvement that will continue throughout 2011.
The most challenging markets for its products are associated with residential and non-residential construction.
The company retains a Zacks #3 Rank on its stock, which translates to short-term "Hold" recommendation.
Major competitors of Nucor Corporation are United States Steel Corporation (NYSE:X) and Sumitomo Metal Industries (OTC:SMMLY).