Remember the Wall of Worry?
The market has a unique characteristic that sets it apart from many other activities - it is both a cumulative marathon evidenced in long-term investing trends and indicators, and also a yearly sprint from the first trading day in January and ending on the last trading day in December. Obviously one of the factors involved with this are the ways in which professional participants and their parent organizations are compensated for their efforts after the results of the year. This circumstance has some easily discerned impacts on the shorter term trends evidenced in the market, and this situation in general is not likely to be addressed in any meaningful way any time soon.
One of the knock on effects of this is that each of the last three years of this Bull Market Run has started with a significant "Wall of Worry" as market participants tried to position themselves for the annual sprint and attempting to place themselves preemptively on the correct side of the market trend. This early season appraisal of the possibilities and pitfalls the new year have in store culminates in a general sense of expectant unease - surely not unlike the beginning of a pay-period for a very unpredictable commission-based profession. In my own experience I can attest to the anxiety that befalls on the first day of the new commission cycle, no matter how well the most recent one went and no matter the logical prospects teeming for the new one, that somehow the mojo that contributed to previous good results may at any point vanish. It is very easy for me to imagine Wall Street as a vast macrocosm of this same type of psychology, and I rue all the ulcers.
2015 is not shaping up any differently in this early market character, including the requisite doom-soothing, and certainly there are many such as myself who feel as though we have held our breath for a long time waiting for "The Correction", however misplaced this concern has looked in retrospect thus far. The law of big numbers - that the longer it goes for something to not-have-happened, the more likely this event will eventually come true - adds further credence to the legitimate concern anyone has in making sure they have positioned correctly on the side of the trend.
Market timing in general is a difficult undertaking, and plenty of differing point of views exist as to the efficacy in attempting to exit the market prior to a major reversal and attempting to optimize the entry point for re-allocating to the market and the possibility this has in effecting returns has been demonstrated previously. While I personally find Winning on Wall Street by Martin Zweig to be my biggest investing influence it also spends a great deal of its text in defending Mr. Zweig's thesis that exiting a market prior to the top and reentering after the upward trend has been established as the optimal overall portfolio strategy. Recent studies have refuted this by demonstrating that an investor who attempted to time the market in most cases also missed the biggest market up-moves by waiting for a market signal that would come too briskly to be effectively followed. One such graph shows, once again, that the buy and hold investor tends to be more successful than the investor who misses the big up-moves-and how much better off would we all be if we could somehow magically miss the big down-moves while keeping the up-moves?
An example of an investor type I know personally are the type that are just waiting for that ethereal sign to come to them, as if the holy ghost would convey the message or the spirit would move them, that now is the time. I do not think this class of investor spends much if any time actually doing the required homework to be a better-than-basic investor, nor are they likely to be very well-educated in portfolio allocation or market-timing strategies in general. In my experience these are the types who generally adjust their 401(k) allocations much too late if ever, often responding to the most superficial of market news in probably the most inopportune time. My general advice to these types when asked about my opinion on their portfolio allocation is more or less to take advantage of the new horizon products available. These use the stereotypical allocation models ideal to the expected retirement age and maximize the known strategies to attempt to capture growth during the earlier years and solidifying income in the distribution years.
My worst nightmare conversation, which happens much more often than I would like, and is likely similarly encountered by others who take investing very seriously, broadly follows this pattern:
"So what do you think of the market?"
"Oh it's been doing fantastic for the last few years."
"I'm still waiting to jump back in. Once bitten twice shy."
If this conversation has been taking place anytime since January 2011, it is a losing proposition to try and counter skeptically cautious persons to whom "The Market" is some omnipresent danger impossible to fathom or commit to. In fact it is my belief that most of the market commentary (CNBC, Bloomberg, elsewhere) presents almost an evenly balanced bear/bull narrative to make certain that to some degree they can appear to have correctly predicted future market swings. I derive no small amount of satisfaction that Meredith Whitney, the person who was credited with "accurately predicting" the financial crisis of 2008, has not been correct much since. I am also not very impressed by one trick ponies but that is a story for another day.
It may be because I am young and hopefully have a few more decades to add to my savings nest egg, but I do not concern myself with the general market trend for my own sake-I have been lucky to not take extreme punishment in the 2008 crisis, and even more lucky that I was able to sizably accumulate beginning in the end of 2009 and continued to add significantly to my holdings through the end of 2012. Instead I find myself much more concerned for the general market trend for others, be them my friends and relatives, or the readers of my analyses. When, not if, another major drawdown takes place my greatest personal concern will be "will I be able to bring enough dry-powder to take advantage of it?" As it stands now most of my current savings accumulation is done via 401(k) and an employer sponsored stock plan, so my individual stock moves have been limited in nature for the last two years. I hope to see this go back on the upturn in 2015, if only to replace positions I have had to exit due to cash-flow need. In fact the biggest move I made in 2014 was not very successful, and in fact nearly borderline catastrophic-one which I will recount here not because I was smart or particularly good, but instead I was supremely lucky.
On April 22, 2014 Seeking Alpha published two of my articles - one a list of 5 value-growth stocks I would be accumulating over the near term, the other a list of 5 high-yield stocks I would be accumulating over the same period.
As the below graphs show, all did not go as planned. Berkshire Hathaway (NYSE:BRK.B) and Perrigo Company PLC (NASDAQ:PRGO) finished with S&P500 beating returns out of the Value-Growth stocks while Frontline Ltd. (NYSE:FRO) broke even - and I certainly did not see that coming after FRO's June-December skid.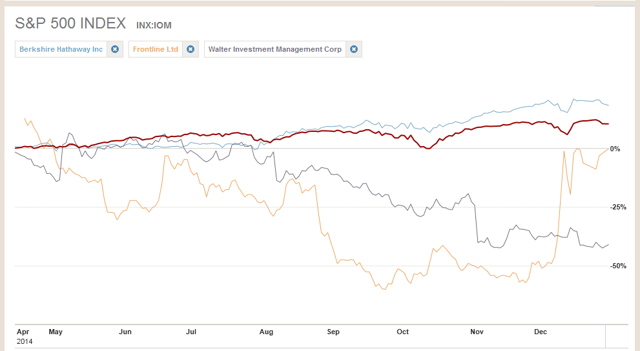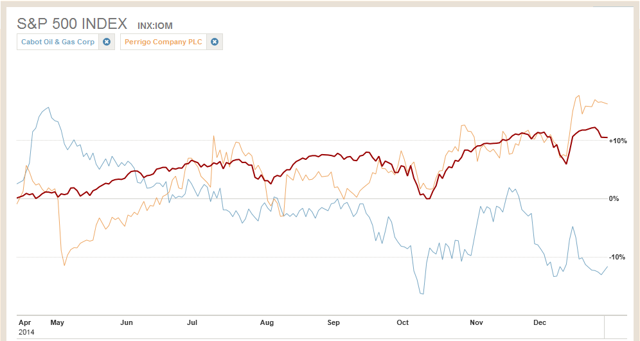 Hard as it is to imagine, the High-Yield stocks did even worse. Only Nordic American Tanker (NYSE:NAT) beat the S&P500 since April 22, and the only other positive return was a modest return on Horizon Technology Finance Corp (NASDAQ:HRZN). Of course, the elephant in the room and which needs examining here is the complete breakdown on Seadrill Ltd. (NYSE:SDRL). In what was one of the biggest battleground stocks of 2014 - the bulls and bears pitched in combat over the safety of the dividend and the risks of the sector at large. I for one threw my hat in on the side of the bulls, and my conviction was such that when my time came to begin accumulating almost a month later, I instead went for the Hail Mary all in on SDRL instead of portioning out the lump sum among all 10 I had watch-listed. Of the 10 stocks I highlighted SDRL was the one that I did not yet have a sizable holding in, and once I made my purchase on May 22 at 36.62, SDRL became my single largest allocated holding. At the end of July I was re-evaluating this holding, if only due to continued dividend concern and the continued crisis in Ukraine.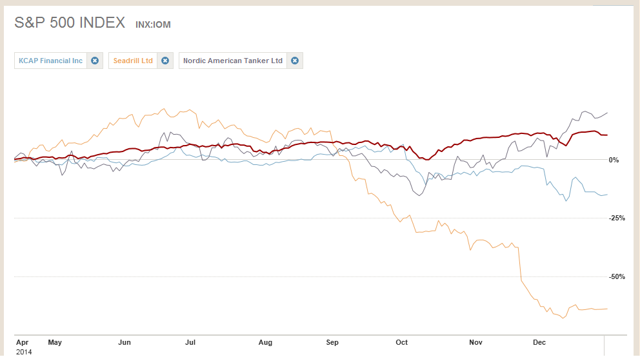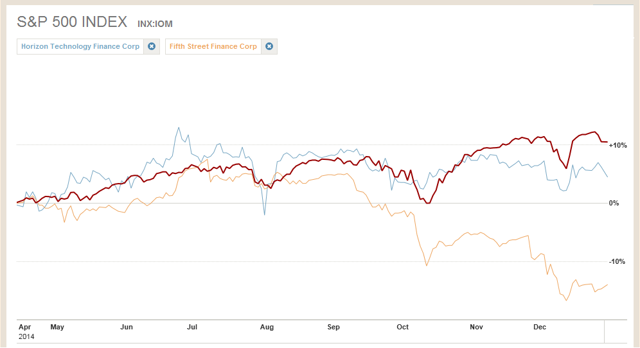 At the time I was distressed because an upcoming financial need predicated that I would need to either liquidate the majority of my SDRL holding, or several other smaller ones, or alternatively finance the need (effectively margining against the SDRL principal). I wrote the article as part of my decision process, and finished writing the article fully of the intent to go ahead with margining despite my desire not to lever my portfolio further than it was already. As it would happen, immediately following my article publication on July 29, 2014, SDRL began a mild skid, which concerned me, then bobbed up and down for the rest of August. At the last minute I changed my mind and rather than levering margin against the SDRL position I liquidated the entire bulk position to address the outside concern, selling August 28, 2014 at 36.90.
In the end it can be just as valuable to be lucky as it is to be smart.
SDRL had become my Wall of Worry literally from the moment I decided to further entrench deeper into the holding at the end of July-checking the price action each day with the thought of "what if this got worse?", "what if my analysis is way wrong?", SDRL had overtaken the rest of my portfolio as my primary daily concern-and this was still a better result at this point than would have been my original intention of spreading the lump sum among 10 holdings and harvest only what was absolutely necessary to make the future known cash-flow need. In fact the only two holdings which would have been market beating at the time of the liquidation would have been SDRL and BRK.B, so I somehow had made one of two best trades possible entirely by chance, and avoided the predicted bloodbath just in time. This rather lengthy trading diary entry is my biggest lesson of 2014, and hopefully it will be of use to others in retrospect.
Aside from SDRL, I did not add any new stocks to my holdings throughout 2014, nor did I make sizable additions to existing positions as I had intended to by mid-year. Overall my capital-at-risk remained relatively neutral as the amount added to my overall portfolio via regular 401(k) and ESP contributions was offset by position reductions (aside from SDRL) to address other needs. This is not an ideal state, and one which I hope to counteract in 2015.
In any case my investment portfolio [excluding 401(k) and ESP] made a money-weighted return of 7.41% this year versus the S&P500 return of 12.35%. Ironically a colleague asked me near the end of November what I would consider a good year-to-year target for my investments and I off-handedly said I think a target of 7% is very modestly attainable. 7% per annum won't get you on the cover of Barron's but it should outpace inflation.
Each year I review all of my holdings, before Q4 results are announced, to see what went well and what might do even better in the year ahead. First off I am going to review my 30 best market-beating holdings for 2014, the lowest of which outperformed the S&P500 by 4.81%, roughly the same amount I underperformed by. As it is the goal of all investors to figure out how to better allocate to winners ahead of time and avoid losers before, well, losing, this is an exercise I find most useful each year and that has had a positive net result for me overall.
For the past four years I have used a metric based approach, further bolstered this year by the addition of 3 new metrics: mPEG, Fair Value arrived at via Discounted Cash Flow (with and without Tangible Book Value included) as calculated by GuruFocus and Intrinsic Value as derived by a proprietary process. The PEG ratio you will see below is taken from the 5-year projected from Yahoo Finance. The mPEG is calculated using the Sure Dividend approach. Dividend yield and Analyst Recommended Mean Score is sourced from Reuters. One thing to further note, the Intrinsic Value process I employed for this article utilizes the latest full year results at this time-since we are so close to the release of Q4 figures, I am holding off on regrading the IVC's until after these numbers are announced and further revisions can be made to the components of this calculation looking forward to 2015 and beyond.
CTB (44.79%)
PEG: 1.45
mPEG: 1.13
Div Yield: 1.20%
Analyst Score: 2.7
DCF: 35.11 (0.04%) / 46.45 (33%)
IVC: 49.30 (41%)
Cooper Tire & Rubber Company (NYSE:CTB) had a run of almost 45% over the course of 2014, despite a significant EPS miss in August. Analysts have been warming up on CTB recently, as the Analyst Score has improved from 3 to 2.7 over the last three months. Zacks Equity Research has named CTB "a top value pick". Ross Capital cites the 2015 industry growth forecast of 5.1% as a major tailwind that will contribute to an earnings growth rate of 8.6% over the next five years.
The current dividend yield would be a hindrance to a DGI investor, but the PEG/mPEG suggest bullish value growth opportunity. The Analyst Score is .2 percent below the waterline as it sits now, but if the trend continues this should be a passable 2.5 soon. Of the three valuation methods applied DCF-Excluding Tangible-Book Value (DCFx) almost hit the current price on the head, whereas DCF-including-TBV (DCFi) suggests 33% upside. The IVC of 49.30 based on 2013 Full Year financials still shows upside despite the 2014 gains. The street consensus on Q4 earnings would complete a full year of EPS growth and this should result in an upward revision to the IVC in turn.
UNP (44.72%)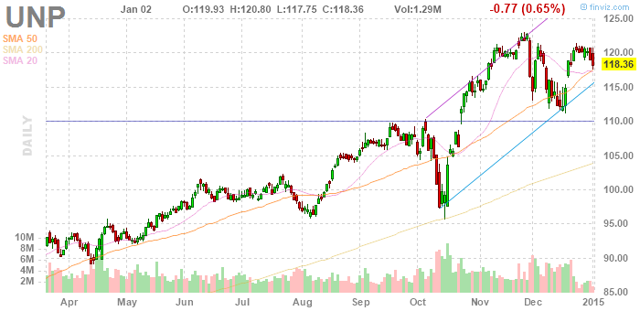 PEG: 1.48
mPEG: 0.85
Div Yield: 1.66%
Analyst Score: 1.9
DCF: 154.30 (28%) / 178.49 (48%)
IVC: 171.90 (42%)
Narrowly missing out on topping this list is Union Pacific Corporation (NYSE:UNP), whose fabulous 2014 would have been even better had the commodity headwind not have hit late in the year. UNP is another victim of its own success in price appreciation, diminishing the current dividend yield. Mitu Anand cites UNP's productivity initiatives as a reason to stay bullish and Abba's Aces agrees. UNP also appears to have been unduly punished by the oil rout as the price decline actually serves as a tax break on profitability.
Ignoring the low dividend yield-which is of less consequence when you have averaged in at a much lower price-UNP remains a winner in all other of the above metrics. The mPEG below 1 is a very bullish signal, and the Analyst Score shows wide consensus on UNP. The valuation metrics are all in agreement that further upside is to be expected and a few analysts have recently been increasing their price targets as well. The October downturn may have been the best time in a while to initiate a position with UNP or add to an existing one, however UNP should remain a solid holding for the foreseeable future and the DCF and IVC tend to indicate enough upside to warrant investing even in this range.
AMAT (44.31%)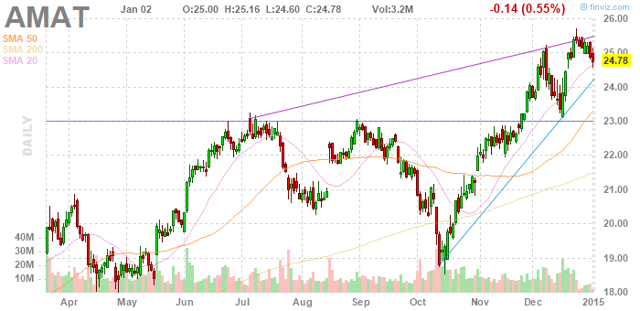 PEG: 1.54
mPEG: 1.38
Div Yield: 1.58%
Analyst Score: 2.0
DCF: 12.83 (-49%) / 15.80 (-38%)
IVC: 15.52 (-39%)
Applied Materials, Inc. (NASDAQ:AMAT) has been cruising on the increasing speed of the chip cycle. Looking ahead at 2015 there are two schools of thought: AMAT is fully priced at current levels or could be headed for 15% further price growth. The more conservative argument conceding %5-10% sector revenue growth but uncertainty in how this will affect stock prices. The more bullish thesis sees large increases in annual free cash flow and dividend yield possible. Valuentum recently placed AMAT's fair value on a range between 18-26, at which AMAT now sits on the upper bound. Jim Cramer recently said, "Applied Materials, KLA-Tencor and Lam are all buys because the capital cycle is really kicking in for the semis."
The top metrics again show a very strong mix, with Analysts almost equally as bullish on AMAT as UNP and a comparable dividend yield. Obviously the bottom valuation metrics disagree-all three pointing to downside, pushing AMAT below the lower side of Valuentum's range. In December an almost 8% increase in short interest brought the total of float to 6.3% which is critical to note. Since the full-year results announcement Deutsche Bank and Stifel Nicolaus have boosted their AMAT price target and Citigroup has reiterated their street-high call of 36, compared to the consensus of 26.73. EPS Guidance for Q1 2015 remains in line with the last three quarters.
INTC (42.55%)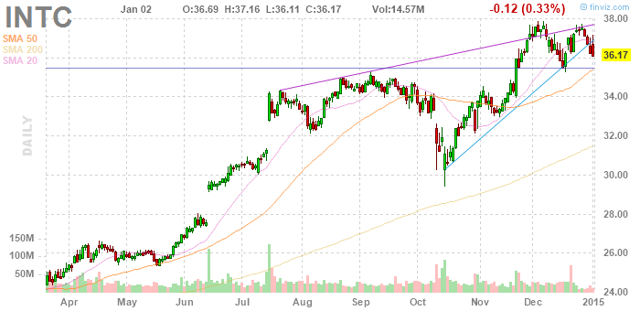 PEG: 1.85
mPEG: 1.39
Div Yield: 2.42%
Analyst Score: 2.7
DCF: 28.66 (-23) / 37.13 (0)
IVC: 52.48 (41%)
Mega-cap blue chip Intel Corporation (NASDAQ:INTC) had a blowout 2014, riding much of the same momentum that was lifting AMAT and KLAC as well. The Intel bulls are in charge, and the Internet-of-Things should continue to be a tailwind for some time. Alan Yang still sees lots of upside and Andre Waldron places a price target of 50, which is only slightly higher that the street high price target of 45 held by Jefferies Group while the street consensus sits at 35.65.
The Analyst Score is not as bullish as I would expect, but the other metrics are very strong, including the almost-3% dividend yield. The DCFi has INTC fully valued, and the DCFx would suggest a possible 20% downside. My own IVC points to a 41% upside to 52.48, higher than even Mr. Waldron and Jefferies Group. I am inclined to think that further boosts to analyst target prices will be coming soon if INTC meets or beats Q4 estimates in mid-January. The anti-trust litigation facing Qualcomm (NASDAQ:QCOM) in China and potentially worldwide may push investors out of QCOM and into INTC, giving a further boost to demand.
AAPL (42.52%)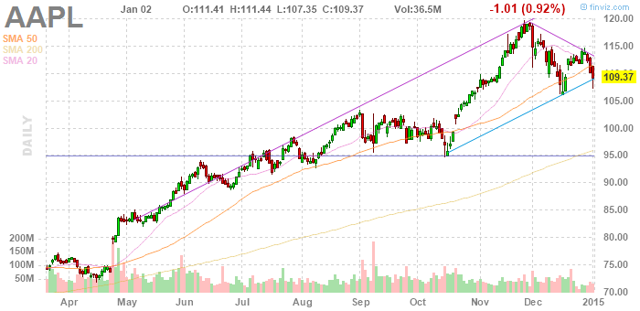 PEG: 1.28
mPEG: 0.61
Div Yield: 1.65%
Analyst Score: 1.9
DCF: 183.05 (60%) / 200.57 (76%)
IVC: 181.44 (59%)
Apple Inc.'s (NASDAQ:AAPL) upcoming Q1 results, to be announced in February, will show the benefit of a full quarter of iPhone6 and 6+ sales, and are expected to blow the doors off of any recent Q1 numbers. My first intention was to highlight analyst firms that had price targets of 125 or more on AAPL, but the list is way too long for it to make sense. Instead, let me list the two firms that have a less than 110 price target: Deutsche Bank and BGC Financial. Pessimism in AAPL's ability to create growth outside of the iPhone lead WestEnd511 to recommend being or remaining short.
It was not so long ago I remember when AAPL's PEG was ~0.60, and the dividend did not yet exist, and the metrics are just as positive now as they were then. Adding in the dividend yield is a further plus. The valuation metrics are consistent in showing a high degree of upside remaining-the IVC is based on FY2014, but with only a few weeks of iPhone 6 sales. The question then becomes-how much are the Q1 2015 results already baked into the price? Alex Cho puts his target price at 173.93.
KLAC (37.54%)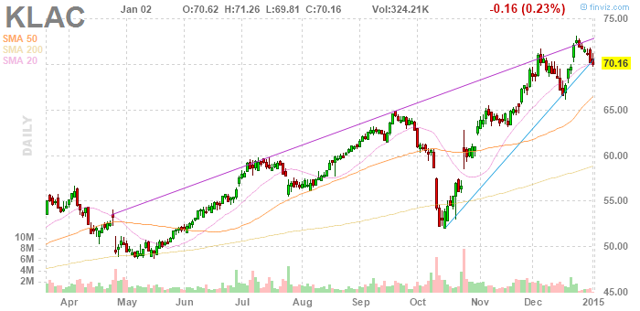 PEG: 1.94
mPEG: 1.25
Div Yield: 2.81%
Analyst Score: 2.6
DCF: 47.79 (-33%) / 67.07 (-6)
IVC: 49.81 (-30%)
Another beneficiary of the chip renaissance, KLA-Tencor Corporation (NASDAQ:KLAC) also had a terrific 2014. Decreasing Return-on-Equity could be a problem. The same recapitalization plan that resulted in the 16.50 special dividend in December caused KLAC to lower guidance for Q2 2015, the next reporting period.
The PEG is near the upper bound, however the mPEG-which takes into account the nice 2.81% dividend yield-is strong and the analyst score just .1 off of passable on its own. What is concerning are the bottom valuation metrics, all three of which suggest KLAC may be over priced where it sits now by as much as 30%. The street does not agree, with a short float of only 4.12% and a target price of 72.93.
FL (35.57%)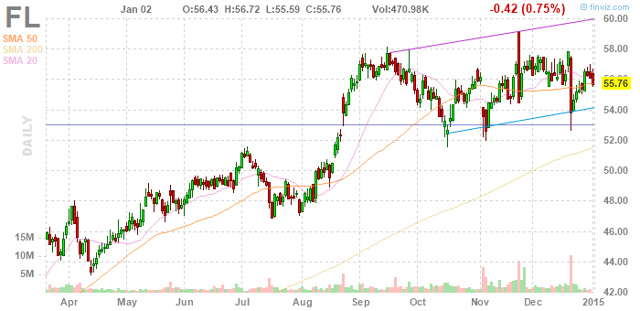 PEG: 1.37
mPEG: 1.25
Div Yield: 1.57%
Analyst Score: 2.0
DCF: 49.71 (-12%) / 66.32 (18%)
IVC: 43.56 (-23%)
Foot Locker, Inc.'s (NYSE:FL) Q4 is expected to increase almost 10% on the same quarter last year, which would complete a year of similar quarter-on-quarter improvements.
Analysts are very positive on FL although this number has been deteriorating recently. The PEG and mPEG are very bullish signals and the DCFi shows 18% potential upside, despite the DCFx and IVC showing potential downside. The IVC will likely be revised significantly when the full-year results are announced in Mid-March so I would discount the IVC reading until then. The street consensus target price is 61, which would be almost a 9% increase from current levels.
ULTA (33.68%)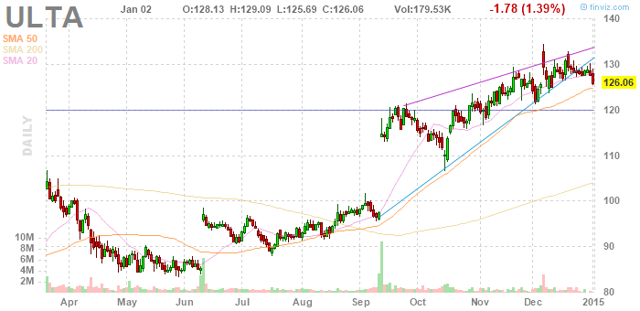 PEG: 1.65
mPEG: N/A
Div yield: N/A
Analyst Score: 2.1
DCF: 54.73 (-58%) / 73.16 (-43%)
IVC: 66.35 (-48%)
ULTA Salon, Cosmetics & Fragrance, Inc. (NASDAQ:ULTA) has guided for Q4 2014 an almost 17% increase on Q4 2013, capping a year of better than 30% price appreciation. Zacks Equity Research thinks there are "plenty of opportunities on the horizon" for future growth. Eric Novinson thinks that while ULTA has a high valuation, it could still go higher.
ULTA is in my portfolio as a purely-growth oriented holding and lacks a dividend and thus the mPEG is non-applicable. The PEG and Analyst score are bullish signals but the DCF's and IVC warrant caution. Depending on how Q4 2014 affects the full-year results, the IVC could be positively impacted but in the interim I would be cautious here.
MGA (33.05%)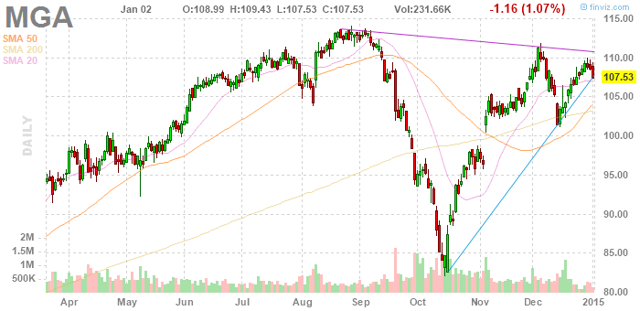 PEG: 0.80
mPEG: 0.94
Div Yield: 1.39%
Analyst Score: 2.4
DCF: 122.43 (12%) / 157.50 (45%)
IVC: 146.63 (35%)
Magna International Inc. (NYSE:MGA) has been the benefactor of the major upturn in the automotive industry. Stock Market Sherpa sees 75% upside with a target price of 178.44. David Zanoni also sees MGA as undervalued and a possible 20% upside.
MGA is another purely growth oriented holding, albeit in this case with a 1.39% dividend yield. Both the PEG and mPEG are strongly bullish signals, and the analyst score is also positive. The bottom valuation metrics are all extremely positive with the DCFx indicating a possible 12% upside, DCFi 45% and the IVC a 35% increase with a price target of 146.63. The street has a consensus target price of 122.50, in line with DCFx.
CELG (32.40%)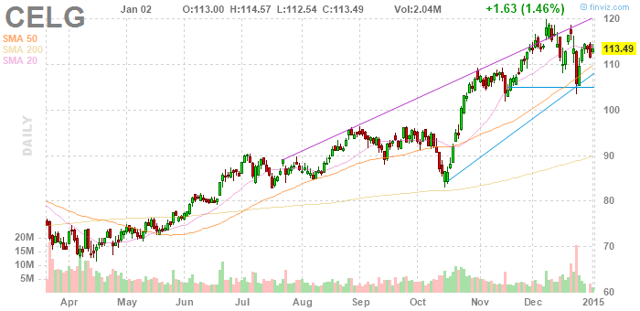 PEG: 1.18
mPEG: N/A
Div Yield: N/A
Analyst Score: 1.7
DCF: 28.17 (-75%) / 27.48 (-76%)
IVC: 34.42 (-70%)
Celgene Corporation (NASDAQ:CELG), a member of the IBD 50, had a strong run in 2014 and the upper metrics support continued strength. CELG projects growth rates that should expand in the mid-to-high 20's for the next three years almost entirely on the drug Revlimid. Stock Market Sherpa sees a target price of almost $140 on EPS growth of 25.60 per year. William Meyers, who accurately predicted CELG rising above the split-adjusted 100 mark, thinks the price is not yet "bubbly" and that the drug pipeline should sufficiently diversify earnings away from being focused almost entirely on Revlimid.
The lower valuation metrics raise some concern, however the IVC should be positively impacted when CELG reports full year results at the end of January. For the last 8 quarters CELG has shown progressive EPS improvement and this is expected to continue into Q4 2014 results. CELG has the strongest analyst score of this list and a consensus target price of 116.68.
LMT (30.96%)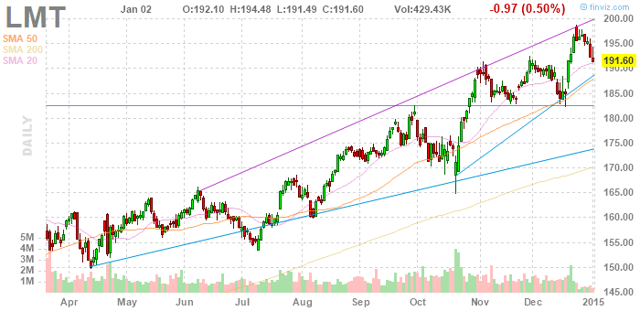 PEG: 1.8
mPEG: 1.22
Div Yield: 3.07%
Analyst Score: 2.5
DCF: 153.68 (-21%) / 134.06 (-31%)
IVC: 195.89 (0)
Lockheed Martin Corporation (NYSE:LMT) had a tremendous 2014 despite Pentagon budget cuts that directly affect EPS. Aristofanis Papadatos thinks that LMT's upside is limited at this time due to the appropriations environment. Stock Market Sherpa thinks that LMT remains the best choice for income investors in the aerospace and defense industry.
The top metrics remain strong for LMT, with a passing +3% dividend, passing Analyst score and strong PEG/mPEG. However the lower valuation metrics indicate caution is due-the DCF's show considerable possible downside while the IVC shows that LMT is fully valued where is sits currently. Later in January when LMT reports full year results the IVC will be adjusted and this should give important insight into which direction LMT is likely to go in 2015.
WBA (31.50%)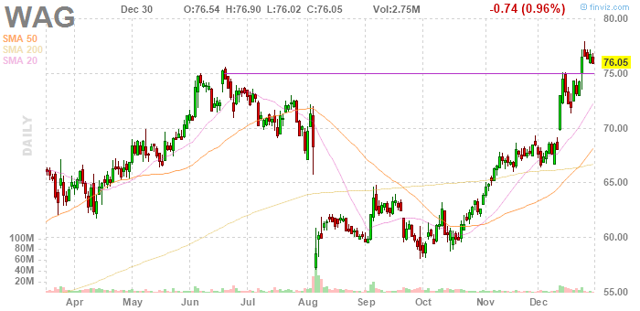 PEG: 1.40
mPEG: 2.79
Div Yield: 1.76%
Analyst Score: 2.4
DCF: 21.95 (-71%) / 41.32 (-46%)
IVC: 34.29 (-55%)
Walgreens Boots Alliance, Inc. (NASDAQ:WBA) had a solid 2014 largely on the back of the announced completed merger with Alliance Boots. While the PEG and Analyst Score are favorable, the mPEG suffered from the low dividend yield and low expected future growth. While WBA may be fully valued at current levels, the lower valuation metrics the possibility for considerable downside. Equity Watch, on the other hand, sees continued sales base growth in the future. What will be most telling is once the full synergies expected from the Alliance Boots merger begin to be reflected in reported earnings, next expected at the end of March. Out performance here would rule out the more pessimistic valuation metrics and bears, confirming the upside predictions my many.
RAI (30.03%)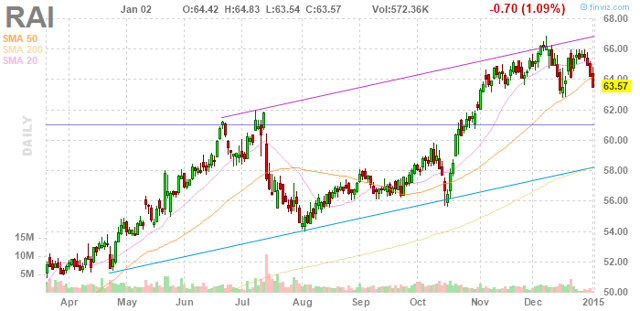 PEG: 2.26
mPEG: 1.67
Div Yield: 4.12%
Analyst Score: 2.0
DCF: 34.52 (-47%) / 24.27 (-63%)
IVC: 26.40 (-59%)
Reynolds American Inc. (NYSE:RAI) was the better performing half of the RAI/LO merger in 2015, rising 30% while making Return-on-Equity of 30%. While the merger with LO could cause risks due to the concentration of risk in menthol flavored cigarettes, the dividend is safe due to steps taken in 2012 to remedy what was then an underwater dividend policy.
The PEG of 2.26 would have been a turn-off previously, but the adjusted mPEG reveals that instead RAI is attractive once the 4.12% dividend yield is taken into account. Analysts are very positive on RAI and RAI boasts a target price of 69. The lower valuation metrics show worrying possible downside, and once RAI reports full year earnings in mid-February we will be able to see how IVC may be adjusted following 2014.
MO (29.15%)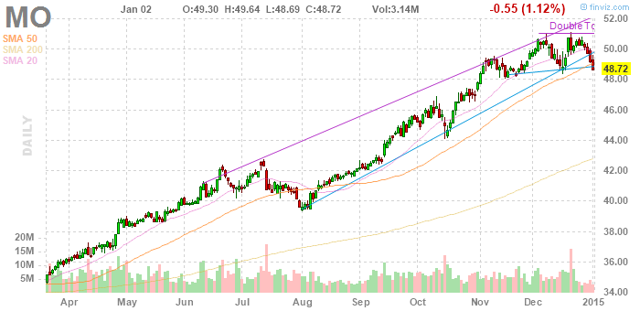 PEG: 2.51
mPEG: 1.25
Div Yield: 4.17%
Analyst Score: 2.4
DCF: 32.16 (-36%) / 25.56 (-49)
IVC: 28.83 (-42%)
Altria Group Inc. (NYSE:MO) in a lot of ways could be considered the mirror twin of RAI, with very similar metrics on the top and bottom-the biggest difference appearing in the mPEG which was positively affected by MO's superior expected growth rate. The reality, however, is that MO remains the dominant company in the tobacco industry, likely even after the RAI/LO tie up, staying ahead of the secular decline in the industry. When MO reports full-year 2014 results at the end of January this may lead to a positive revision of IVC, which currently projects a possible 40% decline from current levels.
CP (27.91%)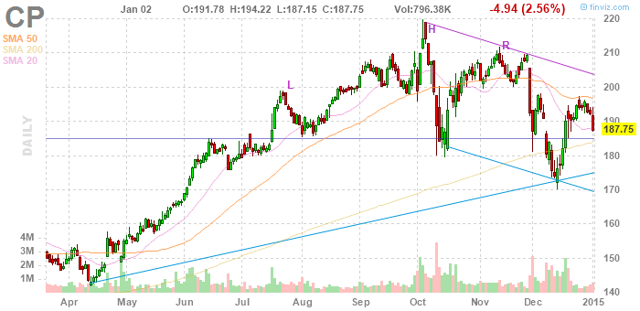 PEG: 1.43
mPEG: 13.88
Div Yield: 0.65%
Analyst Score: 2.1
DCF: 46.97 (-76%) / 83.73 (-57%)
IVC: 79.58 (-59%)
Canadian Pacific Railway Limited (NYSE:CP) is the victim of a sort of metric whipsaw-because the previous 10 years growth rate has not been up to the previous two years, the average affects the DCF's, IVC and mPEG. The mPEG is further hampered by the very low dividend yield, which is itself a victim of the considerable price appreciation that CP has enjoyed since the Bill Ackman led reorganization. Analysts remain very positive on CP and the February release of full year 2014 numbers could lead to a positive revision of IVC. The consensus price target is 245.37, which is another 30% increase from current levels.
BRK.B (26.64%)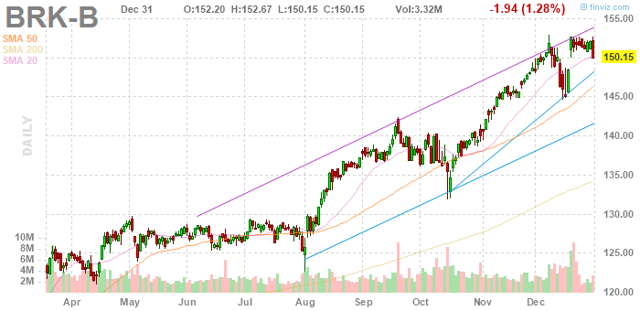 PEG: N/A
mPEG: N/A
Div Yield: N/A
Analyst Score: N/A
DCF: 107.09 (-30%) / 183.67 (21%)
IVC: 252.25 (66%)
Berkshire Hathaway Inc. , the Warren Buffett led conglomerate that includes railroad Burlington Northern, outperformed the S&P500 again in 2014. Metric analysis of BRK.B is not possible in the conventional sense, but applying the DCFi shows a 21% possible upside and the IVC a great deal more possible upside, which could be further revised upward following the March full-year 2014 results release. While it's not very likely that BRK.B to run up into that nose-bleed level soon, the DCFi does seem attainable within the next 12 months.
ANH (26.48%)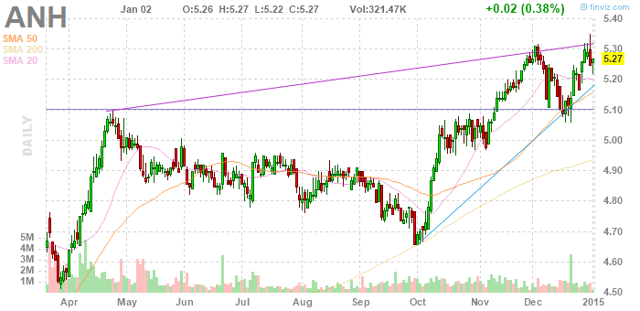 PEG: 2.78
mPEG: 0.57
Div Yield: 10.59%
Analyst Score: 2.8
DCF: 5.31 (0) / 11.51 (118%)
IVC: 16.44 (211%)
Anworth Mortgage Asset Corporation (NYSE:ANH) displays positive metrics for an REIT, especially the mPEG of 0.57 and dividend yield of 10.59%. The Analyst Score is a knock at 2.8, which probably reflects to some degree the uncertainty of what will happen when interest rates begin to rise. The lower valuation metrics indicate that DCF/IVC may not be perfectly equipped to adequately model REIT value-as we shall see later with CYS.
CSX (25.93%)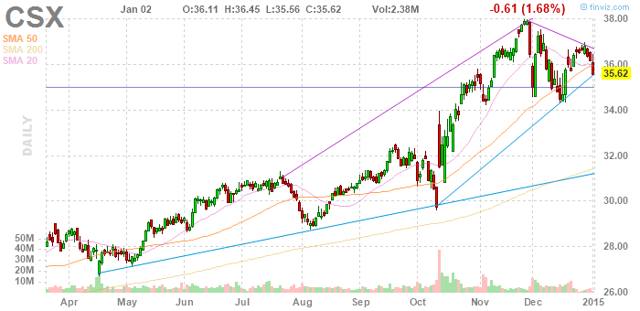 PEG: 1.93
mPEG: 0.81
Div Yield: 1.77%
Analyst Score: 2.4
DCF: 48.33 (33%) / 59.50 (63%)
IVC: 52.86 (45%)
CSX Corp. (NYSE:CSX) had a good 2014, beating back a takeover attempt by Bill Ackman led CP, and sports still positive upper and lower metrics. Full-year 2014 results will be announced in the second full week of January and may result in positive upside addition to IVC. The sub-1 mPEG is a very bullish indicator.
LO (24.19%)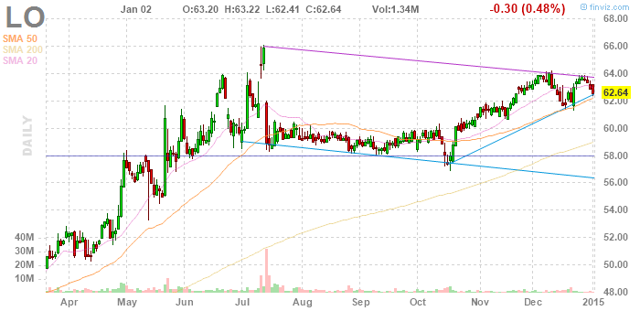 PEG: 2.05
mPEG: 1.16
Div Yield: 3.91%
Analyst Score: 2.7
DCF: 49.59 (-22%) / 43.13 (-32%)
IVC: 45.44 (-28%)
Lorillard, Inc. (NYSE:LO), the other half of the RAI/LO merger, showed more modest gains for 2014 (although starting from a higher base than RAI), and the PEG, mPEG and dividend yield all remain positive signals. The analyst score is not ideal and the DCF and IVC numbers show similar, although not as severe, dangers in comparison to MO and RAI.
MSFT (24.16%)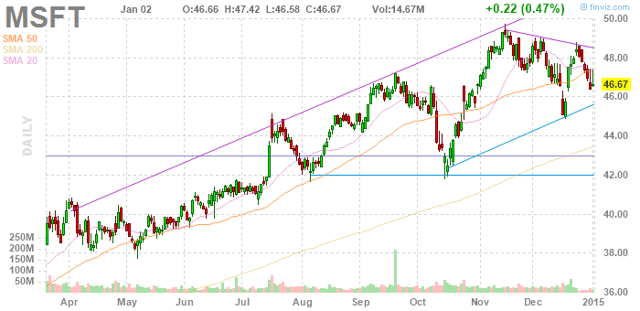 PEG: 2.66
mPEG: 1.14
Div Yield: 2.67%
Analyst Score: 2.5
DCF: 38.36 (-18%) / 46.04 (-2%)
IVC: 51.80 (10%)
Microsoft Corporation's (NASDAQ:MSFT) first year under new-CEO Satya Nadella was a good one for the stock, showing some of the best gains in several years and fully breaking out of the range that MSFT had been stuck in for a while. The IVC indicates there may be 10% further upside from current levels.
SRE (24.06%)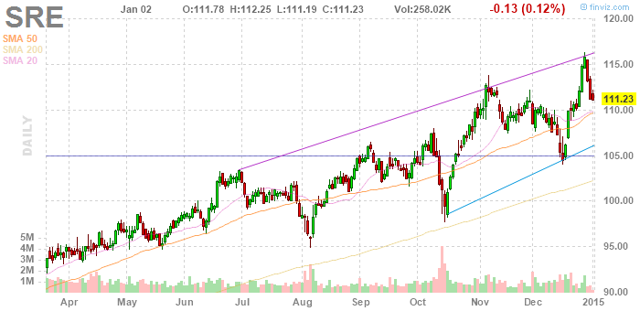 PEG: 3.19
mPEG: 2.24
Div Yield: 2.37%
Analyst Score: 2.1
DCF: 58.98 (-48%) / 99.48 (-12%)
IVC: 84.24 (-26%)
Sempra Energy (NYSE:SRE) has a decent dividend yield and strong analyst score, but a worryingly high mPEG and a certainly disqualifying PEG based on my screening method in previous years. The DCFi indicates a possible 12% downside and the IVC even more, however could be positively affected by the release of full-year 2014 results in early March.
ABBV (23.92%)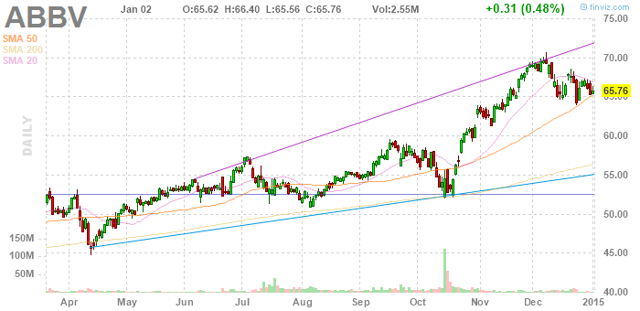 PEG: 1.57
mPEG: 1.17
Div Yield: 3.00%
Analyst Score: 2.1
DCF: 33.93 (-49%) / 32.11 (-52%)
IVC: 41.48 (-37%)
While AbbVie Inc. (NYSE:ABBV) sports very strong upper metrics, the lower metrics could be read as a concern. However I would look instead at the Return-on-Equity as a very strong 77.9% and the possibility for a significant revision to IVC after the announcement of 2014 results at the end of January.
DUK (22.14%)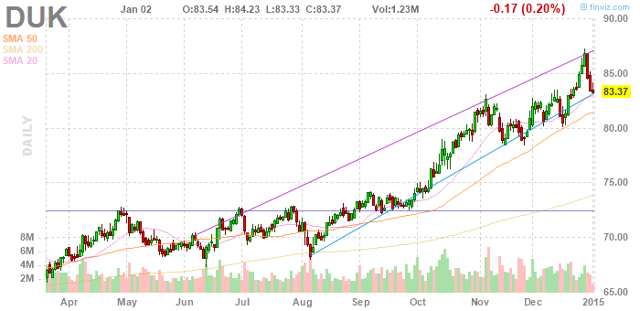 PEG: 3.86
mPEG: 3.89
Div Yield: 3.75%
Analyst Score: 2.6
DCF: 25.11 (-70%) / 60.57 (-28%)
IVC: 72.56 (-14%)
Unless PEG/mPEG were ignored, Duke Energy Corporation (NYSE:DUK) would have a hard time making my screen at this time. The dividend yield is quite strong but the analyst score is lower than my 2.5 threshold. Additionally the DCF and IVC numbers could be a cause for concern, however its very likely that the low forward growth projection effects DUK in the same way as SRE and that this downside could be skewed.
AB (21.04%)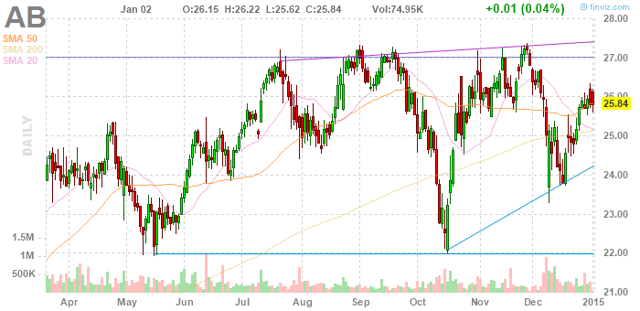 PEG: 2.01
mPEG: 0.76
Div Yield: 6.97%
Analyst Score: 2.5
DCF: 27.88 (7%) / 43.69 (68%)
IVC: 13.23 (-49%)
AllianceBernstein Holding L.P. (NYSE:AB), which would be passing of all the upper level metrics, also shows a great deal of potential upside in the DCFi. It will be interesting to see if the release of 2014 full year numbers will result in a significant revision for IVC.
CNI (20.85%)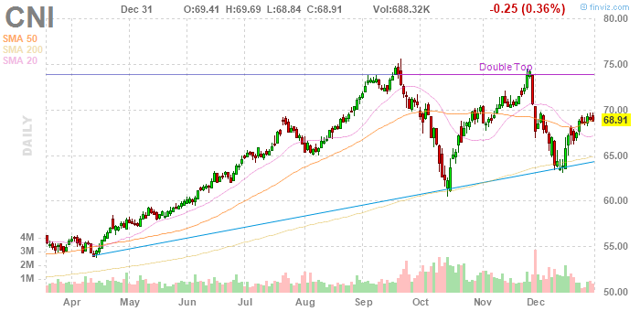 PEG: 1.53
mPEG: 1.38
Div Yield: 1.26%
Analyst Score: 2.6
DCF: 50.38 (-27%) / 63.30 (-8)
IVC: 58.87 (-15%)
Canadian National Railway Company (NYSE:CNI) further proves that the Railroad industry had a good 2014, and the upper metrics suggest this should continue into 2015.
NSC (20.16%)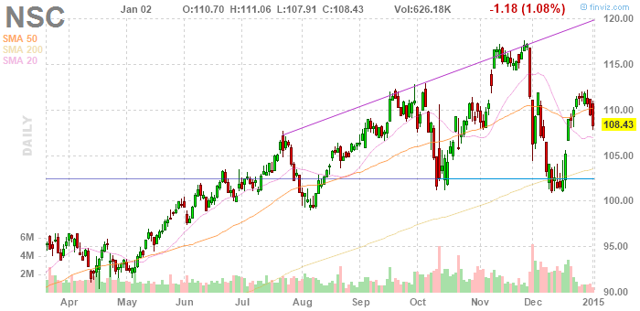 PEG: 1.51
mPEG: 1.38
Div Yield: 2.04%
Analyst Score: 2.4
DCF: 89.75 (-20%) / 129.95 (16%)
IVC: 112.12 (0.3%)
Norfolk Southern Corporation (NYSE:NSC) has recently become the target of CP's attempt at railroad consolidation, and it may not be out of those woods just yet. NSC shows much more favorable metrics in comparison to CP, and the DCFi suggests 16% upside. On a side note KSU is the only railroad I have holdings in that did not make this list this year.
SO (19.46%)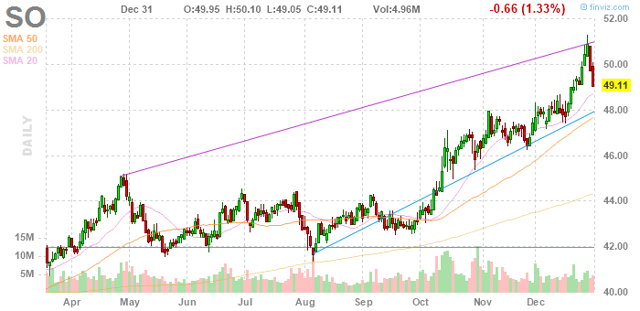 PEG: 5.25
mPEG: 3.18
Div Yield: 4.28%
Analyst Score: 3.3
DCF: 19.63 (-61%) / 41.70 (-16%)
IVC: 86.89 (75%)
Southern Company (NYSE:SO) may be hindered by the same sorts of slow-growth limitations as DUK and SRE, but sports a strong 4.28% dividend. The analyst score of 3.3 would be disqualifying in almost all instances however the 75% IVC upside will be intriguing to keep an eye on.
CYS (19.16%)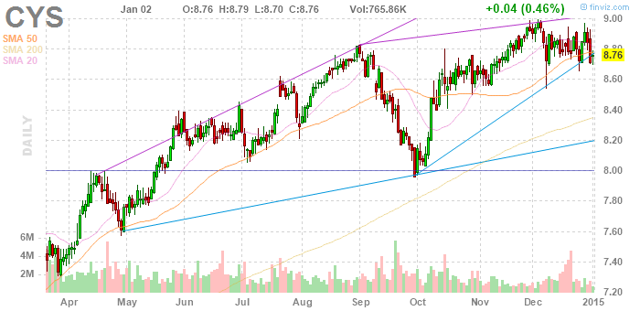 PEG: 3.15
mPEG: 0.30
Div Yield: 13.56%
Analyst Score: 2.2
DCF: 18.44 (108%) / 28.64 (224%)
IVC: 234.87 (2554%)
CYS Investments, Inc. (NYSE:CYS) again demonstrates that REIT valuations may not work very well with the DCF and IVC methods. The mPEG, dividend yield and analyst score on the other hand would suggest there is plenty to like about CYS at these levels.
AZN (18.54%)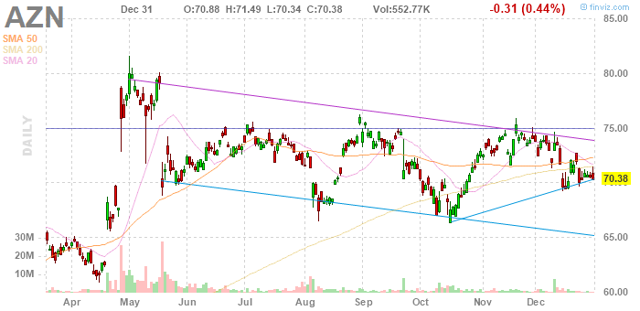 PEG: 15.89
mPEG: 1.71
Div Yield: 2.56%
Analyst Score: 2.5
DCF: 9.97 (-86%) / 1.04 (-98%)
IVC: 65.94 (-7%)
AstraZeneca PLC (NYSE:AZN) is a good example of how big of a difference mPEG can make in evaluating a stock including the dividend yield. Whereas the forward PEG of 15.89 would have most certainly been disqualifying, the 1.71 mPEG would warrant another look. The DCF valuation methods show no love to AZN and even the IVC suggests AZN is fully priced and may be destined for some downside.
KMI (17.53%)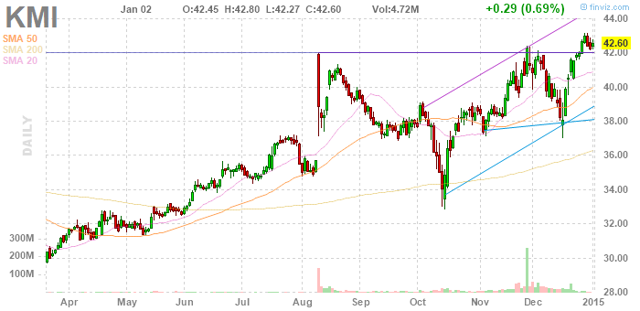 PEG: 3.82
mPEG: 2.32
Div Yield: 4.16%
Analyst Score: 1.8
DCF: 17.70 (-58%) / 3.66 (-91%)
IVC: 24.84 (-42%)
Kinder Morgan, Inc. (NYSE:KMI) is a mixed bag of metrics, with the mPEG being above the disqualification limit but the dividend yield and analyst score make it quite interesting. The full year 2014 results due at the end of January should result in a measurable revision of IVC after the consolidation of the Kinder Morgan group of entities into KMI.
MMM (17.16%)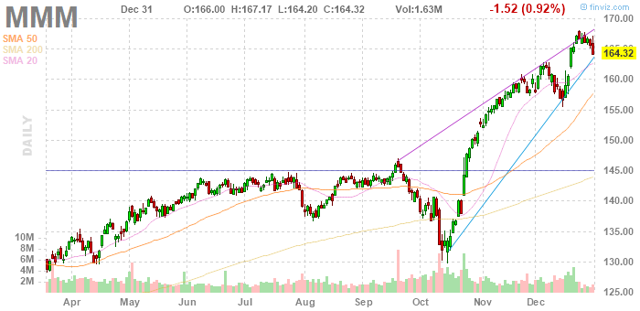 PEG: 1.96
mPEG: 2.57
Div Yield: 2.08%
Analyst Score: 2.6
DCF: 81.67 (-51%) / 93.29 (-44%)
IVC: 85.79 (-48%)
3M Company (NYSE:MMM) had an S&P500 and DJIA beating 2014, but in the metrics the weakness of slow-growth again comes to negatively affect the outlook for MMM.
CONCLUSION
While I am still experimenting with the additions of DCF and IVC to my stock picking method, it does not surprise me that the stocks that appeared at the top of the list showed measurably better upper (PEG/mPEG/Yield/Analyst Score) and lower (DCF/IVC) metrics in general. I am very interested in seeing the full set of revisions go into effect for these and all of the other holdings in my portfolio so that when the time comes to begin allocating funds to new purchases I have the full view of where opportunities exist.
While I agree in principle with the theory that winners continue winning, I know that there could be opportunities to uncover in my holdings which did not have as outstanding of 2014's as the ones above.
Out of the 30 above stocks the following 10 jump out at me as the ones I would be most interested in purchasing as it sits now: UNP,AAPL,MGA,BRK.B,CTB,CSX,INTC,AB,CYS,ANH.
Disclosure: The author is long BRK.B, PRGO, FRO, NAT, HRZN, CTB, UNP, AMAT, INTC, AAPL, KLAC, FL, ULTA, MGA, CELG, LMT, WBA, RAI, MO, CP, ANH, CSX, LO, MSFT, SRE, ABBV, DUK, AB, CNI, NSC, SO, CYS, AZN, KMI, MMM.
The author wrote this article themselves, and it expresses their own opinions. The author is not receiving compensation for it (other than from Seeking Alpha). The author has no business relationship with any company whose stock is mentioned in this article.