In this article, we will provide you with financial fundamental analysis of fast/casual dining companies on U.S. stock exchanges. For each company, we have provided price targets, buy/sell/hold ratings, buy/sell ranges and theses. Additionally, using a multitude of financial analytical ratios and comparisons, we have given each company a score on growth, profitability, financial health, value and management indices to compare each company and see where companies excel and where they have weaknesses.
Click to enlarge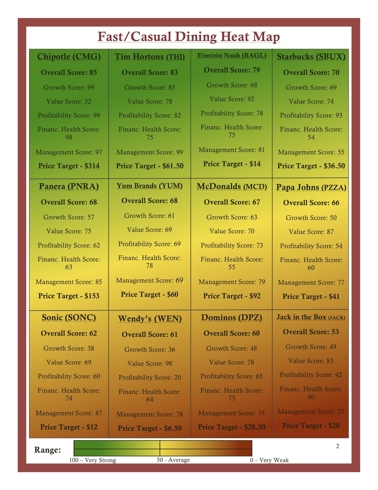 Company Profiles -

Chipotle Mexican Grill (CMG) -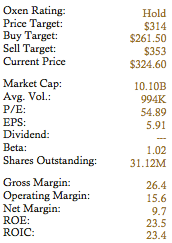 Chipotle has had a meteoric rise in the past five years given its success in the casual fast dining arena that can combine speed with quality food. The company's recent breach of $300 was a milestone, and the stock is not overvalued by much according to our prospects for the company.
We see CMG having around 75% growth in revenue and operating income with the company dropping margins slightly into the future.
The problem for any dining institution is severe competition and lack of economic moats. But CMG has seemed to create a small, economic moat around its brand-name, ease of ordering and quality ingredients that allow it to appear healthier than some ofthe fast food competition. Rising competition in this arena is occurring, but to this point, it still has not eaten into CMG's continued growth rates.
Additionally, CMG only operates just north of 1,000 restaurants in the U.S., Canada and United Kingdom. This number compares to the 32,000-plus locations of McDonald's. The ability for geographical growth within the U.S. and into other countries is another significant source of revenue for CMG.
We believe the meteoric rise in price for CMG is closing, but the company could continue much higher if it can have success in foreign markets and increase margins even further.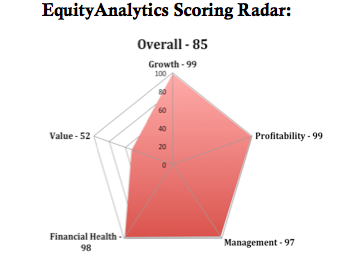 Domino's Pizza (DPZ) -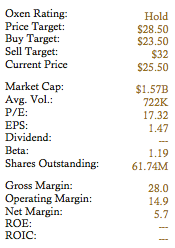 Over the past couple of years, Domino's has attempted to reinvent itself from its cheapest option in delivery pizza with higher quality food and advertising focusing on previous failures. Despite this campaign, Domino's does not seem to be a great investment at this time. The stock has very low growth that should not improve past 3% per year on revenue with stagnant margins and stiff competition.
The company gets a major knock in its management score that comes in at the lowest number among the companies researched. The company does not report key statistics on Return on Equity and Return on Invested Capital. Further, insiders hold less than 1% of outstanding shares and have been selling shares over the past 48 months at alarming rates ($0 bought, over $73M sold).
The company has literally no economic moat, and we prefer its competitor, Papa John's (PZZA) as it seems to have more upside from its current price. The company is probably not going south anytime soon, and it is definitely grabbing market share with its marketing strategies ... but we see this as a two-horse race for a similar pool of money.
The company does have pretty good financial health with low debt and good free cash flow, but we do not see the growth and profitability improvements to believe that there are not better options in the fast/casual dining space.
Jack in the Box (JACK) -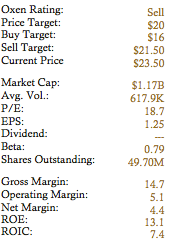 Jack in the Box (JACK) is our only sell-rated company in the sector. Despite a comeback in the economy, JACK is still continuing to see weakening sales and declining income levels. The company's menu revamp and image overhaul seems to still be having problems gaining traction.
The bright spot for JACK was the smart acquisition of Qdoba Mexican Grill that is a direct competitor of CMG. The company has seen strong growth and profitability, while JACK's mainline business still suffers.
The company has attempted to enfranchise businesses to help bring up margins and reduce costs, but this has also not helped significantly as well.
The company has very low Management, Financial Health and Profitability scores. The company has very weak YoY margins with an over 40% drop in operating margin and ROE and over 30% drop in net margin, ROA and ROIC.
Management scores are low due to dropping cash conversion cycle growth at 70% in the past five year, dropping net income per employee, and 54% more shares sold than bought in the past 48 months.
Finally, the company has weak FCF that continues to weaken and this is needed to pay off rising debt levels. Overall, JACK is in a tight, weakening spot.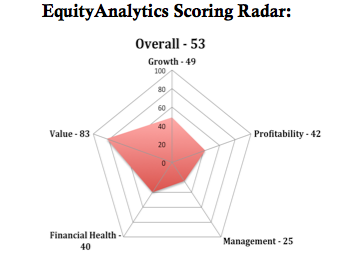 McDonald's (MCD) -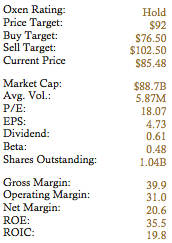 McDonald's has built one of the most iconic franchises over the past 50 years and continues to thrive despite economic headwinds, competition and challenging environments. The company has done an amazing job improving operating margin over the past five years.
That margin may be not able to improve much from these levels moving forward, but the company should see an increase in ROIC and around 25% increase in revenue in the next five years.
The company is a great holding in your portfolio due to upside in the price along with a top-notch dividend at 0.61 per share owned. This is a stock that will continue to slowly add value while paying you to own the stock.
The company continues to expand globally, which should continue to allow for more organic growth. Yet, we do see the company having some weakness with financial health compared to its peers. The company has seen an over 250% decrease in its cash conversion cycle. Additionally, the company has a nearly 50% increase in net debt in the past five years.
McDonald's is a great investment that will allow your portfolio to have a safe, solid return with a nice dividend. We see the company as an even better investment on a small pullback below $80.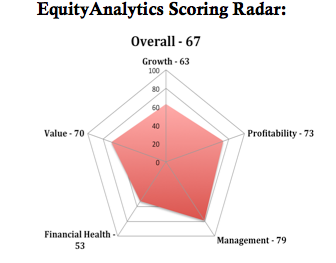 Panera Bread (PNRA) -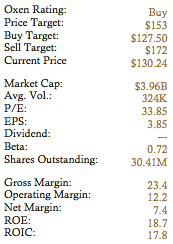 Panera is one of our favorite buys in the Fast/Casual Dining industry. We believe the company has 12-month upside of 15-20% from its current price, and that this is a company that can explode even higher in the future.
One of the reasons we are fond of Panera for its solid balance sheet, heavy amounts of free cash flow, and ability to continue to develop during some of the toughest economic times in the past 50 years for the restaurant business.
The company has improved inventory turnover over the past five years by a whopping nearly 100%. It has increased net income per employee by nearly 30% in the past five years. It continues to innovate the menu past bread and bagels. The company, further, continues to develop market share despite the fact that the competition is heavy and consumers remain strapped to spend.
One area where we would like to see improvement is in the company's margins and profitability. The company could increase profitability by around 300 basis points, and that would make it even more attractive.
Overall, Panera has attractive growth levels, lots of expansion potential, and it continues to improve profitability. The market will pay a lot for growth in this low-growth industry, which gives PNRA an advantage.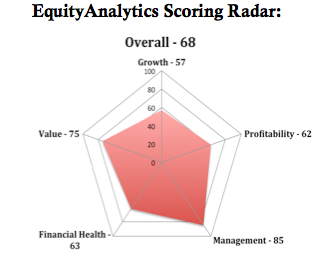 Sonic (SONC) -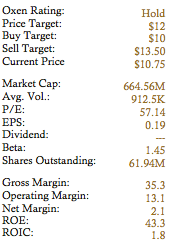 Sonic has one of the most unique fast food offerings in the industry with its carhop delivery and unique menu offerings. The company continues to be pressured by the tough economic times. The company continues to have low profitability standards with a net margin around 2% and an ROIC at 2%.
The company has a limited to non-existent economic moat, and it still needs to expand and create brand awareness. We see limited upside over the next 12 months for growth and just around 13% growth in the next five years in sales.
The company missed out on an opportunity during the recession to create cheaper menu offerings and had pricing problems.
The company should be able to start to see growth again in sales in 2012, but it will still be limited. The company has tough competition and a limited economic moat that is hurt by economic headwinds. Yet, in a healthy economic environment, SONC may be able to leverage its unique offerings into a better moat.
Additionally, the company sits in between a fast food restaurant and the quality of a casual dining restaurant like Chipotle or Panera.
We need to see something more consistent and profitable from the company to like it more.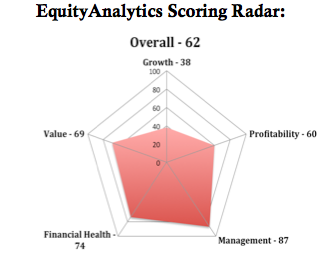 Starbucks (SBUX) -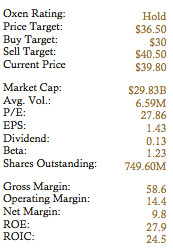 Starbucks has been able to transform the coffee industry over the past 15 years, and after trouble over the past several years, the company is starting to see some of its best years and best profitability levels, which is shocking considering the increases in coffee prices seen as of lately.
We see value as most likely limited from current levels with a lot of growth priced into the stock given its inflated P/E level and even inflated future P/E level around 22.
The company scored poorly in management and financial health that definitely cause us to be cautious toward SBUX despite the fact that the company has performed well as of late. Some of the issues we see with SBUX are that it has seen a significant increase of SG&A over revenue over the past five years with SG&A doubling over revenue. The insiders as well have been selling shares at alarming rates.
Additionally, we are worried about the company's financial health. It has seen over 300% drops in equity/debt ratios as well as working capital. Additionally, over the past five years, net debt has increased by over 160%. YoY things have improved, and if the company can unload debt and continue to improve its FCF margins, we would be less worried.
Overall, SBUX seems to be pricing in most of its growth prospects currently.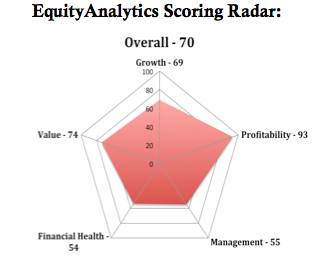 Tim Hortons (THI) -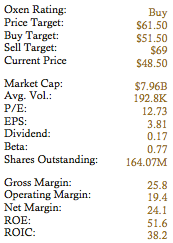 Tim Hortons will most likely be our first addition to our Extended Value Portfolio due to the upside potential for THI along with its dividend offering that allows the company to have a much safer approach to the fast/casual dining industry.
Tim Hortons is the king of coffee and doughnuts in Canada with solid penetration into the U.S. What is really attractive about THI is that the company is seeing great growth that is complemented with top-notch profitability and a great balance sheet.
The company has a better net margin than operating margin, but these levels continue to improve. In the last year, it has seen net margin, ROA, ROE and ROIC improve over 80%. The company has seen its net margin, ROA and ROIC improve by 60% or more.
The company was our top scorer in management as well due to its 228% growth in net income per employee over the past five years. Additionally, the company has seen a 200% increase in revenue over SG&A increases.
Overall, THI is a top-notch company that has tons of potential. It has a low P/E ratio with good growth prospects as it continues to expand in the U.S.
Pick up THI for your long-term holdings.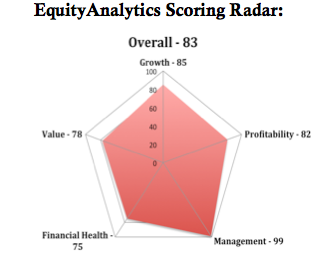 Wendy's Co. (WEN) -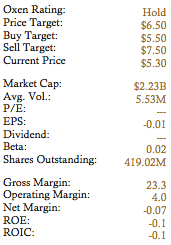 Wendy's is probably one of the toughest companies to gauge in the fast dining arena. The company is fresh off its sale of Arby's, and that sale decreases revenue and income for the company. At the same time, it allows Wendy's to refocus its attention on its own company line.
Yet the company is going to see dropping revenue over the next couple years, which does hurt its stock's value in the short-term.
The company has noticed that it has not had a turnaround like its counterparts after the recession, which has led to the sale of Arby's, worry of lack of an economic moat, and management claiming it will undergo a severe turnaround process for the company. The market, thus, has given very little love to the stock. The company has awful profitability, low growth, and the future seems unclear.
We do think that if the company can turnaround the business and start to move back in the right direction it represents value. We believe it can start to improve on revenue by 2013 at least and should have the ability to improve margins.
The sale of Arby's gives the company some working capital and allows it to use that for investments into its own line, but the lack of moat is concerning.
This is definitely a tough time for Wendy's and can be a make or break time for the company. We are not sure which it will be.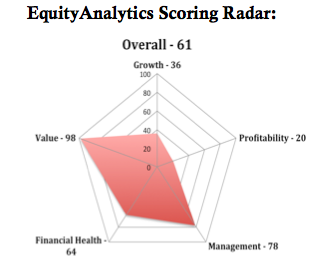 Yum! Brands (YUM) -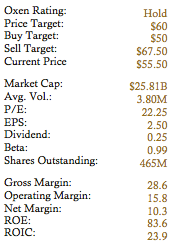 Yum Brands has rebounded well from the recession, and the company has a well-diversified portfolio of companies with KFC, Taco Bell and Pizza Hut. The company has top market position with Taco Bell and KFC along with a minute economic moat that seems intact given their dominant market share in these two fast dining sectors.
Additionally, the company has a good deal of prospects internationally with significant growth capabilities in China and abroad. These prospects mean that the company can develop revenue by at least 20% in the next five years.
We also like the company's profitability prospects with good five-year improvement on all margins. However, it will probably see a drop in ROE and ROIC as those have reached peak levels this year.
YUM, though, seems pretty fairly valued at this time. It has a P/E ratio a bit above average with future P/E at 17 that is pretty fair as well. Upside is limited for the stock from these levels, but if we see a pullback to $50, it could be a buying point.
Taco Bell may be the brightest spot of the entire lineup for the company as it has good future prospects abroad and is being well accepted internationally.
YUM is a good hold with a solid moat, good dividend, and good potential for future growth.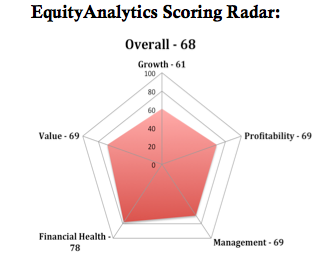 Disclosure: I have no positions in any stocks mentioned, but may initiate a long position in MCD, PNRA, THI over the next 72 hours.