Like IPOs, freshly launched ETFs receive prodigious praise out of the trading gate. And like many IPOs, many struggle to live up to the hype.
Consider the First Trust Cloud Computing Fund (NASDAQ:SKYY). After nine trading sessions, SKYY currently rests at its lowest close since its July 6 debut. And that's after an enormous amount of positive press.
In reality, I am not bad-mouthing SKYY. How could I ... we're talking about a period that is less than two weeks. What's more, this fund will probably keep track with a personal First Trust favorite of mine - First Trust Internet (NYSEARCA:FDN).
Nevertheless, the downs and ups (and more downs) for exchange-traded newbies led me to ponder the current 52-week low list. Why is it that so many "catchy" ideas tend to plummet in value?
3 Relatively New ETFs With More Volatility Than Reward
Approx % Below 52-Week
Market Vectors Solar Energy (NYSEARCA:KWT)
-34.8%
Guggenheim Shipping (NYSEARCA:SEA)
-25.6%
First Trust NASDAQ SmartPhone (SKYY)
-15.3%
1. Market Vectors Solar Energy (KWT): Launched In April 2008 with an enormous amount of fanfare, some investors viewed the commodity boom as an opportunity to cash in on the coming green revolution. In fact, solar was one of the more popular components of energy alternatives that the Obama administration chose to subsidize.
Yet, rather than recover its 2008 highs the way the Nasdaq itself has been able to do - solar is hitting new 52-week lows. In fact, KWT is closing in on the bear market lows of March, 2009. Equally disturbing, KWT's 50-day trendline has been below its 200-day trendline since June of this year.
Click to enlarge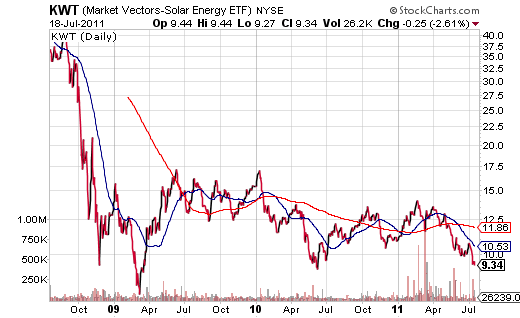 2. Guggenheim Shipping ETF (SEA): Claymore launched the Claymore Shipping ETF in August 2008. Talk about maritime disasters. From the get-go, SEA had lost close to 80% of its value.
However, when Guggenheim acquired Claymore in late 2009, "the powers-that-be" originally planned to kill the low-volume loser. Then came a relaunch in June of 2010, owed in part to the belief that a pick-up in global commodity demand had to coincide with the shipping of dry bulk materials.
That may have been the theory, anyway. Not only did SEA fail in its first reiteration, but its second iteration appears to be floundering a bit as well. The bearish -25.6% fall from 52-week grace will require a 34.4% gain to recover lost principal. What's more, scores of shipping-related tickers - Baltic Trading (NYSE:BALT), Navios Maritime Acquisition (NYSE:NNA), Scorpio Tankers (NYSE:STNG) - also litter the NYSE 52-Week Lows List.
Click to enlarge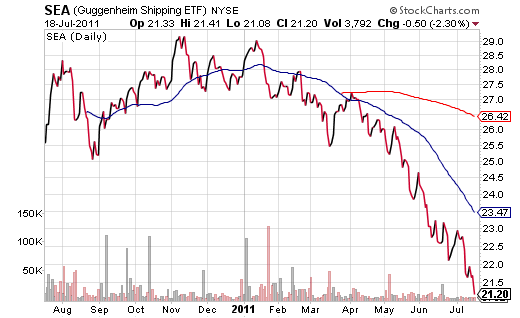 3. First Trust NASDAQ Smart Phone ETF (NASDAQ:FONE): On February 18, 2011, First Trust decided to cash in on a worldwide phenomenon. After all, smart phone usage is growing by bounds and leaps across the globe. Nevertheless, just five months later, FONE has given up -15.3%, requiring an 18.1% gain to break even.
One's first thought? Well, perhaps tech stocks received a licking in the period. Think again. The Nasdaq 100 proxy, Powershares QQQ (NASDAQ:QQQ), is virtually flat in the same timeframe.
Click to enlarge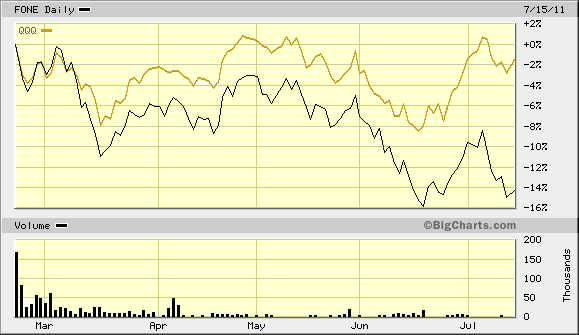 Disclosure: Gary Gordon, MS, CFP is the president of Pacific Park Financial, Inc., a Registered Investment Adviser with the SEC. Gary Gordon, Pacific Park Financial, Inc, and/or its clients may hold positions in the ETFs, mutual funds, and/or any investment asset mentioned above. The commentary does not constitute individualized investment advice. The opinions offered herein are not personalized recommendations to buy, sell or hold securities. At times, issuers of exchange-traded products compensate Pacific Park Financial, Inc. or its subsidiaries for advertising at the ETF Expert web site. ETF Expert content is created independently of any advertising relationships.