I am pleased to say that one of my three contrarian picks recently made a friend of mine some good money. He purchased some shares after reading my first article and was very happy when Mr. Icahn disclosed a 9.5% stake in Oshkosh (NYSE:OSK) on June 30th, propelling the shares up 14% ... another example of the market's respect for Icahn's brand of shareholder activism.

I find myself continually admiring Icahn's method and after reading this article, I knew what I had to do.

The next few years will prove very interesting for the pharmacuetical giants. They've had a relatively easy ride to this point, but decreasing patent protection and increasing regulatory demands are making it much more costly to get drugs to market. The market has been right to discount these companies, but the question becomes has it been overdone? Enough has been written on the critical patent expirations that many of these companies face in the next few years, so I will not discuss it further, but for those who need to catch up, I suggest this article.

Instead of the obvious negative downtrend that this article highlighted, I took away a positive: Eli Lilly (NYSE:LLY) and AstraZeneca (NYSE:AZN) aren't expected to diverge from the crowd (in terms of revenues lost) until 2014. So either the market is being "uber-rational" by pricing revenue loss three years out, or is again being irrational by discounting the value of these company's pipelines. As a value investor, I tend to agree with the latter.

As Mr. Icahn states in the article, he looks for companies that have a lot of cash as a percentage of their market cap. Pretty explicit there. He also clearly looks for companies the market has punished or overlooked, so for this I decided to compare performance since the market lows of 2009. Also, when investment bankers look to do merger models to estimate an appropriate price for an acquisition, one commonly used method is to estimate an appropriate EV/EBITDA multiple compared to the industry average. Using these three criteria, we can get a pretty good window into likely takeover targets, or companies that Mr. Icahn may be interested in pursuing. Below are the results.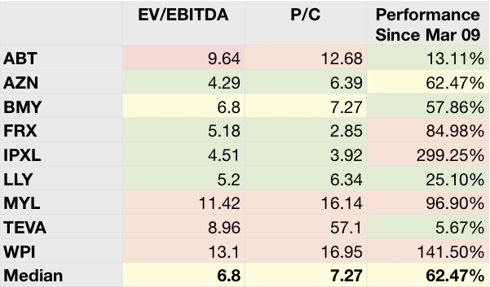 To my knowledge, Mr. Icahn has held or currently holds positions in Amgen (NASDAQ:AMGN), Forest Laboratories (NYSE:FRX), Biogen Idec (NASDAQ:BIIB), Amylin (AMLN), Regeneron (RGN) and Enzon (NASDAQ:ENZN). There may be more but even that list is significant. This analysis shows that he would be justified in adding to his positions in Forest Laboratories (FRX), but perhaps would be wise to initiate a position in Eli Lilly.

To be fair, the generics - Mylan (NASDAQ:MYL), Teva (NYSE:TEVA) and Watson (WPI) - are a different breed and are in fact poised to profit from the impending "patent cliff." However, they don't present the same value as Lilly.
It currently yields over 5% - not quite as much as AZN, but offers a much greater margin of safety.
Has a fantastic free cash flow history. I hate to piggyback the work of others, but Mr. Psaras' "Mycroft" system clearly demonstrates this. Please read more here, I strongly believe in the work he is doing. LLY currently trades at $38 a share versus his buy price of $51.35, which makes this is a deep value.
Of the big pharmas facing the patent cliff, Eli Lilly management is the least reactionary and is continuing to drive research as seen by its comparatively high R&D as a percentage of sales.
Emerging markets exposure: In 2010, Eli Lilly had the fastest growing revenue (at 13%) among the top 10 multinational pharmaceutical companies across: China, Turkey, Korea, Brazil and Mexico. It has doubled its sales force in China in the past two years.
Diabetes is unfortunately a growing problem. It is most prominent in the United States, where it is the fifth leading cause of death. Approximately 285 million adults globally and over 24 million people in the U.S. are affected by diabetes. Eli Lilly is in a good position to take advantage of this with multiple diabetes products as well as diabetes products in their pipeline.

The company has a rich history and strong management. Patient investors with thick skin should see above average returns in the next few years.

Disclosure: I have no positions in any stocks mentioned, but may initiate a long position in LLY over the next 72 hours.

Additional disclosure: The views given are solely my own and not representative of any employer, past or present.