After almost five years of stability, oil (NYSEARCA:USO) prices have dropped considerably. Since June 2014, when it was at $115 per barrel, the price of oil fell by more than 50%. Today, it is below $50 per barrel. However, I Know First algorithm does not believe this price level will hold for long.
Figure 1: End-of-Day Crude Oil Futures Price Quotes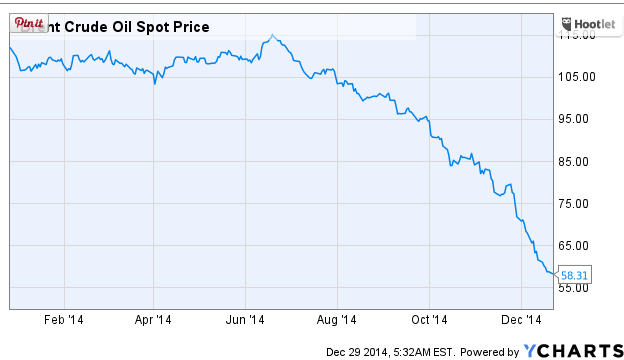 Several factors have affected oil prices this year. For one, demand is low because of weak economic activity. As simple as it may sound, oil prices react to worldwide supply and demand. Demand has clearly decreased over the past few months as the economies of China, Japan and Western Europe -- three main oil consumers -- all appear to be weakening. Oil demand stagnates when economic growth halts. In addition, even though the U.S. is still the world's largest consumer, increasing demand for fuel-efficient cars and a growing desire to move away from oil to other more ecological fuels have slowed down demand growth.
United States has also become the world's largest oil producer. Even though it does not export crude oil, it now imports much less, creating a worldwide supply surplus. Surging U.S. supply, along with additional supplies from Canada, has caused oil prices to decrease more than most oil exporters had anticipated. Since 2008, U.S. oil production has increased 80% to 9 million barrels daily.
The main reason, however, for the decline of oil price is OPEC's decision not to curb supply. At their annual meeting on Nov. 27, OPEC, which controls about 40% of the world oil market, decided to maintain the current levels of oil production. The Saudis and their Gulf allies have decided not to sacrifice their own market share to restore the price. The oil cartel chose to allow the market to correct itself, sending oil prices tumbling. Without OPEC to defend prices, oil entered a free-fall.
I Know First is a financial services firm that utilizes an advanced algorithm based on artificial intelligence and machine learning to predict market performance for over 2,000 markets including stock forecasts, world indices, commodities, interest rates, ETFs, and currencies. The system follows the flow of money from one market into another.
Below is the algorithm's prediction made on Nov. 27, 2014, for I Know First clients, preceding the OPEC announcement:
Figure 2: Original Forecast Table -- Nov. 27, 2014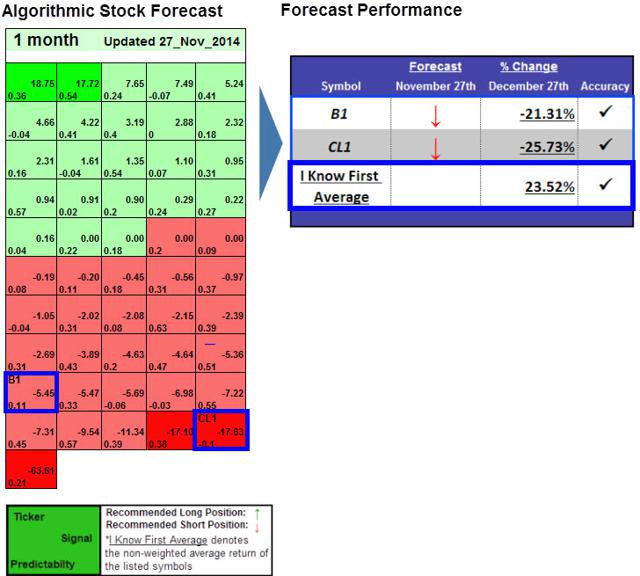 The above forecast is for a one-month time horizon. On Nov. 27, 2014, crude oil futures (NYMEX) had signal strength of -17.63, meaning the price was predicted to strongly decrease. In accordance with the algorithm, the price of oil decreased 25.73% over the time period.
Also, due to the recent events, oil market has been bearish for the last couple of months. We correctly predicted that the decline would happen, giving ICE brent crude oil futures (B1) signal strength of -40.41 and a predictability indicator of -0.09 over a three-month period. Once again, as we can see in the table below, the algorithm was correct, as the price of oil decreased 38.71% in accordance with the algorithm.
Figure 3: Original Commodity Forecast Table -- Sept. 28, 2014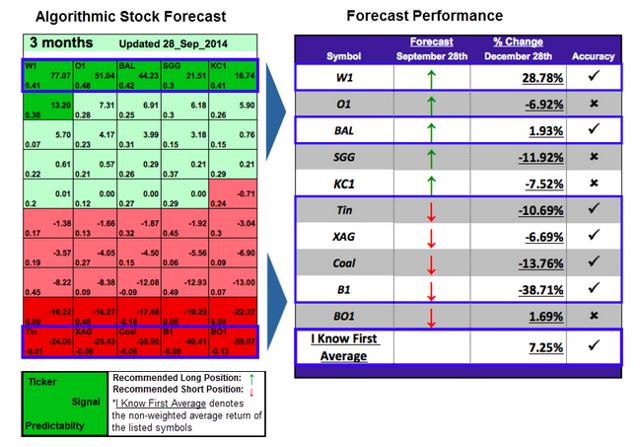 Consequences of Oil Price's Decline
Lower fuel costs should have a positive impact on personal income and economic growth, serving as a stimulus for consumers. However, it is a stress for oil producers that have been suffering since the oil plunge. Falling oil prices could announce the end of the shale boom as American producers already plan on decreasing oil production for 2015 and beyond. Exxon Mobil (NYSE:XOM) and Chevron (NYSE:CVX) have lost around 6% each in share value since June 2014. Earlier this month, some oil companies said they would rethink their plans if the oil price stays bellow $80 per barrel for a few months. Others have already taken a step back and cut down some of their 2015 plans.
Apart from Saudi Arabia and the Arabian Peninsula, the oil-exporting countries require a price of $100 per barrel to finance their 2015 budget. The situation is currently tense in Venezuela, which is heading into a recession for 2015. The drop in oil price has increased instability and the chance of default. Iran, for whom the black gold remains the primary source of foreign exchange earnings, will also face a deficit of oil revenues in the range of 8 to 10%. That's because before OPEC's decision, its budget was set to a price per barrel forecast of $131 while today it has been set to a price per barrel of $72. Nevertheless, they don't plan on cutting oil production. Tension in Nigeria will arise as oil represents 83% of exports and 70% of government revenues.
Russia, which had also set its budget forecasts at $107 a barrel, is losing from an economic point of view, but also politically as some believe the United States appears happy to keep prices low in order to weaken Moscow. This along with sanctions due to Russia's turmoil with Ukraine will cause Western European exports to Russia of automobiles, luxury goods, and other discretionary items to suffer. Russia has publicly announced that it will enter into a recession in 2015.
Figure 4: Main Oil Producers and Their Fiscal Breakeven Points for 2015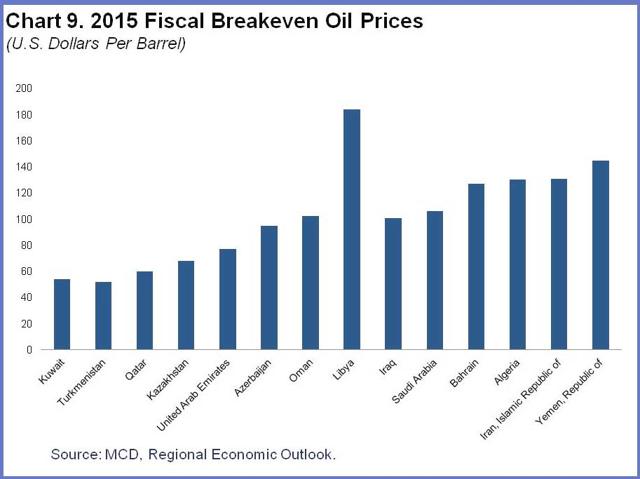 Source: IMF.
So, who are the winners? Even though oil exports represent 90% of Saudi Arabia's revenue, one analyst told CNBC that Saudi Arabia was enjoying a "perfect storm" since it enables it to gain market shares back from their rivals. Fortunately for Saudi Arabia, it has large enough foreign exchange reserves to assume a barrel price of $80 without decreasing their 2015 budget, even though its break-even price on oil is $91. Since Saudi Arabia does not plan on cutting output and has a low cost of production they will probably ride the oil crisis out through 2015 easily, while they let high cost producers default as they can't afford competing anymore. Non-OPEC countries will be forced to scale down production in order to stabilize the oil price.
China, the world's second biggest importer, is already taking advantage of lower prices. Cheaper prices could boost China' s slowing economy and enable the Federal Reserve to cut interest rates. International Monetary Fund Managing Director Christine Lagarde said that a 30% drop in the price of crude translates into a 0.8% point boost for first world nations in Europe as well as China.
But the ones benefiting the most from the oil decline are the consumers. Indeed, falling oil prices are generally good for people as it increases their purchasing power and stimulates their spending. It is true that some may prefer saving over spending for now, but the economic effect will be noticeable in 2015. Also, automakers and airline companies will largely benefit from such a decline. Oil is one of the largest expenses for most U.S. airlines as they consume on average 20 billion gallons a year. According to the International Air Transport Association, a Geneva industry group, the world's airlines net profit could increase by 26%, reaching a record $26 billion.
All commercial transportation firms, including the truckers, will benefit.
What Analysts Expect for the Oil Market in 2015?
Overall, oil prices are expected to rise, or at least to stabilize. The current situation is not sustainable and a supply correction is unavoidable. Throughout 2015, supply is expected to decrease, resulting in a slow but solid price advancement. However, opinions diverge as for how much it will increase. Investors and analysts expect prices to slightly increase, reaching $70 or a little below, while producers such as Saudi Arabia expect brent to rise by 35%, reaching $82 at year-end 2015.
Analysts at Goldman Sachs expect $70 to $75 per barrel of WTI oil by the year-end 2015. Analysts also expect the market to balance itself throughout the year due to slower U.S. shale growth. While OPEC has continued to claim they will not cut their current level of oil supply, analysts believe that they won't have any other choice around mid-year 2015. They expect prices to remain low, as volatility will go up during the first half of the year, and to slightly increase during the second half.
Figure 5: Goldman Sachs 2015 Oil Market Forecast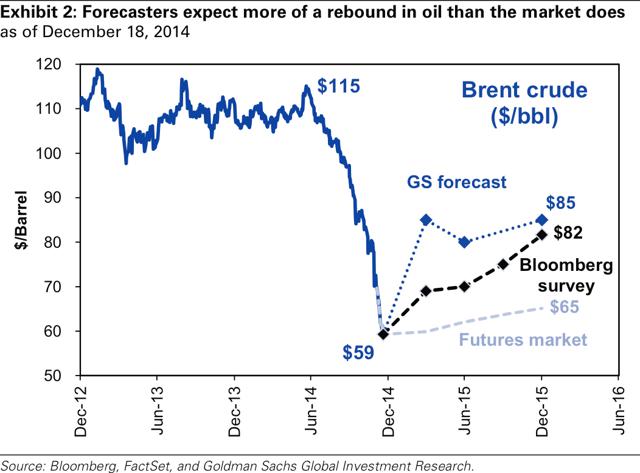 Source: Business Insider.
Morgan Stanley is not so optimistic. It expects oil prices to continue to decline in the first half of 2015, and the best-case scenario is they will stabilize during the second half. Morgan Stanley said in a report that "oil prices could fall as low as $43 a barrel next year." The U.S. investment bank cut its average 2015 brent outlook by $28 to $70 per barrel, and by $14 to $88 a barrel for 2016, Reuters said. If OPEC does not intervene, they don't see a recovery in 2015, and one only starting in the second half of 2016.
What Our Algorithm Predicts for 2015
I Know First's algorithm predicts the flow of money in almost 2000 markets across a range of time frames (e.g., one month, three months, and one year). The algorithm's predictability becomes stronger in the one-month, three-month, and one-year horizons, so it is particularly useful as a long investment tool (and it can also be used for intraday trading). The top of the box is the asset, the middle number the signal, and lower number the predictability.
The signal represents the predicted movement direction or trend, and is not a percentage or specific target price. The signal strength indicates how much the current price deviates from what the system considers an equilibrium or "fair" price. The signal can have a positive (predicted increase) or negative (predicted decline) sign. The heat map is arranged according to the signal strength with strongest up signals at the top, while down signals are at the bottom. The table colors are indicative of the signal. Green corresponds to the positive signal and red indicates a negative signal. A deeper color means a stronger signal and a lighter color equals a weaker signal.
The predictability indicator measures the importance of the signal. The predictability is the historical correlation between the prediction and the actual market movement for that particular asset, which is recalculated daily. Theoretically, the predictability ranges from minus one to plus one. The higher this number is the more predictable the particular asset is. If you compare predictability for different time ranges, you'll find that the longer time ranges have higher predictability. This means that longer-range signals are more important and tend to be more accurate.
The 2015 forecast for the one-year horizon are as follows:
Figure 5: 2015 Forecast for 12-Month Horizons Released Dec. 31, 2014, Before Market Open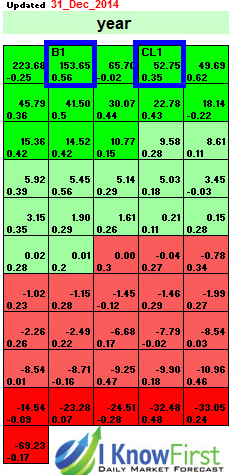 The crash in oil prices was probably the most significant event in the market this year. However, the algorithm predicts that this trend will turn around next year. In 2015, the algorithm is expecting a very volatile oil market for the one- and three-month time horizon. Yet, the algorithm is bullish for the one-year time horizon. As the time horizons increase, the predictability and signal tend to become higher. With the signal strength reaching 52.7 and 153.65 for the NYMEX crude oil futures and ICE brent crude oil, respectively. Also, with predictions reaching 0.35 and 0.56, we can say that oil might be an interesting investment.
Oil appears to be back on track for year-end 2015, according to analysts at Goldman Sachs and market participants agreeing with this forecast. However, as Goldman's analysts said, much depends upon Saudi Arabia and Kuwait, which could conceivably raise production to counter the cuts made in other Gulf States, even if non-OPEC producers reduce their output to stabilize plunging oil prices.
Disclosure: The author has no positions in any stocks mentioned, and no plans to initiate any positions within the next 72 hours.
The author wrote this article themselves, and it expresses their own opinions. The author is not receiving compensation for it (other than from Seeking Alpha). The author has no business relationship with any company whose stock is mentioned in this article.