The energy sector is once again under pressure as a whole, but we are seeing some of the biggest losers from yesterday rebound a bit today which is a sign that investors are trying to call a bottom. The fact that we have had this buying on nearly every major move lower indicates to us that we are not ready to bottom because capitulation has not truly set in. For a real rally coming off of capitulation, every seller has to be out and a broad rally ensues, not just a rally in a few of the hardest hit names. There is a difference and it really does matter, and this is why we have remained on the sidelines and even been sellers in some names.
Chart of the Day:
In six months, we have seen the price of WTI Crude reduced by over half, moving from $100/barrel to the current price of $48.77/barrel. It has been ugly and an anchor on the general market, as well as the E&P names.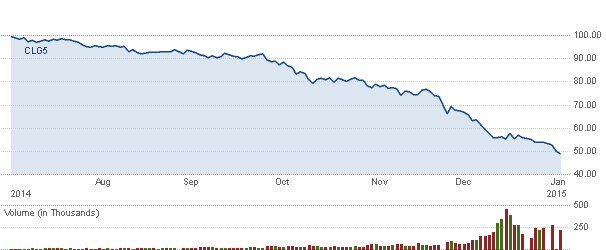 Source: CNBC
Commodity prices are as follows (at time of submission):
Gold: $1,206.50/ounce, up by $2.50/ounce
Silver: $16.27/ounce, up by $0.057/ounce
Oil: $48.77/barrel, down by $1.27/barrel
RBOB Gas: $1.3847/gallon, up by $0.0033/gallon
Natural Gas: $2.888/MMbtu, up by $0.006/MMbtu
Copper: $2.7685/pound, up by $0.0025/pound
Platinum: $1,213.30/ounce, up by $2.40/ounce
Trouble For Railroads Ahead?
With today's downgrade of CSX (NYSE:CSX) by UBS to 'Neutral' from 'Buy', one has to wonder how many more downgrades will follow for the industry. With oil and energy prices tumbling, one has to figure that production growth in the Bakken will be slowing which should impact names such as Berkshire Hathaway (NYSE:BRK.A) (NYSE:BRK.B) and Union Pacific (NYSE:UNP); two of the largest railroads in the country which have focused on expanding their oil transporting capabilities.
Growing oil production was a big driver behind the railroads' growing revenue numbers, as they were transporting ever larger amounts of oil and able to charge more for it based on demand. With the market appearing to reset right now, we would not be surprised to see further downgrades for those in the industry.
Getting Ugly Out There For E&Ps
Although the stock is performing relatively well after the news, Matador Resources (NYSE:MTDR) delivered a bit of a bomb to shareholders with news that they were shutting down drilling in the Eagle Ford while maintaining their rig count in the Permian Basin. The company is also trimming its capital expenditure plans from the previously announced $540 million budget to a range of $325-375 million. Matador also announced that it was delaying its analyst day in an effort to give the management team more time to figure out what impact the lower oil prices will have on its outlook and business.
Contrarian Bet In Oil
Bloomberg had an interesting article focusing on one of Canada's wealthiest families, the Richardsons, and their bullishness on oil right now. The family is behind Tundra Oil & Gas' bid to buy 550 wells in Manitoba, along with some 12,000 undeveloped acres from EOG Resources (NYSE:EOG). Not only is the family interested in buying producing wells, but they are also looking to spend significantly on drilling as they believe we are at a bottom and buyers today will be rewarded tomorrow.
We point this out this morning because the Richardson family has a history of calling bottoms in commodity markets, be it the oil market in the late 1990s or the grain market in Canada a decade ago. The track record is there and these are the types of transactions we believe that readers should be on the lookout for as everyone searches for a bottom in energy prices.
The entire article is worth the read and can be found here.
Disclosure: The author has no positions in any stocks mentioned, and no plans to initiate any positions within the next 72 hours.
The author wrote this article themselves, and it expresses their own opinions. The author is not receiving compensation for it (other than from Seeking Alpha). The author has no business relationship with any company whose stock is mentioned in this article.