It's safe to say that traditional newspaper publishers are having a rough time these days. Revenues have collapsed as subscribers switch to online content and advertisers are spending less. Once great publishing giants like The Chicago Tribune, The Philadelphia Inquirer and The Journal Register Company have filed for bankruptcy in the last few years. With most newspaper publishers swamped in debt and burdened by heavy fixed costs, there will likely be many more victims in the future.

The Rundown

One of those once high flying publishers sitting on the brink is Lee Enterprises (NYSE:LEE). Lee is struggling under almost $1.1 Billion in debt coming due in April 2012. While the company is profitable, making a profit of $46 million in 2010 and had strong cash flow of $106 million, it could all come crashing down if lenders are unwilling to refinance Lee's debt at favourable terms.

Lee has been shopping for a deal for over six months and has met with over 150 potential investors. While debt-refinancing proposals have been made, management has declined them, citing poor market conditions and unfavourable terms from investors.

On May 5, 2011, CEO Mary Junck released a letter to shareholders after the company decided to withdraw its private placement refinancing plans. In the letter, Junck explains that analysts are being unfairly "pessimistic" about the company's "prospects," and that a recent revenue shortfall was only a "temporary." She states that Lee has "reduced debt by $732 million since June 2005" and expects "revenue trends will improve again as economic conditions" improve.

Click to enlarge: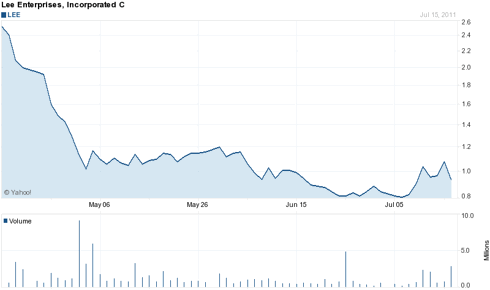 Investors are obviously not as enthusiastic. Shares have dropped by 70% in the last three months. On July 8, 2011 the company received a delisting warning from the NYSE as its share price is below $1. Furthermore, despite the rosy outlook recently mentioned by the CEO Mary Junck, on July 15, 2011 Lee revealed that Q3 revenue would decline again, coming in at "4.2 percent below the same period for the prior year."

Analysis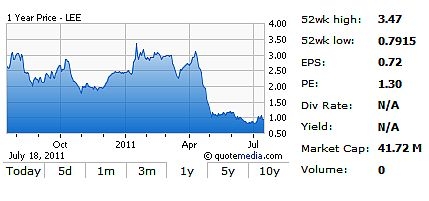 Lee Enterprises is operating in a dying industry, but it still has a loyal following and good earnings. It probably has another decade before its core product (newspaper) is rendered obsolete, and with a bit of tinkering it can likely migrate to a profitable digital business model. Even without evolving at all it should be able to keep generating cash for a few more years, but what then?

Lee's balance sheet is a mess. Two thirds of Lee's assets are composed of Goodwill and Intangibles. Together they represent almost $1 billion. The company has very little cash, and while it does have over $500 million in hard assets in the form of Property, Plant and Equipment, you have to ask yourself, what will be the real value of a printing press in 10 years? These obsolete beasts will probably be valued as scrap metal. From a liabilities perspective, you have a massive $1 billion in debt. Net it out and you are left with a paltry $77 million in equity.
As for the refinancing deal, the company was likely being forced by the market to offer junk bonds at a very high interest rate; about 11% to 15%. If Lee had accepted this deal, most of its cash flow would have gone to debt repayment, but the company's survival would have been guaranteed for a few more years. Lee declined the offers and chose to shine up its short-term results in a bid to get a better deal. Furthermore, it is hoping that the economy might improve to the point where advertising dollars come back to the newspaper industry. Both ideas seem to be wishful thinking. As far back as 2009 Lee's CEO was extolling her accomplishments and expecting advertising sales to increase. Back then the shares were trading 250% higher.
The Verdict
There is an old real estate saying that states, "Your first offer is your best offer." I think this may also be applicable in the newspaper publishing business. Lee's management was slow to adapt throughout the last decade and now the company finds itself at the mercy of creditors. Management has never taken responsibility for this. Even as bankruptcy rumours swirl, management blames the poor stock performance and negative press on pessimistic debt holders and media fear mongering.
Click to enlarge: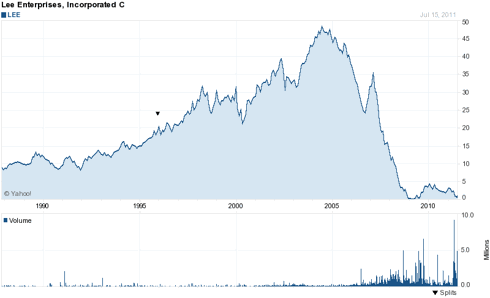 For shareholders, the last 6 years have been absolute torture as the stock price has fallen over 98%. Management wants to eke out the best possible debt refinancing deal in order to "recognize the future value (they) expect for Lee stockholders." I say, it's too little too late and management must wake up to the real problem.
Management should bite the bullet and admit that it has been stagnant for many years and led the company down a bleak path. Had management accepted the debt refinancing deal, they could have at least temporarily halted the share price collapse and gained a few more years in order to some how turn the company around. On the contrary, management has chosen to gamble again. As the economy sours and publishing revenues continue to drop it is unlikely that a better deal will materialize. As the company continues to teeter on the brink of bankruptcy, management is quixotic and shareholders will likely be left holding an empty bag.

Disclosure: I have no positions in any stocks mentioned, and no plans to initiate any positions within the next 72 hours.