Below are 10 small cap stocks with a positive earnings trend and priced reasonably based on price to earnings growth. I use stockscreen123 as the tool for this particular screen. The basic premise of the list is that stocks with a history of earnings surprises have the strong probability of positive earnings surprises in the future. If the stocks are already trading at favorable valuations, then continued earnings surprises could mean that the stocks below are undervalued.
Last month I featured Standard Motor Products (NYSE:SMP) and since that time, the stock is up 14.99%. The company manufactures and distributes replacement parts for motor vehicles in the automotive aftermarket industry. The company reported better than expected earnings in May, with 1st quarter revenue up 23% from last year and earnings of $.31, 72% higher than the consensus estimate.
The company is trading at a forward P/E of 10.15 and PEG ratio of .58. The company also has no long-term debt and a total debt/equity ratio of .33. It is projected to grow earnings over the next five years at 21.3%.
This month's list has some familiar names, among them the aforementioned Standard Motor Products, Inc. (SMP), Kadant (NYSE:KAI), which was featured two months ago, Rocky Brands (NASDAQ:RCKY), LTX-Credence (LTXC). Regarding KAI, the stock is consolidating near a critical resistance level of $32-33/share, which it hit this month, in May, and also in 2007. Failure to break above its recent highs in the coming days could mean that a pullback is imminent and may present an upcoming buying opportunity for patient investors. A move above $33/share would be very bullish for the stock (monthly chart below):
[Click to enlarge]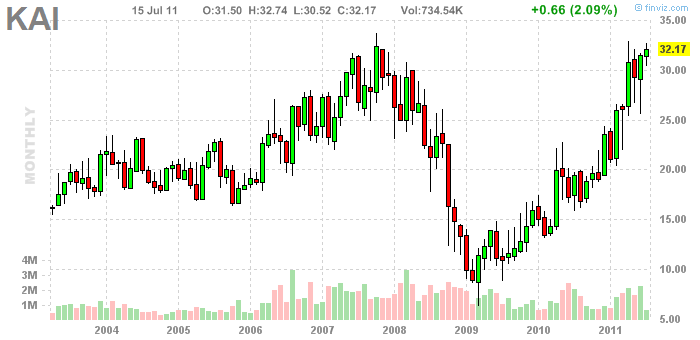 [Chart courtesy of Finviz]
Rocky Brands currently has a "Graham Number" of $19.47. The Graham number is calculated by taking the square root of 22.5 x Book Value Per Share x Earnings Per Share. In theory, $19.47 could be considered "fair" valuation although there are other considerations when trying to assess fair valuation of a company. The company has a current P/E of 10.22 and a forward P/E of 7.55 and has a price to earnings growth (PEG) ratio of 1.02. It has strong historical support around $11/share (weekly chart):


| | | | | | |
| --- | --- | --- | --- | --- | --- |
| Ticker | Name | Rank | MktCap | PEGLT | ProjPECurFY |
| JST | Jinpan International Limited | 98.73 | 196.58 | 0.33 | 9.75 |
| RCKY | Rocky Brands, Inc. | 98 | 91.08 | 0.86 | 8.6 |
| KND | Kindred Healthcare, Inc. | 97.9 | 851.39 | 0.79 | 10.94 |
| TITN | Titan Machinery Inc. | 97.28 | 555.3 | 0.71 | 15.69 |
| KAI | Kadant Inc. | 95.74 | 395.82 | 0.68 | 14.36 |
| LAD | Lithia Motors, Inc. | 94.83 | 531.32 | 0.47 | 13.56 |
| SMP | Standard Motor Products, Inc. | 94.64 | 359.43 | 0.52 | 11.06 |
| LTXC | LTX-Credence Corporation | 93.96 | 403.15 | 0.45 | 7.26 |
| CRD.B | Crawford & Company | 93.5 | 343.5 | 0.77 | 11.55 |
| TPCG | TPC Group, Inc. | 91.96 | 668.73 | 0.56 | 14.37 |
Disclosure: None